Expats Talk about Health Insurance and Healthcare in Lisbon
Last updated on Apr 20, 2023
Summary: The quality of medical care in Lisbon, Portugal is generally considered to be on par with the United States. Lisbon is home to several hospitals and clinics, including Hospital de Santa Maria, Hospital de São José, Hospital da Luz, Hospital da Cruz Vermelha Portuguesa, and Hospital de Dona Estefânia. Additionally, there are numerous private clinics and medical centers throughout the city. Emergency services in Lisbon are provided by the Portuguese National Health Service, and ambulances can be called by dialing 112.
How are healthcare services Lisbon?
When we asked expats and global nomads about the quality of medical care in Lisbon, they replied:
"Much confusion exists for Americans and other third country nationals residing in Portugal and our access to Portugal's national health system. While we will always have access to the national health services and won't be turned away from a hospital or clinic, our primary care is served by the private health system for which we buy private international health insurance. We register at the Portuguese 'Center de Saude' or local health clinic and get a "numero de utente', a health ID number, which we can use with your private physician to enjoy the lower Portuguese citizen's prices for prescriptions, but we will pay out of pocket if we incur charges at the public hospital.. So our first option is to use the private health system, which exists in all major cities and is extensive, inexpensive and state of the art. When first coming to Portugal, bring with you a list of the prescriptions you're taking, with the Latin name, generic name, dosage and reason for taking....your current doctor will give you this. Be certain it includes your name, US address, date issued and doctor's signature. You can take these to any farmacia to be filled immediately without any issues," remarked one expat in Lisbon.
"Choose a healthcare insurance company that has a strong network in your area; some are focused on the Southern region, some across the middle and so on. Look into brokers for lower rates rather than buy the coverage directly from the insurance company or from your bank," remarked one expat living in Lisbon.
Answer Question & View More Answers
What are medical services in Lisbon like?
Answer Question & View More Answers
Answer Question & View More Answers
Answer Question & View More Answers
Answer Question & View More Answers
Answer Question & View More Answers
Answer Question & View More Answers
Answer Question & View More Answers
About the Author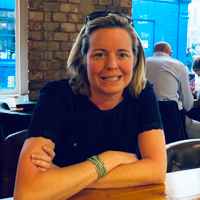 Betsy Burlingame is the Founder and President of Expat Exchange and is one of the Founders of Digital Nomad Exchange. She launched Expat Exchange in 1997 as her Master's thesis project at NYU. Prior to Expat Exchange, Betsy worked at AT&T in International and Mass Market Marketing. She graduated from Ohio Wesleyan University with a BA in International Business and German.
Some of Betsy's articles include 12 Best Places to Live in Portugal, 7 Best Places to Live in Panama and 12 Things to Know Before Moving to the Dominican Republic. Betsy loves to travel and spend time with her family. Connect with Betsy on LinkedIn.