Expats Talk about Health Insurance and Healthcare in Lisbon
Last updated on Feb 02, 2023
Summary: The quality of medical care in Lisbon, Portugal is generally considered to be on par with the United States. Lisbon is home to several hospitals and clinics, including Hospital de Santa Maria, Hospital de São José, Hospital da Luz, Hospital da Cruz Vermelha Portuguesa, and Hospital de Dona Estefânia. Additionally, there are numerous private clinics and medical centers throughout the city. Emergency services in Lisbon are provided by the Portuguese National Health Service, and ambulances can be called by dialing 112.
What advice do you have for expats having a baby in Lisbon?
We asked expat moms who gave birth in Lisbon about their experiences and advice they have for other moms to be. They said:
"It is important to firstly make sure you have all the medical documents and paperwork in order well in advance, so that you can be sure your baby will be registered with the health services in Lisbon. Secondly, be sure to research the different types of equipment required such as cots and buggies, as it is often more expensive to purchase them in Lisbon than elsewhere. Lastly, make sure you reach out for help and support if you need it, as there are various expat groups and forums available to reach out to other parents and connect with them for advice," explained one expat.
Are healthcare services good in Lisbon?
We asked people if they have access to good medical care in Lisbon. They wrote:
"Healthcare services in Lisbon are generally of high quality. The public healthcare system is free and available to all citizens of Portugal; however, most local residents opt to use the private hospitals and clinics in Lisbon as they tend to be of a higher quality and more personalised. The country has some of the most advanced medical technology and best medical personnel in the world, making it an excellent choice for medical care. Lisbon also boasts several world-class facilities, including two large university hospitals and numerous private clinics, many of which offer specialised services. Additionally, Portugal's private healthcare system is very competitive and offers good value for money," remarked another in Lisbon.
About the Author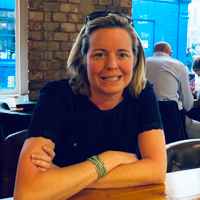 Betsy Burlingame is the Founder and President of Expat Exchange and is one of the Founders of Digital Nomad Exchange. She launched Expat Exchange in 1997 as her Master's thesis project at NYU. Prior to Expat Exchange, Betsy worked at AT&T in International and Mass Market Marketing. She graduated from Ohio Wesleyan University with a BA in International Business and German.
Some of Betsy's articles include 12 Best Places to Live in Portugal, 7 Best Places to Live in Panama and 12 Things to Know Before Moving to the Dominican Republic. Betsy loves to travel and spend time with her family. Connect with Betsy on LinkedIn.