What do I need to know before retiring in Dusseldorf?
When we asked people what advice they would give someone preparing to move to Dusseldorf, they said...
"Before retiring in Dusseldorf, expats should be aware of the cost of living, which is higher than in many other parts of Germany. Expats should also research the local healthcare system and make sure they have adequate health insurance coverage. Additionally, expats should familiarize themselves with the local language, as German is the official language in Dusseldorf. Finally, expats should research the local culture and customs to ensure they are prepared to integrate into the local community," wrote a member who made the move to Dusseldorf, Germany.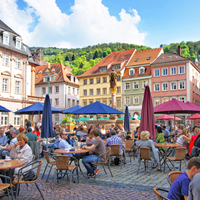 Furnished Rentals in Germany from Homelike
We've partnered with Homelike, to connect expats and newcomers with temporary accommodations in Germany. If you're moving to Germany, rent a short-term, furnished apartment or home for the first few months from Homelike and take your time figuring out the best place to live in Germany.
SEARCH RENTALS
Other Questions:
What do I need to know before retiring in Dusseldorf?
If you live in Dusseldorf, newcomers to Dusseldorf would love to hear your answer to this question.