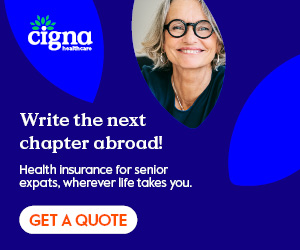 Resources
Health Insurance & Healthcare

Expat Health Insurance
Long-term international health insurance to cover you anywhere in the world, typically for 6+ month stays and travel, and nomad or travel health insurance for shorter stays.

Expat Medical Evacuation
Medical Evacuation, Emergency Medical Transport, Medical Repatriation

Expat Counseling
Psychotherapists for Expats, Therapists for Expats, Expat Counseling, Marriage Counseling
Real Estate & Rentals

Real Estate & Rentals
Homes for sale, long-term lease and short-term rental.
Moving to Israel
Visa & Legal Services

Visa & Immigration Services in Israel
Visa Services, Immigration Services, Immigration Attorneys
Expat Tax & Finance

Expat Tax
Expat tax preparation and Expat tax professionals.

Expat Banking Israel
Expat Banking, International Personal Banking & Offshore Banking

Currency Exchange
Foreign Currency Exchange, Currency Exchange Rates, Currency Exchange Converter