Expat Survey: Portugal Tops 2022 List of Best Countries for Expats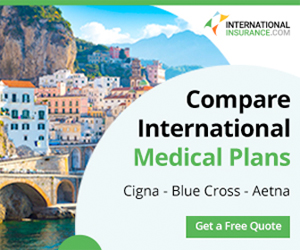 Summary: Expats, digital nomads and retirees have chosen Portugal as the best country to live in for 2022. Find out what other countries made it into the Top 10 as decided by our worldwide expatriate community.
Expats generously reported their opinions and shared their insights about living abroad in Expat Exchange's Best Places to Live in 2022 Survey. This was our second year of running this survey.
Given the fact that the world is still impacted by the COVID-19 pandemic, it's particularly interesting to assess the quality of life as reported by people who are living outside of their home countries.
Without further adieu, here are the Top 10 Countries for expats, retirees and digital nomads in 2022:
It's really no surprise that Portugal is the number one country recommended by expats. Expats have loved almost everything about Portugal for a long period of time. Its weather, culture, people, food, natural beauty and health system were praised by respondents. Additionally, expats praised how Portugal's government and the public handled COVID-19. Negative feedback about Portugal includes frustration with bureaucracy and, in normal times, hordes of tourists in many parts of the country during the summer months.
Portugal Survey Results: 95% of Expats in Portugal Love Living There
Another perennial favorite, expats love the weather and climate options in different locations around Ecuador. The cost of living is also favorable, as is its use of the U.S. dollar as its currency.
Ecuador Survey Results: More than 90% of Expats in Ecuador Rate It Highly
The culture, excellent and inexpensive food and wine, public transportation, history and architecture were cited as positive aspects of expat life in Spain. The slower pace of life was mentioned as a plus by some, minus by others. Some expats in Spain also complained about the weather in the winter.
Spain Survey Results: Almost 90% of Expats in Spain Enjoy Their Life Abroad
Excellent food, lots of activities, friendly people, and cost of living were listed as "pros" for Thailand, while expats cited difficulty in forming real friendships and some air quality issues as "cons."
Thailand Survey Results: More Than 85% of Expats in Thailand Rate Experience Highly
The weather, access to the beach, the Panamanian people, ease of use of the U.S. dollar, and more were mentioned by expats who rated Panama highly. Some people in cities complained about sanitation, while others mention the bureaucracy and the time it takes to get things done as unfavorable aspects of living there.
Panama Survey Results: 85% of Expats in Panama Love Living There
Given the recent history of how expats rate the U.K. in polling, we were pleasantly surprised to see Expats rate the country this highly. London's diversity, the green spaces of London suburbs, dining experiences, and easy access to Europe across the English Channel were among reasons cited for their happiness there. Cost of living, banking problems, narcotics and crime were "cons" mentioned by respondents.
UK Survey Results: Nearly 90% of Expats in the U.K. Report Loving It There
So many people want to travel to, explore and live in Italy. Some expats in our survey bemoaned the bureaucracy of Italy, difficulty with banking and other challenges, but still find that food, natural beauty, architecture, and more make their expat experience extremely satisfying.
Italy Survey Results: 85% of Expats in Italy Report Being Happy There
Many people are still surprised to find out how popular a destination the South American nation, but the reality is that most expats and digital nomads have been flocking there for years. The variety of climates, cost of living, natural beauty and more were rated as huge pluses, while sanitation in cities, pollution, bad drivers, and the heat in certain places were cons.
Colombia Survey Results: 82% of Expats in Colombia Love Living There
The weather in many places of Mexico is obviously a reason many expats choose it, although there are places expats described as "too hot." The food, cost of living, friendly people and vibrant, international expat community all were cited as reasons to choose Mexico as a destination.
Mexico Survey Results: More than 80% of Expats in Mexico are Happy There
Costa Rica's natural beauty and an expat community comprised of people from all over the world are cited as reasons to choose this Central American country. Expats generally describe excellent services - though some areas not - and an abundance of "things to do." Some expats bemoan the slow pace but most accept that and learn to embrace it.
Costa Rica Survey Results: 80% of Expats in Costa Rica Love It
Expat Lifestyle
Here are some highlights about lifestyle-related responses from expatriates across the globe. Note that respondents were asked about the city or location in which they live, not the country at large.
On average, 70% of respondents across the globe siad that they were either Extremely Satisfied or Very Satisfied with the quality of their expatriate experience.
When asked about their entertainment options (movies, concerts, museums, etc.), 65% of expats, retirees and nomads reported that they were either Extremely Satisfied (28%) or Very Satisfied (37%).
As for local dining options, 71% indicated that they were either Extremely Satisfied (32%) or Very Satisfied (39%).
Survey respondents were also asked about Local Grocery Shopping options, and 78% of respondents said they were either Extremely Satisfied (41%) or Very Satisfied (37%), and 81% were either Extremely Satisfied (50%) or Very Satisfied (31%) with the local fresh food.
When asked about the quality of their local water, 75% of expats globally reported being either Extremely Satisfied (47%) or Very Satisfied (28%).
Overall, two-thirds of Expats (66%) reported being either Extremely Satisfied (25%) or Very Satisfied (42%) with their social life, and 65% said that they were either Extremely Satisfied (27%) or Very Satisfied (38%) with making friends locally.
About the Author

Joshua Wood, LPC joined Expat Exchange in 2000 and serves as one of its Co-Presidents. He is also one of the Founders of Digital Nomad Exchange. Prior to Expat Exchange, Joshua worked for NBC Cable (MSNBC and CNBC Primetime). Joshua has a BA from Syracuse and a Master's in Clinical and Counseling Psychology from Fairleigh Dickinson University. Mr. Wood is also a licensed counselor and psychotherapist.
Some of Joshua's articles include Pros and Cons of Living in Portugal, 10 Best Places to Live in Ireland and Pros and Cons of Living in Uruguay. Connect with Joshua on LinkedIn.
First Published: Sep 22, 2021