Expats Talk about Health Insurance and Healthcare in Lisbon
Last updated on Sep 05, 2022
Summary: Expats and global nomads in Lisbon, Portugal share their experiences with health insurance, healthcare in Portugal, local hospitals and specialists, quality of medical care and more.
How are healthcare services Lisbon?
When we asked expats and global nomads about the quality of medical care in Lisbon, they replied:
"Much confusion exists for Americans and other third country nationals residing in Portugal and our access to Portugal's national health system. While we will always have access to the national health services and won't be turned away from a hospital or clinic, our primary care is served by the private health system for which we buy private international health insurance. We register at the Portuguese 'Center de Saude' or local health clinic and get a "numero de utente', a health ID number, which we can use with your private physician to enjoy the lower Portuguese citizen's prices for prescriptions, but we will pay out of pocket if we incur charges at the public hospital.. So our first option is to use the private health system, which exists in all major cities and is extensive, inexpensive and state of the art. When first coming to Portugal, bring with you a list of the prescriptions you're taking, with the Latin name, generic name, dosage and reason for taking....your current doctor will give you this. Be certain it includes your name, US address, date issued and doctor's signature. You can take these to any farmacia to be filled immediately without any issues," commented one expat who moved to Lisbon.
"Choose a healthcare insurance company that has a strong network in your area; some are focused on the Southern region, some across the middle and so on. Look into brokers for lower rates rather than buy the coverage directly from the insurance company or from your bank," said another expat.
"Is a crime what the US charges for same services I get in Portugal for a lot less," said one expat living in Lisbon.
"Finding a specialist takes trail and error. But that is true even in my home country," mentioned another expat in Lisbon.
Answer Question & View More Answers
Are healthcare and health insurance expensive in Lisbon?
"The cost of a private plan is half or less than charged in the US. Health insurance can be purchased through banks or a few organizations, such as the Automobile Club of Portugal or 'afpop'. These offer even better group rates than the bank rates," remarked another expat in Lisbon.
"We are required to have a private policy that meets the Schengen Community requirements (go to their website). The highest quality of coverage won't cost more than 3,000 euros a person/year (2017) and most retirees are paying only 2,000 euros annually. This includes dental and eye care, surgeries, private hospital room, unlimited doctor visits and tests," remarked another expat living in Lisbon.
What are emergency services like in Lisbon?
If you live in Lisbon, newcomers to Lisbon would love to hear your answer to this question:
When we asked about emergency services, members in Lisbon wrote:
"Larger cities offer several choices of public and private hospitals within a few kilometers of each neighborhood; smaller villages rely on the larger city that could be 20 or 30 minutes away. Care in private hospitals tends to be quick, appointments are timely and modern, clean environments prevail. Emergency services in private hospitals tend to be better staffed, so more responsive. Public hospitals are busier and can lack sufficient doctors and nurses but care tends to be good, just not as good as the private care. In Lisbon and through the Coast north, we have the CUF networked hospitals that serve both private and public patients, the Hospital da Luz, British Hospital and about 10 other hospitals," commented one expat living in Lisbon, Portugal.
"Close to CufCascais hospital and the Cascais Public Hospital. Emergency services from low-cost ambulances to quick hospital admissions are accessible and good. Care at the private hospital is a private room with a care giver assigned to you. While we Americans will have to purchase private insurance we also have access to the Country's lower priced prescriptions and public clinics for minor cuts, exams, immunizations," added another expat.
Will I need to travel to see a specialist?
"Some specialists practice out of only a few hospitals, so you might need to go 30 minutes to an hour from home for an eye, orthopedic or GI specialist. These specialists are highly responsive with current training and well-deserved reputations for their skills. They have modern equipment and the latest diagnostic tools," commented one expat who moved to Lisbon.
"Specialists in every field are no more than 30 mins away. Serious health issues are handled at our private hospital, 10 mins away. Care is quickly provided and done well. Tests are given immediately and results available the next day," said another expat.
Are common prescription medications available in Lisbon?
"Cold, allergy, stomach upset and even flu shots are available without prescription from the farmacias at half or less than the average price in the US. Other situations, from high blood pressure to diabetes to acid reflux, require prescriptions and easily filled for half the price of the US or, sometimes, drastically less. Blood pressure med in the US can cost $100 a month; here, it is about 6 euros. ," remarked another expat in Lisbon.
"Every pharmacy is able to handle your US prescriptions if you bring a request from your US doctor. Pharmacies are usually within 10 mins of most cities and towns and one is always open within 30 mins. Many medications, such as antihistamines and cold, pain and heartburn are available over the pharmacy counter compared to the US. Prices for hypertension meds in the US might cost $300 a month that are $13 for two months here," remarked another expat living in Lisbon.
What have your experiences during the pandemic with the local healthcare system been like?
When we asked expats in Lisbon if common prescription medications are available in Lisbon, they wrote...
"No problem even during COVID-19 getting monthly injection of special medication at private hospital (CUF)," mentioned another expat living in Lisbon.
About the Author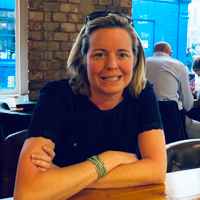 Betsy Burlingame is the Founder and President of Expat Exchange and is one of the Founders of Digital Nomad Exchange. She launched Expat Exchange in 1997 as her Master's thesis project at NYU. Prior to Expat Exchange, Betsy worked at AT&T in International and Mass Market Marketing. She graduated from Ohio Wesleyan University with a BA in International Business and German.
Some of Betsy's articles include 12 Best Places to Live in Portugal, 7 Best Places to Live in Panama and 12 Things to Know Before Moving to the Dominican Republic. Betsy loves to travel and spend time with her family. Connect with Betsy on LinkedIn.