10 Tips for Living in New Zealand
Summary: Expats are drawn to New Zealand's astoundingly beautiful scenery, laid back lifestyle, safe cities and towns and low cost healthcare. For some, life in New Zealand is a dream come true. Other expats find that living in New Zealand, like many other places, has its pros and cons.
We've perused the New Zealand Expat Forum and read through reports submitted by our members in the Expat Guide to Living in New Zealand. We've complied these 10 tips for living in New Zealand.
1. The Lure of New Zealand
The Hobbit and Lord of Rings trilogies were all filmed in New Zealand and introduced many viewers to the beauty of New Zealand. With a population of more than 4.6 million, New Zealand is an island nation in the South Pacific. The country has two main islands: the North Island and the South Island. The North Island is home to Auckland and the capital city of Wellington. The South Island is home to Christchurch and Dunedin. Stewart Island, Waiheke Island and Chatham Island are just a few of the other islands (33 in total including North and South Islands) that make up New Zealand. Excluding North Island and South Island, Waiheke Island is the only island with a sizable population of approximately 8,900. All of the other islands have fewer than 1,000 inhabitants -- many have zero and others less than 80. "There is lots of beautiful countryside, beaches & mountains, wine growing districts with lovely accommodation, adventure sports & other things. Good shopping in Auckland, Wellington & Christchurch," described one expat.
2. Kiwis Attitudes Toward Foreigners
"Everyone comes to NZ on holiday and has the impression that Kiwis are extremely friendly etc., which most tourist places are very friendly when they are taking your money. But Kiwis really don't want you to settle there. I lived in NZ for five years and they are very xenophobic. It is tough," confessed one expat in New Zealand. "I am American living in Auckland. Some thoughts: NZ is a small country and more English than American. Over the top Americanism is not valued. Honesty and humility is. The tall poppy syndrome does exist but what you have to offer will outweigh this depending on the company you want to work for. Feel free to call me when you are in town. Good luck! Hope you get a chance to travel around while you are here - it's a beautiful country," advised one expat living in Auckland. "It is a fairly diverse group of people for the population size. New Zealanders have a love/hate relationship with Americans, though. They will be quite nice to your face, but behind your back they constantly criticize the US and Americans. There is also slight racial tension with people of color. The Maoris (natives) and the pakehas (white Europeans) have had years of strife and war. A treaty was signed, that is still in place today," explained another expat.
3. Meeting Locals and Expats in New Zealand
Despited some Kiwis' attitudes toward foreigners, many expats love living here and have worked hard to build a life here. "In my experience, it takes at least a year to get under the skin of your new country, and begin to feel at home. For some people, and in someplaces, maybe you'll never feel at home. But when you are out socialising, or even just talking to your partner in the bar or at the supermarket where other people can hear, it pays to keep your criticisms to yourself, until you are in private. It even pays to lie a little, or just emphasise the positive," advised a Kiwi who has lived abroad. An expat living in New Zealand explained, "My wife and I have lived here since 1994 and became citizens as soon as it was possible. (We were "professional expats" for 30+ years, and found America not as much to our liking as New Zealand.) We found that becoming engaged in New Zealand was easy enough, but it was (still is) necessary to identify with those things of interest to Kiwis and not look back. Sure we 'were' Americans and people know that as soon as we open our mouths! But we joined sports and art clubs, volunteered for Hospice, and went on every 'working bee' to plant trees or trap possums in our area. In no time at all it became home, not New Zealand."
An expat in Kapiti described the activities there saying, "In Kapiti itself, you'll find lots of ecology groups - volunteer planting groups that take care of the local estuaries and keeping native species alive inland that are a haven for local wildlife. There are yoga classes and tai chi and many cycling groups. Horseback riding is popular. In the Waikanae area, there's lawn bowling and bridge popular with retired people. There's a great Paraparaumu golf course, and up in Otaki there's a horse racing track."
4. Finding a Home in New Zealand
Housing prices in Auckland and Wellington are the highest in the country. An expat in the Kapiti Coast said, "With all the beach property available, unless you want to live directly on the water, you'll find homes within walking distance of the sea cost about the same as homes further inland. Housing is a lot chepaer than in Wellington." Another expat who moved to Dunedin explained, "Found a great real estate lady who listened and then worked really hard to find our home! Chose our home for the views, close to town and is on the peninsula! We have a 3 bedroom home on about a half acre with mature trees and great views. Most homes have 4 bedrooms, but are smaller and on less land. We lived in China before New Zealand, so housing and automobiles are much cheaper, but meat and vegetables are much more expensive!"
One expat talked about finding a home when moving to Warkworth, "We chose to rent a furnished house in a beach-side community (aren't most of them anyway?). We drove around New Zealand for seven weeks and found a spot we liked. We bought a local newspaper and looked at about 10 houses from the rental ads and chose one in Snells Beach. That is 10 kms from Warkworth, which in turn is about one hour north of Auckland. The housing costs are hard to guage against what we were use to in the USA...or elswhere."
5. Many Houses in New Zealand Are Not Well Insulated
"Most houses lack central heating. Houses can be very poorly insulated. Electricity is very expensive. If you're used to thermostats and a warm indoor environment be careful where you rent or buy," cautioned one expat when asked about renting or buying property in New Zealand. Another expat commented, "Kiwi houses are not as well insulated, nor heated as in the USA. Construction standards/techniques are different but the more modern house (less than 15 years old) are as good as anywhere in the world. We live in an exceptionally beautiful area and there is no way we could ever afford to buy a similar house in say California at 5 times the price."
6. Cost of Living in New Zealand
"I would stock up on all the products you love. You won't be able to buy them here, or they will just be too expensive to purchase. New Zealand is an island. The cost of shipping goods in, is pricey," advised one expat. Another said, "The wages and subsequently the cost of living is high in Auckland. Wellington not so much, although still higher than the South Island. An expat in Auckland commented, "The cost of living here is astronomical - both food and housing." In terms of expat pricing, expats are charged the same as everyone else. One expat explained, "There are standard tariffs for everything in NZ including travel costs. You will not be charged anything more than what is the correct amount. There is no tipping & no bribing in NZ (unlike in many parts of Asia). This is just not the way things are done in NZ."
7. Healthcare and Health Insurance in New Zealand
The healthcare system in New Zealand is a mixed public-private system. The Accident Compensation Corporation is the New Zealand crown entity that administers the public health scheme. An expat in New Zealand shared her experiences with the health care system in New Zealand. She said, "I have been in both systems, actually 4: insured as an academic in the states, uninsured as an older student in the states and here in NZ I have had the best Southern Cross policy (private but not meant to be profit-making) and used the public system for major surgeries as well as my surgeon likes the public hospital here in Whanganui as it has the newer equipment...but people do DIE on the waiting list and ACC (government accident agency that allows you to get followups, care, xrays if you are involved in an accident and serves sports royally but all else as second class in my opinion!) is at the whim of the government in power. As the year progresses fewer things get done as the budget dwindles. It does depend on where you live and I have have high praise in the main for our local hospital and it's personel, however, you are put on a prioritised list and as you age you are placed further down the list it seems as I watch friends over 70 wait, and wait. I have been here 20 years and it is really a mixed system. Females in the states assume they can see a gynecologist once a year. My GP has not been able to put forward a good enough cause for me to see one in 6 years since my hysterectamy though there is a history of tumours in my famiy as it is not seen as sufficient cause as gyno is a specialist and those appointments are limited. Apointments are often limited in many practices to 10 minutes. What you get with Obamacare, once it settles down and if you are in paid employment may be better...and you cannot just relocate here to use the health system. If you have current health issues and no job to come to and insufficient funds to pass the financial hurdles you won't get residency unless you have a needed job skill and are still young. There are co-payments here too. If I were you I would do your research carefully. I was told I wouldn't need insurance before I accepted a job here, but I ended up paying $250 a fortnight for it for 17 years to cover the possibilities that the system here doesn't cover and even made a trip to the Mayo Clinic early on when a number of my issues went undiagnosed."
Another expat commented, "Had pretty good experience with socialized medicine in NZ for minor issues, flu, broken bones, etc. Two things to note: 1) 'free' dentist visits for children don't include novacane. We discovered after sending our daughter to the school recommended dentist and hearing her screams from the examination room. You have to pay extra for pain killer. 2) My wife had a heart attack - her immediate treatment was good but Wellington hospital was dirty and showers were covered in mold. After she got out of hospital she was told that she would be allowed a follow-up with a cardiologist in 12 months. We decided to move back to the US to better protect her health."
8. Climate in New Zealand
"East coast is hot and dry in the summer and cold and crisp in the winter. The temp range will be -2C to 37C (the hottest I experienced in Napier), whereas the west coast has more rain with less temperature variation - around 0C to 28C (I've experienced those extremes in Auckland)," explained one expat. Another said, "NZ is different from many areas in that it tends to be more humid, more windy, more influenced by seas, and gets lots of rain. We get about 3' (900mm) a year, spread out quite evenly, and it's cool enough to not want air conditioning and only frosts once or twice a year at our place. Think Santa Cruz or Monterrey CA for comparison."
9. Finding a Job in New Zealand
"It is a bit harder to find a job here than in the US. People use internet job listings, newspapers, and word of mouth. Numerous industries exist here. Small fashion designers seem to thrive in Wellington. One can find heaps of computer-industry jobs. The medical field is constantly searching for new employees. Government jobs also seem to be fairly abundant, as Wellington is the capital city of New Zealand," explained one expat in Wellington when asked about job opportunities in New Zealand. "Tourism. Agriculture. Service industry. Many people in Kapiti commute to Wellington by train for professional and government careers. There are also a number of painters, writers and other artists living in Kapiti," answered one expat when asked about job opportunities in Kapiti.
10. Where to Live in New Zealand
In our article, 5 Best Places to Live in New Zealand, we cover several of New Zealand's largest cities including Auckland, Wellington and Christchurch. If you're searching for employment before your move to New Zealand, these cities will have the most job opportunities. If you are looking for scenic beachfront towns and cities, Hawkes Bay and the Kapiti Coast may be for you.
About the Author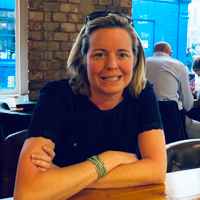 Betsy Burlingame is the Founder and President of Expat Exchange and is one of the Founders of Digital Nomad Exchange. She launched Expat Exchange in 1997 as her Master's thesis project at NYU. Prior to Expat Exchange, Betsy worked at AT&T in International and Mass Market Marketing. She graduated from Ohio Wesleyan University with a BA in International Business and German.
Some of Betsy's articles include 12 Best Places to Live in Portugal, 7 Best Places to Live in Panama and 12 Things to Know Before Moving to the Dominican Republic. Betsy loves to travel and spend time with her family. Connect with Betsy on LinkedIn.