Moving to Czechia
Last updated on Feb 01, 2023
Summary: Many expats and digital nomads move to the Czech Republic for its low cost of living, excellent public transportation, and vibrant culture. The most popular cities for expats and digital nomads in the Czech Republic are Prague, Brno, and Ostrava. People looking for a place to live in the Czech Republic can search online for rental listings, contact real estate agents, or look for postings on expat forums. Additionally, many expats and digital nomads find accommodation through short-term rental websites such as Airbnb.
What do I need to know before moving to Czechia?
When we asked people what advice they would give someone preparing to move to Czechia, they said:
"Before moving to Czechia, it is important to know that the official language is Czech, although English is widely spoken. It is also important to know that the currency is the Czech koruna (CZK) and to get familiar with the cost of living. Be aware that the winter months can be cold and the summers hot, so pack accordingly. When it comes to healthcare, Czechia has a well-organised system, with residents able to access public healthcare for free. Those on a low income may also be eligible for state benefits. Visas and work permits may be required to move to Czechia, so it is advisable to research and plan ahead. Before moving it may be a good idea to learn about the culture, including local customs and traditions. Lastly, it may be helpful to secure temporary accommodation or secure a job before moving as the process of finding a long-term residence or job in Czechia can be quite lengthy," said another expat in Czech Rep.
"All in all, we've really enjoyed our 2 years in Brno and find it a highly "livable" city. It's not the Disneyland that Prague is, but that's what makes it more of a Czech experience," remarked another expat who made the move to Brno.
How do I find a place to live in Czechia?
We asked expats how they chose their neighborhood and found a place to live. They answered:
"Finding appropriate accommodation in Czechia can vary depending on your budget and location preferences. If you have a budget in mind, you can use online resources to locate apartments for rent or to find a room for rent in a shared space. You can also choose to live in student residences, privatized hostels, or AirBnB-type services. If you prefer to find an accommodation the traditional way, you may want to contact real estate agencies or search classified ads websites such as bazar.cz. Additionally, it might be worth asking around to see if anyone you know may have a place that needs a tenant," explained one expat living in Czech Rep.
"We spoke with over twenty realtors and saw more than a dozen of them. We found that the only way to see apartments that met standards we were used to was to ask for "luxury apartments." Often realtors are reluctant to show pricier apartments, since they're usually a hard sell - there aren't nearly as many expats here as there are in Prague. Often, they just don't have anything to show you, as there just aren't lots of luxury apartments. However, many beautiful old buildings in the center have been and are being re-done and there are now some lovely, luxury apartments for rent. Keep in mind that luxury here just means very nice - don't expect a doorman or parking garage. Look for listings in the highest price category - right now, anywhere from 18,000-30,000 crowns. Be aware of the price you want to pay and the price listed for the apartment before you go to see it. On more than one occasion, once we saw the apartment and the owner realized we weren't Czech, the price was raised significantly," said another expat in Brno.
What is a typical expat home or apartment like in Czechia?
"Typical expat homes and apartments in Czechia vary greatly in size, style, and amenities depending on the location and budget. Generally, expat homes and apartments contain modern, efficient appliances and utilities, along with basic furniture. Larger or more expensive properties may include additional features such as balconies or outdoor space. Utilities, such as internet and cable, are often included in the rent. In terms of location, expat homes and apartments can be found in both the city and less populated areas, depending on the preference of the tenant," replied a member in Czech Rep.
"We live in an apartment complex close to downtown Prague (Praha 2, Nove Mesto). Our apartment has a small garden, a common area, a swimmingpool and fitness facilities. Other expats live in our building, but many expat friends live in houses outside of town," commented one expat who made the move to Prague.
Answer Question & View More Answers
What is the average cost of housing in Czechia?
If you are thinking about moving to Czechia, cost of living in probably a key consideration. Expats commented about the cost of housing:
"The average cost of housing in Czechia varies depending on the location, size and condition of the property, with prices ranging from around €1,000 to €3,000 per square metre," remarked another expat who made the move to Czech Rep.
"We pay the same here as we did for a house close to the beach and forest in a nice area of Denmark," explained one expat living in Prague, Czech Rep.
Answer Question & View More Answers
Should I buy or rent a home in Czechia?
If you have not spent a lot of time in Czechia, you should rent before even thinking about buying. We asked expats there about the buy vs. rent decision:
"Buying a home in Czechia is generally considered a great investment. The Czech Republic has a well-developed real estate system and offers great value for money. On the other hand, renting may be more suitable for a short-term stay, as it gives the flexibility of being able to move more easily. Whether to buy or rent is a personal decision and should be based on individual goals and circumstances," said another expat in Czech Rep.
What should I pack when moving to Czechia?
We asked people living in Czechia to list three things they wish they had brought and three they wish they had left behind. They responded:
"Essentials such as clothing, personal hygiene items, and medications. Appliances and furniture. Kitchen items such as dishes and cookware. Bed linens, pillows, and blankets. Towels, cleaning supplies, and laundry detergent. Electronics and chargers. Photos, documents and other important items. Local cash and credit cards. relevant personal and contact information. Any items to maintain continuity of daily life, such as a bicycle. Extras such as books and games. Czech phrasebook and translation app. An international driver's license. An adaptor for electricity," said another expat in Czech Rep.
"Things that I wish I had brought: A Czech-English Dictionary (now how will I make myself understood in the bookstore..? :-) ) Things that I wish I had left at home: Nothing," remarked another expat who made the move to Prague.
What cultural faux pas should I try to avoid making in Czechia?
We asked people in Czechia if they could share any humorous cultural blunders they commited. For new expats, keep in mind that these incidents are an inevitable part of expat life. Learning to laugh about them is the key!:
"In Czechia, it is important to avoid making inappropriate comments about Czech society and culture. Making jokes about Czechs or their language is considered extremely rude. Respect for the national holiday of Czechia should also be shown, by avoiding any verbal or physical opposition to the celebration of the country. Showing genuine interest in local customs and history is recommended as well. Additionally, speaking loudly in public places, speaking in English without making an effort to learn Czech, and dressing inappropriately are all seen as unacceptable," remarked another expat who made the move to Czech Rep.
"I worked very hard to learn a few essential phrases only to be told that the other person does not speak English. There are not as many english speakers as you have been led to believe," explained one expat living in Prague, Czech Rep.
Answer Question & View More Answers
About the Author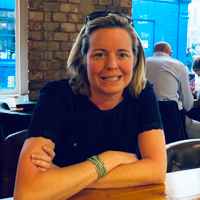 Betsy Burlingame is the Founder and President of Expat Exchange and is one of the Founders of Digital Nomad Exchange. She launched Expat Exchange in 1997 as her Master's thesis project at NYU. Prior to Expat Exchange, Betsy worked at AT&T in International and Mass Market Marketing. She graduated from Ohio Wesleyan University with a BA in International Business and German.
Some of Betsy's articles include 12 Best Places to Live in Portugal, 7 Best Places to Live in Panama and 12 Things to Know Before Moving to the Dominican Republic. Betsy loves to travel and spend time with her family. Connect with Betsy on LinkedIn.