Living in Italy
Last updated on Aug 24, 2022
Summary: Expats, digital nomads and retirees talk about what it is really like living in Italy. They offer advice about meeting people, cost of living, finding a home and more.
What do I need to know about living in Italy?
When we asked people what advice they would give someone preparing to move to Italy, they said:
"I found the Milanese reserved, but after a while when they see you want to really integrate yourself in their society, they became really friendly. As far as shopkeepers and medical personnel, they are super. Although I spend most of my time in Suditalia, I really love Milano," commented one expat who made the move to Italy.
"Just come and look around. I never, ever tell someone that "this is the place" for you. I've lived all over Italy and have dozens of "favorite" places to live, work or visit," remarked another expat living in Fiesole, Italy.
Answer Question & View More Answers
How do I meet people in Italy?
When we asked people living in Italy about club and activities where newcomers can meet others, they responded:
"There are dozens of them - I live close to Florence, so you have theirs, as well. I've made friends who are artists, musicians, businesspeople, retirees...you name it. So I recommend that each person, couple or family explore. Newspapers are abundant, social media even more so. And people drop by all the time. The only way you don't find out what's going on is if you lock yourself inside a building with no internet," mentioned another expat in Fiesole.
"Internations is a good way to meet some international ex-pats, though the majority are Italian and the organization charges a lot and offers little if you are not a paying member. If you are a woman there is also an international organization, IWF, where you can meet other women," commented one expat who made the move to Bologna.
Answer Question & View More Answers
What is life like in Italy?
When we asked people living in Italy what life is like and how people spend their time, they said:
"Good living, socializing, arts and festivals. Good wine town. The true "secret" of Italy is the connections people have with each other. It's also a good way to learn the language...fast," commented one expat who made the move to Fiesole.
"Locals are very private and seem to work and socialise amongst themselves with little desire to interact with expats. There aren't many social meeting places (piazzas, bars, or other) to meet up and in the evenings after 7 or 8pm the city is very, very quiet. During the day the many sports clubs are teeming with locals and tennis courts, rowing clubhouses and pools in other villages are always full. As for expats, they generally come from neighbouring villages to meet at the lakefront for aperativos or dinner. There are two distinct groups (expats/ locals) who have very different lifestyles it seems," remarked another expat living in Angera, Italy.
Answer Question & View More Answers
Is there a lot of diversity? Are people in Italy accepting of differences?
"I've met people from over 40 countries, all colors and ethnicities under the rainbow," mentioned another expat in Fiesole.
"Not diverse at all but the most friendly, accepting, welcoming group I've eve met," commented one expat who made the move to Minturno.
Answer Question & View More Answers
What are the schools in Italy like?
"IS Modena is an IB world school offering the IB programme of education. I would encourage parents who are considering enrolling their children to research these programmes in order to develop an understanding of what they offer and how they work. The Primary Years Programme takes a holistic approach and focuses on the development of the whole child as an inquirer both in the classroom and the world outside. As a parent you can see your child developing their skills and confidence. The Middle Years Programme is an engaging curriculum organised around the study of eight traditional subject areas. Here you see your children becoming expert at learning; they develop their ability to locate, process, critically evaluate and communicate information. The Diploma Programme is a challenging programme, academically rigorous and excellent preparation for university. Overall, I would say that our ten years here have given us a great international experience," added another expat with kids at International School of Modena in Modena.
"Educate yourself about the IB program. Go to the presentations that the school offers on the curriculum and the IB program, Become an active member of the school community! This way you will make the most out of your stay in Italy and here in Modena and you will find many new and interesting friends and a great learning environment for yourself and your children at the international school of Modena," commented one expat when asked about International school of Modena in Modena.
Answer Question & View More Answers
Is the cost of living in Italy high?
We asked people how much they someone comfortably live on in Italy, they wrote:
"That really depends... In Minturno, a couple who want to live simply, using the bus and train for transportation, $20,000/year would suffice," mentioned another expat in Minturno.
Are healthcare and health insurance expensive in Italy?
"Health Insurance in Italy is based on the "breadwinner's" income and then a nominal amount for family members. For us: middle income retirees...c. E1600/yr total. Rx very inexpensive," commented one expat who moved to Italy.
About the Author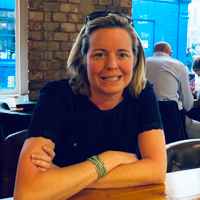 Betsy Burlingame is the Founder and President of Expat Exchange and is one of the Founders of Digital Nomad Exchange. She launched Expat Exchange in 1997 as her Master's thesis project at NYU. Prior to Expat Exchange, Betsy worked at AT&T in International and Mass Market Marketing. She graduated from Ohio Wesleyan University with a BA in International Business and German.
Some of Betsy's articles include 12 Best Places to Live in Portugal, 7 Best Places to Live in Panama and 12 Things to Know Before Moving to the Dominican Republic. Betsy loves to travel and spend time with her family. Connect with Betsy on LinkedIn.