Living in Turkey
Last updated on Feb 04, 2023
Summary: The approximate population of Turkey is 83 million people. The largest cities in Turkey are Istanbul, Ankara, Izmir, Bursa, and Adana. Expats love living in Turkey for its rich culture, beautiful landscapes, and friendly people. Life in Turkey is described as vibrant, diverse, and full of opportunity. Popular foods in Turkey include kebabs, mezes, baklava, and Turkish coffee. The cons of living in Turkey include the language barrier, the lack of public transportation in some areas, and the high cost of living in some cities. The average cost of living for an expat is around $1,500 to $2,500 per month, depending on the city and lifestyle.
What do I need to know about living in Turkey?
When we asked people what advice they would give someone preparing to move to Turkey, they said:
"Before retiring in Turkey, you should know that it can be an expensive experience and that you need to research any costs or fees associated with living there. You should also be aware of the visa and residency requirements that you need to meet in order to legally stay in the country. You should familiarize yourself with the local language, culture, and customs before moving, as this will make settling in much easier. As a retiree, it is also important to stay abreast of any political developments that may affect the country, so you can make a more informed decision about whether to stay in Turkey. Lastly, having a plan for saving and investing your money, both pre- and post-retirement, is important for enjoying a comfortable lifestyle in Turkey," added another expat who made the move to Turkey.
"Before retiring in Turkey, it is important to understand the cost of living, the language, and local customs in the area. Additionally, it is important to know what type of residency permit you will need, how to obtain it, and how long it is valid. Getting to know the healthcare system, taxes, social security, currency, banking, and transportation system in Turkey is also beneficial. Furthermore, gaining an understanding of the climate, culture, and potential leisure activities in the area may be helpful for adjusting to life in the location," explained one expat living in Turkey.
Answer Question & View More Answers
How do I meet people in Turkey?
When we asked people living in Turkey about club and activities where newcomers can meet others, they responded:
"Making friends in Turkey is not difficult. The best way to meet people is to get involved with local activities and organizations such as sports, music and language classes. Taking a walk in the local park and introducing yourself to a stranger is another great way to establish social contact. Participating in group tours is also a great way to meet new people in and around Turkey. Additionally, joining online local meet-up groups or social media platforms like Meetup and Facebook are great ways to connect with others who are interested in things that you are also interested in doing. Last but not least, if you stay in a hostel, you're likely to get to meet interesting people from all over the world," said another expat in Turkey.
"There's the Izmir Turkish American Association which has various activities for Turks and Americans and some of them are free and for others there's a fee. They do things such as go on outings to historical sites, cooking classes, English lessons, poetry club and movie nights, just to name a few. Also, there's the IWAI (International Women's Association of Izmir), which hosts coffee mornings, dinners, and other events," added another expat who made the move to Izmir.
Answer Question & View More Answers
What is life like in Turkey?
When we asked people living in Turkey what life is like and how people spend their time, they said:
"Living as an expat in the area can be both a rewarding and challenging experience. The beautiful setting and abundant cultural attractions make it a desirable place to live, while at the same time, the language and customs of the local culture can be difficult to navigate. Being an expat in the area can provide a great opportunity to explore the region's diverse offerings and gain an understanding of a different culture – from its gastronomic options, to its music and even its people. There are lots of activities and events to get involved in, and networks to meet like-minded people. Nevertheless, the language and cultural gaps can take time and effort to bridge. Access to healthcare, the process of obtaining legal documents and the bureaucracy of the local political system can all be intimidating and difficult to navigate, but can ultimately be overcome by taking the time to seek local assistance and figuring out the right channels," wrote a member in Turkey.
"Family oriented, internet connected, soccer loving, interested in foreign neighbors as lons as they arenotreligious missioners," commented one expat who made the move to Turkey.
Answer Question & View More Answers
Is there a lot of crime in Turkey?
We asked people if there is a lot of crime. They answered:
"No, there is not a lot of crime in Turkey. According to statistics from the United Nations Office on Drugs and Crime, Turkey has a particularly low rate of crime when compared to other countries. The crimes that occur most commonly include pickpocketing, theft and motor vehicle theft. However, visitors are advised to remain vigilant and to keep their belongings secure, particularly in crowded areas," commented one expat who made the move to Turkey.
"No. In the Kemer area of Antalya, the biggest crime was usually housebreaking. I did however get cheated out of both my money and car by what I thought to be my best Turkish friend. He unfortunately, turned out to be nothing more than a conman. In view of this, never lend money to anyone, unless you can afford to loose it," remarked another expat living in Antalya, Turkey.
Is there a lot of diversity? Are people in Turkey accepting of differences?
"In Turkey, there is a great mix of cultures and ethnic backgrounds, including Turkish, Kurdish, Armenian, Greek, and other minorities. This means that the country is home to a diverse population, and despite the cultural and religious divides that exist, there is a high degree of acceptance and respect among different cultural groups. People in Turkey have a strong sense of national identity, which transcends individual religious or ethnic ties, and this is further reinforced by close family ties, sizable local and expatriate communities, and strong media presence. All in all, Turkey embraces its diversity, and despite the striking differences between its many cultures, the country's multiculturalism is something that it celebrates," commented one expat who made the move to Turkey.
"Nor diverse. Moslems. Expect respect to their religious believes. High percentage in beind atheist but do not openly say it. Accept differences as long as relationship is just and fun based," remarked another expat living in Turkey.
Answer Question & View More Answers
What are the schools in Turkey like?
"Schools in Turkey are typically tuition-free and compulsory up to the ninth grade. Education is based on the national curriculum developed by the Ministry of National Education. At the elementary level, instruction is in Turkish, while at the secondary level, foreign language instruction is introduced along with other elective classes. All schools in Turkey offer extracurricular activities and clubs, such as music and art, sports, and drama. Students can also participate in community service activities through their school," explained one expat living in Turkey.
"Although TED Izmir might appear to have the potential to provide a good education to your child, don't do it. They are still too new, & most of what they claim to do is just theory, not reality. When they eventually add a high school, they plan to implement the IGCSE program, but they don't seem to have any forward planning going on at this point. Whenever asked about future plans or current issues, the answer always seems to be, "you have to understand that we are a new school." It's also worth noting that the school seems to have a very difficult time keeping its native speaker teachers. I heard that none of their native speaker teachers returned after the first year, and quite a few that were hired for the 2nd year left within the first few weeks of school starting. The quality of the students at the school also varies greatly. While there are some very bright students who have transferred from other good schools, many of the students come from wealthy families, are quite spoiled, and have little to no discipline. This makes classes chaotic, and sends the message that it's okay to disrespect authority figures. Despite the fact that the school costs about 20,000tl for tuition alone, plus another couple thousand for uniforms, books, the school service, etc., it seems to be a typical Turkish education that could be obtained elsewhere for less. I would not consider this a real option for an "international school"," said another parent with children at TED Izmir in Urla, Izmir.
Answer Question & View More Answers
Is the cost of living in Turkey high?
We asked people how much they someone comfortably live on in Turkey, they wrote:
"The cost of living in Turkey can vary depending on the city or town you are in. Generally speaking, Turkey has a relatively low cost of living compared to some other countries. In major cities, such as Istanbul, the cost of living can be quite high, but in smaller cities and towns, the cost of living may be much more affordable," commented one expat who made the move to Turkey.
"The cost will depend on which part of the country you are living in. Rent in Antalya being far cheaper than in Istanbul. A 2 bedroom apartment in Antalya can cost around 700TL per month, which at present is under 200 pound sterling. Rental costs in Istanbul are or can be extremely expensive and in some areas on par with those in London," remarked another expat living in Antalya, Turkey.
About the Author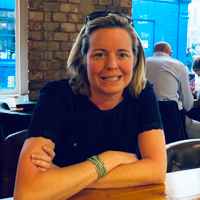 Betsy Burlingame is the Founder and President of Expat Exchange and is one of the Founders of Digital Nomad Exchange. She launched Expat Exchange in 1997 as her Master's thesis project at NYU. Prior to Expat Exchange, Betsy worked at AT&T in International and Mass Market Marketing. She graduated from Ohio Wesleyan University with a BA in International Business and German.
Some of Betsy's articles include 12 Best Places to Live in Portugal, 7 Best Places to Live in Panama and 12 Things to Know Before Moving to the Dominican Republic. Betsy loves to travel and spend time with her family. Connect with Betsy on LinkedIn.