Living in Ireland
Last updated on Feb 10, 2022
Summary: Expats, digital nomads and retirees talk about what it is really like living in Ireland. They offer advice about meeting people, cost of living, finding a home and more.
What do I need to know about living in Ireland?
When we asked people what advice they would give someone preparing to move to Ireland, they said:
"Before undertaking any overseas residency, PLAN AND RESEARCH IN ADVANCE! My husband and I had the good fortune to be able to retire in Ireland. I hold dual US-UK citizenship so the move and entrance to Ireland was relatively easy for us. In addition, having direct lineage to an Irish citizen (as writing this, that includes Irish parents or grandparents), makes entrance easier. One must be prepared to provide the documents required of Ireland, including background check, financial means, etc. We spent over a year researching all aspects of living here and obtaining Irish citizenship, which we are working on now due to my grandparents being Irish. The best thing to start is online research: Ireland (or wherever your plans are set) Residency Requirements for expats. Above all else, if coming here, join a group like this and make a friend in advance. It pays to know someone who has walked your path before you. And as they say here... Failte (Welcome)," commented one expat who made the move to Tubbercurry.
"Make sure your US TV is PALS accessible before bringing it. We were told by electronic company in US we could convert but we can't(TV is too old-bought it in 2003). I would have brought more DVD's to watch as cable movie channel is expensive. But also have to have something to play it on as the DVD system here is regional. Told not to bring snow shovel...but need a scraper for car. First big snow in years I am told. Bring transformers if bringing any US electrical. Have been told it will blow up, but so far so good. Just remember things are cheaper in US than here. I think a huge piece is whether you are moving temporairily or permanently," remarked another expat living in Crosshaven, Ireland.
Answer Question & View More Answers
How do I meet people in Ireland?
When we asked people living in Ireland about club and activities where newcomers can meet others, they responded:
"Tubbercurry is what we, in the USA, would call a smallish country town but it is packed with things to do and see. One of the outstanding features is the cultural activity surrounding the annual Drama Festival and competition. Very talented actors and writers from the entire country spend days here to rehearse and perform and the shows are delightful. Another is the week long South Sligo Summer School of Traditional Music camp (fest). where students of all ages from all over come to work with consummate professionals to improve their skills or to learn a new one. Included are performances at local pubs and community hall. Tubbercurry is also the home of the Annual August Old Fair Days that lasts five days when folks turn out in the thousands to experience real country atmosphere, crafts, foods, performances, and wonderful community spirit. Tubbercurry folk are some of the warmest, most welcoming to "outsiders" and before you realise it, you're one of the family," remarked another expat living in Tubbercurry, Ireland.
"meetup.com has great groups (organized by interests) that get together often. Also, if you're living in Dublin alone, don't be afraid to go out to the pub or out to eat on your own. I'm a major introvert, so pushing myself to actually go sit at a pub alone, with people potentially judging me, was very daunting. But you know what, 4 different people came up and started conversations with me. The 2nd time I did it, I met the guy who is now my boyfriend of six months, and acquired a great group of friends," added another expat in Dublin.
Answer Question & View More Answers
What is life like in Ireland?
When we asked people living in Ireland what life is like and how people spend their time, they said:
"As in most communities throughout the world, priorities center on providing for family, religion, discussing global affairs and politics, and of course, sports. Tubbercurry has a GAA pitch and a lovely golf course. There is a newly revamped children's park and excellent walking areas with wonderful beauty," added another expat who made the move to Tubbercurry.
"Family life is big. I love to see all the families out on the weekend spending time together in the parks or the sea front (weather providing). Socialising is a big thing as well, and there seems to be a healthy balance between the two. Often times, you'll see kids with their parents in the pub, which still seems so strange to me," explained one expat living in Dublin, Ireland.
Answer Question & View More Answers
Is there a lot of crime in Ireland?
We asked people if there is a lot of crime. They answered:
"We asked, prior to moving, about overall crime and specifically the area we were choosing for our move. Petty crimes like purse snatching are rare. Of course larger cities have higher incidents but much lower gun problems since here they are illegal," added another expat in Tobercurry.
"Petty crime occurs here but nothing major and not frequent. That was a factor in deciding to choose Tobercurry. Our town is a very diverse community, accepting of everyone. Anyone not a resident is usually identified," remarked another expat who made the move to Tobercurry.
Is there a lot of diversity? Are people in Ireland accepting of differences?
"Tubbercurry is a melting pot of diversity. There are a few residents from the USA, and some of the others we met are from Poland, UK, Africa, other European and Asian countries, and we are very proud that Tubbercurry accepts and welcomes all people, no matter their background, cultural and personal differences. We have restaurants and fast food places that cater to Irish, Mediterranean, Asian, Indian, Italian foods among others. Its not uncommon to find a mixed group of folks laughing over a cuppa in a local gathering place, restaurant, pub, petrol station or just standing on the street for The Craic (chat). A friend told us a ten minute walk to the local grocers can become a two hour adventure for you are sure to meet someone you know along the way. Economically, in our opinion, being on the western side of Ireland is far more economical than for example, Dublin, in the east. Cost of most everything in Tubbercurry, compared to the USA, is roughly 2/3s what it had cost us to live similarly in our prior home in Florida. We chose not to own a car (insurance costs are high but Ireland is addressing that) because bus transportation is lovely and for the over 66 - (and spouse) free (as is train travel)," added another expat in Tubbercurry.
"The Irish are very accepting of other cultures. You'll hear some people complain about the loud, obnoxious groups of Spanish tourists, or the taxi drivers of other nationalities, but for the most part, in my experience they are very tolerant," remarked another expat who made the move to Dublin.
Answer Question & View More Answers
What are the schools in Ireland like?
"The school is an International Baccalaureate school and hence children are learning using the enquiry based learning approach. The parent community is very supportive so you can reach out to each other in times of need. If you are considering this school, I strongly recommend visiting during school session," commented one expat when asked about International School of Dublin in Dublin.
"A fantastic educational experience for your children, and you'll probably make some good friends among the parents," explained one expat in Blackrock, County Dublin, Ireland with kids at International School of Dublin.
Answer Question & View More Answers
Is the cost of living in Ireland high?
We asked people how much they someone comfortably live on in Ireland, they wrote:
"We live like the wealthiest US resident here in Ireland for approximately $2000 per month. We chose not to purchase a car because, as a senior, transportation (bus and train) is free and easily accessible and my husband gets a pass too," explained one expat living in Tobercurry, Ireland.
"We live very well on $2000 a month which covers everything, in a large single family (detached) home. We use free public transportation and hire (rent) a car during the off season," said another expat in Tobercurry.
Are healthcare and health insurance expensive in Ireland?
"Medical insurance is extremely complicated and needs to be renegotiated every year. Tax relief is available. Many things are not covered. People with chronic on going conditions would have difficulties. Whether your insurance is accepted depends on the individual policy and there is usually an excess to pay. Medical care in Ireland is probably the most expensive in Europe. Specialists charge 150-250 euros for 10 minute appointments. Hospital beds start at 1000 per day in crowded dirty wards," remarked another expat in Galway.
About the Author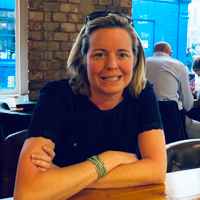 Betsy Burlingame is the Founder and President of Expat Exchange and is one of the Founders of Digital Nomad Exchange. She launched Expat Exchange in 1997 as her Master's thesis project at NYU. Prior to Expat Exchange, Betsy worked at AT&T in International and Mass Market Marketing. She graduated from Ohio Wesleyan University with a BA in International Business and German.
Some of Betsy's articles include 12 Best Places to Live in Portugal, 7 Best Places to Live in Panama and 12 Things to Know Before Moving to the Dominican Republic. Betsy loves to travel and spend time with her family. Connect with Betsy on LinkedIn.