Cost of Living in Ireland
Last updated on Nov 27, 2021
Summary: What is the cost of living in Ireland? Expats, digital nomads and retirees living in Ireland talk about the general living costs, the cost of housing and health insurance.
Is the cost of living in Ireland high?
We asked people how much they someone comfortably live on in Ireland, they wrote:
"We live like the wealthiest US resident here in Ireland for approximately $2000 per month. We chose not to purchase a car because, as a senior, transportation (bus and train) is free and easily accessible and my husband gets a pass too," added another person living in Tobercurry.
"We live very well on $2000 a month which covers everything, in a large single family (detached) home. We use free public transportation and hire (rent) a car during the off season," explained one expat living in Tobercurry.
Will I save money living in Ireland?
"We put together a very modest budget, covering everything we paid for in the US. Amazingly, we were spot on in our estimates with medical far exceeding our expectations. Because if not life threatening, as full time residents we avail of the Irish system waiting four months for most procedures once they are recommended by a local GP. We highly recommend a private insurance plan to cover things needing more immediate attention. Full coverage in Ireland for us cost us a little over $150 US dollars per month versus that same cost in the US running $2500 per month," remarked another in Tobercurry.
"Yes, I expected it to be expensive in Ireland and it is for the most part," explained one expat.
What is the average cost of housing in Ireland?
If you are thinking about moving to Ireland, cost of living in probably a key consideration. Expats commented about the cost of housing:
"Remarkably our 4 bedroom home is about half the cost of the 2 bedroom apartment we rented in Florida and our home is private, in an upscale neighborhood with a backyard and abutting a large pasture. Depending on the location, renting and purchasing can vary significantly. We opted to avoid city life, like Dublin, where cost of housing is considerably more. Our location averages €650 per month where in Dublin similar could run €2500," remarked another in Tobercurry.
"Far more expensive here. House cost about twice the price as in Boston. Food is about 30 to 40% more," explained one expat.
About the Author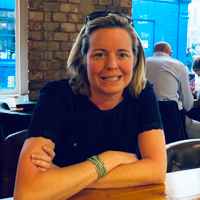 Betsy Burlingame is the Founder and President of Expat Exchange and is one of the Founders of Digital Nomad Exchange. She launched Expat Exchange in 1997 as her Master's thesis project at NYU. Prior to Expat Exchange, Betsy worked at AT&T in International and Mass Market Marketing. She graduated from Ohio Wesleyan University with a BA in International Business and German.
Some of Betsy's articles include 12 Best Places to Live in Portugal, 7 Best Places to Live in Panama and 12 Things to Know Before Moving to the Dominican Republic. Betsy loves to travel and spend time with her family. Connect with Betsy on LinkedIn.