Real Estate in Portugal
Last updated on Feb 02, 2023
Summary: An expat should begin their search for a home to buy in Portugal by researching the different areas of the country and deciding which region best suits their needs. They should also consider their budget and the type of property they are looking for. Once they have narrowed down their search, they can contact a real estate agent or search online for properties that meet their criteria. Homes in Portugal typically include amenities such as air conditioning, central heating, and a fully equipped kitchen. Many homes also have a terrace or balcony, a garden, and a swimming pool. Foreigners are allowed to purchase property in Portugal, but there are certain restrictions. Non-EU citizens must obtain a visa and a residence permit before they can purchase a property. Additionally, non-EU citizens are only allowed to purchase one property in Portugal.
How do I find a place to live in Portugal?
We asked expats how they chose their neighborhood and found a place to live. They answered:
"Once you have decided on a city or town to live in, it is time to look for a place to rent. You can start by looking online for rental properties and contacting real estate agencies. In addition, local newspapers and Portuguese classified websites can be helpful in locating rental properties. You may also find it useful to approach friends and contacts in Portugal to help you find a place to rent," said another person in Portugal.
"By cost and internet posts on Idealista. I had 10 days to get an address. Price was a big concern. I looked at 3 listings, 1 in Porto and 2 in neighboring Gaia. I chose the bigger place in Gaia. It was the right size and price. I was lucky that the Remax agent was honest and super helpful and spoke English! It is a good place in a nice neighborhood. Do your research beforehand and have representation, preferable an honest attorney," added another expat who made the move to Porto.
Answer Question & View More Answers
What is a typical expat home or apartment like in Portugal?
"A typical expat home or apartment in Portugal will typically be well-equipped with modern amenities like air-conditioning, central heating, and equipped kitchen. Most apartments will have plenty of natural light and often have balconies or terraces which provide breathtaking views. Traditional Portuguese architecture is also integrated in many expat homes and apartments, featuring beamed ceilings, arched doorways, and tiled walls and floors. Many apartments are located close to cultural attractions, close to museums, parks, shops, and restaurants, providing plenty of activities and entertainment for expats," remarked another member in Portugal.
"We rent a condo. Yes, most of our expat friends have done the same, although, as it turns out, our landlords are also expats who own several condos and a single family house that they live in," explained one expat living in Porto, Portugal.
Answer Question & View More Answers
What is the average cost of housing in Portugal?
If you are thinking about moving to Portugal, cost of living in probably a key consideration. Expats commented about the cost of housing:
"The cost of housing in Portugal varies depending on the location and type of property. Generally, the cost of a two-bedroom apartment in a city such as Lisbon will typically be more expensive than a similar property in a smaller town or rural area," explained one person living in Portugal.
"Housing cost is less than half of what we were paying in Denver, Colorado. Depending on the size of place you need and location, $700-1200/month can be average. Porto is more affordable than Lisbon and Vila Nova de Gaia, which is a 10 minute drive from Porto, across the river can be several hundred dollars cheaper than Porto. Neighboring smaller cities are even more affordable," said another expat in Porto.
Answer Question & View More Answers
Should I buy or rent a home in Portugal?
If you have not spent a lot of time in Portugal, you should rent before even thinking about buying. We asked expats there about the buy vs. rent decision:
"Whether to buy or rent a home in Portugal depends on several factors, such as your current financial situation, financial goals, and desired lifestyle. Buying a home can be a better long-term investment, as you pay off your mortgage and gain equity in the property, though the upfront costs are often higher. Additionally, the quality of real estate and housing available in Portugal at or below the median price points may not always be satisfactory. On the other hand, renting can provide more flexibility, as you can move more quickly and may have fewer upfront costs. Additionally, some landlords in Portugal may offer amenities that are not typically available to buyers, such as access to a pool, gym, or other shared spaces. Ultimately, the best option for you depends on what your specific needs and goals are," said another person in Portugal.
"We are renting a lovely house in a Portuguese residential community. Very peaceful and quiet. Lovely neighbors. Just a 15 minute walk to the ocean - Good transportation. Many people speak English or French. We have all kinds of nice little restaurants in this neighborhood all within walking distance and we will probably look to purchase near here," added another expat who made the move to Cascais.
Answer Question & View More Answers
About the Author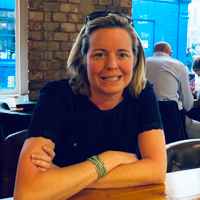 Betsy Burlingame is the Founder and President of Expat Exchange and is one of the Founders of Digital Nomad Exchange. She launched Expat Exchange in 1997 as her Master's thesis project at NYU. Prior to Expat Exchange, Betsy worked at AT&T in International and Mass Market Marketing. She graduated from Ohio Wesleyan University with a BA in International Business and German.
Some of Betsy's articles include 12 Best Places to Live in Portugal, 7 Best Places to Live in Panama and 12 Things to Know Before Moving to the Dominican Republic. Betsy loves to travel and spend time with her family. Connect with Betsy on LinkedIn.