Cordoba, Spain
Last updated on Jul 02, 2023
Summary: Expats, digital nomads and retirees discuss what it is like to live in Cordoba, Spain: Cost of living, Finding a home, Meeting People and more.
What do I need to know about living in Cordoba?
When we asked people what advice they would give someone preparing to move to Cordoba, they said:
"Expats considering retirement in Cordoba, should be aware of several key factors. Firstly, it's important to understand the cost of living, which is generally lower than in many other European countries, but can vary depending on lifestyle and location within the city. Healthcare in Spain is of a high standard, with both public and private options available. Expats from EU countries can usually access the public healthcare system, while those from outside the EU may need private health insurance. The official language is Spanish, and while English is spoken in many tourist areas, it's less common in more residential areas, so learning some Spanish will be beneficial. The climate in Cordoba is Mediterranean, with hot summers and mild winters, which may be a consideration for those with health conditions affected by temperature. Spain has a double taxation agreement with many countries, which means you won't pay tax twice on the same income, but it's important to understand your tax obligations. The Spanish lifestyle is laid-back, with a focus on family, food, and outdoor activities. Shops and businesses often close for a few hours in the afternoon for siesta, which can take some getting used to. Spain has a high standard of education, with a mix of public, private, and international schools, which may be a consideration for those planning to retire with school-age children. Finally, it's important to understand the process of buying property in Spain, which can be complex and requires a number of legal steps. It's recommended to hire a lawyer who is familiar with the process," wrote a member in Cordoba.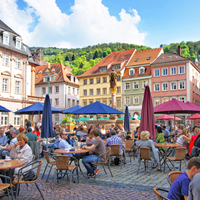 Furnished Rentals in Spain from Homelike
We've partnered with Homelike, to connect expats and newcomers with temporary accommodations in Spain. If you're moving to Spain, rent a short-term, furnished apartment or home for the first few months from Homelike and take your time figuring out the best place to live in Spain.
SEARCH RENTALS
What do I need to know before moving to Cordoba?
About the Author

Joshua Wood, LPC joined Expat Exchange in 2000 and serves as one of its Co-Presidents. He is also one of the Founders of Digital Nomad Exchange. Prior to Expat Exchange, Joshua worked for NBC Cable (MSNBC and CNBC Primetime). Joshua has a BA from Syracuse and a Master's in Clinical and Counseling Psychology from Fairleigh Dickinson University. Mr. Wood is also a licensed counselor and psychotherapist.
Some of Joshua's articles include Pros and Cons of Living in Portugal, 10 Best Places to Live in Ireland and Pros and Cons of Living in Uruguay. Connect with Joshua on LinkedIn.