Copenhagen, Denmark
Last updated on Jan 06, 2023
Summary: People often describe Copenhagen, Denmark as a vibrant, modern city with a rich cultural heritage. Expats love the city's relaxed atmosphere, its excellent public transportation system, and its many parks and green spaces. The weather in Copenhagen is generally mild, with temperatures ranging from the mid-30s to the mid-60s Fahrenheit (1-18 Celsius). The average cost of living for an expat is estimated to be around $2,500-$3,000 USD per month. The cost of a one bedroom apartment in Copenhagen is typically around $1,500-$2,000 USD per month, while a two bedroom apartment can cost around $2,000-$2,500 USD per month. The population of Copenhagen is estimated to be around 615,000 people.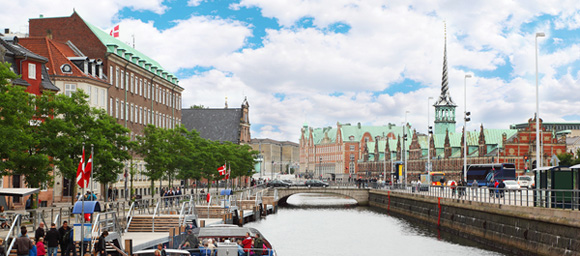 What do I need to know about living in Copenhagen?
When we asked people what advice they would give someone preparing to move to Copenhagen, they said:
"Copenhagen is a small city but is a gateway to many parts of Europe, make travel a priority to keep things interesting. At the end of the day, it's still a European country and shares many characteristics with its counterparts, although personally I think for expats it's better than the US or UK if you are English speaking for example, although Denmark speaks excellent English and there is hardly a need to learn the local language (at least for a short term stay) However, of course being from the US, I would not rate it as the best expat destination due to its small population and sometimes lack of activities. That being said, it is a great opportunity for immersion in a new culture and to get to know both the country and the Scandinavian culture better. My advice: Denmark is a place where especially if you are from outside Europe or a place where the cost of living is much lower, will be a big change in terms of lifestyle, there are some sacrifices to be made. If you are willing to sacrifice a little, I view it as a great short-term destination, and if you want to stay a little longer, I wouldn't blame you- Denmark has many appealing factors," mentioned another expat in Copenhagen .
What do I need to know before moving to Copenhagen?
When we asked people what advice they would give someone preparing to move to Copenhagen, they said:
"Plan first where you need to be -- work and schools -- and chose someplace that is very close to that area. Expect to live in an apartment and not a home unless you have a very large budget for housing expenses. CIS and Rygaards are the only international schools I would recommend in any way. When setting a budget, double or triple it. And, lastly, rent through a rent manager and NOT directly with a home owner. You will have major problems when moving out. I've heard many nightmare stories and ours was bad but not as bad as others," commented one expat who made the move to Copenhagen.
"Check out this web-site about moving to Denmark ... especially if you are a member of a "visible minority" (I hate the terminology but you know what I mean). http://somethingmanky.blogspot.com/," remarked another expat living in Copenhagen, Denmark.
How do I find a place to live in Copenhagen?
We asked expats how they chose their neighborhood and found a place to live. They answered:
"We needed to rent a furnished apartment or home. That narrowed down our search to only one decently sized townhouse (rakehaus). In hindsight I wished that we had just sucked it up and purchased Ikea furniture to open up our choices. The townhouse was ok but I kicked myself for not listening to my gut instinct that one main bathroom for a family of four just wouldn't work for us. It didn't. And it was a supreme source of frustration because that one bathroom had a shower leak that the owner refused to fix until we moved out and charged us for the repair and cleaning of all the lime buildup. That's common in Denmark -- the owners of rentals will charge you for fixing things they should have fixed while you lived there," said another expat in Copenhagen.
What is a typical expat home or apartment like in Copenhagen?
"We lived in a townhouse in the outskirts of Copenhagen in a small town -- Horsholm. We had to move to the suburbs to find a decent sized home for our family of four. It was small but ok. The car park was a long walk to our townhouse which was difficult when grocery shopping American style for a family of four. We had a much lower idea on our housing budget than what reality is there. In hindsight we should have rented closer into Copenhagen in an apartment. Most expats have a large rental cost covered by their employer that allows for more decent living style. We were on a contract and not as an employee so our budget came out of my husband's contract fee," commented one expat who made the move to Copenhagen.
"Apartment, I bought it and this is only since the rental market is very limited. Most people "own" some form of apartment here or houses in suburbs. The housing market has crashed and so things have loosened up quite a bit but it is still very expensive," remarked another expat living in Copenhagen, Denmark.
What is the average cost of housing in Copenhagen?
If you are thinking about moving to Copenhagen, cost of living in probably a key consideration. Expats commented about the cost of housing:
"Our housing costs were double what we had thought we could live with in Denmark. We had minimal time to agree to move there and with minimal research we thought we could manage living outside of Copenhagen on a lower rental amount. That was our first mistake. The time it takes to get into Copenhagen either by car or train takes its toll and increases costs. We paid about $8000 a month in rent for a three bedroom townhouse," remarked another expat living in Copenhagen, Denmark.
"Much higher. The low end of rented apartments is around 1000 USD per month and you do not get much for your money. Most rented apartments, if you can find them, go for between 1500-2000 USD per month," added another expat in Copenhagen.
How do I meet people in Copenhagen?
When we asked people living in Copenhagen about club and activities where newcomers can meet others, they responded:
"Try Facebook groups- there are some expat in Copenhagen groups. Unfortunately, compared to other countries, Denmark lacks in terms of organizations to help meet other people, as many require Danish proficiency. My best advice- if you have a child, get involved with your child's international school, you are sure to meet tons of expat families and local Danish ones, and is a great way to meet new people," remarked another expat who made the move to Copenhagen .
What should I bring when moving to Copenhagen?
People living in Copenhagen were asked what three things they wish they had brought and three they wish they had left behind. They wrote:
"I wish I had brought 1. Over the counter medicines; 2. Purchased more all weather shoes and boots before moving; 3. Hair cutting supplies for humans and canines. I wish I had left home several electronic devices that I thought would work on plug converters but didn't (hand blender; hair dryer); 2. high heel shoes -- very hard to walk on cobbled streets in and got ruined in all the rain; 3. summer clothes -- only used for about 3 weeks tops and took up too much storage space," remarked another expat living in Copenhagen, Denmark.
"Nothing comes to mind ... don't both bringing electronics from NA due to different electrical system," added another expat in Copenhagen.
Where should I setup a bank account in Copenhagen?
We asked expats in Copenhagen what banks they use and there advice about banking. They advised:
"There are no expat focused banks in DK. I have switched banks several times for better service and lower fees. I particularly was looking for Banks in which I could maintain a dollar account and could move money between banks around the world at low cost. It may be hard to do both at the same time (low cost and easy movement of money). I have banked at Danske, Nordea, Fionia. Fees can be high here. Find out what they are," mentioned another expat in Copenhagen.
Will I be able to find a job in Copenhagen?
When we asked people about industries and career opportunities in Copenhagen, they reponded:
"Not really educated a ton on this- but I know from within the expat community a large portion work in the shipping, oil and gas, renewable energy, and health and medicine industries, with some also working as diplomats for their home country. Many expats come to Denmark with a job contract and an accepted offer, but if you are looking for a job in Denmark, as often quite a few accompanying spouses do, beware - the job market is VERY difficult, at least from my experience as an accompanying spouse. Many jobs are Danish speaking or require some level of proficiency, and string adjusted to the CV/resume/interview process can be frustrating and confusing," mentioned another expat in Copenhagen .
"It has been very hard for foreign professionals to get jobs in Denmark for a variety of reasons I don't need to go into. The government is slowly streamlining things and relaxing the requirements for professionals, but there is still a lot of resistence. Chemical, pharmeceutical and biotech companies seem to have a big need for well-educated (Ph.D.) scientists. I am talking about places like Novo Nordisk. I don't really know the trends. The professionals I know who came from America all have a different story: this isn't Ireland," commented one expat who made the move to Copenhagen.
What is life like in Copenhagen?
When we asked people living in Copenhagen what life is like and how people spend their time, they said:
"Lives revolve around family, if you are from the US for comparison, life here is significantly LESS stressful in terms of work. The working hours here are shorter, and most jobs require around 37.5 hours a week. Lots of vacation too and amazing maternity leave benefits. All of these contribute to more family time, and in general Danes tend to prioritize family time or meet friends usually in a small social circle. Of course, some expats want to meet a lot of people (myself included), and there are opportunities to meet through expat groups (see above). Additionally, there are sports clubs although check beforehand as most of not all speak Danish :( However, DON'T be discouraged from exercise, there might not be groups but many Danes and expats alike like to spend time outside with their family. Many residents of Copenhagen are extremely active, and a large population bike or walk to work/school, go to the gym, run, etc. For group sports for kids, check with your child's school, many offer programs. For adults, your options may be more limited but try social media to find groups, or if not create a group with fellow locals and expats :)," commented one expat who made the move to Copenhagen .
What do expats in Copenhagen appreciate most about the local culture?
"I appreciate for one the Danish fitness aspect, the culture here is very much that which encourages a healthy lifestyle, as many residents of the city walk and bike frequently, as well as engage in other forms of exercise. Diet and nutrition are also important and many focus on incorporating healthy food groups into the diet. Danish culture is also very straightforward, which is good and cuts to the point. And of course: language, for an English native/fluent speaker, this is a safe haven, as Denmark is very good for an English speaker as almost all of the population speaks grade A English," explained one expat living in Copenhagen, Denmark.
What do expats find most challenging?
"Definitely the closed off vibes that I got in general from the culture, it will be hard especially if you are loud and outgoing. There is hardly variety here, the same trends and produce and people, little multiculturalism," remarked another expat living in Copenhagen, Denmark.
"Rules that have been put in place to limit and frustrate foreigners irrespective of what kind --- i.e. even if you are hosted by Denmark at their invitation they treat you as if you should be grateful and tax you mercilessly so you leave quickly. Worse, the beaurocrats don't take questions or queries -- however polite you are," added another expat in Copenhagen.
Is there a lot of diversity? Are people in Copenhagen accepting of differences?
"Depends on where you are from whether you will think it is more or less diverse. If you are from a place like the US, Canada, the U.K., Singapore, the UAE, or countries similar where there are many cultures, you will be surprised at how ethnically homogeneous Denmark is. One local told me it is a tribe almost, nearly everyone is ethnically Danish and there is little cultural diversity. However, if you are from a place such as Norway, Sweden, etc. where society is largely one race, you won't be in for much of a shock. Of course, larger cities here are more multicultural than urban areas. Danes are very accepting of culture generally, although many have mixed experiences. While I, as a person of color, have generally had good experiences, many of my friends have not, although a large majority have. I think overall though, Denmark is extremely accepting, and is fortunate to have legislation that guarantees personal rights and liberties upon everyone. Denmark is very much centered around equality. However, often minorities of any form will experience some form of ignorance, although many locals describe it as just ignorance and not malicious intent- being an ethnically homogeneous place, many Danes have not experienced multiculturalism the way other countries in Europe and America/Canada have for example, although in my opinion it is still no excuse for any hateful comments. Opinions vary, the best advice I have (which is general I apologize), is to talk to as many people you can including locals and experts to gain your own perspective on this issue, which is not so clear cut here in Denmark, although it is safe to say it is a Western country and is tolerant and accepting, so don't worry :)," explained one expat living in Copenhagen , Denmark.
What are the schools in Copenhagen like?
"Steer clear of this school. The school principal is only interested in your money. The teachers are unprofessional. Once you sign up for a place you cannot withdraw your child from the school without forfeiting TWO YEARS of school fees. Our daughter was bullied by some older boys and the school did nothing. In the end we had to take her out of the school and get trauma counseling for her. The principal forced us to pay for the next school year after she'd left and threarened us with legal action when we questioned this. This horrible experience has colored our perception of Denmark as a country. We will NEVER come back," commented one expat when asked about Bjorn's International School in Copenhagen.
"Do not send them to this school. Particularly if your children do not have english as a first language. For native speakers it is already a feat for the parents trying to uphold english standards. The cons completely outweigh the pros and the office attitude that I mentioned earlier is a major issue for most of the expat parents, and some of the locals as well. There have been several instances of people cutting their contracts short in order to escape the claws of the school. Their time in Denmark has been overshadowed by the shortcomings and arrogance of this institution. There are plenty of other options in the Copenhagen area, and from friends' experience we hear that those schools are more established with a friendlier environment," remarked another expat living in Copenhagen with children attending Hoersholm International School.
Answer Question & View More Answers
What are the pros and cons of living in Copenhagen?
Expats, digital nomads and retirees living in Copenhagen responded:
"Denmark is the kingdom of fairy tales, cradle to grave welfare.The local people are very happy, they don't need to struggle for money, they make money for fun.The scenery is amazing, the life is convenient and the cost is not high.It's a great place to visit, but also a great place to live," remarked another expat living in Copenhagen.
About the Author

Joshua Wood, LPC joined Expat Exchange in 2000 and serves as one of its Co-Presidents. He is also one of the Founders of Digital Nomad Exchange. Prior to Expat Exchange, Joshua worked for NBC Cable (MSNBC and CNBC Primetime). Joshua has a BA from Syracuse and a Master's in Clinical and Counseling Psychology from Fairleigh Dickinson University. Mr. Wood is also a licensed counselor and psychotherapist.
Some of Joshua's articles include Pros and Cons of Living in Portugal, 10 Best Places to Live in Ireland and Pros and Cons of Living in Uruguay. Connect with Joshua on LinkedIn.