Manta, Ecuador
Last updated on Mar 23, 2023
Summary: Manta, Ecuador is a vibrant coastal city with a laid-back atmosphere. Expats love the city's beautiful beaches, friendly locals, and affordable cost of living. The weather in Manta is typically warm and humid, with temperatures ranging from the mid-70s to the mid-80s Fahrenheit. The average cost of living for an expat is around $1,000 per month. The cost of a one bedroom apartment is typically around $400 per month, while a two bedroom apartment can cost up to $600 per month. The population of Manta is around 200,000 people.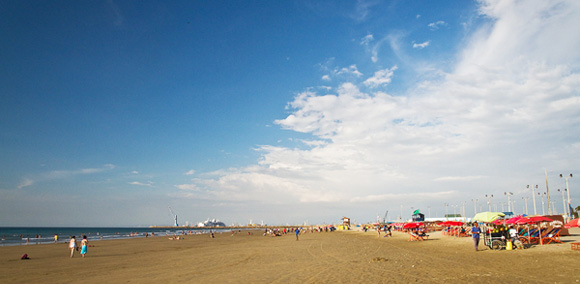 What do I need to know about living in Manta?
When we asked people what advice they would give someone preparing to move to Manta, they said:
"Expat retirees should be prepared for a hot and humid climate in Manta. As such, it is important to bring light clothing and quality sunscreen to protect against the sun. Expats should also be familiar with local customs and regulations for residency, especially if planning on staying for an extended period of time. Additionally, it is recommended to learn some Spanish as English is not widely spoken in Manta. It is also important to establish a local network, such as with other expat retirees, as a means of support. Lastly, expats should explore the city for activities and amenities that suit their lifestyle, in order to make the most out of living in Manta," remarked one expat who made the move to Manta, Ecuador.
"Make it a point to meet the local Gringo population, remember that if they do not have a marked price then barter is often necessary to keep from overpaying. Rent until you know the area and keep an open mind. Realize that on the coast tossing garbage on the side of the road and men publicly urinating is not unusual. This is a super place to retire and Manta's location is dry and arrid. Makes it very healthy and with little rain its easy to plan many outdoor activities. One needs to smile a lot and its amazing how a positive outlook spreads," explained one expat living in Manta, Ecuador.
What do I need to know before moving to Manta?
When we asked people what advice they would give someone preparing to move to Manta, they said:
"Manta is a city in Ecuador located on the Pacific coast. It is known for its seafood and pleasant climate. Expats moving to Manta should be aware that the city experiences frequent earthquakes and may want to take the necessary safety precautions. Additionally, the area has a wide variety of outdoor activities, from beaches to national parks, so it's important to be sure you have what you need to stay safe while exploring the area. The local population is mainly Spanish-speaking, so it is also a good idea to have a basic understanding of the language in order to successfully navigate the city. Lastly, it's important to take measures to protect yourself against mosquito-borne diseases such as Dengue fever, as they are common in the area," said one expat in Manta, Ecuador.
How do I find a place to live in Manta?
We asked expats how they chose their neighborhood and found a place to live. They answered:
"There are several options for finding a place to live in Manta. Most people search online for rental properties, as there are a number of websites dedicated to finding houses and apartments in Manta. Alternatively, there are some local agencies who have properties available for rent, however these are generally more expensive than those places found online. Additionally, an expat social network can provide useful information and tips for finding the right place to rent in Manta, as well as networking with other expats who can provide insider knowledge about the local real estate market. Lastly, asking friends and family for references of reliable real estate agents can be a great way to ensure that you find the perfect place to live in Manta," remarked one expat living in Manta, Ecuador, Ecuador.
What is a typical expat home or apartment like in Manta?
"Expat homes and apartments in Manta are typically well-furnished and comfortably appointed, offering a nice mixture of modern amenities alongside local styles and colors. As one of the major port cities in Ecuador, Manta is a bustling hub of activity and home to many of the country's largest businesses, shopping centers, and entertainment venues. Many expat homes and apartments therefore offer convenient access to the city's major points of interest, as well as plenty of outdoor living spaces that take advantage of the temperate climate and naturally beautiful surroundings. Many of the newer housing developments include communal swimming pools, gyms, and other amenities, allowing expats to enjoy a sense of community together with their new Ecuadorian home," wrote one member in Manta, Ecuador.
What is the average cost of housing in Manta?
If you are thinking about moving to Manta, cost of living in probably a key consideration. Expats commented about the cost of housing:
"The cost of housing in Manta varies depending on the type of housing desired. Generally, rental prices for apartments can range from moderate to expensive, with a one-bedroom apartment typically ranging between $300 to $600 USD per month. Single-family homes and luxury apartments tend to be more expensive, averaging between $400 to $1,000 USD per month," remarked one expat living in Manta, Ecuador, Ecuador.
How do I meet people in Manta?
When we asked people living in Manta about club and activities where newcomers can meet others, they responded:
"Expats living in Manta often become involved in the local community by joining clubs and activities such as expat meetups, outdoor sports groups, and professional networking groups. Expats can also meet people by attending local events, such as music and art festivals, or even joining a language class. Additionally, making friends in the workplace or saying hello to locals when out and about are great ways to connect with people in Manta," remarked one expat who made the move to Manta, Ecuador.
"Manta International Social Club and/or contact Linda Flierl Hooks at [email protected]," explained one expat living in Manta, Ecuador.
What should I bring when moving to Manta?
People living in Manta were asked what three things they wish they had brought and three they wish they had left behind. They wrote:
"It is important to remember to bring comfortable clothing suitable for the humid weather of Manta. Pack lightweight suits and dresses for business, as well as neutral colors and light fabrics for protection from the sun and heat. For the cooler months in the Andes, bring layered clothing, a warm coat and closed-toe shoes. People of Manta are friendly and welcoming, so do not forget to pack a smile and an open mind! Be sure to also bring your necessary items such as your passport and relevant documents, any medications you take, toiletries, and a few extra items like a battery powered phone charger. Most important, don't forget to pack a sense of adventure," said one expat in Manta, Ecuador.
Where should I setup a bank account in Manta?
We asked expats in Manta what banks they use and there advice about banking. They advised:
"Before retiring in Manta, expats should familiarize themselves with the country's language and culture to ensure the smoothest transition possible. As it can be hot and humid year-round, it is important to make sure the accomodation is well-ventilated or air-conditioned. It is also important to make sure that medical services are available and that adequate insurance is acquired. Furthermore, it is important to research the local laws and regulations for retirees as there may be stipulations that need to be followed. Lastly, exploring the area to find out what amenities and services are available is beneficial to ensure the most comfortable retirement," explained one expat living in Manta, Ecuador, Ecuador.
Will I be able to find a job in Manta?
When we asked people about industries and career opportunities in Manta, they reponded:
"Foreigners in Manta often take jobs in industries such as tourism, hospitality, teaching, IT and engineering, or even as English or Spanish language tutors. Many find employment at local healthcare clinics, expat stores, and in the construction business. Additionally, foreigners may find work in the fields of journalism, finance and logistics," wrote a member in Manta, Ecuador.
"My understanding is that fishing is the main industry here. The job situation here is very poor for all. The pay is low if you work for someone and if you start your own business the government changes the laws often. Most expats that are not retired are either in real estate, B&B or restaurants," commented one expat who made the move to Manta.
What is life like in Manta?
When we asked people living in Manta what life is like and how people spend their time, they said:
"Manta is a great destination for expats and digital nomads looking for a laid-back lifestyle. The city is known for its beautiful beaches, warm climate, and friendly locals. Expats and digital nomads can find a variety of housing options, from beachfront apartments to more affordable options in the city center. The cost of living is relatively low, making it an attractive option for those looking to stretch their budget. The city also offers a variety of activities, from exploring the nearby beaches to visiting the local markets. With its relaxed atmosphere and affordable lifestyle, Manta is an ideal destination for expats and digital nomads," wrote one member in Manta.
"For the most part the expats are retired or semi retired. Socializing tends to be a front runner for many. Because Manta is on the coast we have many close beaches, great mini trips and its very easy to use as a main base to visit and explore other parts," remarked one expat who made the move to Manta.
What do expats in Manta appreciate most about the local culture?
"Expats in Manta appreciate the laid-back atmosphere and the slower pace of life. They enjoy the festive atmosphere of the city, with its numerous parades and celebrations throughout the year. Expats appreciate the wonderful, friendly locals and their warm hospitality. They also appreciate the variety of delicious, fresh food available in markets, restaurants, and cafes around the city. Additionally, the stunning beauty of the lush rainforest and coastline of Manta is a major draw for expats, who often take advantage of the many outdoor activities available," wrote one member in Manta, Ecuador.
"The warmth and easy going friendliness of Ecuadorians. Common courtesy and good manners. That youth and age or treated with kindness. Respect for the environment. People are valued at least as much as economic gain. Hard work: people are willing to hustle for income, even if it's on a different time frame than US companies might expect," remarked one expat who made the move to Manta.
What do expats find most challenging?
"One of the most challenging aspects of living in Manta that expats often face is navigating the different norms and customs of the local culture. While the people of Manta are friendly and welcoming to new visitors, they may expect different behaviors than what a person is accustomed to, so an expat often needs to adapt and learn the local customs. Additionally, the language barrier can be difficult to overcome, as Spanish is the official language of Manta; this can complicate interactions with locals and the ability to access certain services. Finally, the local infrastructure and public transportation can seem very different to those used to living in more developed countries, which may require some getting used to in order to get around town and complete daily tasks," remarked one expat who made the move to Manta, Ecuador.
"The language. There was a Tsunami alert the second week I was here. I did not have computer access, and air raid sirens were going off. Trucks with loudspeakers were in the streets, with bullhorns making announcements in Spanish, but my skills were not strong enough to make them out. I did not know what was happening and that was scary. That has eased as I"ve made friends and established a safety net," explained one expat living in Manta, Ecuador.
Is there a lot of crime in Manta?
We asked people if there is a lot of crime. They answered:
"Manta has a reputation for experiencing relatively high crime rates. In recent years, there have been reports of muggings, burglaries, drug-related incidents, and violent crimes in the city. The government has taken exceptional steps to ensure the safety of its citizens, such as increasing the police presence and increasing penalties for certain types of crimes. Nonetheless, it is important to stay vigilant when visiting Manta, Ecuador and take the necessary safety precautions," said one expat in Manta, Ecuador.
Is there a lot of diversity? Are people in Manta accepting of differences?
"Manta is a diverse city, with residents from a variety of ethnic and cultural backgrounds. In general, people in Manta, Ecuador are welcoming and accepting of differences. It is not uncommon to encounter people of different cultures and walks of life, who interact regularly and peacefully. Manta has a strong tradition of tolerance and mutual respect," remarked one expat who made the move to Manta, Ecuador.
"The people are polite as a rule and accepting. They do have a strong belief in a class system here. The Catholic church is very strong in Ecuador and encourages all including the poor to have a lot of children which they can not afford. Crime is mostly in certain areas and quite often revenge type crimes. The average tourist will find people helpful but do need to be aware that they will try and take advantage financially wise. I have no fear living in Manta but am aware that they do have crime," explained one expat living in Manta, Ecuador.
What are the schools in Manta like?
"The Swiss School of Manta (SSM) is an excellent international school located in the port city of Manta in Ecuador. It offers an bilingual education in both English and Spanish, with the aim of preparing students to enter universities in Europe, the United States and Canada. With small classes and a student to teacher ratio of 7:1, the school provides a nurturing environment for students to learn and grow. SSM also offers a wide variety of extracurricular activities, giving children a chance to develop their talents and acquire useful life skills. IKER Bilingual School is another top-notch educational institution located in Manta. This school is dedicated to helping students achieve their educational goals through bilingual education and practical courses. The student to teacher ratio is highly favorable at 8:1, offering personalised teaching that is tailored to each student's individual needs. IKER also organizes regular school trips and activities, allowing students to explore and experience new places, events and cultures. Finally, Sumak Kawsay Bilingual International School is a renowned school with a focus on providing concerned and quality education. Their personalized curriculum follows a bilingual approach, with a holistic focus on developing the physical, emotional, intellectual, and spiritual potential of each student. Sumak Kawsay ensures that every child has access to quality technology and resources, and encourages teamwork through extracurricular activities such as sports and other competitions," remarked one parent with kids at in Manta, Ecuador.
What are the pros and cons of living in Manta?
Expats, digital nomads and retirees living in Manta responded:
"Beautiful country. Generally likable and welcoming communities. Spectacular and plentiful fresh food available. 12 hour days all year long, with warm weather all year. An enormous variety of activities, places, and natural wonders to explore. The OCEAN," remarked one expat living in Manta.
"Would like more entertainment options. Friendly expats and welcoming locals. The city has good transportation options, country and international bus connections and airlines. Can buy anything needed without going to large city yet small enough that it is easy to get around and can walk to essential places for shopping and doing business," said one expat living in Manta.
What type of social life can someone expect in Manta?
When we asked expats and global nomads about their social experiences in Manta, they replied:
"People are happy and friendly. They go out of their way to help you. A small percentage of people speak English, mostly people with a higher level of education or people who have had a chance to travel abroad," remarked one expat in Manta.
"One can get by OK without fluency in the language. I do. I am hearing impaired and don't do well with learning a new language, but I get along JUST FINE anyway. I get really tired of ex-pats always "demanding" that everyone needs to learn the language. Nice and helpful but one can do OK without," mentioned an expat living in Manta.
What advice to expats in Manta have about housing?
"The rental housing is mostly fully furnished with amenities like swimming pool and 24/7 security guard. Use a rental agent rather than renting directly from the owner. A rental agent will make sure that everything is in good repair and will respond quickly to your needs. My rental agent helps me find store and services. If you buy, make sure that you are already well established in the community because you will need to make many decisions on your own. It is easy but expensive to ship your household good. Depending on your lifestyle, it may be less expensive to ship your goods rather than try to duplicate them here," mentioned an expat living in Manta.
What are medical services in Manta like?
When we asked expats and global nomads about the quality of medical care in Manta, they replied:
"Manta offers a wide range of medical services, including general practitioners, specialists, and hospitals. The city has several private clinics and hospitals that provide quality medical care, as well as public health centers that offer basic medical services. Many of the private clinics and hospitals offer modern medical technology and equipment, and some even offer specialized services such as plastic surgery and fertility treatments. Additionally, Manta has a number of pharmacies that provide prescription medications and over-the-counter drugs," mentioned one expat inManta.
"Socialized medicine has many flaws versus private medicine. Due to age and prior conditions , government medical plans are the only "play"," commented one expat who moved to Manta, Ecuador.
About the Author

Joshua Wood, LPC joined Expat Exchange in 2000 and serves as one of its Co-Presidents. He is also one of the Founders of Digital Nomad Exchange. Prior to Expat Exchange, Joshua worked for NBC Cable (MSNBC and CNBC Primetime). Joshua has a BA from Syracuse and a Master's in Clinical and Counseling Psychology from Fairleigh Dickinson University. Mr. Wood is also a licensed counselor and psychotherapist.
Some of Joshua's articles include Pros and Cons of Living in Portugal, 10 Best Places to Live in Ireland and Pros and Cons of Living in Uruguay. Connect with Joshua on LinkedIn.