8 Tips for Obtaining Long-Term Residency in Spain
By Betsy Burlingame
Summary: An overview of the different types of long-term residency visas in Spain including expat advice on the application process. Covers the three main types: residence visa, work and residence visa and student visa. Plus, the retirement visa, investment and entrepreneurial visas and several others.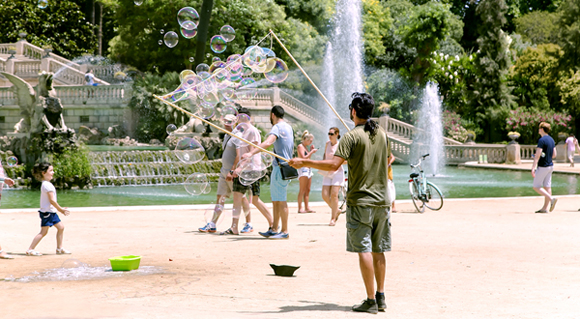 Long-term residence visas in Spain authorize residency for an indefinite period of longer than 5 years. The US Embassy in Madrid covers temporary residency, less than 5 years, on their Website. In this article, we discuss the three main types of long-term residence visas, several other types of long-term visas and the Pareja Hecha option.
According to the Embassy of Spain in Washington D.C., "These [long-term] visas entitle their holders to reside, to reside and work, to study, or to research in Spain. All foreigners wishing to enter Spain to reside, reside and work, or study, need to hold a visa of this kind, unless they are citizens of the European Union, Iceland, Liechtenstein, Norway or Switzerland." The embassy goes on to explain that the long-term visa application must be filed in person, but may also be filed by a "duly accredited representative" if you don't live in a town where a Diplomatic Mission or Consular Office is located or have "a sickness or physical condition that significantly reduces your mobility."
According to the Spanish Consulate in Los Angeles, there are three main types of long-term residence visas:
Residence Visa: this type of visa enables the visa holder to live in Spain without working or performing any professional activities.
Work and Residence Visa: this type of visa enables the visa holder to work and live in Spain.
Student Visa: this type of visa enables the visa holder to live in Spain while studying, researching or doing an internship.
In addition to these three main types of visas, there are a number of other types described below. It is important to get the advice of the consulate when deciding which type of long-term visa best suits your situation. Plus, you may want to get the advice
of other expats already in Spain by posting your questions on our Spain Forum
.

Relocating to Spain soon? Make your move with AGS! AGS Worldwide Movers is a leader in the international moving industry. Their experience and expertise allows them to guarantee their clients the best quality moving services.
The Visa Process Varies by Embassy or Consulate
"The visa process is somewhat dependent on which embassy or consulate covers your area. The requirements are mostly similar except minimum income may be different. You cannot file your application until 3 - 4 months before your arrival date. Start about 4-6 weeks before that, as it takes about that long to get your state police records with fingerprints, and then get everything apostilled. Everything has to have a certified translation - we used an online service and the turn-around was less than a week. I can answer as many specific questions as you need," advised one expat. "Yes, I was surprised to find that different Spanish embassies in the US have different requirements. In the US, there are Spanish embassies in San Francisco, Los Angeles, Boston, Chicago, Miami, Houston, New Orleans, New York, and Washington D.C. You must go to the one which has jurisdiction over your application. Info easily found by googling Spanish embassies in the US or Spanish visa for US citizens," added another expat. "My husband and I fell under the jurisdiction of the San Francisco consulate. For that embassy, they required proof of income statements from our individual pensions. The amount of money in our bank accounts were totally irrelevant. Though the overall rules may be the same, I think the details vary depending on the consulate. San Francisco was quite difficult to be honest," explained another expat. Spain's Ministry of Foreign Affairs and Cooperation has an interactive map with all of Spain's consulates and embassies around the world.
Proof of Medical Insurance Requirement
According to the Consulate of Spain in Washington DC, all four types of residence visas require you to have overseas medical insurance from a company licensed to operate in Spain. If you are interested in private health insurance, you may get a quote from our trusted expat health insurance partner, CIGNA.
The Residence (or Non-Lucrative) Visa
The Consulate of Spain in Los Angeles offers information (in English) about applying for the Residence Visa (non-lucrative). Their site cautions that, "We cannot overstate the importance of paying the utmost attention to filling out the application and the accompanying information. INCOMPLETE OR INCORRECT APPLICATIONS WILL BE REJECTED, REQUIRING THE APPLICANT TO MAKE A NEW APPOINTMENT AT A LATER DATE." Additionally, they state that all documents must be translated into Spanish. You must submit your application in person no more than 90 days in advance of the intended travel date. If approved, the Residence Visa must be picked up in person within one month of receiving notification of approval.
Documents to submit include the visa application form and visa documents checklist, passport photo, passport or travel document, I.D. card, Alien Registration Card or long-term US Visa (if you are not a US citizen), medical certificate, EX 01 form, 790-52 form, no police record certification, proof of economic funds, proof of travel insurance, property signed disclaimer and visa fees. The instructions for filling out and submitting these documents are very specific.
"Your most likely option is the Visado de Residencia No Lucrativa (Non-Working Residence Visa). For this, you'll need to show that you have a certain amount of money available in your bank account (USA bank account is ok); or a contract guaranteeing you a certain monthly income (for example, from a USA company that employs you, while you work from home, wherever home happens to be). To find out just how much this total or monthly requirement is, contact the consulate to which you will apply for the visa. (It will be "around" 25,000 euro per person per year.) You'll also need to show that you have housing for the upcoming year, or a reasonable plan for procuring it (Again: I recommend asking the responsible consulate for further specification). Also: health insurance. Also: no police record. And some other paperwork-type items. Again, the thing to do here is to contact the consulate to which you'll apply and get the right/exact details from the people who will process and approve your application," advised one expat in Spain. Another expat added, "There are numerous steps to obtain a non-lucrative visa. For documentation of income, I used my savings, statement of value of my retirement plan, and projected social security benefits once I turn 62 (not much help if you are young.) I had my financial adviser write a letter projecting how much money I would have available monthly based on these three documents. Of course, it also had to be translated into Spanish."
Work and Residence Visa
Visados de residencia y trabaj (work and residence visa) allows foreigners to work and live in Spain for an indefinite period of time, longer than 5 years. Like the Residence Visa (above), the Consulate of Spain in Los Angeles warns that the forms must be filled out in full and correctly. The required document list is also similar, but includes the authorization of work and residence permit approval document and your work contract proving fulfillment of economic funds. The specific instructions for the required documents and forms are very detailed. The visa must be applied for in person within 90 days of your travel date (but not exceeding 90 days).
"To work (legally) will require you to have a work-permitting visa, and you will not be able to 'just apply for one' and then, say, show up and start applying for jobs. It would be theoretically possible to get a job with a Spanish employer ahead of time and go from there, but this is extremely likely: the unemployment rate for Spanish young people ranges from 25-50% depending on the region, and, unless you're a world-recognized astrophysicist contracting with the national science laboratory, employers are unlikely to receive "permission" to hire you. So, if you want to work, you'll need to (1) get a job or contract with an American or international company which happens to have a branch in Spain, and manage to get yourself assigned to Spain; (if this interests you and you have some good qualifications, think about, e.g., the international consulting companies); (2) position yourself as a "teacher" of some sort and get a contract with one of the international schools or language schools; (3) work for yourself, and be sure – before applying for the visa – that you can prove the necessary income or savings availability (e.g., if you are, say, a translator or a web designer, show that you have a history of regular and sufficiently remunerating contracts). I don't want to dissuade you with the "hardness" of the process. You can do it! Be aware, though, that it's going to take a lot of work, and maybe some creative problem-solving along the way," advised an expat living in Spain.
Student Visa
For students traveling to Spain for studies of 180 days or longer, they must first go to the local police department to obtain a student ID. After that, the application is similar to the residence visa application with the addition of submitting a letter of acceptance as a full time student in Spain. The Consulate of Spain in Los Angeles provides detailed information about the application for a Student Visa. One expat discussed some added benefits of the Student Visa saying, "FYI: students can apply for their family members to join them while studying in Spain. The relatives' residence permits are usually granted for the same duration as the student's residence permit, and allow the holders over 18 to take on employment in Spain without a work permit." Please note this only applies to an internship in your area of study in collaboration with the university.
Other Types of Long-Term Residence Visas
There are several other types of long-term residence visas. A number of them were introduced as part of the Residence visas Law 14-2013 (aka Law of entrepreneurs and its internationalization).
They include:
Residence visa for buyers of Real State in Spain
Residence visa for entrepreneurs and business investors
Residence visa for highly skilled professionals
Residence visa by intracorporate transfer and residence visa for training, research, development and innovation.
Additionally, there are a few other long-term visas:
The Pareja Hecha Route
"You could go the pareja hecha route. This is simple ceremony carried out in your local town hall (Ayuntamieto) and is basically a civil partnership. If your lady friend is willing to follow this route she needs to consult at her local Ayuntamieto but l'm sure you would need to register with them first. If it is possible to carry out the procedure you should be able to apply for residency as you are in a relationship that carries status in Spain equal to all intents and purposes to marriage. To register you need to get to Spain, move in with your lady friend and register on the padron (register) at her local Ayuntamiento. I'm assuming your lady friend is Spanish and if this is the case she should be familiar with the padron process. I went the pareja hecha route myself some years ago and I was in and out of the Ayuntamiento in less than half an hour although I didn't go through the process for visa reasons. I don't know if you would have any problems if you were to enter Spain on a tourist visa and then do a pajera hecha but the Spanish are very sympathetic regarding affairs of the heart and it seems completely feasible to me. To be sure I think a visit to your nearest Spanish consul would be advisable although your LF can contact the Spanish Ministry of the Interior as well. If you just go ahead and jump in feet first I can't see what problem might arise as far as regularising your situation in Spain would be," recommended an expat in Spain who had gone through the pareja hecha process.
About the Author
Betsy Burlingame is the Founder of Expat Exchange. She launched Expat Exchange in 1997 as her Master's thesis project at NYU. She graduated from Ohio Wesleyan University with a BA in International Business and German.
Write a Comment about this Article
First Published: Jun 16, 2016