Real Estate in Spain
Last updated on Apr 05, 2023
Summary: An expat should begin their search for a home to buy in Spain by researching the different regions and cities in the country. They should consider factors such as cost of living, climate, and proximity to amenities. It is also important to research the local real estate market and the availability of properties. Foreigners are allowed to purchase property in Spain, however there are certain restrictions in place. For example, non-EU citizens must obtain a visa and residency permit before they can purchase a property. Houses in Spain typically include amenities such as air conditioning, central heating, and a terrace or balcony. Many homes also have a pool, garden, and garage. Depending on the region, some homes may also include a fireplace, outdoor kitchen, or other luxury features.
How do I find a place to live in Spain?
We asked expats how they chose their neighborhood and found a place to live. They answered:
"A friend helped me look through the area where I am living and make some calls to rental agents. I like this area, and have a great apartment that is walking distance to the city but very modern and comfortable. There were several zones that I liked, but after viewing a large number of apartments throughout the city, I only found one that was a good price and well-appointed," said one expat who made the move to Valencia.
"I found an excellent mooring for my boat on the Mar Menor free of charge, then looked for a house with in 4-5 mins walk, heaven," explained one foreigner living in Los Alcazares, Spain.
Answer Question & View More Answers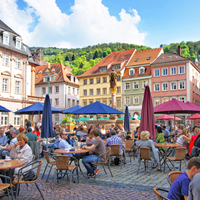 Furnished Rentals in Spain from Homelike
We've partnered with Homelike, to connect expats and newcomers with temporary accommodations in Spain. If you're moving to Spain, rent a short-term, furnished apartment or home for the first few months from Homelike and take your time figuring out the best place to live in Spain.
SEARCH RENTALS
What is a typical expat home or apartment like in Spain?
Answer Question & View More Answers
Answer Question & View More Answers
Answer Question & View More Answers
About the Author

Joshua Wood, LPC joined Expat Exchange in 2000 and serves as one of its Co-Presidents. He is also one of the Founders of Digital Nomad Exchange. Prior to Expat Exchange, Joshua worked for NBC Cable (MSNBC and CNBC Primetime). Joshua has a BA from Syracuse and a Master's in Clinical and Counseling Psychology from Fairleigh Dickinson University. Mr. Wood is also a licensed counselor and psychotherapist.
Some of Joshua's articles include Pros and Cons of Living in Portugal, 10 Best Places to Live in Ireland and Pros and Cons of Living in Uruguay. Connect with Joshua on LinkedIn.