7 Best Places to Live in Costa Rica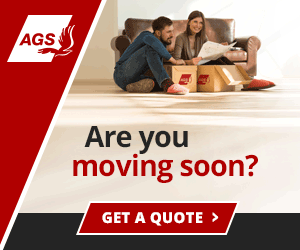 Summary: Costa Rica is a relatively safe, eco-friendly, expat-friendly destination with gorgeous beaches and friendly locals. Many expats say that housing and food prices in Costa Rica are high. We've gathered information submitted by expats about Tamarindo, Dominical, Ojochal, Atenas, Escazu, Grecia and others popular towns.
"Costa Rica is loaded with small peaceful towns a friendly people, but you are best advised to either tour the country for a while with a guide, or if you have the time, rent a SUV and Tour the Country yourself to see what areas are to your preference, climate, culture, etc. Costa Rica is a surprisingly diverse country for its relative size (smaller then West Virginia). It has 7 specific major "zones", from northern coastal plains and beautiful beaches in the dryer and hotter Guanacaste Province, all the way to the opposite side of the Country on the southern caribbean near Puerto Viejo.
Based upon all of the advice shared on Expat Exchange, here are the best places to live in Costa Rica:
Guanacaste Region of Costa Rica
Guanacaste Region is situated on the Pacific Ocean in the northwestern part of Costa Rica.
Tamarindo
"My wife and I live in Tamarindo - it has a very nice beach with many restaurants close to the beach. The sand drops off very gradually into the ocean, so you can play in the waves in the shallow water, and perhaps body surf or rent a boogie board (if not a surfer). Just find a stretch where you will not be run over by the numerous surfers coming in from deeper water. There are many expats in Tamarindo, but there's no real "meeting places." Breakfast at Nogui's on the beach is sometimes popular with expats. Tamarindo has about 80 restaurants, so it is a good place to find a variety of choices for eating," described one expat living in Tamarindo.

Another expat warned, "Tamarindo is an expensive place to live in, so be prepared to pay more than you hoped for." With regard to the weather, one expat said, "we do wake up with sunshine most every day even in rainy season, I love the Ticos we have gotten to know albeit there is a feeling that you are an ATM machine to some. The beaches are beautiful and the nightlife during tourist season is terrific with live music, fiestas and great restaurants if you avoid the tourist traps."
Southern Pacific Region
There's an area along the southern Pacific coast of Costa Rica known as the Costa Ballena. Ballena means "whale" in Spanish and this area is the mating area of the humpback whales seasonally from December to April. This area is also home to a number of well known beaches in Costa Rica and noted for the large enclave of north American and foreign baby boomers, retirees and expats living in the area. Steve Linder's article, The Costa Ballena Region of Costa Rica offers a great overview of the areas best beaches and related activities.
A few notable beach towns in the Costa Ballena region:
Dominical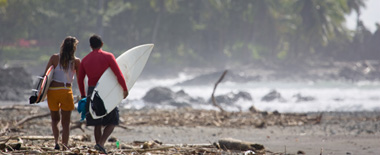 An expat in Dominical suggested, "look for Dominical on the Pacific coast south of Quepos. Just 20 miles inland is San Isidro de El General (aka P�rez Zeled�n). I couldn't guess how many restaurants there are, maybe 100? Maybe 20 big supermarkets, 15 building supply stores, 8 gas stations, a Caja hospital, lots of private doctors/clinics, soccer stadium, lots of banks, etc. It is on the Pan-American Hwy and two bus lines run every hour between here and San Jos�. Plenty of buses to and up and down the coast too. I think there are three taxi companies in town. Yes, $400/mo for an in-town apt. should be easy. 10 mins.out of town and can find a nice house for less than that, some on bus lines."
Uvita

Uvita is another beautiful beach town 11 miles south of Dominical. "While much less developed, this is an extremely beautiful area and the expat community is relatively established there. While it is more humid with more wet weather that the Northern Coast, it is the only area where the mountains drop onto the beach. Therefore, you can pick your altitude in order to control your temperature and still have the ocean views and a short trip to the beach," described one expat.
Ojochal
South of Uvita, you'll find Ojochal. "We favored Ojochal in the southern zone. For a wealth of information contact Heather & Ben "we-sell-paradise.com" They are on facebook as well. Ojochal we loved for the mountains, ocean, weather, people, jungle and all her nature as well as close by services we all need. "There are a bunch of expat organizations in Costa Rica to welcome newcomers. The largest is ACRC. In our town there is a group called the Coasta Bellena Women's Club that has about 400 members. We have a great international expat community. Ojochal, Uvita and Dominical are considered to be the southern Pacific Region of Costa Rica. The cost of living is lower here than in many other parts of Costa Rica and the pace of life is slower and more relaxing. We have a pot luck brunch in town, pizza night at a local restaurant (Gringo Mikes) and a local farmer's market on Saturdays. The is a small denomination of catholics in town, some mennonites and a few Pageans :'). We have amazing cultural diversity and there is ample economic opportunity due to the high rate of growth in the area. Thera is a lot of construction related work in high end custom homes. The town is very accepting, almost too much so," described another expat living in Ojochal.
Central Valley
Central Valley covers a very, very large area surrounding San Jose in all directions. Here are a few popular expat towns in the Central Valley:
Escazu
If you need to be near schools and San Jose, Escazu is an upscale suburb popular among expats. "Escazu is a very nice suburb outside of San Jose. It is busy and offers everything from shopping to convenience," said one expat. Another said, "Escazu has some very nice areas and offers more in the way of stores, restaurants, medical care and entertainment." Those who prefer living in Atenas and other towns would debate that Escazu has a lot of crime, traffic and too many stores. "Santa Ana and Escazu are very popular with ex-pats but for that reason are very pricey areas and Americanized. Buying a property before renting is reckless. You should explore the area or areas that you are considering, talk to people who live there and get a good feel for anywhere before you even consider investing money into it," said another expat.
Atenas
"We live in Atenas, it is in between San Jose and the beach. Prices vary and there is a good expat community here. We have 3 large gated communities and many safe barrios. It is a family town, so considered very safe. There are always women walking with their babies in strollers, meaning very safe. We love it here, home of the Chili Cook-off," described one expat living in Atenas. Another expat living in Atenas said, "Atenas is a small town with a small town atmosphere. The OPs are right: the dining is limited and night life is very limited. But that's not what we came for. We enjoy seeing people we know on the streets almost every time we head to town. You won't find a coffee shop or wine bar (yet) in Atenas. Atenas has an exit off the Caldera Highway so it makes sense that it may still see some growth. As with any place else (maybe more so because of the lack of MLS) one has to shop hard to find a good real estate deal. And, of course, that is always subject to various opinions."
"Atenas is considered by National Geographic to have the most perfect climate in the world as it is not too hot, too cold, too wet or too dry. It is close enough to medical care and the city but is fair enough away from the hustle and bustle and is a 'real' town although it does have a thriving ex-pat community," said one expat. "I agree with the posts about Atenas not quite living up to the "best climate" name. We arrived in August to what felt like a sauna... almost unbearable heat and humidity... and ceiling fans that felt like they were only for decoration! :o) But on cloudy days, the weather was quite nice and the evenings cool off quite a bit. I do know that where we were, at the same elevation as the Central School, it is warmer than in some of the other barrios. One thing about Atenas is that we felt SAFE, even at night, while we lived there," revealed another expat living in Atenas. Another expat advised, "We live in Guacimo de Atenas at 2400 feet. The difference between Atenas proper and our house can be as much a ten degrees cooler and another 500 feet up a mountain will make it even cooler."
Grecia
An expat in Grecia said, "I have lived in Grecia for over a year and love it. There is a large expat community and they have several groups you can get involved in to get to know them. The hospital in town is nothing like we find in the states so be prepared. This is socialized medicine so it may take a year to get a mannogram or biopsy if you go through the system. Fortunately the Private Physicians are much more reasonable that the states with a typical appt. costing $60. I just had a bunch of blood tests done that would have been $250 through a private lab, but with CAJA they were free. Of course, you have to be there at 6 in the morning and may need to wait in line an hour or more. There are good CAJA hospitals in San Jose if you have something serious go wrong. I try to remember that I am retired and have all the time in the world to stand in line! No one gets in a hurry here. I think the only thing that runs on time are the buses. Don't get me wrong,..I love it here, but it is very different from what we are use to in the US. I never forget I am a guest in this beautiful country and try to always be thankful for the great things like the people, ecosystem and amazing climate." "We like Grecia because it is allows us to live with the locals and we are learning Spanish. We are only 45 minutes from San Jose and it is a beautiful countryside. The rentals are cheap and the locals are very happy people. We love it here. We are moving to Cajon next week getting a larger house to fit our needs (3 bedrooms and 2 baths) and it was all due to locals that we found both places we have rented," explained another expat.
As an expat in Costa Rica, health insurance is an important consideration. Take a minute to get a quote from our trusted expat health insurance partner, CIGNA.
About the Author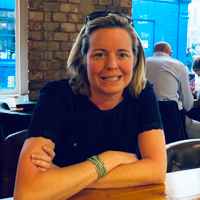 Betsy Burlingame is the Founder and President of Expat Exchange and is one of the Founders of Digital Nomad Exchange. She launched Expat Exchange in 1997 as her Master's thesis project at NYU. Prior to Expat Exchange, Betsy worked at AT&T in International and Mass Market Marketing. She graduated from Ohio Wesleyan University with a BA in International Business and German.
Some of Betsy's articles include 12 Best Places to Live in Portugal, 7 Best Places to Live in Panama and 12 Things to Know Before Moving to the Dominican Republic. Betsy loves to travel and spend time with her family. Connect with Betsy on LinkedIn.
Comments
PuraVida
Puriscal, one of the most typical towns in Costa Rica. Perfect climate, new CAJA hospital, nice views! About 1 hour to San Jose and an hour to the Pacific Coast beaches. Even though there are over 200 expats living in the Puriscal area, housing prices are still very reasonable. While Atenas has the annual chili cookoff, Puriscal is famous for its' "chicharonnes," deep fried pork. Our newsletter is: www.puriscaltimes.com
guest
Playa Grande!!!
guest
I believe you forgot to mention Cartago which is only 20 minutes from SJO
pebbalita
WOW Betsy I am amazed you never mentioned Heredia Hills ..NOT thankfully a "Gringo Gulch" but a VERY lovely tranquil UPSCALE area without the Gringo prices (even for fine Dining,..I think some of you should take time to learn that Heredia ince was the Capitol but now a modern yet STILL charming unlike many of the Gringo gulches which seem to gouge the naive gringos for thngs that we in Heredia hills pay a lot less for,,Try visiting it sometime. I moved here 26 years ago after trying out MANY places and scurried FAST out of most G.Gulches...Heredia town is SAFE and charming..and has about everything Escazu has and yet much cheaper, and in my opinion FAR nicer, Compare the more modern Pricemart in Heredia with that in Escazu.,or our Newer more charming Malls, and Country Club for the "Old money clients" not the "Neuveau Riche"... We have the BEST restaurants both UPSCALE and cheaper sodas ....THEN you may recommend Heredia especially our Climate in Concepcion de San Rafael de Heredia..oh yes and compare our well kept roads to those of Escazu and other places you may be shocked,,also unlike the gulches. we have Huge discount stores which snobs may turn up their noses at, but we love a bargain ..even if name brands are still the In thing.Just a nudge for you to check it out...email me If I have time I can show you around... [email protected] Cheers from a well heeled lover of Heredia Hills and its FAMOUS mild sunny climate 75/85 deg.F year round ..I would not live for FREE on any of our beaches with stifling heat ,humidity and the high cost of A/C we do not need that awful "Artificial air" Fresh CLEAN air is our heaven :) I guess there is no accounting for taste here n CR ex pat community LOL
jdiz25
From Limon to Manzanillo. Beautiful beaches, slow pace, not over crowded. Loved it here and would love to know how to become an ExPat here.
Sulilly
The Golfo Dulce is our favorite place. We own and operate an ecolodge here, surrounded by the Piedras Blancas National Park behind us and the calm waters of the Golfo Dulce in front and described by National Geographic as the most biodiverse place on the planet. It is a natural wonderland. We have trail cameras here and have captured pictures of 5 of the 6 wild cats of Costa Rica, including the critically endangered Jaguar. Our lives here are rich with new experiences each day and we share those with the folks from all over the world who come to stay with us. I am 65 and my husband 70, we would like to retire and are have put our beloved lodge up for sale. If you are interested in taking over our amazing place check out our website for price and details: www.beachfrontecolodgeforsale.com Thank you and keep dreaming, Susan and Harvey