Living in Israel
Last updated on Feb 04, 2023
Summary: People often describe life in Israel as vibrant, diverse, and exciting. Expats love the country's rich culture, history, and natural beauty. They also appreciate the strong sense of community and the opportunity to experience a unique way of life. The average cost of living for an expat is around $2,000 per month. This includes rent, food, transportation, and other basic expenses. The population of Israel is approximately 8.7 million people. The largest cities in Israel are Jerusalem, Tel Aviv, Haifa, and Rishon LeZion. The cons of living in Israel include the high cost of living, the security situation, and the language barrier. Additionally, the country is quite small, so there are limited job opportunities and limited entertainment options.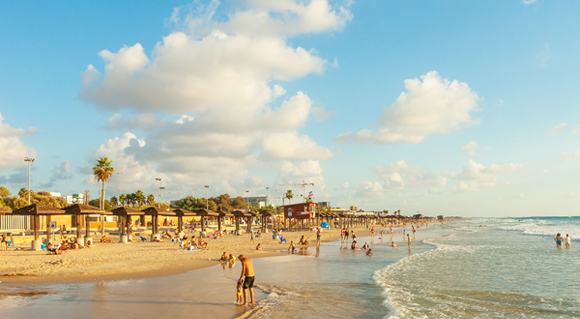 What do I need to know about living in Israel?
When we asked people what advice they would give someone preparing to move to Israel, they said:
"When considering retiring in Israel, it is important to understand the taxation system, which includes a combination of state and municipal taxes. You should familiarize yourself with the pension and health care options available to retirees and the regulations that may apply. It is also important to consider the cost of living when deciding to retire in Israel, as prices can be higher than many other countries, especially in cities such as Tel Aviv. You should also research the climate, culture and local customs to ensure that taking up residence in Israel would suit you. Finally, ensure that you have the necessary legal paperwork to remain in Israel after your retirement," wrote a member in Israel.
"If you want a quiet family centered lifestyle go to Haifa. If you're single and want night-life go to Tel Aviv. If you want musuems and history go to Jerusalem," commented one expat who made the move to Haifa.
Answer Question & View More Answers
How do I meet people in Israel?
When we asked people living in Israel about club and activities where newcomers can meet others, they responded:
"Networking events and meetups are a great way to meet new people in Israel. Attending lectures, seminars, and conferences related to your field of interest is also a great way to connect with others. Another option is joining a local sports team or taking classes at a local gym. Or if you prefer something more casual, simply try striking up conversation with people at cafés and restaurants. You can also join online communities and social media networks to meet and connect with like-minded people in Israel, such as Facebook groups, LinkedIn groups, and even Reddit threads. Lastly, consider volunteering or doing charity work with NGOs in Israel, where you can work side by side with people from all walks of life," explained one expat living in Israel.
"Haifa is a very laid back city with a population of about 300,000. There are about permanent English speaking families and many temps who are studying at the universities or working in hi-tech. The young English speakers (up to age 35), have lots of pub evenings and outrings an they are well organized. There is the Anglo-list on Facebook which has about 2000 members and a smaller grou p - Haifa Young English Speakers too. There is a weekly walk on the beach, there is an English speaking branch of the Freemasons, Rotary, BNI and other similar networks. There are lots of volunteer organization who want English speakers to participate in their activities. There is a large Russian community in Haifa as well. A large Bahai and Filippino community live here too," said another expat in Haifa.
Answer Question & View More Answers
What is life like in Israel?
When we asked people living in Israel what life is like and how people spend their time, they said:
"Living as an expat in any area can be an exciting and rewarding experience. You will get to meet many new people, learn about a different culture, and experience the sights, sounds, and tastes of a new land. Expats often live in nice apartments or houses, although the cost of living may be higher in some areas than it is in the home country. It is generally a good idea to make a budget before you move and to familiarise yourself with local currency. Expats usually need to apply for a residence permit, which will give them the right to work in the country. Language can be a barrier, but fortunately there are plenty of language schools and language tutors to help with the transition. There are also plenty of activities and events to take part in such as sports, social clubs and volunteer programmes. The people in the area may be warm and friendly, but it is best to research the customs and traditions of the local culture before moving there," added another expat in Israel.
"Haifa is a family city. The beach, the forests and nature trails are big attractions. It takes less than an hour to get to Tel Aviv which is the main commercial center. There is a huge hi-tech center in Haifa which employs many expats and it is close to another major hi-tech center - Yokneam. THe city of Haifa is focussing on the younger generation, students etc., and are working hard to improve facilities and housing options for them," remarked another expat who made the move to Haifa.
Answer Question & View More Answers
Is there a lot of crime in Israel?
We asked people if there is a lot of crime. They answered:
"Crime rates in Israel are relatively low compared with other developed countries. Annual police statistics show that overall crime levels in Israel remain relatively stable or decline in recent years and that both violent crime and property crime are at low rates. In 2019, the homicide rate in Israel was 1.5 per 100,000 people, and according to a 2019 World Bank report, this is lower than the global average rate of 6.2 per 100,000 people. In comparison, the homicide rate in the United States was 5.3 per 100,000 people," explained one expat living in Israel.
Is there a lot of diversity? Are people in Israel accepting of differences?
"Yes, there is a lot of diversity in Israel. From the country's many religious and ethnic backgrounds, to the numerous different cultures, languages, and traditions that can be found there, the Israeli population is quite varied. As a whole, people in Israel are generally accepting of differences and students of many cultural backgrounds attend the same schools. There is also a law that prevents discrimination based on religion, race, gender, and nationality," explained one expat living in Israel.
"Haifa is super-tolerant of religious and cultural diversities. In fact Jews, Christians, Moslems, Bahai, Druze all co-exist, live and work together in mutual respect and harmony," said another expat in Haifa.
Answer Question & View More Answers
What are the schools in Israel like?
"Schools in Israel provide a very high quality of education with great emphasis on STEM and the humanities. There is a range of both public and private schools, with public schools usually catering to the local populations, whereas the private schools attract students from a variety of backgrounds. The country also has a number of specialized institutions such as art schools, music schools, sports schools, religious schools and military preparatory or boarding schools. All schools, both public and private, must follow the official Israeli curriculum and offer instruction in a range of subjects including Hebrew, mathematics, science, social studies, and physical education. In addition, there is a lot of focus placed on Jewish studies and values," commented one expat when asked about in Israel.
"We love the fact that the Treehouse staff have always been very open and honest about our children. I can understand that there is a temptation at schools to simply tell the parents what they want to hear about their children and to sweep things under the carpet to maintain a facade. This is not the case here and we credit the school for helping us raise amazing children who are happy and behave beautifully outside of the home and out of our sight as well as when they are at home. The treehouse staff have exceptional core values and have been indispensible in helping us raise our children," remarked another expat living in Herzliya Pitoach with children attending Treehouse International School.
Answer Question & View More Answers
Is the cost of living in Israel high?
We asked people how much they someone comfortably live on in Israel, they wrote:
"Yes, the cost of living in Israel is generally considered to be high. The average cost of groceries, utilities, rent, and other essential expenses is slightly higher than in most other countries. In addition, taxes are quite high in Israel, with both income and property taxes significantly higher than the average," added another expat in Israel.
About the Author

Joshua Wood, LPC joined Expat Exchange in 2000 and serves as one of its Co-Presidents. He is also one of the Founders of Digital Nomad Exchange. Prior to Expat Exchange, Joshua worked for NBC Cable (MSNBC and CNBC Primetime). Joshua has a BA from Syracuse and a Master's in Clinical and Counseling Psychology from Fairleigh Dickinson University. Mr. Wood is also a licensed counselor and psychotherapist.
Some of Joshua's articles include Pros and Cons of Living in Portugal, 10 Best Places to Live in Ireland and Pros and Cons of Living in Uruguay. Connect with Joshua on LinkedIn.