Moving to Davao, Philippines
Last updated on Feb 03, 2023
Summary: Many expats are attracted to Davao, Philippines for its low cost of living, friendly locals, and beautiful natural scenery. The city is also known for its vibrant nightlife, diverse culture, and excellent healthcare system. Before moving to Davao, it is important to research the local laws and customs, as well as the cost of living and job opportunities. Additionally, it is important to be aware of the potential risks associated with living in a large city, such as crime and traffic. Finally, it is important to be aware of the local climate and weather patterns, as well as the availability of public transportation.
What do I need to know before moving to Davao?
When we asked people what advice they would give someone preparing to move to Davao, they said:
"Davao is a major city in the Philippines and is located in the southern region of Mindanao. It is the fourth largest city in the country and the largest in Mindanao. The climate of Davao is tropical, with temperatures ranging from 25–34°C (77–93°F). The city experiences a mostly dry season from December to April and a wet season from May to November. English is widely spoken in Davao, as it is the medium of instruction in most schools. There is a rich cultural heritage in Davao, as it is home to various indigenous tribes. The cost of living in Davao is considered to be relatively low compared to other cities in the Philippines. The city is home to several attractions and activities, such as the Eden Nature Park, Philippine Eagle Center, and Mt. Apo. It is also home to the Philippine Air Force's 220th Airlift Wing, making it an important military hub," remarked another expat who made the move to Davao.
"You can view homes on line! Contracts are usually in English, Most people are polite here. So be polite. Put yourself in their place. They are trying to make a living, too. Choose a place with security. When you find a side of town you prefer, drive around the neighborhood. Our first year everyone on our street had dogs and chickens. Very noisy at night. Subdivisions and condos have animal laws so you can get some sleep," explained one expat living in Davao , Philippines.
How do I find a place to live in Davao?
We asked expats how they chose their neighborhood and found a place to live. They answered:
"Searching for a place to live in Davao can be done through a number of sources. Online listing websites like Craigslist and Zillow can be used to find available rentals in the city. Additionally, brokers and local newspapers can be a great source for rental search. You can also drive around the areas that you may be interested in and check for local "For Rent" signs. Local real estate agents and attorneys can also be great resources in helping narrow your search. Furthermore, if you are able to network with people already living in Davao, they can be a great source of information as well," explained one expat living in Davao, Philippines.
"We found a corner 2br condo (pool) on facebook under Davao House Rent. The neighborhood is central to most things; malls, easy taxi service, resto's, Security is a must. Remember expats cannot own land. That is important if you are going to build," said another expat in Davao .
What is a typical expat home or apartment like in Davao?
"A typical expat home or apartment in Davao City is typically fairly spacious and generally includes multiple bedrooms and bathrooms, a large living area and kitchen, access to a garden and/or swimming pool, and a terrace or balcony with views of the city or nearby mountains. Such properties are generally furnished with modern furniture and appliances, as well as air conditioning and internet access. With the city becoming an increasingly popular expatriate destination, a variety of unique and luxurious apartment buildings, condos and townhouses are available to rent or purchase," remarked another expat who made the move to Davao.
"Fairly typical for city life; 2br condo, weight room, pool, kiddie pool, wifi, AC, hot water, furnished, elevators. Most expats have either a decent condo with amenities, build/buy a house or rent in subdivisions. Some choose the subdivisions with clubhouse and pool. Those are more room, usually also furnished with wifi. We had a house for a year. It was nice but more money and it usually takes a car. That means driver's license at the DMV (LTO here), insurance, repairs, gas and all the other goodies. You can taxi anywhere in Davao for $5. It's a consideration," explained one expat living in Davao , Philippines.
What is the average cost of housing in Davao?
If you are thinking about moving to Davao, cost of living in probably a key consideration. Expats commented about the cost of housing:
"The average cost of housing in Davao varies depending on the type of property and its location. In general, it is possible to find affordable housing in Davao City with prices ranging from around PHP 2,500.00 to PHP 20,000.00 per month for a basic unit. Luxury units, on the other hand, may cost as much as PHP 200,000.00 or more per month," commented one expat who made the move to Davao.
"Housing costs run about 40% of US prices and are usually furnished with linens and silverware (flatware). Most have a few cups and plates to get you going, a rice cooker, micro, fridge and a pot and pan are almost always included! We buy a few things as we need them," remarked another expat in Davao , Philippines.
Should I buy or rent a home in Davao?
If you have not spent a lot of time in Davao, you should rent before even thinking about buying. We asked expats there about the buy vs. rent decision:
"It ultimately depends on your budget, lifestyle and long-term goals. If you are planning to stay in Davao for a long period of time, you may want to consider buying a home as a way to save money on rent and also gain equity in the property. If flexible living arrangements and low financial commitment are more important to you, then renting a home may be the better option. It is important to consider the pros and cons of both buying and renting to make the right decision for you," remarked another expat in Davao, Philippines.
"Bought a nice 2 bedroom home, but the title had liens dating back to 1965 so it was not conveyed. We have a lawyer working on that who will petition the court to expunge these encumbrances and issue a new clean title," said another expat in Prudential Village, Daliao, Davao City.
What should I pack when moving to Davao?
We asked people living in Davao to list three things they wish they had brought and three they wish they had left behind. They responded:
"Essential items to pack when moving to Davao may include clothing, toiletries, documents (such as your passport and visa), medication, bedding and kitchenware, electronics, and any other personal items you may need. If you are moving long distance, it may be wise to also bring some non-perishable food items as well," explained one expat living in Davao, Philippines.
"AN exit plan!!!! 50% end up leaving that country due to the stupidity. I swore when i moved there it was forever.. LOL oh what fool I was," said another expat in Davao.
Answer Question & View More Answers
What cultural faux pas should I try to avoid making in Davao?
We asked people in Davao if they could share any humorous cultural blunders they commited. For new expats, keep in mind that these incidents are an inevitable part of expat life. Learning to laugh about them is the key!:
"When visiting Davao, it is important to be respectful of the local culture and customs. Avoid making disrespectful comments about the culture, people, and/or religion. Public displays of affection should also be avoided, as many people in this region consider that to be inappropriate. Additionally, it is polite to dress smartly and to avoid showing too much skin. Eating with your hands should always be done in private, and always thank the host for inviting you. It is also important to show respect when refusing food or drink, and be aware that some people may not plan to drink alcohol. Finally, littering should always be avoided and plastic disposal bags or bottles should be recycled or disposed of properly," commented one expat who made the move to Davao.
What are medical services in Davao like?
When we asked expats and global nomads about the quality of medical care in Davao, they replied:
"Public health care is minimal. Private is more expensive but covers a lot more and is needed in the Philippines," commented another expat living in Davao.
About the Author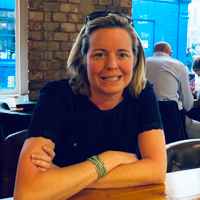 Betsy Burlingame is the Founder and President of Expat Exchange and is one of the Founders of Digital Nomad Exchange. She launched Expat Exchange in 1997 as her Master's thesis project at NYU. Prior to Expat Exchange, Betsy worked at AT&T in International and Mass Market Marketing. She graduated from Ohio Wesleyan University with a BA in International Business and German.
Some of Betsy's articles include 12 Best Places to Live in Portugal, 7 Best Places to Live in Panama and 12 Things to Know Before Moving to the Dominican Republic. Betsy loves to travel and spend time with her family. Connect with Betsy on LinkedIn.