Ericeira, Portugal
Last updated on Jul 02, 2023
Summary: Expats, digital nomads and retirees talk about what it is really like living in Ericeira, Portugal. They offer advice about meeting people, cost of living, finding a home and more.
What do I need to know about living in Ericeira?
When we asked people what advice they would give someone preparing to move to Ericeira, they said:
"Ericeira is a popular destination for expats due to its beautiful beaches, relaxed lifestyle, and affordable cost of living. Before retiring in Ericeira, it's important to understand the local culture, language, and customs. Portuguese is the official language, so learning some basic phrases can be beneficial. The cost of living in Ericeira is generally lower than in many other European countries, but it's still important to budget carefully and understand the local economy. Healthcare in Portugal is of a high standard and is affordable, but it's recommended to have a comprehensive health insurance plan. The climate in Ericeira is mild, with warm summers and cool, wet winters. It's important to consider this when deciding what to pack and how to prepare for your move. Portugal has a residency program for non-EU citizens who buy property in the country, which can make the process of moving and settling in easier. However, it's important to understand the legal requirements and process for obtaining residency. Portuguese cuisine is diverse and delicious, with a focus on seafood. Ericeira is known for its fresh fish and shellfish, so be prepared to enjoy some fantastic meals. Ericeira is a small town, so while it offers a relaxed lifestyle, it may not offer the same level of entertainment or amenities as a larger city. However, Lisbon is only a short drive away for those who crave city life. Public transportation in Ericeira is reliable, but having a car can be beneficial for exploring the surrounding areas. Finally, it's important to connect with the local expat community. They can provide valuable advice and support as you adjust to your new life in Ericeira," wrote a member in Ericeira.
What do I need to know before moving to Ericeira?
About the Author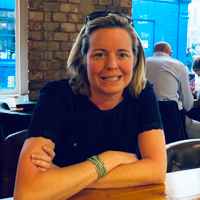 Betsy Burlingame is the Founder and President of Expat Exchange and is one of the Founders of Digital Nomad Exchange. She launched Expat Exchange in 1997 as her Master's thesis project at NYU. Prior to Expat Exchange, Betsy worked at AT&T in International and Mass Market Marketing. She graduated from Ohio Wesleyan University with a BA in International Business and German.
Some of Betsy's articles include 12 Best Places to Live in Portugal, 7 Best Places to Live in Panama and 12 Things to Know Before Moving to the Dominican Republic. Betsy loves to travel and spend time with her family. Connect with Betsy on LinkedIn.