How to Buy International Health Insurance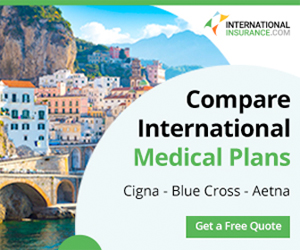 Summary: Learn about International Health Insurance and get started on the process of purchasing a policy that is right for you and your loved ones.
This guide is intended to help expatriates, business travelers, global nomads and others who live an international lifestyle purchase the international health insurance that best suits their needs.
ExpatExchange has established relationships with several reputable international insurers that offer a variety of options for our users to consider. First, here's some basic history about the international health insurance market and how it's evolved.
Introduction to International Health Insurance
Years ago, there were generally two options to consider: travel insurance and full international health insurance.
Traditionally, there have been significant differences between travel insurance, which was intended to cover people on a short-term basis for a single trip, and long-term international health insurance, which was for people who actually lived abroad. This was usually for traditional employment purposes.
The most important differences were that travel insurance polices were far less comprehensive than international health insurance, and they were meant to be something used for vacations, business travel, exploratory trips to evaluate a move to another country, or some other type of situation that would take you out of the country for up to 6 months. In addition to covering medical emergencies or short-term health care options, they also covered theft and cancellation of flights and accommodations due to weather or other unexpected events.
While there are similarities, international health insurance was more comprehensive and designed to cover all the medical treatments that you expected to be covered back home. Beyond that, some policies also would provide evacuation or other transportation home or elsewhere in the event you could not receive the care you needed in your destination country.
Better Insurance For Expats and Nomads
However, over the course of the last several years, there has increasingly been a blurring of the lines in terms of how people live abroad and how they conduct international business.
While there are still plenty of traditional expats - those that move to one country and stay there a year or more - an increasing number of people now live abroad for extended periods while moving around from country to country with great frequency.
More people are also interested in retiring abroad - both on a permanent and part time basis.
In short, the people that need insurance outside of their home countries have changed - both who they are and how they live and work.
The most reputable and experienced insurance companies have taken notice of these changes and have built a more flexible set of options for those that need their products.
Read our article that offers 10 Tips For Buying International Health Insurance.
About the Author

Joshua Wood, LPC joined Expat Exchange in 2000 and serves as one of its Co-Presidents. He is also one of the Founders of Digital Nomad Exchange. Prior to Expat Exchange, Joshua worked for NBC Cable (MSNBC and CNBC Primetime). Joshua has a BA from Syracuse and a Master's in Clinical and Counseling Psychology from Fairleigh Dickinson University. Mr. Wood is also a licensed counselor and psychotherapist.
Some of Joshua's articles include Pros and Cons of Living in Portugal, 10 Best Places to Live in Ireland and Pros and Cons of Living in Uruguay. Connect with Joshua on LinkedIn.
First Published: May 26, 2021