8 Best Places to Live in Croatia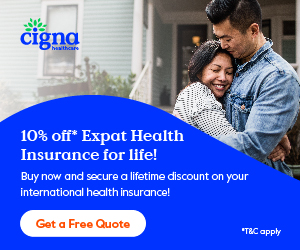 Summary: Croatia somehow flies under the radar of people looking to move abroad despite the fact that it has so much to offer in terms of a fantastic international lifestyle. Here are the best options to consider in 2022.
It's amazing that Croatia is still relatively unknown to many people outside of Europe given all of the fantastic options it has to offer. Those who have relocated to Croatia rave about the various aspects of life there - the climate, the food, the people and more. While it can be expensive in certain parts of the most popular coastal cities, a little research will go a long way towards finding an incredible quality of life for a wide variety of budgets.
One expat in Croatia shared: "I am buying in Croatia. It's beautiful, environmentally pristine, the people speak English, medical care is great, cities have cultural events and the ocean, lakes, and forests offer every sport you could want," said one member moving to Croatia. Another expat said, "First of all, Croatia is a beauty! The long coastline, from high up near Italy to deep south Albania is one long stretch of magnificent views with hundreds (if not thousands) of islands. Its history dates back to the old Roman days, with for example the palace of Diocletian in Split as an example, no doubt Dubrovnik, and many more ancient towns and places."
Croatia's Digital Nomad Visa is a great option for short-term remote workers wanting to spend up to a year in Croatia.
Below you will find several of the more popular locations that come highly recommended by people already living there:
1. Hvar
Population: 11,100
Location: Hvar Island (Southern Croatia - Accessed by Ferry)
Hvar is the only island on our list of best places to live in Croatia. Hvar is an up-and-coming destination for expat retirees known for its beautiful beaches, quaint seaside towns, mild winters and island lifestyle. There are many ferry routes from Hvar Island to mainland Croatia.
Restaurants: If you are visiting Hvar, enjoy excellent and fresh seafood at Bunar.
2. Split
Population: 178,100
Location: Northwest Croatia along the Sava River (Split)
Split, Croatia (pictured above) has a population of over 150,000. Split is located in Dalmatia on the Adriatic sea. An expat in Split described the expat community and lifestyle there, "The expats are mainly German. Few are English speaking. This is a highly seasonal area. The places open in May and close in September. During the tourist season, there is considerable night life, great restaurants, cafes, etc. In the winter, it is just locals. The history goes back 3,000 years. Vast number of historic sites, nearby national parks, the Adriatic to swim in and for water sports. You can do as much or as little as you want." When asked about whether you need a car when living there, he replied, "Car is required. Taxis are costly but the bus service which is good, only operates between main centres."
Restaurants: If you are visiting Split, stop by Adriatic Sushi & Oyster Bar in one of the city's most beautiful town squares.
3. Pula
Population: 57,000
Location: Southern tip of Istria on the Bay of Pula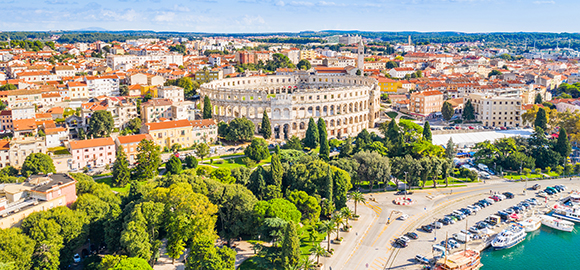 Pula is located on Istria, which is the largest peninsula on the Adriatic Sea. This coastal paradise combines wine making, ancient history (see the ruins of the Roman Pula Arena), exceptional cuisine and more to create a truly unique experience for expats to consider when they explore Croatia.
Here's an article from ExpatExchange.com as far back as 2006 that extolled all of the wonders that Istria and Pula have to offer.
An article on ExpatExchange.com as far back as 2006 noted that Everything's Up to Date in Lovely Istria:
"Istria's clear, azure seas and mild, Mediterranean climate have attracted visitors for centuries. The Austrians built ornate Art Nouveau hotels in Opatija and Pula that still welcome guests today as do the large resort hotels built during the Tito era whose selling points are their extensive sport facilities and reasonable prices."
An expat also shared: "As far as the wine goes, Istrian peninsula is known for growing olives and varieties of grapes, there's a lot of great vine here."
Restaurants: If you are visiting Pula, enjoy Epulon Food & Wine, which is popular for its Istrian cuisine, wine, tapas and more.
4. Rovinj
Population: 14,300
Location: West Coast of the Istrian Peninsula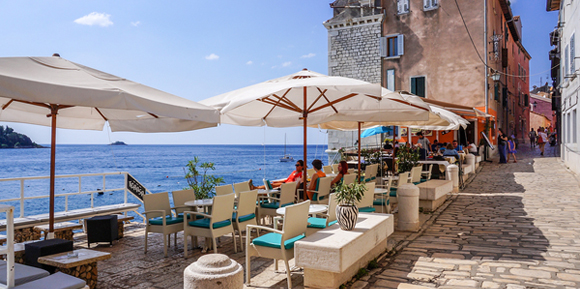 Rovinj, Croatia is a charming city on the north Adriatic Sea with a population of approximately 14,000. While Rovinj is a popular tourist destination, it is also an active fishing port.
Restaurants: Taverna De Amicis offers incredible seafood, pastas, wines and more.
5. Dubrovnik
Population: 42,600
Location: Southern Croatia on the Adriatic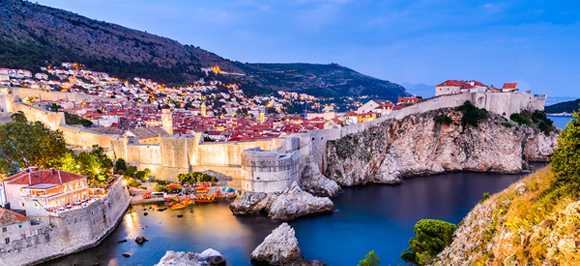 With a population of over 40,000, Dubrovnik, Croatia is located on the Adriatic coast about 15 minutes from Bosnia-Herzegovina and an hour from Montenegro. Dubrovnik is called the Pearl of the Adriatic and is one of the most beautiful cities in Croatia. The city was damaged during armed conflict in the 1990s. Today, the Old City of Dubrovnik is a UNESCO World Heritage Site and is the focus of a major restoration project co-ordinated by UNESCO. Dubrovnik's restaurant scene offers something for everyone. Fresh seafood, amazing local wines and seaside ambiance make for memorable evenings.
Restaurants: Konoba Dubrava offers an incredible location and space, authentic local recipes and a wide selection of cocktails and other beverages.
6. Orebic
Population: 4,100
Location: On the Peljesac Peninsula along the Dalmatian Coast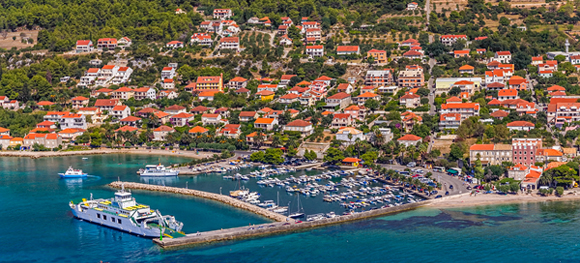 Orebic, Croatia is a small coastal city on the Peljesac Peninsula on the Adriatic coast with a population of just over 4,000.
Restaurants: The Restaurant Stari Kapetan at the Heritage Boutique Hotel Adriatic Orebic traveled throughout the world to gain the inspiration for crafting the perfect experience while maintaining the authenticity of the local traditions.
7. Zadar
Population: 75,100
Location: Central Croatia along the northern part of the Dalmatian Coast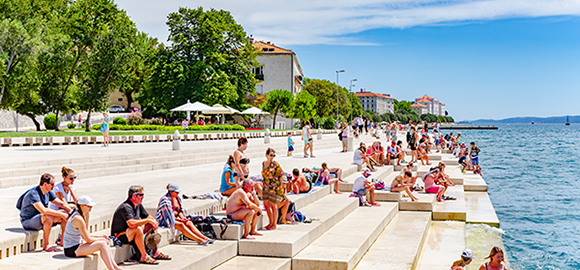 Zadar is located on the Adriatic Sea in Zadar County, and is roughly 1.75 hours from Split by car. Part of the region of Dalmatia, it is near beautiful Sakarun Beach on Dugi Island, which has been dubbed one of the most beautiful beaches in the world.
One ExpatExchange.com member shared: "We live on the coast in a beautiful small town with plenty of local residents to keep us company... If I want some big town life, I go to Zadar just down the road... Simple!"
Restaurants: Konoba Rafaelo offers a wide variety of options, huge portions and a great location near the Marina.
8. Zagreb
Population: 790,000
Location: Northern part of inland Croatia on the Sava River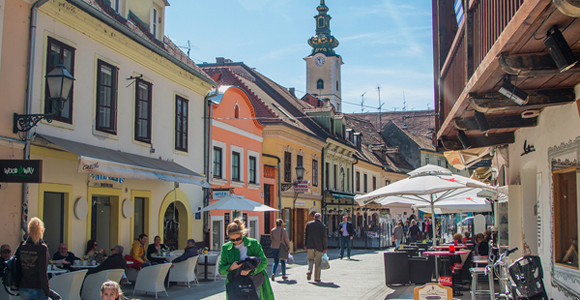 Zagreb is the capital of Croatia and also the country's largest city. With a population of over 750,000, Zagreb is the only city on our list that isn't on the Adriatic Sea. Despite it's landlocked location, Zagreb is a bustling city with great restaurants, nightlife and historic sites. For families seeking international schools, Zagreb has several including The American International School of Zagreb, The British International School of Zagreb and Bright Horizons International British School of Zagreb. "We have been in Zagreb for 30 years. My wife is Croatian and I'm English. We love it -- know all the ins and outs, happy days," said one expat living in Zagreb.
The U.S. Embassy for Croatia is located in Zagreb.
Restaurants: Heritage offers authentic cuisine that is expertly crafted.
About the Author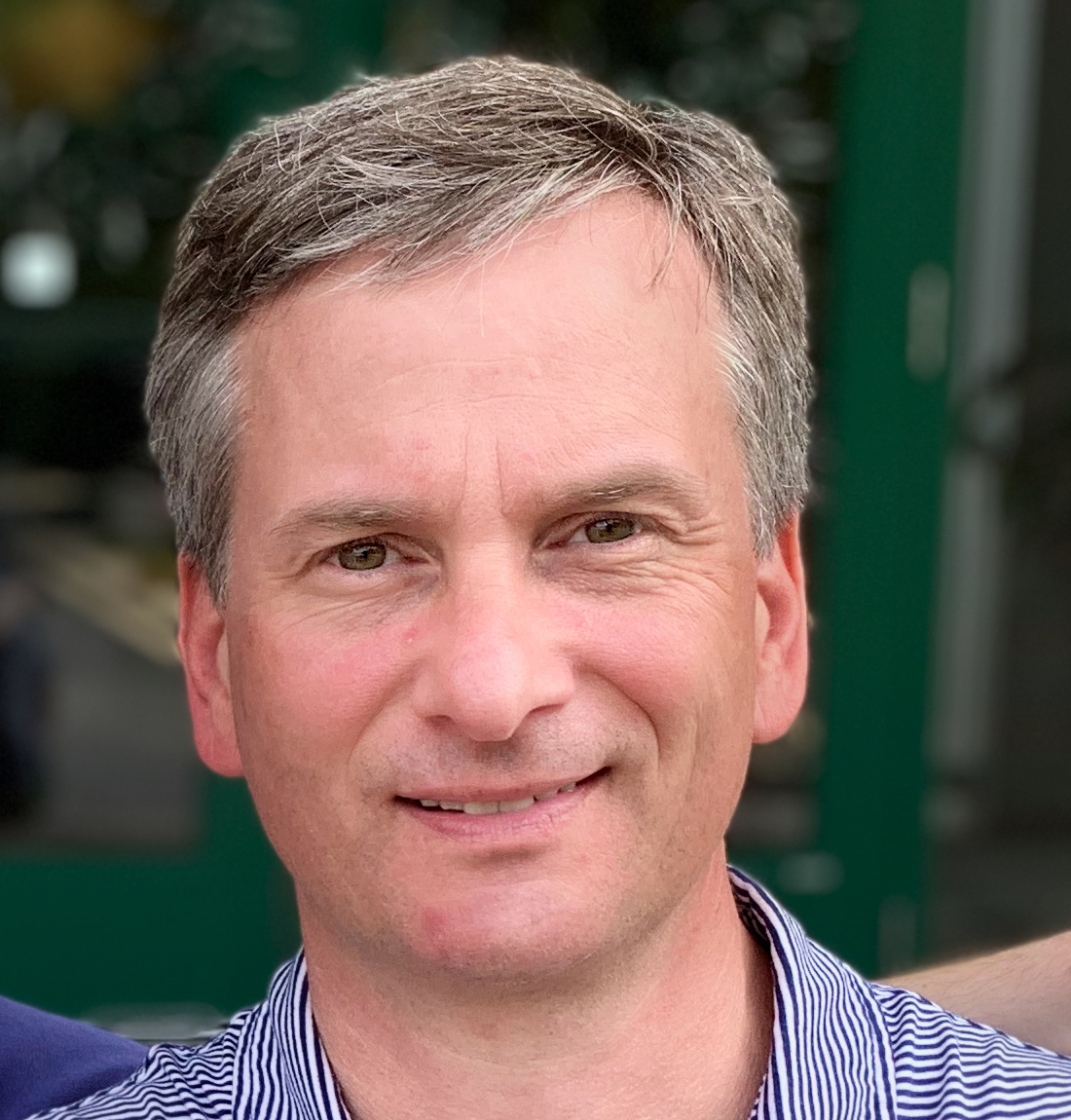 Joshua Wood, LPC joined Expat Exchange in 2000 and serves as one of its Co-Presidents. He is also one of the Founders of Digital Nomad Exchange. Prior to Expat Exchange, Joshua worked for NBC Cable (MSNBC and CNBC Primetime). Joshua has a BA from Syracuse and a Master's in Clinical and Counseling Psychology from Fairleigh Dickinson University. Mr. Wood is also a licensed counselor and psychotherapist.
Some of Joshua's articles include Pros and Cons of Living in Portugal, 10 Best Places to Live in Ireland and Pros and Cons of Living in Uruguay. Connect with Joshua on LinkedIn.