Italy Expat Forum
Moving to Italia
HenryGiovanni
Hi All,
I've been reading the posts and just joined the site as a member. We expect to move to Italy as soon as our house sells (July?), and have a lot of Qs. Any advice anyone can give is greatly appreciated.

First, some background in order to forego other preliminary questions. Wife is Italian, dual US; I am US only. Married 25+ yrs; registered with comune since 1993. Both 62+ yrs old. Moving for retirement to her hometown of Padova, where family lives. We intend to stay with them until we buy a house (apt, condo, ?), ASAP, no mortgage. Retirement income is limited to SS. Savings are not unlimited. Coming from California.

Now for the questions:

1) We might need a 20-ft container, max. Who is the best shipper at the cheapest price? Destination ports say Livorno (closest), but why not Mestre (which is geographically closer)? Since we don't yet have an address (staying with family until we buy), will the shipping company store the items until we send for them? At what cost?
More importantly, will I have to make wooden crates for our items in order for them to be stored in a company warehouse? Is it easier to buy my own shipping container and pack it for storage and later shipping? Are there any problems with that line of action? (ie- insurance, actually getting someone else to ship MY container? etc?). Seems like it would be easier all around, but what does one do with a used container in Italy?

2) I will need a PdiS. I can get that after arrival, if I understand correctly. Is my understanding correct? It seems like there are time limits (8 days) that may or may not apply to me as the spouse of a citizen. ???

3) My wife is on US Medi-Care, but I am not. Am I entitled to Italian healthcare as the spouse of an Italian citizen? Do I need my own health insurance instead? Current rules say that I must continue to pay for US Obamacare coverage for 9 months after departure from the US, which is stupid since I will not be able to use it at all. Any ideas on that? Also, can my wife, who will probably never return to live in the US, quit her Medi-Care without financial or other penalty? Also, since I may not be covered, can I at least get my US-over-the-counter meds through an Italian pharmacy without any problems? Seems like it should be easy to do, but . . .???

4) Does the restriction on importation of "art" include original items? Both of us are artists, with plenty of proof. Can we bring our own artwork with us without incurring import fees? Seems like we could so do, as ordinary (to us) household items, but Italian rules sometimes define their own path. Some of the art is large; one wants to avoid complications.

5) I have owned the same 70-yr old motorcycle for 37+ years but never had an original bill of sale (from my brother). There is plenty of proof (title, registration, etc). I ride it regularly to this day (proof of current registration and insurance). Can I bring this over without that "original bill of sale"? Is it now an "antique" subject to added fees? Or does the word "antique" only apply to art? Are there any other financial considerations that require attention? Are there any other considerations that are not financial? I don't wish to pay more in fees and other requirements than it is worth, so I am talking about admin fees, import duties, annual registrations, mechanical check-ups and other requirements like that. I can guarantee that it is not up to modern standards because it was made before modern times. We will not be bringing any other motor vehicles. If it is burdensome then it will stay here. But just in case, can I put it into the same shipping container (inside its own crate, of course) with the household goods?

6) We will bring 4x cats. Once we get the required documentation here, are there any barriers on that side? Does each cat require it's own shipping container? (seems like it would be a good idea even if not required, but I don't know that answer). Are there any things I should know about particular airline treatments for animals? (ie- who to avoid?). Any other info on how to bring those furry family members with us? Note: one cat is 19 yrs old; leaving her behind is the equivalent of an immediate death sentence, bringing her with us is only slightly better than that. I would bring her. Suggestions?

7) What to bring? No appliances, TVs, or lamps are coming with us, but what about a copier/scanner that is wired for both US and EU? Modem? Wi-Fi router? I understand there is an import duty on those electronic items. True? What about tools? I have a few electrical tools that are all US (saws, drills, etc). Ignoring the different electrical cycles (60 v. 50), should I buy a voltage transformer and just burn them out on the cycles? Seems cheaper than selling them for pennies here and buying brand new EU tools that may outlast me. Thoughts? What about pneumatic tools? Are the couplings different such as would require adaptors (remember: US threads on US couplings, the solution to which is to bring adaptor hoses with US couplings at one end and EU (metric thread) couplings at the other end). Also, I tend to work at home out of a garage. Is this a problem in Italy? Do Italians do this sort of thing? One wants to be a good neighbor. While this is almost expected here, it may not be so there. Is it even allowable to work out of one's garage, making noise and dust and such? I am not talking about a home-business such as would invite a visit from the Guardia di Finanza, but just making things. Advice?

I think that is all for now, but there is sure to be more. Any info is greatly appreciated, even if only to one part of my many questions. Thanks in advance. Henry.
Sergios
You're overthinking this. About containers, let someone else answer that. To answer all your questions, your wife is Italian and you are her husband. Go to Italy and enjoy. The permesso is required but your not required to go to the PO within 8 days. You go directly to the questure, at your convenience, and get your permesso which will then allow you to get residency. Once you both have residency then you have medical coverage. You do not need Medicare part B so contact SS before you are 65 and cancel that. Cancel your health insurance too. You will not need it.
As far as noise, you should hear the dam dogs in the neighborhood here at all hours. If you want to start a business you should check with the commune about fees. If it's going to be a cash business, just be careful but it's a common practice.
Bring only things that are usable with Italian power. Converters are expensive and burnout. As an Italian you are allowed to bring household goods without a tarring. Check with the consulate.

The insurance that travels with you. Now Health International's insurance plans offer you access to world-class healthcare facilities and treatment wherever and whenever you need it. With digital services, 24x7 customer support in different languages, and award-winning service, Now Health International will look after you no matter where you choose to go. Get a Quote from Now Health International.
The insurance that travels with you. Now Health International's insurance plans offer you access to world-class healthcare facilities and treatment wherever and whenever you need it. With digital services, 24x7 customer support in different languages, and award-winning service, Now Health International will look after you no matter where you choose to go. Get a Quote from Now Health International.
Sergios
Tariffs.
Also, as a tourist, until you get residency, you do have a right to healthcare if it's an emergency. If you need to see a doctor, just go. They'll charge a nominal fee and you can get your prescriptions. Bring all your medical records.
Sergios
More. You're not going to bring the compressor, just the tools. Buy a compressor in Italy with an adapter for your fittings.

You will need to register the cats with the comune. They can get their eu passports. Don't know about crates.
HenryGiovanni
Dear Sergios,
Thanks for the answers. I reply to all 3 posts with this.

Your info confirms my suspicions re benefits for spouse of EU citizen. Family there is helping with info but don't have all answers for moving.

No compressor coming. I can do the adaptor bit. Maybe I'll just sell the US electric tools. More for hobby than business. But (new question): does my status as spouse allow me to get a work permit or start a business? Not sure I'm quite ready to sit in a chair for the rest of my life.

As a note, I am not unfamiliar with Padova or Italia (as visitor, not as resident), and do speak some (badly, I think, but without fear! :) )

Thanks for the fast answers!
Cheers, Henry
Sergios
Forget the restrictions of the residency visa. They do not apply to you. As soon as you have residency, you have all the rights of an Italian outside of voting and running for office. After two years of residency you will be able to get your citizenship and will be able to vote.

The insurance that travels with you. Now Health International's insurance plans offer you access to world-class healthcare facilities and treatment wherever and whenever you need it. With digital services, 24x7 customer support in different languages, and award-winning service, Now Health International will look after you no matter where you choose to go. Get a Quote from Now Health International.
The insurance that travels with you. Now Health International's insurance plans offer you access to world-class healthcare facilities and treatment wherever and whenever you need it. With digital services, 24x7 customer support in different languages, and award-winning service, Now Health International will look after you no matter where you choose to go. Get a Quote from Now Health International.
maluza86
Henry,

I will attempt to provide some info on the question Sergio did not answer and where I have some knowledge.


We might need a 20-ft container, max. Who is the best shipper at the cheapest price?

This depends on the service you are looking for...we used a company called Bliss Moving Bliss Moving & Logistics S.r.l. out of Rome. They were very helpful, knowledgeable and reliable. They handled our entire move from packing to shipping to delivery. As for the cheapest, that just depends again on the service. We also stored items for about a year. It is cheaper to do that in the US, then when you are ready have everything shipped over...otherwise It think it would be a nightmare trying to move it into a storage facility...they are not readily available as in the US. I can provide contact info if interested.


4) Does the restriction on importation of "art" include original items? Both of us are artists, with plenty of proof. Can we bring our own artwork with us without incurring import fees? Seems like we could so do, as ordinary (to us) household items, but Italian rules sometimes define their own path. Some of the art is large; one wants to avoid complications.

If these are your personal items no problems...either as an EU citizen repatriating, or and American moving to Italy you are allowed to ship personal items duty free as well as a vehicle. Check out the US Embassy website....also info on starting a business.

https://it.usembassy.gov/u-s-citizen-services/citizenship-services/

https://it.usembassy.gov/u-s-citizen-services/local-resources-of-u-s-citizens/visiting-living/

5) I have owned the same 70-yr old motorcycle for 37+ years but never had an original bill of sale (from my brother). There is plenty of proof (title, registration, etc). I ride it regularly to this day (proof of current registration and insurance). Can I bring this over without that "original bill of sale"? Is it now an "antique" subject to added fees? Or does the word "antique" only apply to art? Are there any other financial considerations that require attention? Are there any other considerations that are not financial? I don't wish to pay more in fees and other requirements than it is worth, so I am talking about admin fees, import duties, annual registrations, mechanical check-ups and other requirements like that. I can guarantee that it is not up to modern standards because it was made before modern times. We will not be bringing any other motor vehicles. If it is burdensome then it will stay here. But just in case, can I put it into the same shipping container (inside its own crate, of course) with the household goods?

I shipped my 2004 Harley Davidson over as my vehicle and did not have any major issues. You don't need the bill of sale, but will need your prior registration, title, etc. as it will need to be retitled and registered in Italy. I also shipped it in a crate inside our container with our household goods. If anything it is less expensive as an older motorcycle to register it, unless you want to register it as a "classic" or something similar. As an older vehicle (20+ or more years) it doesn't need to meet the same standards. My son shipped his 66 mustang over here and later a 1972 Lincoln Towncar, no issues with inspections or registration.

6) We will bring 4x cats. Once we get the required documentation here, are there any barriers on that side? Does each cat require it's own shipping container? (seems like it would be a good idea even if not required, but I don't know that answer). Are there any things I should know about particular airline treatments for animals? (ie- who to avoid?). Any other info on how to bring those furry family members with us? Note: one cat is 19 yrs old; leaving her behind is the equivalent of an immediate death sentence, bringing her with us is only slightly better than that. I would bring her. Suggestions?

We brought two small dogs with us and they traveled in the cabin with us. We put them in small airline approved carry on bags and they were put under the seat. We flew Alitalia and had a great experience. It think it cost $250 each, but not positive. You have to book it with the airline direct whether you want to bring them on board (only a certain amount are allowed in the cabin per flight) or in the baggage compartment. Make sure they are microchipped according to EU standards, which is the 15-digit microchip not the 9 or 10 usually used in the US. We also used a company called Pet Passports, Inc to get a Pet Passport for them before hand, that had their photos and all required medical information (and of course no one even checked), but better to have everything done accordingly. I can pass the info if interested.


7) What to bring? No appliances, TVs, or lamps are coming with us, but what about a copier/scanner that is wired for both US and EU? Modem? Wi-Fi router? I understand there is an import duty on those electronic items. True? What about tools? I have a few electrical tools that are all US (saws, drills, etc). Ignoring the different electrical cycles (60 v. 50), should I buy a voltage transformer and just burn them out on the cycles? Seems cheaper than selling them for pennies here and buying brand new EU tools that may outlast me. Thoughts? What about pneumatic tools? Are the couplings different such as would require adaptors (remember: US threads on US couplings, the solution to which is to bring adaptor hoses with US couplings at one end and EU (metric thread) couplings at the other end). Also, I tend to work at home out of a garage. Is this a problem in Italy? Do Italians do this sort of thing? One wants to be a good neighbor. While this is almost expected here, it may not be so there. Is it even allowable to work out of one's garage, making noise and dust and such? I am not talking about a home-business such as would invite a visit from the Guardia di Finanza, but just making things. Advice? I think that is all for now, but there is sure to be more.

Assuming you buy a villa and have a garage, it is perfectly within your right (and many Italians down here in the south do) work out of their garage as we do in the US. DO NOT bring your saws or any other larger tools as they will be very expensive to use. Even if you buy a transformer that will hold the wattage, the problem is going to be with the amperage, and you'll end up just blowing the fuses or having to purchase commercial rated transformer, which at that point is much cheaper to buy adequate tools...they have all the brand names, DeWalt, Mitsubishi, etc....and several box store that sell tools as Home Depot and Lowes does in the US. Over here one of the big chains is Leroy Merlin...good tools, great prices. As Sergio says, bring the pneumatic tools, but leave the compressor, same issue as above. Most connectors on pneumatic tools are standard, so you won't even need to change them. If you do, adapters are very cheap or replace.

If the copier/scanner is already dual voltage then it should be good to go. Leave the modem for sure as it won't work and you'll get one from the internet provider you sign up with...as for the router, again depends on if it's dual voltage, which most are not. Many stores here to buy those type items at very reasonable costs..

I hope this helps. I, am an American, married to an Italian. I came over on just my tourist US passport, then applied for my Permesso di Soggiorno once I got over here. I did not need a visa as others were required as my wife is Italian. I was issues a PdiS Motivi Familiari which is good for 5 years. Let me know if I can provide any other info or clarification.
HenryGiovanni
Dear Sergios,
Thanks for that. There was an Italian guy here who offered IT citizen-ships, but we disagreed on a few things and that ain't gonna happen, not from him, not for me. Equal both ways, I'm sure. I will get the PdiG after arrival and work it from there. As for voting, it's possible I might need a break from politics, and looking forward to it, I might add! : ) The political nastiness here is unbelievable. I suspect it is as bad in Italia, but I won't be able to vote and that's that, so I can leave it behind for a bit and not miss it at all. Thanks so much, once again! Cheers, John.
HenryGiovanni
Dear Maluza86,
Thank you for your reply to my questions. I have a few more:

1) I checked the Bliss Moving site and it appears they do the IT-US move, but not vice-versa. Did Bliss Moving move you from the US to IT? If so, I can contact them directly via online.

4) Thanks on the info for art. I have some steel sculptures that require a decision on whether to bring, sell, or destroy.

5) Thanks for the info on the bike. I am as yet undecided as to bringing it; not sure I wish to continue subjecting my knees to the required kick-start. It may be time to hand it on down after 37 years.

6) We could not leave the cats behind absent exigent circs. But is there such a thing as a pet passport with pics? Sergios mentioned this, but I thought he was referring to the standard vacs and certs. I have never travelled with pets. I suppose micro-chipping is a good idea, if unconsidered as yet. Can I get them EU chipped here in the US? Please forward any info you have on that, with thanks in advance.

7) Tools: will sell all electrical and replace or do something else. Printer may come with us. Modem will stay (probably out-of-date by now anyway).

We will move to Padova, up north, but not to any villa. Probably just a condo with garage. Maybe a house. My Italian wife was just over in Italia last week looking for places, but time was short and so we expect to stay with family until we find a place. Storing things here seems practical, from what you say. We expect to sell most stuff and travel light, picking up what we need there. Expectations are that we will require less space than we now have, so it's not really a problem to us. It may be that we go LTL instead of a 20-footer.

One last question: I heard or saw that the PdiG is only good for the validity of my passport (10 yrs max). You said the PdiG is good for 5 years. Am I missing something?

Thanks again for your reply. Seems like I just need to get over there and adapt, improvise, overcome. Cheers, John.
Sergios
Italians are obsessed with what is happening in the USA. You'll be eligible for citizenship after two years of residency so you have time to study up.
HenryGiovanni
Dear Sergios,
That is exactly what I wish to avoid : ). Obsessed? I remember being grilled for 1-1/2 hrs by a "panel" (odds: about 7 or 8 to 1 (me)) of local experts over lunch one day. They were a bit put out and demanded defenses/explanations for foreign policy decisions far above my pay grade, and etc., ). This was back about the time of GW's second election. I could not satisfactorily explain why the US had not elected the candidate of their choice. I can laugh now, but it was rough going then, having to chart a course without stomping all over the sensitivities of folks I'd just met and who were feeding me lunch. "Obsessed" may be an understatement. The family wants the same info, though curiosity outweighs aggression.
Thanks for your replies! Cheers, John.

The insurance that travels with you. Now Health International's insurance plans offer you access to world-class healthcare facilities and treatment wherever and whenever you need it. With digital services, 24x7 customer support in different languages, and award-winning service, Now Health International will look after you no matter where you choose to go. Get a Quote from Now Health International.
The insurance that travels with you. Now Health International's insurance plans offer you access to world-class healthcare facilities and treatment wherever and whenever you need it. With digital services, 24x7 customer support in different languages, and award-winning service, Now Health International will look after you no matter where you choose to go. Get a Quote from Now Health International.
Sergios
It's not like that. People ask, "what's with trump?", and then shake their heads and the conversation changes to food or some other common topic. Politics is on their minds but it's not a constant discussion.
LisaC1
HenryGiovanni,

Bliss will move from US to Italy. I had contacted them but they want a detailed list of what we have before quoting, even when I just mentioned the possibility of a 20 foot container.

As far as your animals go, my husband is a USDA accredited vet and we just contacted our regional office to confirm a few things before our move in September. Our 2 dogs are coming with us and the cats will follow in June 2018, unless our house sells first.

Here are the answers to some of our questions. I would contact your vet for help.

Here is a link to Italy's requirements:

https://www.aphis.usda.gov/aphis/pet-travel/by-country/eu/pettravel-italy



The requirements are listed in Steps 1-5. Once you are done reading the requirements, please click the link in the yellow box under step 5. After you have done that, click how the pet is traveling, and then the age of the pet. This will populate the correct health certificate for Italy. A USDA Accredited Vet must complete the health certificate, and then it must be sent to us for endorsement. There is a checklist in the guidance document, so you know what to send us.

Italy requires the pet to be implanted with a microchip first, and then be vaccinated for rabies. The first vaccine after the microchip, and the first rabies vaccine after the previous vaccine expired is considered a primary rabies vaccination, and there is a 21 day wait. As long as the rabies vaccination is after the microchip, and the pet is revaccinated continuously and there is an overlap in validity periods, then the boosters will be fine. Pets going to the EU from the United States do not need rabies titers. If you use the APHIS Pet Travel website to get the health certificate, the lineouts will be done automatically for you. You can put up to five animals on the EU health certificate. Canines going to Italy do not require the tapeworm treatment.
LisaC1
HenryGiovanni,

Further info:

Guidance for International Travel of Companion Animals
Please visit our website to obtain detailed information on international export regulations for companion
animals, including requirements for bringing your companion animal back into the US:
https://www.aphis.usda.gov/aphis/pettravel
If endorsement of your pet's health certificate by USDA APHIS Veterinary Services is required by the
importing country, submit the health certificate to the office serving your state. Certificates should be mailed
(overnight express courier is recommended) or, alternatively, presented in person by scheduling an
appointment. Walk-ins are not accepted. However, a certificate can be dropped off for endorsement without
an appointment.
(See office locations towards the end of this document.)
Certificates are generally processed and returned the day they're received as long as there's no missing or
incorrect information.
Essential documentation to include with your submission:
? Rabies vaccination certificate for all rabies vaccinations documented on the health certificate.
? Test results for laboratory tests, when required (e.g. rabies titer test).
? Import permit (if required).
? Payment (see Endorsement Fee section).
? PRE-PAID return label (see Instructions for submitting by FedEx, UPS, or USPS).
? Pet Export Checklist (see page 4 of this document).
Endorsement Fee:
? If no laboratory test results are required to review: $38.00 per certificate.
? If 1 - 2 required laboratory tests results to review: $121.00 for the first animal and $7.00 for each additional
animal on the SAME certificate.
? If 3 - 6 required laboratory tests results to review: $150.00 for the first animal and $12.00 for each
additional animal on the SAME certificate.
Acceptable payment methods: Check or money order made payable to the USDA.
We do not charge an endorsement fee for service animals as defined by the Americans with Disabilities
Act, or for active military working dogs. We do not accept cash.
This notice was created for use by NIES Service Center 1 and is not an official publication. 05.2017
Instructions for submitting by FedEx, UPS, or USPS:
? We recommend using overnight express service to minimize delays in submitting your health certificate
for endorsement and for receiving it back after endorsement. In order for the health certificate to be
returned by overnight delivery, you must provide a PRE-PAID return label with your submission.
The label must be purchased and paid for (meaning charges are incurred at purchase, not at time of
pickup). We do not accept shipping labels with credit cards on them; if you need to pay by credit
card, you must have the service provider charge your card before generating the label.
? FedEx, UPS and USPS overnight express service packages are picked up from our offices every weekday
evening.
o We do not have ground service pick up at our offices.
? We recommend using a service provider that uses a tracking number to allow the package's progress to be
tracked to and from the endorsing office, and to decrease the chance of the package being lost in transit. It
is your responsibility to keep a record of the tracking number.
? IF YOU USE FEDEX: the USDA office's address should not appear anywhere on your return label.
Your name and address should appear in both the sender and recipient's block of the return label.
? If a return label is not included, then we will return your package using USPS First Class Mail if we are
unable to reach you to arrange for another method of return delivery.
NIES SERVICE CENTER 1 OFFICE LOCATIONS
Albany, NY Serving: CT, DC (mail-in), DE (mail-in), ME, MA, MD (mail-in), NC, NH, NY, NJ (mail-in), RI,
VA (mail-in), VT, WV
USDA APHIS VS
Attention: Export
500 New Karner Road, 2nd Floor
Albany, NY 12205
Telephone (518) 218-7540
Fax (518) 218-7545
Email [email protected]
Robbinsville, NJ Serving: NJ In-person Appointments (Mail-ins go to Albany, NY)
USDA APHIS VS
Attention: Export Department
Mercer Corporate Park
320 Corporate Blvd.
Robbinsville, NJ 08691-1598
Phone (609) 259-5261
Fax (609) 208-2063
Email [email protected]
This notice was created for use by NIES Service Center 1 and is not an official publication. 05.2017
Harrisburg, PA Serving: PA
USDA APHIS VS
Attention: Export
2300 Vartan Way Suite 250
Harrisburg, PA 17110
Telephone (717) 540-2770
Fax (717) 782-3809
Email [email protected]
Richmond, VA Serving: DC, DE, MD, VA In-person Appointments (Mail-ins go to Albany, NY)
USDA APHIS VS
Attention: Export
Federal Building
400 N. 8th Street, Ste. 726
Richmond, VA 23219
Telephone (804) 343 2567
Fax (804) 343 2599
Email [email protected]
Pet Export Checklist
USDA-APHIS- Veterinary Services, NIES Service Center 1
This checklist should be included with your other documents when you submit your health
certificate(s) to us for endorsement.
OWNER/EXPORTER'S INFORMATION
Name:
Telephone number(s):
Email address:
Date of departure:
VETERINARIAN'S INFORMATION
Name:
Clinic Name:
Telephone number(s):
Email address:
CHECKLIST
Export Health Certificate(s) (signed and dated by your veterinarian)
Rabies Vaccination Certificate
Rabies Titer Laboratory Report (if applicable)
Other Required Test Results (if applicable)
Payment Enclosed
(Check/money order payable to "USDA")
Prepaid Express Return Label (FedEx or UPS are recommended)*
Date of departure from the U.S. is provided above.
*VERY IMPORTANT: YOUR NAME AND ADDRESS SHOULD APPEAR IN BOTH THE SENDER AND THE
RECIPIENT'S BLOCK OF THE RETURN LABEL. The USDA address should not appear anywhere on your
return label. The label must be purchased and paid for. We cannot accept a FedEx, UPS or USPS label with
your credit card number listed as the payment method. If you want the return shipping charged to your credit
card you will have to visit their store location or website and pre-enter the information and include the
preprinted label with your materials when sent to us.
United States
Deparbnent of
Agriculture
Animal and Plant
Health Inspection
Service
Veterinary Services
4700 River Rd
Riverdale, MD
20737
USDA
July 7, 2016
To pet owners and others involved in the international movement of pets:
The United States Department of Agriculture (USDA), Animal and Plant Health Inspection
Service (APHIS), Veterinary Services (VS) is the competent government authority responsible
for international export of live animals, including pets such as dogs and cats.
It is APHIS VS' role to provide endorsement (review, countersigning, and embossment) of
international health certificates after issuance by a USDA Accredited Veterinarian when required
by an importing foreign country. The APHIS Pet Travel Website has the most current pet travel
requirements available and should be consulted to determine the importing country's
requirements or obtain the appropriate international health certificate. This website can be viewed
by visiting https://www.aphis.usda.gov/aphis/pettravel.
When pets travel by airplane, some airlines may require an additional health certificate such as an
APHIS 7001 form to be issued by a licensed veterinarian that states that the pet is fit to travel.
The airline should not require APHIS endorsement of any additional information or
documentation not required by the importing country.
Please note that effective July 31, 2016, APHIS VS will no longer be providing endorsement of
the APHIS 7001 when this form is not required by the importing country. This information was
communicated to the airlines in June of 2016.
If you have any questions or concerns, please do not hesitate to contact your local VS Office.
Contact information can be found on the APHIS Pet Travel Website. Thank you in advance for
your attention to and assistance with this matter.
Respectfully,
Joyce Bowling-Heyward, DVM
National Director Import Export Animals
USDA APHIS VS- National Import Export Services
APll Safeguarding American Agriculture
:;?;;; APHIS is an agency of USDA's Marketing and Regulatory Programs
An Equal Opportunity Provider and Employer
Federal Relay Service
(VoicefTTY/ASCll/Spanish)
1-800-877-8339
International Pet Travel: Plan Ahead
and Take the Right Steps
On our pet travel Web site, you'll find detailed information about
taking your pet from the United States to another country (export)
and bringing your pet into the United States from another country
(import). The site covers the export and import of certain types of
pets, including:
• Dogs
• Cats
• Birds
• Ferrets
• Rabbits
• Rodents
• Hedgehogs and tenrecs
• Reptiles
• Amphibians
Before making plans to travel internationally with your
pet, visit our new Web site at
https://www.aphis.usda.gov/aphis/pettravel
for up-to-date information on what's required.
The U.S. Department of Agriculture's (USDA) Animal and Plant Health
Inspection Service (APHIS) has launched a new Web site devoted to
international pet travel. Pets are often considered part of the family, but
traveling with your pet isn't as simple as just booking a flight or driving
across the border. There may be very specific steps you and your
veterinarian need to follow, as well as pet vaccinations, treatments,
and/or testing that your veterinarian must document.
We know this process can be stressful. That's why we designed a new
Web site to help guide you and your veterinarian through each step. Some
countries have pre-travel requirements that take advanced planning and
time to complete, so it's important to start the process early.
Taking Your Pet to Another Country
Countries often have detailed animal health requirements that must be
met before pets can cross their borders. These rules can vary greatly,
so it's important to find out the exact requirements for the destination
country and type of pet.
With the help of APHIS' pet travel Web site, you can get the most
current information available for a particular country. There, you'll also
find country-specific health certificates and instructions for completing
them. This will help you and your veterinarian fill out the forms correctly
so they are accepted by foreign officials. Please note that your
veterinarian must be USDA-accredited to issue any international health
certificates that require APHIS endorsement.
To help you and your veterinarian complete the process, the
site also provides:
• Frequently asked questions and answers,
• A step-by-step checklist to better
understand and prepare for
international travel
requirements,
• Detailed documents on sending pets to select countries, and
• A link to find APHIS' closest Veterinary Services office for
assistance.
Bringing Your Pet Into the United States
APHIS' mission is to protect the health and value of American agriculture
and natural resources. To prevent the entry and spread of foreign
animal diseases into our country, pets entering the United States from
other countries may need to meet specific APHIS requirements. You
can find information about these requirements on the new site. And
for pet bird owners, the site provides a list of APHIS-approved ports of
entry and contact information for our animal import centers.
Other Federal agencies also have rules for bringing pets into the
United States. Our new Web site includes links to those
agencies' sites to help meet all your pet travel needs.
Animal and Plant Health Inspection Service
Veterinary Services
USDA is an equal opportunity provider, employer, and lender.
Program Aid No. 2198 • Issued July 2016
maluza86
Henry,

Lisa answered or provided most of the info for the pet travel. However, the two very important points: 1 - Pets must be microchipped prior, the certificate will not be issued without it. Your local vet can do this.

2- Certificate must be issued within 10 days of entering the EU. This means you have to clear immigrations in Italy within 10 days, not depart the US. The reason I mention it because there is a lot of overnight FedExing involved and a 48hr turnaround time for the certificate within that 10 day period.

We were traveling from GA to NYC to drop my son off at college in NYC anyway and stayed with relatives before we departed in 2014, so I just went to the USDA office at JFK.

Here is the company I used to obtain all the medical paperwork and get a Pet Passport. While the passport is not the EU passport mentioned on the website (you can only get one of those in the EU and it is for travel within the EU)...It had all the medical, microchip and personal info in 1 little booklet (passport). Plus they sent me the other form my vet was not familiar with.

https://www.pettravelstore.com


Bliss will set up the move through a company they use in the US. Or you can contact a company that does international moving. We contacted several companies and moving brokers.

As for the PdiS, as I mentioned, mine is good for 5 years from the date of issuance. It was issued 27/01/2014 and expires 26/01/2019. My passport does not expire until May of 2019. It is the Motive Familiari or Carta di soggiorno familiare di cittadino dell'UE.

Interesting fact....I arrived on the 15th of January 2014, went to the Questura in Brindisi on the 17th and had my PdiS in hand on the 27th. Now the residence....whole other story ;-)

In bocca al lupo.
Sergios
It's funny how complicated the process is for an amirican animal leaving the USA bound for Europe. My dog has crossed the Atlantic 4 times. When returning to the USA all that is required is a rabies certificate. That's it. Once Ringo got his EU passport, return trips to Italy were just has simple. The EU passport only needs to be kept up to date. The process, as described in the previous comment, needs to be done each time the animal needs to travel. So thee is a definit benefit to get the animal their eu passport asap. And they don't even need a permesso di sogiorno.
maluza86
So true Sergio... but you can't get the EU passport for your pet until you (they) get to Italy (EU).
rsetzer99
I don't know if obsessed is really the word, but they certainly are interested, and frequently puzzled. Usually I just shake my head, make a joke about Pazzo Trump, and we talk about more interesting things, like food. :)
rsetzer99
We used Bliss pets to move our cat from US to It. They work with a company in the US and coordinate everything. I give them very high marks. They kept us informed the whole time and everything went without a hitch. Not cheap, but worth it to have someone who knows it inside out.
lifelover
Wow! this whole thread is amazing!! I will have to print and archive it into my moving folder!!
I can't wait to get out of here....
Going to be in Puglia in august!!
codybrandy
Good Luck with the move...just think in a few years you'll be writing to help others...this is a fun and wonderful site! Smooth Sailing...
HenryGiovanni
Dear LisaC1,
In reply to your two posts, thanks so much! I've checked the reqs and spoken to another Italian here who has travelled recently with her pet, and think it is now all clear.
The part that really gave me trouble was the thing where one must obtain the EU Cert "within 10 days" (USDA website), which I took to mean "AFTER arrival in Italy". I couldn't see the purpose in going to Italy, getting an Italian vet to give me a cert, then sending it back to the US for endorsement. My friend clarified that the EU Cert is required (with USDA endorsement) BEFORE getting on a plane here. The wording on the website could be a bit clearer on that, but at least I am now clear.
Step 2: getting the cats to the proper vet!
Thanks so much. Cheers, John (Henry).
HenryGiovanni
Dear Maluza86,
Yes. The pets are proving to require special attention. Still, they are like family and can't be left behind. Seems like they (govts) could loosen up the time requirements just a bit, but we'll have to work it out on their current schedule. One cannot speed up govt; not possible. Alas. Cheers, John.
HenryGiovanni
Hi Sergios,
Thanks for your input on everything. The process is indeed more complicated than it would be if I were the Supreme Commander Of All Things. But I'm not. Some are thankful. Alas. We do not anticipate a return trip for the cats, but one doesn't know the future, so we'll take the steps just in case.

Once, air travel was fun. I'm pretty sure the cats will like it less than I do now. They'll just have to learn to Miao in Italian!
Cheers, John.
HenryGiovanni
Dear rsetzer99,
In reply to your two posts, I can only imagine what the political discussions must be like now, what with the polarity. I will try to avoid them altogether whenever possible.

I have (unfortunately) not gotten any closer to researching shippers, but will check out Bliss, a name that keeps popping up here. We are trying to get rid of as much as possible, and don't even what we'll need, but it could be less than a 20-footer. I'm probably dreaming on that, though. Plus, stuff multiplies overnight!
Cheers, John.
HenryGiovanni
Dear lifelover,
Glad to be of help asking questions, but all credit goes to those who gave the answers. Best of luck with your own move!
Cheers, John.
HenryGiovanni
Dear codybrandy,
Thanks for the thoughts. One step at a time; first I have to get there! The replies here have made that easier.
Cheers, John.
LisaC1
Henry,

Best of luck with your move. Even though my husband is a USDA accredired vet, we too, had some questions we needed clarified as each country has its own rules. We finally have gotten all of the needed answers. It can be very nerve wracking as if there is an error on the international health certificate it needs to be corrected before departing and there is very little time to do it in.
Sergios
Last summer my wife and dog and I got in the car and took a 5 month trip thru Europe. The dog passport was important for getting on international ferries.
rsetzer99
Politically, the expat community seems to be far more open to diversity in discourse as one might expect. We yanks are much less in number than Brits, and with their election coming up we usually talk about their politics. As I don't have a dog in the show, I mostly just listen to both sides. Brits are more like Americans once were. I have my reasons you have your reasons, we've made our case, but don't agree. Lets have a pint and talk about sports. :)
proseh58
Getting the cats to the proper vet is essential. We concentrated on finding one who spoke English, but she had never done the paperwork for the EU passport and ended up being incompetent. So make sure the vet has experience in this. It cost us double and required our cats to have twice as many shots.
HenryGiovanni
Dear LisaC1,
True story. They leave little enough time to get it done, and less to re-do it. Thanks, John.
HenryGiovanni
Dear Sergios,
Once (or "if") I get these cats to Padova I doubt they will agree to go anywhere else with me!
Thanks, John.
HenryGiovanni
Dear rsetzer99,
Sounds like I'll fit right in, except for that sports business. We'll have to talk old bikes instead. Over a pint. Or two. Thanks, John.
HenryGiovanni
Dear Proseh58,
Thanks for the advice. We are already finding it difficult to find one who does it all. I can get the microchip and rabies at place X, but they don't do the certs or health. I can get them done at Place Y, but they won't be able to verify if the microchip went in before the rabies. We are at the beginning and still looking, but are confident that we'll find someone. These cats are gonna owe me big time forever! Thanks, John.
LisaC1
Henry,

It should not be that difficult to find a USDA accredited vet. All of ours are at our hospital (4 vets) and I believe most vets are. You need to get going on this, though as once the microchip is implanted your cat needs to get the rabies vaccination and then wait at least 21 days before entering the EU.
HenryGiovanni
Dear LisaC1,
Thanks for the advice. We just pushed our listing back five days and will have a 30-day escrow at shortest, I know it's cutting it close, but we probably won't get an acceptable offer straight off, so I think we have just enough time (he says). Thanks for all of your help on this, by the way. Everyone has been very helpful, except for these cats that keep walking across my keyboard! Cheers, John.
HenryGiovanni
Dear LisaC1,
I took your advice and looked again. There seems to be one close by that I can call tomorrow who claims to give the intl cert service. The ones I've called (private and the county humane society) can't offer what we need, it seems, but we'll try this one tomorrow. Thanks for the push/shove towards action. I probably have less time than I think, so best to be on it. Cheers, John (aka Henry).
HenryGiovanni
Dear LisaC1,
OK, you scared me to action. We found a place that will do it all. (Lots of places don't do it at all, or anymore. Some had no clue what we were asking, so specificity worked.). Actually, we found a few places, and (WORDS OF WARNING TO OTHERS) the price ranged from ~$1300-$2000 for all 4x cats. We chose the lower price, and can cut that a bit further by getting the chip and rabies vac at the county humane center downtown, then going to the doc for the check-up and EU Cert. The added benefit is that the place was recommended by our Italian friend who has recently used this place for her cat, and she sailed through without problem.
I'll post the prices for others following this thread, for comparison to their own locale:
County chip: $25
County rabies vac: $10
(Vet chip: $61)
(Vet rabies: $40)
Vet first exam: $64
Vet EU Cert: $157
Endorsement is extra, of course.
This is per cat, no discount for a herd of cats. We save ~$260 by using the County for chip and vac, but I'm guessing there will be a few add-ons somewhere. And I'm sure that any money saved here will be spent elsewhere! : )
Thanks for lighting that fire. Cheers, John.
whidden39
My once feral cat from Boston is enjoying life in Puglia as much as I am. He flew in the airline cabin with me. This is an option that I haven't seen discussed here. This relieved my own anxiety about him not being put into the cargo hold. Alitalia and Air France are two airlines that accommodate cats and small dogs. The cost for his 'seat' (in a Sherpa bag under the seat in front of me) was minimal ($150 on Alitalia two years ago). Sidebar: The USDA certificate has a narrow window (72 hours?). We were obligated under severe financial penalty to be out of the house we had just sold. No sorry, we had our airline reservations in order for that evening. Right! Well, the Rome airport had a one day strike and our Boston to Rome flight was cancelled just a few hours before we were to take off. We were to be rerouted through New York the next day. But the flight to NY didn't allow pets. We eventually got another Alitalia flight two days after our intended departure date. We won't talk about having to find a hotel room on short notice that was pet-friendly. Anxiety? When we did get to Rome, the certificate had actually expired. As luck would have it, we continued to our connecting flight to Bari without anyone asking about the cat or his papers. A few days later cat and humans began returning to normal and we never looked back.
Sergios
My dog has flown transatlantic 4 times. He was checked only once on the Italian side.
HenryGiovanni
Dear Whidden39,
Like I said, flying used to be fun. Airports were great because they felt like change; a society repositioning itself for the future. And the seats were bigger and farther apart. Alas. Now we are here.

I'll keep Alitalia and Air France in mind when time comes for tickets. And that 72 hrs does leave little time for mistakes.

Best of luck down there; we have friends in Padova who are from Puglia. It's nice down there. I too would choose it over Boston.
Cheers, John.
LisaC1
HenryGiovanni,

We are flying Luftansa with our dogs. They also allow snall dogs and cats on board and are supposed to have a good reputation with pets.

Also, the safest rabies vaccine for cats is Purevax, which humane societies don't typically use as it is more costly. Not all vets use it but it is the best one for your cats.
HenryGiovanni
Dear Sergios,
Pure luck, none of which I have! When I say that our cat-bringing Italian friend here "sailed through" without a problem, she was still checked on arrival. I'm not sure where she landed in IT, but maybe there is a business opportunity in providing "airport-shopping" services that indicate whether the locals actually check the pets or not, and on what days of the week, times, etc., so people will know where to fly. Or maybe not : ).
Thanks for all of your replies to my Qs. Everyone on this site has been very helpful and I appreciate all info. We'll get these cats over there. I could pretend I'm govt and just throw more money at the problem, but then there would be two of us throwing my money away! Cheers, John.
HenryGiovanni
Dear LisaC1,
My wife just flew Lufthansa but it's been a few years for me on that particular airline, and then without pets. They seem to have good deals right now. Let's see if they still do when the house sells.
I'll ask the county today about Purevac when I call them.
Thanks again. Cheers, John.
HenryGiovanni
Hi All,
My personal thanks to everyone here who provided advice to my many questions. Things seem to finally be on a single track. The house was photo-ed yesterday for the realtor and is now an echo chamber that will list tomorrow. Pets will get chipped and shot on Sat (free chips from the county in honor of 4th of July!). We've checked the travel pet kennels (? my word) and can get our hands on them quickly. Last thing is to finish packing and get a shipping container. We have storage lined up in IT through a family friend at EU 100/mo, and will stay with family until we buy a place. What a enormous amount of work this was (still is)! I remember when moving only required a Saturday, a pick-up truck, a friend or two, and beer at my cost. Thanks again to all for your advice! We really do appreciate the info that was given and will act on it. I hope to meet all of you in Italy this summer, dependant upon the house closing escrow soon. Cheers, John.
tonymnla
We flew our dogs over to the UK back in 2009, which back then required a 6 month 'quarantine' that was basically shots, micro chip and keeping them at home until the blood test were set and we could fly them over. We had no choice but to fly them in the hold below, they were fine on the other end. We hired a company to assist us with all the paperwork needed and they came to the house the day we all flew over, picked up the crates and dogs. They stayed with the dogs until they were secured and on the plane. They kept sending me pictures on my phone of the whole process. The peace of mind that our family was being so thoughtfully taken care of was worth the expense. Find a reputable company and ask questions and ask more questions until you're comfortable with them.
HenryGiovanni
Dear LisaC1,
I'm posting a reply to my own post responding to your earlier post, re: cat pricing.
I wound up going to the county for the chip and vac. There was some sort of deal going on at the county (Humane Society) regarding 4th of July that translated into free chips (15-digit "universal" chips) during JUNE (?) and the rabies vacs for $10/ea. I admit that in the confusion of my four cats against 100,000 (or more!) dogs in line that I forgot to ask about the Purevac brand. Bottom line is that the 4 cats were chipped and vac'ed for $40 total. My point is that another viewer might check with the local "chipper and vac-cer" to see if there are any discount dates coming up.
Also, because I knew that the chip had to be inserted PRIOR to the vac (and I watched that happen in that order for each cat), I had the county vet record the chip time as prior to the vac time on the official record. This fact was not included until I asked for it. Optimist as I am, I could see some functionary somewhere down the line telling me there was no proof and I had to do it over. Times were "guess-timated" but they are on the record, at least, for each cat, one time following the other in proper order. One wants not to do the same thing twice (at double cost, of course). Hence my response to my own response. Maybe it will help someone.
Next step: 21 day-wait, then check-up and cert.
Thanks again, John.
HenryGiovanni
Dear Tonymnla,
Do you remember what company you used? Sounds like they were good for pets and people. Anything to relieve stress at this point is a good thing. Can you post the name of the company?
Have travelled more than I can recount, but never with pets (internationally), so this is a first.
Thanks, John.
Sergios
It's commendable that you're going about this the right way. That's the best way to avoid future problems. Having said that my dog has a standard, generic American chip. When checked in Palermo, when I applied for the doggy passport, they just shrugged and accepted it anyway, noting that it was an American chip located between the shoulders instead of in the back of the neck. The standard European placement.
rsetzer99
Dunno if it has mentioned before, but Bliss Pets was very very professional and efficient. They handle the import side and work closely with other select companies on the US side.
HenryGiovanni
Dear rsetzer99,
Bliss responded to my initial e-mail and then failed to follow up. Not a good sign from my standpoint. But if they do resume contact then I will ask them. The pets seem to be on track for now (waiting period), and a friend is going through that same process (leaving Wed), so we will have an immediate update on the endorsement process in LA and all.

However, I have some new questions concerning containers for anyone who has experience.

I contacted a number of places, perhaps a bit earlier than I should have. We are still deciding what to take and what to leave, although the "take" pile is rapidly shrinking.

So, the questions:
1) is there a weight limit on a container? I've seen various limitations, from fantasy limitations to no limitations period.
2) should I pack it myself?
3) is there an itemized list that must be given if I pack it myself? I've seen dire warnings and "oh just do it yourself".

Aware that we will likely be moving into a smaller place, we wish to limit ourselves to a 20-ft container. It's also a good opportunity to "de-clutter-ize" our lives.

Ultimate question: what will happen in Italia at customs?

Any info is greatly appreciated, even if it only comes in partial answers.
Cheers, John.
maluza86
John,

We did two shipments in 2014. One was a "pallet" sized, abut 10-15 boxes we packed ourselves. For this shipment each box required a detailed inventory of what was inside...we shipped items we would need initially before our container with the remainder of our household goods. We shipped items such as pots, pans, bedding, and a charbroil big easy;-) Basically these were put in a container by the shipping company and delivered to us in Italy. The shipment went through customs in England then was transferred to us in Southern Italy by truck. It took around 60 days total time from when they picked it up until we received our items.

Our second shipment we did not pack ourselves. We had the moving company come to the house, give us an estimate to pack, store and ship. They told us based on the items the size container we would need. There was no weight limitation, it was based on volume of the container. We had several valuable items that we shipped over and I wanted someone responsible...having moved 14 times in the military including 3 overseas shipments, I knew "a little" about what to expect. I had the company build a crate for our grandfather clock, my Harley Davidson motorcycle (went in the crate as well) and several valuable paintings and a few other pieces of marble and small items.

So packing it yourself will be cheaper in the long run, but you are then responsible if anything breaks.

We did not do anything special with regard to this list, as the movers did the inventory as part of the packing process, identifying each box and its contents. We just made sure if there was anything peculiar or pertinent that it was identified in the box on the moving inventory sheet. These sheets were then used by the moving company and their expediter official to get our shipment out of customs. So if you ship a container yourself, you will be responsible for all those actions...not something I personally wanted to deal with. It was a headache enough having a company with their own representatives at the port, and we still had some issues. As an American moving to Italy you are allowed to ship your personal items duty free within 6 months of obtaining residency (including one vehicle...in my case my Harley). As an Italian repatriating you are also allowed to ship your personal items back to Italy duty free, but must submit the lists through the consulate.

And if your items/container gets a hold put on it while at the port in customs it is quite an expensive daily rate!
HenryGiovanni
Dear Maluza86,
Thanks for that info. I've seen weight limits that were ridiculously low and then no weight limits. I will check with the one shipper who says none. The prices seem reasonable for shipping 9 time zones, and they say they will take care of the paperwork.

As for the bike, I would crate that myself, and I will take all responsibility for crating it properly. I've built crates (professionally) in my lifetime, and then had to pack them. plus have the tools available. The bike is an old WWII BSA, older than me, and I probably know how to fix it better than most if anything should happen to it, having owned it for the last 37 years. I'm still debating whether to bring it. In fact, I am looking forward to not having to drive if at all possible. It might be time to pass it down to the kids.

But, re that bike, I intend to get an Intl Driver's License whether I bring the bike or not. Will that work once I get residency? Otherwise, what must I do in order to ride it over there (I mean besides getting an Italian license and having it registered locally)? It boils down to this: can I get residency, then when the bike arrives use my Intl DL to ride (or drive a car)? Something is nagging at the back of my brain telling me that the Intl DL is for tourists, not residents.

Cheers, John.
LisaC1
HenryGiovanni,

Thanks for your note. I did live in Pisa for 4 years and saw enough of Italian driving to be rather nervous, to say the least. I also am not used to driving in traffic anymore. We live in Vermont.

Anyway, as far as your driver's license question, after you have established residency, you have one year to get your Italian driver's license. The international license is just a translation of your US license. We are in the same boat.

Whom are you considering using for shipping your household goods?

We are probably just going to send a few boxes over. Our dogs are coming with us and the cats will follow later, unless our house sells in the meantime. We leave Aug. 31.
maluza86
John, you will need to get an Italian license within 1 yr of establishing residency. Don't waste your time or money on an International license, it's of no use. You are allowed to drive on your US license for the first year. As for the bike...plenty of motorcycle clubs all over Italy. I belong to a Harley specific Free "Chapter in Puglia, but there are tons of motorcycle clubs and enthusiasts all over Italy and beautiful roads to ride.
HenryGiovanni
Dear Maluza86,
I used to drive in Italia on my CA license, but last time (2015) I read that things had changed and they wanted to see an Intl DL. Because it costs only $15 at AAA, I will go ahead and get it just in case.

I never rode in clubs. Sorta like Groucho Marx on clubs. I rode for years and years with one good friend, now dead of non-M/C causes, and we knew what the other would do in any circumstance.

That said, I recently joined the Antique M/C Club (of America?) (first club I've joined in a million years), but they mostly meet for coffee on Sat AM, each driving whatever from home. So it's still solo riding for me. They do have an antique show in the park on the 4th, but it's at the beach and traffic will be horrendous. I would have to ride on the sidewalks part of the way (not for the first time, either!). I usually try not to drive on the 4th, for obvious reasons, and especially avoid the beaches.

Coming down from Mt. Grappa in 2015 (in a rental car) a motorcyclist going up came around a blind corner on my side and almost straight into my front end. He had to adjust trajectory twice to avoid me without going over the edge; I was up against the rocks on my right with no room to move. The two others behind him were on their own side. Good ending for all concerned.

My bike is far slower than these modern contraptions.
Cheers, John.
HenryGiovanni
Dear LisaC1,
Last year my wife finally agreed to leave CA. I have lived here from the time when it was nice, but that ended some time ago. We thought to move to Portland or Eugene, both in OR, but rioting up there changed our minds. We then looked at VT, but, and I forget why, chose against it. My wife was in IT last Christmas, and returned wanting to return home to live. Fine with me as long as it is OUT of CA. I'd been trying to get her to agree to move to Padova for 10 years, but now I'm 10 years older! Alas.

For moving, we have been having some problems here, neither of us able to decide what to bring and what to leave, how much to take, etc. The usual stuff of moving. I sent out a premature e-mail to a number of places, and most responded. I'd read online somewhere that one could get a 20-ft'er for between $1250-$2500. Don't believe it. Most quotes were up in the $8G-$10G range, far more than we wished to spend. I put all responses on hold until we decided what we will take.

My wife did some checking and sent me a link to a company called "RSS" out of NJ. Problem with nationwide shipping is they want to first send your stuff somewhere far away. RSS said they would go 1) "door-to-door" for 2) USD $5595 total, and would 3) ship from LA (Long Beach, or San Pedro, which are closest, instead of SF or somewhere in Louisiana or South Carolina or some such) straight to Venezia/Mestre, which is closer than Livorno (Leghorn?), which is over by Pisa and nowhere near Padova.

I called Kate and spoke with her for a good 1/2 hr, and it seems good. There is a port fee of about $450-$550 (her estimate based on standard household) that we will have to pay over there. I will also have to pay for my motorcycle ($125?) should I choose to bring it.

One other thing: RSS said weight was not an issue. Some other sites gave ridiculously low weight limits that were designed, apparently, to increase charges.

RSS can pack for me, but will leave the container at my house for 3 hrs included in the price, for self-packing. More time is extra at per-hour cost of $70.

RSS will provide inventory sheets for me to fill out for each box, but Kate said it can be general, ie- "Clothing" or "Pots and Pans" (instead of ie- "4 pots and 3 lids plus 2 pans") and it won't impact customs on the other side. Apparently the usual scare-tactic is to say that the Italians will hold the shipment if I packed it myself.

So, the rundown:
Self-pack, 3 hrs, "door-to-door" service using the closest port to the closest port, $5595 (plus port fees and motorcycle import fee).

One last thing; Kate said that individual boxes must be palletized and the cost of the container to clear customs (about $500, included in total price of $5595) was cheaper than the cost of pallets ($125/sq meter). In our case, getting a 20-ft'er will 1) avoid "some" fights over what to take and what to leave, 2) allow me to include the bike if I choose, 3) give us plenty of room for packing. Kate said to pack from one end, floor-to-ceiling, then strap it off and leave the other end empty. Consolidating (LCL) has the same costs as palletizing. I think for $6G a small container "ain't bad".

Here's Kate's info:
Kate Deluca
RSS, LLC
113 Barksdale Professional Center
Newark, DE 19711
Contact:
Main Office: 866-801-0692 X.259
Direct Line: 302-725-4012
Toll Free Fax: 877-757-2561
Fax: 302-358-2951
Email: [email protected]
Website: www.rssllc.net

Hope this helps. Cheers, John.
maluza86
Hello John (again),
Great info you provided and all makes perfect sense based on my previous move and what it entailed. No need to be too specific on the contents of the boxes, as you mention, just ensure if there is anything of value that it is mentioned on the inventory. The only unknown, whether you pack it yourself or a company does it for you, is what happens when it gets to the port in Italy. Our shipment got held up due to a document they waned, which doesn't exist in the US.... a "certificate of residency". After a day or so (at our expense) they finally accepted a gas bill from our recent US address, luckily I was able to get that online. I think others have had similar experiences.

Also, you are allowed to import one vehicle, in this case your motorcycle...there are no import fees, I'd double check that with Kate. It clearly states on the US Embassy website that one vehicle may be imported duty free as well.
LisaC1
Thanks so much HenryGiovanni,

Your quote looks similar to one I got from UPackWeShip. I think we are probably just going to sell and give away just about everything though. Here is what they sent us:

Service Self Load/Unload Container
Door to Door Price US$ 5,550.00 for a 20 foot container


OUR RATE INCLUDES:
• To door price is all inclusive, click here for more information
• Position container at residence with normal access, 2 hours loading time included
• Transportation to port, port fees in origin, export documentation
• Ocean Bill of Lading and Ocean Freight
• Port Fees, terminal handling charges, customs clearance
• Inland transportation to a residence with normal access, 2 hours unloading time included
• Additional loading and unloading time billed at $95 per hour


OUR RATE EXCLUDES:
•Standard Exclusions apply: tax/duty if applicable (if you are moving your primary home, used household goods older than 6 months, lived in US over 12 months then should not have any tax), customs examination, storage, demurrage, insurance, loading, packing material, difficulties with access, shuttle service, hoisting, parking permits. Vehicles require additional export/import costs please ask for quote with vehicle.

NO EXTRAS, PAS D'EXTRAS, KEINE EXTRAS, SIN EXTRAS, NESSUN EXTRA, INGA EXTRA.

You will NOT be charged any extra charges at the destination unless it is backed up with an official receipt such as customs duties on a new item or AQIS (quarantine fee in Australia or "Maf" in New Zealand).

No other international shipping company offers you this guarantee.

Ask others that you have requested a quote from if there are any extras on top off their price and they will tell you that you "might" have to pay for customs inspection or x ray or security fees at the destination. No one will tell you how much it will cost you but this could easily be an extra $200 charged at the destination with no back up paperwork that you have no option but to pay if you want your things.

UPakWeShip WILL NOT charge anything extra at the destination unless we have documented proof that an extra charge did occur, and in the very rare event that something does occur, we will pass that cost on over to you at our cost with documented proof that it occurred.

We are that confident that our all inclusive charges are ALL INCLUSIVE that if you think otherwise please call our Government Licensing Authority and report us.

Federal Maritime Commission. www.fmc.gov Tel 202-523-5807 Licensed Forwarder FMC # 020099NF

Shipments quoted to arrival port or terminal do not include fees at destination which can include port charges, terminal and hand out charges as well as customs broker fee's.
HenryGiovanni
Dear LisaC1,
Thanks for that info. I am not sure I've checked them out yet. I was a bit early requesting quotes and haven't really gone back to them once scanning for price and terms.

We too will be selling whatever we can and taking the minimum. It's time to downsize life in general and "stuff" in particular. I have come to think that a house is a "stuff magnet"!

I'll check out their site. The one difference I note is that we get 3 hrs to pack instead of 2, which I'm sure will run to 4 hrs in any case. I'll check the particulars, but the destination port had some sort of charge that I can't remember, maybe for the bike registration (?) I'm pretty sure it had to do with the bike, but haven't gone back to check; still trying to sort "stuff" out as to take or leave. Thanks, John.
HenryGiovanni
Dear Maluza86,
Thanks for your response (again!). I will be sure to bring an old bill or similar to prove residence here. I think the charge for the bike was not customs, but some other official paperwork, maybe registration or ???We are still trying to sort through stuff in between house-showings and holidays. And we are a bit worn out and moving slower now that the house is at least listed. I'm sure that slow-motion will come back to haunt me, but we'll get there sooner or later. Cheers, John.
HenryGiovanni
Hi Maluza86,
I just responded to your Transferwise post, but had to check and see who had the motorcycle over there; turns out to be you.
Our house is in sales-limbo at present, and we are still waiting for an offer before we can move. Over the summer it appears to have become settled that I will bring the motorcycle with me. I will crate it myself and put it in the container. Now for my question(s):
1) how much is insurance over there? I pay about $200/year here now, with theft coverage and all. I make a presumption that the insurance will be based on vehicle age, my driving record, and the usual stuff. Bike is 70+ years old, my record is clean for at least the last ten years, maybe much longer. I'm not looking for a particular quote, just a ball-park number to compare against my current coverage.
2) My license here expires in about 8 months. I will get an Intl DL ($15, so why not). What happens when my license expires? Should I just get a new license for my "lost" license and extend the date for another 4 years? Or should I just get an IT license ASAP?
3) Last Q for now: the bike is an old war-bike and came standard without turn signals (remember those hand signals of old?). Are signal lights required?
Thanks in advance, and for all past info.
Cheers, Henry.
maluza86
Henry,

When I shipped my 2004 Heritage Softail Classic Harley over in 2014 it was crated and in the container with my household goods. I had stateside insurance on it for the crossing from USAA. Once it got over here and I went through the tedious process of registering it, I decided to insure it locally using the company my Harley group uses. While it was a lot cheaper €380 for the year I soon found out that I did not have nearly the same coverage on my bike that I had stateside. So I had to wait a year then switch back. Most Italians don't carry, theft, fire, or collision like we do in the US, they have the bare minimums of comprehensive required by law. A different mentality....once I inquired about comparable coverage with fire and theft it was relatively the same, if not a little cheaper to go with USAA. I maintain $500 deductible on collision and $500 comprehensive which covers fire and theft, and it's roughly $1500 per year through USAA. It would have been €1460 through the Italian agency. When I asked my Italian friends why nobody has fire, theft or collision, their response was "who wants to pay that much"...when I asked what happens if their bike gets stolen (which happens of course) or they get into an accident...the response was "oh well". Personally if you have an investment such as a Harley...they aren't cheap, why not insure it accordingly.

The other thing USAA lets me do is put it into and take it out of "storage" for 30 days at a time. For me this is a good option and saves me a lot of money while keeping the fire and theft. Italian companies do not do that. So when I know I am not going to ride it the 3-4 months I'm out of Italy, I have them put it in "storage".

Obviously your's will be a lot less than mine as it is an older bike. There are also classifications for historic bikes and cars and many clubs that cater to those with antique vehicles.

Get your US license extended before you depart. You can drive in Italy with a valid US license for a year. That is one year from obtaining your residency. After the year you will have to take the written test in Italian, take driving lessons in a car, and a road test in your car. For a motorcycle you will have to take the road test for sure. Like in the US, they are two different licenses, in Italy it's an "A" and a "B". I haven't gone through the process yet, as I've been traveling back and forth to the UAE for work. Once I am finished there and settle permanently here, I'll go through the process. As of now, I use my US or UAE car and motorcycle licenses...probably technically not correct.

With regard to the turn signals, I'll have to check, again if it's classified as an historic vehicle, I don't think those modifications are required.
Christianedh
I came from Belgium and same findings ! It's nearly impossible to get good insurance here ! I had very good coverage in the US and then Belgium...but here !!
HenryGiovanni
Hi Maluza86,
Thanks for that. I use USAA also, but they shift me over to Progressive here, and that's the policy I have in place right now. Don't remember why that shift was necessary since home, autos, etc, are all through USAA, in addition to banking and etc, It's been a long time and I forget the inconsequential details, so I'll call them again and see what's up.
I am not inclined to get a car; my wife disagrees with me on that. We'll take it one step at a time and adapt, improvise, overcome.
BTW, it is a '47 BSA M-21 (600cc), and there is a huge M-20 (500cc) club all over Europe. The M-20s were made in large quantity, not so the M-21s, but they are the same bike, with the exception of maybe 3 parts (crank, rod, and piston). Thanks to the war, there were no new models introduced, so I can use 1939 M-20 parts on my '47, straight-across bolt-on action. In fact, I just put a "new" (ie- not new) M-20 top end on mine, after buying a new +20 piston and rings. I sold the piston that came with it because the gudgeon pin placement was wrong for the M-21. Anyway, there are tons of M-20 clubs around. Not really a club-joiner, but things could change. My long-time riding partner died 9 years ago, so I mostly go solo since, but have recently joined the Antique MC Club (of America? Or something). Alas.
Cheers, John.
HenryGiovanni
Hi Christianedh,
Thanks for the reply. I believe I will do as Maluza86 and you suggest and go with USAA.
Cheers, Henry.
maluza86
Awesome bike!! Keep us posted of your progress...and best of luck. Joining a club is a great way to meet many Italians and travel.
HenryGiovanni
Hi All,
I reply to Maluza86 because his was the last message in my thread requesting info.

Many thanks to Maluza86 and to Sergios and LisaC, and to all of the others who gave of their time and knowledge.

Here's the update:

The house finally sold, after six months on market ("buyer's market" was una grande bugia dalla MSM). I had to cancel the sale in order to kick-start it into gear again. The end result was a sale and a move. We are now in Padova, since Dec 18, and are in process of searching for a permanent place to live. My wife found a B&B that was: 1) reasonably cheap, per month, and 2) requires no deposit/notice when we find a place and move. Technically, we are in Tencarola, a sub-section of Selvazzano Dentro, which itself is a sub-section of the Comune di Padova. Forget all that: we are in the "suburbs" about 4km from the city center (old walled city).

For Lisa C: our 4x cats survived the trip on Alitalia, and if I had to recommend an airline for pets, it would be any airline other than Alitalia. I could also give the USDA some recommendations that would bring it into the 21st century. That story is for a later post.

For Maluza86: the bike failed the "shipping test", in that I sent the original title to the export broker, but (I suspect) it was routed through a PO that was affected by the wildfires in Southern CA at that time, and failed to reach the broker in time for me to load it into the container. Nuts. In fact, title didn't reach the broker until after we had been in IT for 3 days. I crated it and all, but had to leave it behind at the very last minute, just before the container was closed and sealed. I will now figure out how to get it here, and if it's worth the trouble. It is an added cost at this point.

For Sergios: many thanks for the info on the various points of documentation. We have started (just barely, due to the holidays and all) the process and hope to get it done, or at least in progress, before the container arrives on (they say) Feb 7 (or maybe Feb 14???). It will arrive when it does, and hopefully my docs will be in order by then.

For the benefit of all who use this site, I would like to take the time to document our move, with pets, with container, and with all the assorted problems that come with it all, but it will have to wait until we get done so I can give final words on everything.

Once again, many thanks to all on this site who gave of time and info; it was and is much appreciated. I will be going over this thread in toto to pick up anything I've forgotten over the last six months. We had originally thought (mis-believed) that we would be here in July, and had even packed those winter clothes that we later had to unpack in December! Alas. All things happen in due time and in the order they are supposed to happen, and not before. I'll post again when I have the complete story so that others may benefit.

In the meantime, Padova is far colder than San Diego, which was 90 F degrees in my back yard not three weeks ago. But I am glad to be out of (to have escaped from??) California, and do not plan to return for any reason other than very short family visits. Any ties I may have with that state will soon be cut for good so that the "long arm" of CA taxation (or DMV) can no longer reach me. To that end, I have registered as "inactive" with the State Bar, and, if nothing comes up within a year of being here (where I can at least practice federal tax law but don't plan to do so), then I plan to dis-bar myself (ie-resign) just to get rid of the stench of what CA has become. But that is a post for a different thread on politics, which is not this thread. For now, we look forward, not backwards. Damn the torpedoes, full speed ahead.

Cheers, John.
maluza86
Congratulazione John on the move and benvenuto in Italia!
dave2018
Congratulations on the move. It's a big step to take, and not easy, especially after living in the States for a good while.

We're looking to move back next year after being in the States for the past 17 years. My wife is also Italian and from Veneto. We're initially going to settle in central Italy where my wife's cousins live, but may eventually move up north.

I'd be curious to know how things go for you and what obstacles you'll have to overcome, especially as regards the Permesso di Soggiorno and subsequent Residenza. My wife's cousin has a policeman friend who went to the Questura and asked what I'd need to do and was told that I'd need to apply for a Permesso di Soggiorno per Ricongiungimento Familiare (sojourn permit for rejoining family) within the first week of arriving in Italy. Is this what you're doing? I know how Italian bureaucracy is after having lived there for 8 years so I wouldn't be surprised if you've been told something different.

Anyway, good luck to you.

Thanks.

Dave
HenryGiovanni
Hi Dave,
I did not apply within the stated 8 days, and believe that is not necessary in my case because my wife is Italian, and I am not "re-joining" anything or anybody. The consulate in LA tried to tell me that I needed a visa, but I told them I didn't, based on my wife's citizenship. The lady checked and then agreed that I was right; no visa required for me.

At any rate, we landed here on Dec 18, late at night. It's Christmas; everything is closed. I did go to the questura in Padova the other day, but it was closed until next week. The policeman in the main questura just shrugged his shoulders, as did I. That's how it is.

On that note, the questura here has a separate immigration dept that is a few doors down from the main questura and in a separate building. I got the impression that the people in the different buildings don't necessarily communicate with each other, so knowledge of what happens inside the doors of each building stays in that building.

I'll be posting a full story after I get done with everything. I'll get to the questura next week after it opens and see what needs to be done. The policeman in the main questura did tell me that I'll have to go to the Comune for the Residenza and somewhere else for the codice fiscale. We'll take things one step at a time and see what happens.

Cheers, John.
maluza86
I came over in 2014 with my wife who is a dual national. I did not need a visa, but you still have to go to the Questura and apply for the Permesso di Soggiorno Familiare within the prescribed 8 days. After that and you settle on a place to live you will go to the Anagrafe and apply for your residenza.
Sergios
My wife and I came to Sicily as part of a first leg of retirement. We had no intention to remain more than 2 years. My primary directive was to get the documentation for my citizenship. During that time my wife was in a legal gray area. As a wife of an EU citizen, she had the right to be with me. But as an immigrant she needs a permesso. After 18 months of her being a wetback, we decided to stay a bit longer so went went to the questura. Nobody blinked an eye. Nobody mentioned her 18 months, although that was all very clear. What I'm saying is don't sweat it. You are not required to bring your wife into the questura immidiatly. Enjoy the new location and work on important stuff, like finding the best food stores and markets.
HenryGiovanni
Hi Sergios,
In reply to you and Maluza86, I will take it one day at a time. We arrived just before Christmas (on a Monday this year, along with today, New Year's Day), which means that the official offices were mostly closed since we've been here. More than 8 days have passed, but since I can still leave anytime within 90 days without penalty, I'll just go in this week and sort it out. I didn't get any impression that things were absolutely carved in stone, and the holidays are a pretty good excuse for missing any deadline. Not for the first time was I standing outside of a place (this time, the questura) that was clearly closed while reading the sign that just as clearly says they are open. I presume it will all work out just fine. I'll be doing all that stuff this week and next.
Cheers, and Happy New Year to both of you and to all who helped,
John.
HenryGiovanni
Hi to all,
I'm replying to my own post in order to get some of the info out there earlier. Otherwise, the full post will be lengthy.
This post concerns the pets. Here's what I found, all in one place for anyone who needs it:

The pets need to be EU-chipped (15 digit chip instead of US 9 digit chip) and then have a rabies vac. I suggest that you ask the vet who does this to record the timing, since the vac is supposed to follow the chip, and not vice-versa.

We went to the local county humane society and got the chips for free (July 4 promotional event) and the vacs for $10 ea (we brought 4 cats). Next was the 21-day waiting period for the rabies, to see if it "took" or not. Because the sale of the house took longer than expected, this was pretty much something that took care of itself.

Once the house sold, we could buy airline tickets. This is important, because one must work backwards from the time of landing in IT 10 days in order to get the health checkup within the prescribed time (10 days). OK, so far not such a big problem. But the vet who does the check-up MUST be a USDA-approved vet, and should be familiar with filling out the EU Health Cert that is required. Be sure to bring your records for the chip-ing and vac-ing, because they were needed. For this step, I thought I was responsible for filling out the EU Health Cert, and did so to the extent that I could with the info I had. During the call to the vet's office, they stated that they would fill it out, and we agreed that I would forward what I had done to them to make it easier. They still needed to see the original chip and vac records from the county, but it otherwise went well and I think it helped out that I did some of the work ahead of time. I think the main reason they wanted to do it themselves was for their own computer records, which I understand from a business point-of-view.

The next, and hardest part, was getting the USDA "stamp-of-approval" at the office in LA. For some reason that escapes my understanding, The USDA must approve of the actions of the USDA-approved vet who did the exams. ??? And I had to show up in person, without the cats, but, again, with the original chip-and-vac records. Fortunately, I had clipped all of the records together, along with any research I'd done, and had everything with me when they asked for it.

As a note, I'm not sure why I had to go to a USDA-approved vet for the check-ups if the USDA does not trust that vet enough for me to submit the app online. There must be some sort of bureaucratic "reasoning" that requires this, but it escapes me.

And if that was not enough, the USDA office (up near LAX) was only open from 7:30-11:00 AM. It was a 7-hr round trip for us (from San Diego, in full traffic both ways), plus a 4-hr wait at the USDA office for approval of the USDA-certified vets paperwork. This is nothing short of massive waste, to me, but nobody asked me and I'm not in charge. Had I been, folks would have been fired and replaced with people who understood the benefits of efficiency. Alas.

One other thing (that efficiency bit, again): I was told by the USDA to e-mail my app in advance in order to have it "pre-approved" so that I wouldn't have to make the trip twice. The "pre-approval" came back two days after I'd visited their office and spent 11 hours doing so. Just note that.

And a further note on timing: our flight was on a Sunday. The 10-day check-up earliest date was on a Friday. We went to LA for the USDA the next Tuesday. Because there were two weekends involved, that meant our 10 days was shortened to 6 days, which included a day loading the container, and etc.. Just note that, too, when doing your own scheduling.

Next, the actual flight: I had done my homework for entrance into Italy. When choosing a flight, it turned out that the requirements would have to be for whatever EU country we first landed in, meaning that lay-overs became immensely important. In the end, with time running out, we chose to fly Alitalia direct from LAX-Roma, and thence to Venezia.

How to bring the cats? I wanted to put them "downstairs" and try to enjoy, to the extent possible, the seats in the economy section without dealing with pets. Turns out the type of aircraft is important to this choice. The LAX-Roma flight could only accommodate two crates, which meant that I would have to double-up the cats, two to a crate, which further required that I purchase larger crates so that size-requirements per cat would be met. But wait! There's more! The aircraft from Roma-Venezia was smaller, and would only take one crate per flight. After juggling with the Alitalia flight office in Albania for 1-1/2 hours over how to get 4 cats to the same place at the same time as us, it came down to choosing two cats to share a crate and each of us taking one cat into the cabin in separate carry-on bags (must be IATA-approved bags!!!). Alitalia gave us size requirements for the bags, and we had two exactly that size, but our smallest cat couldn't even fit into that bag, so I cheated the size up a bit; the bags were soft and could be made to fit a bit. The bad news here is that we were required to sit in seats where the cats could be put under the seat in front of us, which truly did not allow enough room for the cats to move. We did as told, but kind of scooted the cats out a bit during the actual flight so they would have more room to move.

The crated cats: Alitalia took the cats right after taking our baggage. We had to go to the "over-size" window at LAX and deposit them. The guard checked the inside of the container (for drugs? bombs?), taped the food to the top, and we parted. There were some delays (LAX and Roma) that added up to 6 hours. The flight was 12, so that made 18 hours total. When we picked up the crated cats in Venezia, it was immediately apparent that they had not been fed or given any water for the entire trip. In fact, the crate had been zip-tied closed and that was that. The two cats were huddled together in the back of the crate, scared stiff. THIS IS CONTRARY TO WHAT WE WERE TOLD AND TO THE REQUIREMENTS STATED BY ALITALIA IN THEIR OWN PAPERWORK, WHICH REQUIRED THAT THE CATS BE FED EVERY 12 HOURS.
bogart2
Customs for the animals?
HenryGiovanni
Hi All,
Somehow that pet post went off on its own, unfinished. Here's the "rest of the story" (Paul Harvey, for those who remember):

I cannot recommend Alitalia for pets, not under these circs and not until they get it down better. The care shown for our pets, or lack thereof, was abominable. It has been suggested that we seek monetary sanctions against Alitalia, but that is not my purpose. The cats survived, and are recovering pretty well, even going outside on their own now, so I'm happy for them. Just not happy with Alitalia.

As for the EU Health Cert: the only place that was checked was at LAX. This means that the cert is required to get ON the plane, not to get INTO the EU. The cats were checked at Roma, but I don't recall showing the certs to anyone.

Carry-on cats: we were required to hold the cats in our hands while going through the x-ray business at LAX. That seemed weird, to me. Having loose cats in an airport invites disaster. Once again, bureaucratic rules trumped common-sense. Some folks need to be fired.

The cabin-cats took the trip far better than the crated cats, because I was able to at least take the cats to the bathroom and change the diaper-sheets I'd put into the carry-on bags (and crate, by the way, which was zip-tied shut and not changed for the duration). Also, we could reach in and pet the cats to quiet them down a bit.

So, that's our story of travelling with pets. Get your docs in order prior to the airport, and at each step along the way have all prior docs available to be re-inspected. Don't use vets who aren't USDA-approved (but who USDA apparently refuses to trust). Don't expect the airline to do anything for your pets, even when they say they will. Don't even expect the airline to treat your pets with any level of care.

One final point: cost. The cost of each kennel on Alitalia was $200. This meant, for us, $600 for one crate and two carry-on bags. The carry-ons do not count toward your baggage limit since you paid for them up front, but you don't get extra room to stow your allowed carry-on baggage, and the pets MUST go under the seat in front. Plan accordingly. Notably, the crated cats were charged by the crate and not by the cat, so that saved us $200. I would gladly have paid that $200 for better care of our crated cats, but that's hindsight and probably wouldn't have made any difference anyway, even if I had paid it for the care. The care is either there, or it is not, and on Alitalia, it was not there.

To recap costs:
Chip and vac: $10 per cat, this time. Expect to pay more unless you can find a similar discount.
Check-up: $65 per cat at USDA vet
EU Health Cert: $158- for all 4 cats on one cert.
USDA Approval: $38. Don't bring cash.
Flight: $200 per "kennel" (crate or bag)
Glad to answer any questions on this.
Cheers, John.
HenryGiovanni
Hi Bogart2,
Please see the remainder of the post, which somehow got off unfinished.
There were no "customs" costs, but the cats were checked for documentation at LAX prior to boarding. No docs, no boarding. The cats were also "checked" (if that's the proper word) through customs, but I think it was only to look for drugs or bombs in the carry-on bags. I couldn't think of another reason. They're cats. Look like cats, meow like cats, etc. I suppose there are folks who would use pets for dire purposes, but I don't fall into that category.
I remember them taking the carry-on cats at Roma, but don't remember showing any paperwork. I will say that the customs clearance was chaotic (the best description I can give), so it could have happened, but I don't remember it that way.
Please check the rest of my post.
Cheers, John.
Sergios
My dog has been crossatlantic 3 times. That's 6 customs experiences. To get into the USA they check for rabies certificate. They were not interested in anything else. Into Italy they checked his passport just once and it was somebody that did not know what he was looking at. What's important is that the eastbound trip have the paperwork in order. All the "I's" dotted. Once resident in Italy you can get a permanent passport that just has to be kept up to date. It's much easier than the running around that must be done in the states. That passport replaces the paperwork when the animal has to fly back to Europe.
HenryGiovanni
Hi Sergios,
As stated, people would be fired for the gross inefficiencies of the system. Probably a good thing I'm not in charge of these things. Feelings would get hurt.

I don't plan on taking these cats anywhere else now that we are here, but life changes, and needs change with it. I'll keep those passports in mind. And you are right: get those eastbound "docs in a row", so to speak. No docs, no boarding at LAX, plain and simple. It made me glad I did it all right the first time around, because there was no turning back at LAX without losing a ticket for one or both of us. Also glad that I invariably brought all paperwork with me each time, despite thinking "I won't need this here" each time. Put it in a clip, bring the whole packet. Saved my bacon on two occasions. I don't know why I need to keep learning that lesson, but there it is.
Cheers, John.
dave2018
Hi. I noticed that you mentioned being eager to escape the long arm of California taxation. I wonder if you realize how high Italian taxes are? The first 15000 Euro of income is taxed at 23%, 15000-28000 at 27%, and 28000-55000 at 38%. This doesn't include regional and municipal taxes which can be up to an additional 3%. Moreover, there is no standard deduction, so you pay the tax on all your income.

The very high tax rates on relatively low income levels and no deduction came as a surprise to me. I know Italy is a Social Democracy and as such has high taxes, but I thought the high rates applied to much higher levels of income.

We're moving to Italy for a few months next year to scope things out, but considering the heavy taxation cost we're going to have to like it a whole lot to consider making our home there,
romaronline
My husband and I are australian and planning to move to italy. We have done much research. so far we've learned that the requirements or ease of getting an permisso di segiorno is different in each province in italy. As Australian we can enter Italy without getting a visa first, but with the intention of staying long term when we get there. So our plan is to apply for the permisso di segiorno upon arrival. My question:

Does anyone know which provinces might be easier or more flexible .... we were looking tuscany, umbria or marche, but are open. Bascially we have not decided where yet.
guestuser
Romaronline, if your intent is to stay in Italy longer than 90 days, you will need to acquire visas before you leave Australia. You cannot get a permesso di soggiorno without one as they are issued to people who intend to reside in Italy for longer than 90 days and a copy of one's passport, including the affixed visa, is required. If your intent is to stay in Italy for less than 90 days, you do not need a visa, nor apply for a permesso di soggiorno, and need only to report your presence to the authorities.
guestuser
Romaronline, I should have added that when one applies for a permesso di soggiorno, one must also submit copies of the same paperwork one submitted to the Italian Consulate in one's home country to acquire a visa in the first place as part of the permesso di soggiorno application procedure.
velvet
Hi romaronline. As mentioned by Jackster you will need the PsD before you arrive. We looked into this a two years ago ( we are Aussies) and I'm not sure if you can click on my name to see all the posts I wrote on the subject. As we couldn't get any clear advice re the tax on my husband's super pension ( it ended up being so complex) we have not gone ahead. We may reconsider this year when I finally retire. Just a note that France is a lot easier. Pity I wasn't in love with France.
guestuser
Hi Velvet. Just as a point of clarification, it is the visa, which is an entry document, one needs to obtain before arrival in Italy; the permesso di soggiorno, or permit to stay/reside, is applied for after one arrives in Italy. While it is rare, the permesso di soggiorno can be denied even if a visa has been granted.
Sergios
The only way you could enter Italy for a long-term stay, without a visa, is if you arrive on a boat with other refugees or if you come to Italy with intent to reclaim your citizenship. Even then you will need all your documents as described in the Italian consulate website. If you enter Italy as a tourist and apply for a permesso at the post office you will be given an appointment to go to the questura. Those typically are several months out so it will give you extra time beyond the 90 days but....they will not be happy with you when they find out there is no there there. That will not be beneficial if you intend to stay longer.
guestuser
Very true, Sergios. I know an American woman who arrived without a visa, overstayed the 90 days and tried to get a permesso di soggiorno in the meantime. She was not only deported, she is prohibited from applying for a visa to any E.U. country for two years. A friend, who is a practicing immigration attorney in Italy, said that they are now imposing fines of 500-1000 euros (at the airport as one tries to leave) if one overstays the 90-day period, and can also "blacklist" the person from re-entry into the E.U. for a specified length of time if they so chose, which generally depends on how long one has overstayed. It's getting tougher by the day.
maluza86
While it may be somewhat more relaxed still in the smaller towns, Italy as a whole is getting a whole lot tougher on immigration and enforcing it's laws. Everything is linked by computer so when you enter and leave it is tracked. I've been in and out of Italy on a regular basis, usually port of embarkation/debarkation FCO and I regularly get asked to show my PdiS or at least asked where I live (rhetorical question as they are looking at it on their computer screen).

Just an FYI...the days of not following the rules and claiming ignorance as an American are about over.... ;-)
guestuser
Maluza, that is so true. Where I live, they won't even accept one's initial application for the permesso di soggiorno, nor give one an appointment with the Questura, is one does not have all required documents, which includes everything one submitted when applying for the visa. Here, at least, they've also linked the tax data base so they can check if one has been filing their tax forms as part of the permesso di soggirono renewal process. I hear it's not a pleasant experience to have the Guardia di Finanza come a knocking. Eek!
romaronline
Thanks for your reply, however we already know all about the 90 days, what we need to do etc etc. We've researched for months. So as australians we don't need visa to enter Italy. What Im trying to find out if anyone has had the experience of apply for extended stay without apply for a visa first in their own country, particularly from Australia. I know all about the documents, I know all about how to apply etc but Im trying to find out as I mentioned in the original post.
guestuser
In Italy, as it is in the U.S., ignorance of the law is generally not a valid defense. ;-)
rsetzer99
Abruzzo is generally pretty relaxed, at least in the smaller questura's, but I echo Jackster. At the Postale, when we turned in our yellow packet (The PdS packet) they went through the paperwork before giving us the receipts and an appointment. The process not only varies by region, but varies by questura. We are at a small one, just two women manage the immigration office. They spent maybe ten minutes doing a quick check of our docs and went right to fingerprinting. We have friends in larger areas where it was more involved. A friend in Umbria has recently commented to me that their renewal has been met with new requirements, but has not yet responded with details. when I get some, I will post a message if it seems relevant to more than just them.
Sergios
Actually the post office agent that accepts your application is only trained to check a checklist. They are not required to check the verrocity of the documents so, theoretically, you can present forgeries and get an appointment. However you will leave the questura in handcuffs with multiple charges including the equivalent of mail fraud. I guess your time in jail goes towards your extended stay in Italy.
rsetzer99
Ignorance of the law no, but I've found that Italian clerks, unlike American ones, can often have the authority to make exceptions. In the US, a clerk can only say "no", or risk being fired. In Italy, two no's, sometimes lead to a yes at the next window.
Sergios
As i mentioned, you do need a visa, under all conditions, to enter Italy. What you are saying that you do not need a visa is actually a tourist visa. As far as the Permesso, the only way you can get one without a long stay visa is if you are trying to get your Italian citizenship recognized or reinstated if it was lost. Also, under certain conditions, you can apply for a permesso if you are seeking medical care that is not available in your country. If you want to move to Italy for any other reason you will need to first get the appropriate visa in your home country.
Sergios
Add to the above family reunion. That requires that an immediate family member is already resident in Italy.
guestuser
As Sergios pointed out, as did I, if your intent is to stay longer than 90 days, you must first apply for a visa in Australia. You can not come to Italy and apply for a permesso di soggiorno without one, with the exceptions that Sergios pointed out. If you do not fall into those categories and arrive without a visa, then try to apply for a permesso di soggiorno to stay longer than 90 days, they will make you first return to Australia to get a visa. Once that is approved, you can then return to Italy and apply for a permesso di soggiorno.
Umbertomar
Here is a previous post of mine confirming some automation and enforcement:
"When I entered into Rome mid June of this year (2017), the immigration officer took my US Passport, entered something into the computer and said "ah!! 6 months in Italy and 6 months in the US", I offered my Italian documents (PDS etc.). She advised that she did not need to see them, We made some small talk and I was on my way. When I entered in March, same thing, my US Passport details were enough to determine that I am an Italian resident."
guestuser
romaronline,

Here is a website that gives visa and permesso di soggirono information. http://www.poliziadistato.it/articolo/10620

Please note toward the end of the page the following information:

"National long-stay visa
If you wish to stay in Italy for a period exceeding 90 days, you are subject to a visa requirement even if you are a citizen of a country exempt from any visa requirement for transit or short stay."

By "short stay," they mean less than 90 days.
HenryGiovanni
Hi Sergios,
Well, I went down to the main Questura (Immigration division), which was packed, to see about my PdiS. They directed me to the office in Selvazzano Dentro (local municipio) for the paperwork. I then went to the anagrafe for our marriage proof of recording cert. Somehow, the one I had got packed; I suspect other things got packed too, Those darn Russians were even packing the trash, which we unpacked. Anyway, the local municipio gave me a list of docs they want, which included proof of income. I don't remember this being a requirement for the spouse of a citizen, or at least don't remember any of you saying anything about it. I know it's needed for non-spouse visas and other entries, but thought I was immune from that question. Is this true? I can get it, but am pretty sure those docs are packed and in a container somewhere at sea. There are other ways around, but it seemed strange to me, since my wife is a citizen. Any other spouse have to do this to get in? I appreciate all responses.
Cheers, John.
Sergios
When my wife was interviewed for the permesso, she was not asked about income. She isn't a citizen and her application was based on family. I was not asked to prove income when I was applying to have my citizenship recognized.
HenryGiovanni
Hi Dave2018,
I don't know the full extent of IT taxation, nor what I will be subject to. And I don't much care, really. In fact, it was the same in CA; every year a new tax increase, with more and more being demanded for less and less being provided.

For instance, the cost of bread, while not technically "taxation", is certainly inflation (food is conveniently omitted from any schedule that measures inflation, along with gasoline and housing, three things that are absolutely necessary to live in CA). I paid the highest gas price in the nation, living in a port city where one would think that gas would be cheaper. In fact, gas was cheaper at Lake Tahoe, far into the mountains, where it had to be trucked farther from LA than San Diego.

Back to the cost of bread: food prices were exorbitant. Again, not officially "taxation", but still, something one must pay in order to live there, which sounds like a form of "taxation" to me.

Finally, I rode an old girder-front end motorcycle on roads that were so bad it was a "death-or-hospital" roulette every time I got on the thing. If I didn't pay close attention to the condition of the road directly in front of my wheel then I was gonna be a loser in that gamble. I remember bragging back in the 80s, to out-of-staters, about how CA roads were the best in the nation. And I remember a few decades back from that too. It's not like that now.

As an attorney I watched the professional requirements get diluted to the point that even illegal aliens could practice law in CA. How does one justify the violations when doing the same ethical background check I was forced to undergo in order to practice? It's impossible: the state can only look the other way and pretend that "Diversity is our strength, don'cha know?" I'll pass on that. In fact, I did pass on it, and I won't return.

I don't really care what the taxes are here, they are sure to be less than they are under Moonbeam Brown. Personally, I thought we got rid of that SoB decades ago, and yet, he's back, doing the same stuff he was trying to pull back then (ie- his bullet train to nowhere, that will only ever be a normal train and never a "bullet train", at a cost that will be quintupled, at the very least, before it's done). I remember when CA was nice, before Moonbeam's first stint. CA has gone full communist state, under solid Dem control (legislature-both houses) for at least the last 50 years. I'm tired. You can have it.

So yes, I considered the cost to me to continue living in southern CA, and it was finally more than I was willing to pay. I've spent over 50 years in CA, but also lived in places that I consider to be better, Kids kept me there, but they're now grown and gone. I can't get shut of CA fast enough, and that feeling has been years, maybe decades, in the making. It's AMF for me.

Now to your tax question: my Italian brother-in-law here is an engineer, and tells me that because our pensions come separately, that only the higher one is taxed. He is a guy that doesn't allow things to get by him, and has been a great help for us getting to this point, managing things on this end while we were still on that end. And more help, too, now that we are here. I've seen the arguments going back-and-forth on this-and-that, and have ignored them so far. I don't plan to enter that debate, either, until forced to do so. Any taxes that are due on my small pension will not kill me.

The truly American focus on money, money, money, gets tedious. Life is more than that, and if that is all one sees then life cannot be full. Been there as an attorney. Finally realized there is more to life than money; no matter how much one has it will never be enough, so best to jump ship and focus on enjoying the life one is given each day. One can go far if one takes the position that "life could be worse, but it's not", because life can always be worse, and I stopped talking about financial matters a few sentences ago. It's just not that important.

Cheers, John.
HenryGiovanni
Hi Sergios,
Thanks. That's as I remembered. It's not a problem, but I'm looking at what I've learned versus what they are telling me now. I don't remember hearing that I would have to prove income. Not a bid deal (and not a big income either), just trying to get through that process.

The apptmt is set for late Feb. Kind of a long way out, but I'm not in charge here, and I like it that way. I can deal with it, and if not, then I'll adapt, improvise, overcome.

Cheers, John.
dave2018
Hi. I agree with you that money isn't everything, up to a point of course. If you're only left with enough to barely get by, then I would argue that money becomes quite important.

I would bet that Italian taxes will exceed what you were paying in California, even taking into account the high cost of living in that state. One thing that mitigates this a bit is the fact that you don't have to pay for health insurance in Italy, so that offsets the high taxes to some extent.

My wife and I both miss Italy, but it's been 20 years since we last lived there and we know things have changed, which is why we're going to take a long vacation there next year to see if we really like it. My wife is more skeptical than I am and she's Italian!

The high taxes are certainly a negative factor for us, as will be having to get an Italian driver license, obtaining my soggiorno and residency, and other hassles, but this might be easily outweighed by other things - friends and family, the food, the culture, the beautiful towns, mountains, beaches, countryside, etc. We'll just have to see.

Thanks for keeping us apprised of your progress.

Dave
maluza86
Hi John,

There's a difference between you and Sergio and his situation. Sergio is the Italian citizen, so therefore deemed the breadwinner and in charge of his family, so his wife was joining him as the permanent resident not a citizen.

In my situation, my wife is the citizen (as in your case, I think) and she does not work nor collect any Italian pension as she's not retirement age. So I had to show proof of income to get my PdiS di Familiare. I showed my US military retirement income which was more than sufficient as it is a lot more than most Italians get from their social security system.

The Italian government still wants to see that you will not become "a burden to the state".

If I understood your situation correctly your case is the same as mine, if not then disregard all.
Ciao,
V
HenryGiovanni
Hi Dave2018,
Sorry if I sounded off a bit on CA, but it's been a long time coming; I grew up there, had kids, and all that. Not born there, mind you, but spent more time there than lots who were born there.

Health insurance: I forgot to add that bit. I received notice maybe two months ago that my insurance premiums were going up by exactly 24.2% (their number). Must be common core math, because when I did the math my premium increased by approx 125%, meaning it more than doubled. This is the tax roulette I spoke of; CA always demanding more and more and giving less and less. That's my money, not theirs. To be sure, health insurance is not taxation (except that the Supreme Court passed it under the tax provisions of that law!), but govt ordered me to change my previous arrangements. Remember, .gov is supposed to be budgeted annually, and is not supposed to own anything at all. That's why the money is "appropriated" through taxes each year. Somehow that idea got sidetracked, especially in CA. When govt gets too big, it's time to change govts. Since that is near impossible in CA (short of outright civil war), it was time for me to leave. I got tired of my vote not counting and of banging my head against that hard wall.

At any rate, it took my Italian wife some time to agree to leave CA, and some more time to decide upon Italy. I wanted to come here 10 years back, but that was when I was 10 years younger. Alas. Things happen in their own time, but they do happen if one believes.

As for the money, I lost 4 family members over the last few years. All the money one could throw at that could never change the result. Perspective changes. I also saw lawyers and law students die from overwork, and, of course, others not connected with the legal practice. Sometimes in life one gets a glimpse of things to come, if one is paying attention, Then there are other things. I saw far too many "coincidences" at one death to believe in them anymore. Things happen for a reason, and with a purpose. Kung Fu San Soo taught me other things along that same line. If one believes, and lives for today, then things will take care of themselves. I've seen that, too, in my own life. It is a powerful antidote to mere money.

So, yes, money is OK to a point, but one can easily survive if one sees what is given and makes use of it. I don't know how else to say that, but I trust that things will work out. My background is broad enough to allow me to do lots of things that are outside the "normal" (whatever that is) range of skills or activities. I believe that when one purposely adopts change, then change will come, and it won't be always bad. One must recognize the opportunities when they knock on that door.

And on that tax business, I still believe that I can live here for less than half of what it cost me in CA. Time will prove me right. Or wrong. In which case I will "adapt, improvise, overcome". In the meantime, I'm having the time of my life. My motorcycle didn't make it over here because (I think) of the wildfires up in LA at the time I sent the title to the broker's office for shipping. I don't believe it was a "coincidence". A car is an absolute necessity in Southern CA, and I got really tired of having to always drive at 80+ MPH everywhere I went. Life doesn't have to be spent at that speed; sometimes slower is better. If I don't get a license here, then it, also, won't be a "coincidence".

The PdiS and residenza docs can't be worse than any DMV paperwork, or getting a new passport, or anything else. Bureaucrats exist for a reason, though some of us might not agree on that reason.

In the end, my view is that anything is better than saying "I worked in a cubicle for 45 years and got a gold watch". Take that long vacation with your wife, see what's here, then take a chance on something, whatever that may be. It will always be better than a cubicle. And the heat in Roma in 2007 (and 2012; both summers were very hot) was always preferable to the air conditioning in my law office.

Best wishes to you and your wife. I hope you make a change in life, because that's what life is all about.

Final note: I've been here about two weeks, and already have a student for Kung Fu lessons. Wasn't even looking yet, but the opportunity came up. Life takes care of those willing to live it. Damn the torpedoes (including taxes), full speed ahead. Live your life.

Cheers, John.
HenryGiovanni
Hi Maluza86,
Thanks for that. I believe you have my circs correct: my wife is the Italian, not me. I was always the "breadwinner" in that my income always exceeded hers, by factors of magnitude, and if you had to do that then I will probably have to do the same. In fact, even if you didn't, I would still have to, I suspect. She is older than I by a few years, and we are now both on SS, which is not great but appears to be more than what most Italians make on their equivalent to our SS. I just hadn't heard of anyone in my position having to do that, which, in the end, means nothing at all if the local govt agent demands it. We'll cross bridges when we come to them, and not before. I may not be rich, but I don't plan on becoming a ward of any state, here or there. I was self-employed for far too long to think like that anymore. Thanks for the clarification.
Cheers, John.
roma2016
Hello John,
I loved your post [of 1/5/18 4:04pm.]
Though born in the US, I have dual citizenship, and the draw to Italy is strong.
I wish you well, and hope that you'll continue to post your thoughts and experiences.
Auguri,
Anthony
Sergios
HenryGiovani: my understanding from your previous post is that you are both on SS. Is that the entirety of your income? The reason I ask is that Italy, although costs are generally lower, is not all that cheap. People here do have lower pensions and do quite well but....they have an established family structure that helps them survive. They are used to living on a certain income and know how to. As Americans used to a certain level of wealth you may find it difficult to live like a retired Italian. I'm sure you will be successful but it may not be as easy as you expect. My wife and I do quite well on our SS and her teachers pension. We live on about $6500 a month but savings have iluded us. Whenever we get ahead something comes up to decapitate our progress. In December, for example, our dog needed €3000 worth of spinal surgery because he chased a cat. The month before my wife fractured her femur. Though the medical care was free, and good, ancillary costs were substantial. I'm not trying to discourage you and I am happy for your move.
Christianedh
I have not read the previous posts but yes, some things are super expensive in Italy ! Like medical care ! The family doctor is free but specialists,that's another matter. I lived in the USA from 1980 til 2005 and found that the specialists in Italy are as expensive as in the US, at least in 2005 ! Veterinarians are also super expensive here !
maluza86
I have to disagree with the part about veterinarian's...at least from my experience. We live in San Vito Dei Normanni, at town of about 20,000 and I am always amazed at how little it costs every time I take my dog to the vet!!

In the US never had an appointment under $250, even for just a routine check-up and vaccination. Here in Italy, the appointments are €15 and vaccinations €25...I've had labs and X-rays and one of our dogs recently contracted a terrible bacterial infection and died within 24hrs....with the ultrasound, bloodwork, visit and hospital stay it was under €300 Euro!!
rsetzer99
I'm wondering where you are living in Italy. I live in Abruzzo and I have found medical care, using private clinics to be far less than the US. Vet also, are far less than what we paid in the US.
shelbyt
I live in Bologna and have had to visit a Cardiologist in a private clinic 3-4 times, and my cost has been 130E each visit. I don't think that is particularly cheap. More than I would have expected. I have spoken to others and that seems to be about the average price here for a private Dr's visit..
Sergios
I also disagree. Vets in palermo charge €30 for visit and they spend as much time as needed. My dog had spine surgery with two mri's and it came to €2400. The other€600 was due to associated expenses. Specialist doctors are also cheap compared to the USA, without insurance. And you could always go to a public hospital if you don't want to spend money. My wife's femur surgery with 16 days in a semi private room came to "0" euros.
Umbertomar
Here is a web site worth looking at to get an idea of costs in areas of the US compared to areas of Italy.
https://www.numbeo.com/cost-of-living/
While it is not 100% accurate, it is worth a look.. Bear in mind, on the income tax side in the US, there is Federal, State and Local. US property taxes are on another planet compared to Italy (depending on where you live). Drugs are free in Italy..
The exchange rate Euro/ $ has its own challenges,
HenryGiovanni
Hi Umbertomar;
I am familiar with the costs of living in CA, having just left, and have brothers in other states, so I know something of the relativity of costs. CA prop taxes are "Prop 13-ed" in, meaning the house is assessed once, when bought, and not again until a "change of ownership" (lots of exclusions there for re-fi, parent-child transfers, etc). Annual prop taxes rise a set amount (2% max of base purchase assessment). It's the hidden costs of gas and food that are the true killers.

I do expect the EU/$ exchange rate to have an impact, probably adverse now, but I can do nothing about that except try to keep some assets where that exchange rate won't affect them.

If one stays away from new houses then the IT prop tax rate goes down somewhere near the current CA schedule. At least, so I am informed, and have nothing yet to argue against that info.

Cheers, John.
HenryGiovanni
Hi Sergios,
At present, your understanding is correct. We have no other income. My brother-in-law here tells me IT income tax is paid on the greater of two incomes, but only if they are paid separately. Our SS payments are separate; one for her and one for me. Your income far exceeds ours, but we also have the Italian side of the family here, and they have been a big help to us so far.

Neither my wife or I are big spenders. We pretty much have what we need and are more-or-less happy with what we have. I say more-or-less because there are always the little things that wear out and etc. Our initial costs will be rather high (appliances, some furniture, etc), but we have what was left from the sale of our house and plan to purchase a house here lock, stock, and barrel, so to speak. Without a mortgage, or even with a minimal mortgage, I believe we can be happy with far less than was required just to keep our heads above water in CA. Certainly, my wife is already happy just to be home. My biggest disappointment just now is the realization that my Italian is not near so good as I thought it was! Alas. That will change with time, so I'll ignore it for now.

As for other income, my past as a sculptor (art) and "industrial sculptor" (modelmaker, fabricator of any thing out of any material, to spec, and etc), printmaker, author, Kung Fu man, and even lawyer (researcher, now), should give me some means of earning whatever we might need. My wife also taught in CA, but not long enough to get a pension. However, she is also a sculptor (ceramics, for that one bit I didn't do!), artist, and printmaker, plus has other skills that can fit right in with the idea of earning money on our own. I own my own printing press and have the inks and etc to set up shop as soon as the container is delivered, should I wish. We can either sell or teach, and selling includes the tourist market if necessary.

Probably we will take 6 mos to get settled before we start in earnest. This will give us time to sort through what will be best for us here before applying whatever decision we reach to real life.

At present, we seek a place that will allow us to utilize any extra space for production of income. Again, our personal "wants" run thin. We did OK, but were never what one might call "wealthy" and so don't have high needs. Plus, we've reached that time in life where "less is more". We led a simple life there, and will continue to do so here.

I can only be certain of one thing: we will either succeed or not. If not, then other doors will certainly open along the way, and we will adapt, improvise, overcome. And, if nothing works at all, then I'm moving to Texas!

Cheers, John.
Sergios
I've worked in Texas. I'm not going back. Sounds like you have things under control. Enjoy your experiment and good luck. Keep in mind is an EU citizen and is free to go anywhere in the EU and drag you with her. France charges no taxes on SS. Good luck.
HenryGiovanni
Hi Roma2016,
Thanks for your kind words. I admit to being no expert in anything, But there is some experience behind those words, and I hope those who come here from the US can leave that "live-to-work" attitude behind and adopt the Italian "work-to-live" attitude. We Americans (and some others) tend to think in dollars, without really seeing what we lose by doing so. Each of us has the power within to be in charge of our own life. Sadly, too many forget that fact, or neglect to apply it to themselves. Excuses lead to a cubicle and a watch, and maybe even a vacation in Hawaii (never been) once in 45 years. Or maybe a trip to Las Vegas instead, where things stay, I'm told.

Full disclosure requires me to say that my own life has not always been pretty; sometimes I, too, was stuck in a rut. Sometimes life dumped on me, big time. I am no angel, not now or ever, and some things in my past induce no pride. But one cannot always look backwards. In fact, one should only look backwards when one feels that one's forward progress seems insufficient, and then look only long enough to see just how far forward one has actually come. Certain events over the last few years have changed my own perspectives. And, I might add, my own life, since I am now in Italy.

I hope you make the choices that lead you to the dreams of your life, and if that includes being drawn to Italy, then I wish you all the luck. It ain't always easy, but it also ain't anything close to impossible. Don't ever let anyone distract you from your dreams.

Cheers, John.
HenryGiovanni
Hi Sergios,
Your Texas sounds a lot like my California!
Cheers, John.
roma2016
Hi John,
All well said, again.
First, it's hard to leave family. My grown boys, and the grandkids, won't be joining us, if we were to move to Italia.
Second, my most recent experience in Italia was a year or so ago. It was a month in Roma, in a very nice living situation in Trastevere up on Gianicolo.
I loved it. But, I was dismayed by infrastructure issues (terrible public transportation, trash everywhere uncollected) and the awful graffiti throughout the wondrous city. And I grew up in NYC, so I know graffiti, and Roma was as bad as can be imagined. One city, even if it is the capitol, does not a country make. But, it is telling, sadly.
Anyway, thanks again, and keep posting.
Sergios
Roma2016, those problems, trash graffiti and others are even worse in the south. I live in one of the most beautiful places on Earth, if you look past the trash. It's a bit discouraging. When I speak to locals about it they are just as upset but it still goes on.
Janin
"... and the awful graffiti .. even if it is the capitol,"
OMG, even in Trump's place... what has the world come to? :)
HenryGiovanni
Hi Sergios and all,
Replying to my own post, seeking info. We are doing that house-hunting thing that is so tedious. My wife says we must have an Italian bank acct, which wants to charge me for depositing my money in their bank. I say "Nuts"; USAA can do int'l bank wires to any acct in the world, including the notaio's acct (acting as escrow).

I know this simplifies the problem (costs, for one, exchange rates, for two), but the question remains: do I actually need to have an acct at an Italian bank in order to purchase real prop in Italy?

Thanks in advance for any and all responses.
Cheers, John.
Sergios
I have not purchased property in italy. Sorry.
almare2
I bought a house in Abruzzo a couple of years ago. I wired the purchase price directly from my account at Chase to the seller's Italian account. My case was a little unusual in that I was buying from a friend, and she paid the notaio out of the extra funds I wired her. (I paid the real estate agent's commission with cash that I withdrew from an ATM, against a receipt from him.) Also, the real estate agent wanted a goid-faith guarantee against the purchase price of €1,000 in the form of a check until all the papers were signed but waived it as the seller (my friend) said it wasn't necessary. I should think it would be possible to do everything via wire transfer. Try checking with one of the larger agencies, such as Gabbetti, which might be experienced in dealing with such cases.
lifelover
Hi John, when we bought, we had to transfer to an Italian bank ( 2017) we transferred from a brokerage account. I think now the laws have changed and you can wire ( at least the deposit) to the Notaio . The glitch may be the money laundering laws which may force you to get this Italian bank account anyways. Italian banks also have a limit on the amount of what a bank draft can be worth which forces you to get multiple bank drafts to add up to the final amount on rogito day. Make sure the bank has enough drafts to issue!!
rsetzer99
No, you do not have to have an Italian bank acct to buy a house. While I did have one, I did not use it. The notario escrow acct was used for my transfer from the us.
foxwhite1
To add to the statement about doctors. Yesterday I called a doctor while in Lucca to see about a visit for a minor ailment. He told me to come to his office around 3:30 and he would see me. The experience was so refreshing from a doctor visit in the US. He greeted me himself, next asked me to fill out any forms, spent about 30 minutes chatting and doing the exam then wrote a prescription, in the most beautiful handwriting I have seen in a long time. Then when I asked how much he, bowed his head and said, that "there is no charge, he is a public servant plus".

Both my wife and I were, to say the least impressed by his professionalism, his charm, his knowledge and his empathy. I know this may be a unique experience but we have also encountered the same type of medical attention while in Denmark visiting my son. Just one of those experiences that reaffirms our love for Italy and Italians.
foxwhite1
To add to the statement about doctors. Yesterday I called a doctor while in Lucca to see about a visit for a minor ailment. He told me to come to his office around 3:30 and he would see me. The experience was so refreshing from a doctor visit in the US. He greeted me himself, next asked me to fill out any forms, spent about 30 minutes chatting and doing the exam then wrote a prescription, in the most beautiful handwriting I have seen in a long time. Then when I asked how much he, bowed his head and said, that "there is no charge, he is a public servant plus".

Both my wife and I were, to say the least impressed by his professionalism, his charm, his knowledge and his empathy. I know this may be a unique experience but we have also encountered the same type of medical attention while in Denmark visiting my son. Just one of those experiences that reaffirms our love for Italy and Italians.
foxwhite1
Not to get too far off topic, but I guess you don't mind that any investment you have has increased dramatically since Pazzo Trump, as you call him, has been elected. As opposed to the 'Incompetent Obama' who talked a good game but never delivered! My suggestion is to keep your political views to yourself on the forum as there happened to be half of the US population or more who rather enjoy the prosperity and new jobs that the Trump presidency has brought to the US in spite of his frequent verbal mis-steps!
Sergios
That is what I have to deal with here in Mondello. Walk into the office without an appointment, wait at most 20 minutes, walk into the office and be greeted as an old friend. We talk about trump or Cuba or Venezuela or whatever is on his mind while he checks bp. Of course there is no charge.
maluza86
Ha, ha, ha...those experiences are far different than we've experienced here in San Vito and Brindisi...no appointments, you walk in to an already crowded room, and ask who's last...then you wait, you wait, while drug reps come in and barge in front of everyone...or someone will come in and say they just need to ask a question of the Dr and don't want to wait in line...after all it's just a question. Last time, two ladies started pushing each other arguing who was next!!! Gotta keep it all in perspective...I just shake my head and laugh, it is what it is...but social medicine is not a strong point.

I am glad some are having positive experiences...once you actually get to the Doctor, the level of care has been good.
Sergios
Foxwhite1: What are you talking about? Who is making any political statement other than yours?
foxwhite1
There was just another reference to Trump by another poster on this site and the insinuation is, that if one reads between the lines. that its open season on Trump as they say. Better to not mention any politician, whether Italian, Brit or American. As I was told, it is never a good idea to talk about politics or religion with strangers.....
rsetzer99
My returns 2017 were good, but to me fair, there were a couple Obama years that had better returns. I spent enough years in accounting and finance to know that by and large, the occupant of the oval office is not the one driving the investment world up or down. This last year quite a big of my gain was international index and emerging market index. They lagged behind the US and have only recently taken a big leap.
HenryGiovanni
This is in reply to rsetzer99, lifelover, almare2, and sergios,

My thanks to all of you for replying. It sounds like I do not need an IT acct. Of course, the agent today raised a question that I'm sure had to do with money laundering, but a bank-to-bank wire transfer pretty much dispels that notion, I think.

So here's where we are: we found a place that appears "not unreasonable" in price, location, and etc. In fact, it was the first place we saw, and all others fell short for reason A or reason B, so we went back to look at it again today. I would put in an offer right now if I could. But NO! There are ways to do things.

Having recently sold a house in the US, I am quite familiar with how the buying process works (in CA: no lawyer needed. Escrow Co. does it all). There are the standard 1) offer, with 2) contingencies, that leads to 3) an "Earnest Money Deposit", or down payment, followed by 4) stacks of paperwork, and 5) a trade: money for the Deed.

My (simplified) idea is that the Italians work the same way. Unfortunately, my Italian was never quite good enough for anything more than conversation, and the English spoken by any of the Italians surrounding me is no better than my Italian. I will add that my Italian wife has no head for details of this sort.

Here's my impression:
First we check the place out, ask all the questions, and get the docs for the place. Then I get a notaio to work FOR ME.

After all the above, we:

1) make an offer, same as in the US, of money AND conditions. I am told this is accompanied with some money to pull the house off the market. I remain unsure if that money goes towards the final purchase price or not.

QUESTION #1: DOES ONE PAY MONEY WITH AN INITIAL OFFER? For Qs 1&2 please see the note after Q3 before responding.

QUESTION #2: IS THIS "OFFER" MONEY PART OF THE PURCHASE PRICE?

Next, my brother-in-law, the engineer, tells me we can skip this step and go straight (past JAIL! Without collecting $200!) to the Preliminary (preliminario?). As a lawyer, seems to me one can contract for anything so long as it is legal, so I agree with him. So
2) we make an offer, with conditions, and pay an Earnest Money Deposit (Preliminario).

QUESTION #3: CAN I SKIP STRAIGHT TO THE PRELIMINARIO?
Since I plan to pay cash, seems like I could roll the Offer, Conditions, and Preliminario (Earnest Money Deposit) into one and make it happen all at once. This is what I would do.

Then,
3) the offer is accepted (if not, then it is either increased or we move on to other places and start over. If increased, we find ourselves back in the same spot, so I proceed as if it was accepted).

And
4) the conditions are met (or not, and we fight over technicalities, which I'm sure neither of us wants [voice of experience; nobody likes how much money lawsuits cost, nobody gets any sleep for the duration, and nobody is satisfied with the result]). If the conditions are not met, then I get my Preliminario returned and go on my way. Or we re-construct the deal and go forward, which would lead to:

5) Payment for the Deed. This is where my immediate problem lies. To WIRE or to get an IT bank acct.

I checked the expat pages up to 22 for info, and found that someone used Che Banca, an online IT bank. I saw also that money could be wired straight to the Notaio (which is as I presumed, thinking of Him/Her as a sort of escrow acct).

I saw also the note about bank drafts. Seems like I saw elsewhere that one could only draw out so many EUs per day so be sure to add up the days prior to the Deed (Close of Escrow, or CoE) to ensure that I had the proper amount on hand when due.

Q4: IS THERE A BEST WAY TO DO THIS HERE? I would use the Notaio as escrow, wire the money in one lump sum into his/her acct, and CoE happens within two weeks (presuming all else is done).

Last factor: the container arrives in about 3 weeks. I have storage arranged. Having it delivered to MY HOUSE would save me at least USD $1G, and is preferable to monthly storage fees. Besides, I would like to move fast enough to purchase this apt/condo before someone else does. We've been looking at places online since last May (? Certainly since June), and, now that we are here, we can definitely rule some out. Because of the 4 cats, this one seems to be best, and I would hate to lose the opportunity. As a note, there was a nice old Casa Singolo that I found, and I would have bought it on the spot, but by the time I got to the agent to ask about seeing the interior, it was already gone. Nuts.

This place has been on-market for 2 months (the agent says, which I don't believe because I'm sure I saw it online more months ago than that).

To re-cap (simplified):
-Get the docs and read them;
-Get a reputable Notaio who works for me and accepts Int'l wires;
-Make an Offer, with Conditions, and pay a Preliminario in order to take it off the market;
[Time for Conditions to be met on both sides]
-Trade money for Deed.

LAST Q (for now, at least): IS MY IDEA OF HOW THINGS WORK CORRECT?

If not, then please tell me where I have gone wrong, because slight detours at the initial stages lead to strange places in the end.

My thanks in advance to anyone who reads all of this, and more to those who respond.

Cheers, John.
rsetzer99
Question 1: After you make an offer, a preliminary agreement (CONTRATTO PRELIMINARE) is drawn up. Typically upon acceptance of this document, a 10% deposit is placed. Question 2: Yes, this does go to the final purchase price. If there are conditions, they will be spelled out here. There is a fair amount of registrations and detail checking after this step so I don't know that it would be practical to jump right to exchanging a bag of money for the keys. Question 3: The Notaio works for both parties. They are a neutral go between and their main job is to makes sure everything is exactly as it should be, that the title is correct and the sellers (sellers often due to Italian inheritance laws) has the rights. The process is straightforward step by step. Listen to your agent . We used USAA to transfer the full final amount to the Notaio, We even used a special power of atty to have our agent sign the final docs as we were back in the States. From your last post, I can see you are still thinking like and American and looking for ways to adjust the process to suit your desires. In Italy, this will just cause confusion and make people anxious.
Umbertomar
I bought 2 years ago. I found the property and the agent drove the process. We negotiated a price orally and, on my side, signing a sale contract was contingent on an inspection by an architect. The architect inspected the utility systems, etc, and determined that the property was compliant with the town documents. All was OK. This took one week.. The agent presented the contract to me and I had my lawyer review it. He made no changes. I signed it, the seller signed it. I then wired the deposit money to the seller.
In the contract of sale, the closing date was set. Believe it or not, getting a closing date from the notary was not so easy . We went to closing and I paid by certified check.
Much easier than the US.
Depending on the Notary and you , you may need an translator for closing. The deed is read to the parties in Italian and the parties are required to understand Italian. Enforcement of this requirement is another issue.
To be sure all was OK I had my Italian lawyer (who speaks perfect English) do the following:
1. Refer me to an architect for the inspection.
2. Review the inspection report.
3. Review the contract.
Mine was a cash deal, I have no idea what is required if a mortgage is involved,
whidden39
Left my native Boston for Puglia in a hectic, but healthy state, in August 2015. Had sold my large home of 35 years and disposed of nearly all my worldly possessions except for the suitcases I carried and a very small shipment that would follow. By October I was in my dream villa. In October I was also in the hospital following a stroke! This and subsequent medical challenges prevailed. So I can now say I am familiar with the health system in Italy that is available to me as a dual citizen. For my stroke I was admitted to a regional hospital that had good equipment and provided me excellent care for 10 days. I am sure in Boston I would have been home within three days, but Itsluan hospitals seem to value in-patient care and observation. I shared a room with two other patients. Family visits were a vivacious and daily routine owing to the close family unit. The building was antiquated, but it was kept in a very hygienic and spotless condition. The hospital was government run but had crucifixes and various saints ensconced everywhere. My doctor and at least one other one would visit every morning to review my progress and answer questions. That would never happen in the US. Unfortunately no one spoke English. This caused me some angst, but eventually an interpreter was called in close to my discharge to be sure I understood my medical condition and to answer my many questions. Follow up care was provided by the English speaking GP I was able to find and a neurologist I saw twice. I left the hospital with some new meds and a directive to resume my tegular activities. Over two years hence, I function normally and routinely. I believe the medical attention I received here in Italy was caring, thorough, and professional. It may be delivered in ways that we may initially feel is 'foreign' but my positive experience instilled a level of confidence in the Italian health system. Oh, when I entered the hospital, I hadn't yet obtained my Sanitaria card since my residency was in process. That was resolved easily enough and my hospital care was fully covered. I have more to share with other medical interventions in Italy. I'll save that for future posts.
lifelover
This was exactly my process too. We bought last year. I had inspection contingencies of as title, liens put in our offer..as well as a time limit We had 2 separate architects, engineer, and geometra do inspections and collect visit as before we put in our offer and had our reports done before the contract was drawn up . We had an amazing Notaio in Lecce who had the contract up on a large screen and read while a translator did her bit for us. He stopped after every paragraph to ask if we understood..

Our seller also got the deposit directly too but we wired the rest of the funds to an Italian bank account and had to make an appointment to get the bank drafts just before deed signing. Make sure your bank has the number of drafts necessary . They can't do just one big check. Then make sure your deed is registered with the town.
lifelover
This was exactly my process too. We bought last year. I had inspection contingencies of as title, liens put in our offer..as well as a time limit We had 2 separate architects, engineer, and geometra do inspections and collect visit as before we put in our offer and had our reports done before the contract was drawn up . We had an amazing Notaio in Lecce who had the contract up on a large screen and read while a translator did her bit for us. He stopped after every paragraph to ask if we understood..

Our seller also got the deposit directly too but we wired the rest of the funds to an Italian bank account and had to make an appointment to get the bank drafts just before deed signing. Make sure your bank has the number of drafts necessary . They can't do just one big check. Then make sure your deed is registered with the town.
lifelover
Wow whidden39 what a story! Stuff can happen anytime and I am happy that you are in Italy and enjoying life. Seems someone got you there right in time. Just goes to show all of us to follow the dream .. and fast!!
whidden39
My second major medical need occurred in May 2017 when I ruptured my Achilles' tendon. My GP, also a Physical Therapist, immediately arranged for a scan with quick turnaround and then made an appointment at a private hospital to consult with a surgeon. My operation was scheduled for a few days later. In the meanwhile I was given pain meds that worked well. The operation went without incident or major discomfort. I had several follow up visits to the surgeon at my GP's office. They obviously had a reciprocal relationship of some type since several other of my GP's patients were seeing this surgeon too. I think this relationship allowed my entry into a private hospital, which was very new and modern. When I asked my GP how this was possible, he explained it as a "convenzione". I still don't know what that meant. I was expected to stay overnight, but that was deemed unnecessary. I only had to pay for my equipment (boot/cast and crutches), the initial consultation with the surgeon (100 euro), and several physical therapy sessions at 20 euro per session. My care was expert and two months later I began walking without crutches. Again, I was very pleased with my health care here in Puglia.
rsetzer99
I believe it is also a requirement, if the buyer is non Italian, that the preliminary purchase contract be done in both Italian, and the native language of the buyer.
almare2
It may be a requirement, but I was never given one in English. Perhaps one could get one if one asks for it.
HenryGiovanni
Hi Rsetzer99,
Thanks for the response (and for reading that long post). I have come to realize that I am no sort of expert on anything in life, and wouldn't wish to change any process here. I just wanted to know if my thoughts were in line with how things actually worked. Seems like I'm close enough. I really couldn't see any major changes; the entire process sounds reasonable and expectations are not alien. That "bag of money for the keys" bit might have been exaggerated on my part; same with that "same-day offer" reference. I wish to buy a house, but not at a later, greater cost to me, so I'll just follow along and do as I'm told. I'm not the expert here. Thanks for the help.
Cheers, John.
HenryGiovanni
Hi Lifelover,
Thanks for responding, and for reading it! Everything sounds normal: that time during escrow when all the footwork is done. I plan to get a notaio who can speak English. Absent that, then I'll have to switch to "Plan B", maybe an interpreter. I will also ask the notaio if he will act as escrow officer so I can wire the money to him. I know that sooner or later I'll have to get an IT bank acct, but for the moment everything can be done in my wife's name, with her numbers and all. I will be sure to ask about the bank drafts if I can't just wire the money directly.

We will have any number of contingencies in the preliminary contract (pretty standard stuff, and I'll check first so I know what to include).

But tell me: did you buy a house or an apt? Does it make a difference? ie- architects, geometra, etc.? We have been looking at both houses and condos, and the best bet so far seems to be a condo. The agent keeps stalling on the condo regs, saying they are "standard". I hear him but don't believe him. I will get them, even if they have to become a contingency of sale. And I will make sure I understand them before final signing.

Thanks again.
Cheers, John.
HenryGiovanni
Hi rsetzer99 and almare2,
I may have to reconsider and have my name included if a translated version is a requirement. It would save a lot of trouble, and I'm no stranger to contracts.
Cheers, John.
HenryGiovanni
Hi Umbertomar,
Thanks for the response and for reading that long post. I have another question for you; did you use a "buyer's agent"?

I'm under the impression that I don't need one if I go directly to the seller's agent (also being aware that the truth is not always what I am hearing). I am also thinking that the notaio will make sure things are all done properly, paper-wise, and that I'll have to have a "buyer's inspector" (geometra?) look the place over and give the OK for me to proceed. Is there an advantage to having an architect instead of a geometra do the inspection? Or is the geometra an architect? Finally, is it advisable to have an attorney? I am told it's not necessary, that the notaio will do all that the lawyer would normally do (in some states in the US; we didn't use lawyers in CA, as a general rule).

We, too, will be paying cash. I hear the mortgage loans are difficult to get here, and don't wish to make my life any harder than it already is.

Thanks, again.
Cheers, John.
Umbertomar
Hi John,; I used the "buyer's agent"' I paid him a commission (buyer and seller split the commission). The notaio will make sure things are all done properly, You should have "buyer's inspector" (geometra) look the place over and give the OK, You can use an architect instead of a geometra do the inspection. I used a geometra.
You can do this without a lawyer.
However, I used a lawyer to have a sanity check. In the end I did not need him.
Good Luck
HenryGiovanni
Hi Umbertomar,
Thanks! In your short post you answered all my questions and some I forgot to ask. I just now found out that my brother-in-law, the engineer, is a geometra, and he's been going over the houses with us. He's already gone over this condo with me, twice. It's possible this may, repeat, may, be easier than I thought. Nah, couldn't be true! Nothing is as easy as it seems.
Cheers, and thanks, John.
rsetzer99
A little more digging shows that the translation is not a requirement, but a good agent will have it presented in both languages.
HenryGiovanni
Hi Rsetzer99,
If memory serves, you used and referred CheBanca!, the online IT bank. If so, then I would ask how you liked their prices (presumably OK, or you would have chosen another bank). Also, my wife just checked their site and they are saying 12 days min for a bank transfer. This seems extraordinarily long to me, since a bank-to-bank wire transfer should take no more than, say, 3 days max. I'm using USAA on the US side, and I've done int'l wires with them before, though to the UK.

For other readers: does anyone else use CheBanca!? Pros and cons? Any better banks?

This is a forward-looking question at the moment, so no hurry.

Thanks, John.
maluza86
Buongiorno John,

I use CheBanca and am very pleased with their services. I originally used Banca Monte dei Paschi Di Siena, but they kept sneaking in charges for everything, then the local Bank President lied to us about being able to give us a mortgage...strung us along for over 8 months, then told us no banks in Italy were giving mortgages to anyone that did not have income earned in Italy (which we knew was not true). Since my income comes from my military retirement and disability it's not earned in Italy, so we had to scramble. Turns out CheBanca was a lifesaver and really easy, and great to do business with. I really like that they don't charge any ATM fees regardless of the ATM used and their mortgage rate was excellent.

When I transfer money from CheBanca to another bank account in Italy via bonifico it arrives the same day. When I transfer money from my USAA account using Transferwise it arrives in 1-3 days. If you haven't checked out Transferwise yet, I recommend them as well. At first I transferred directly from USAA but it became a pain to call them every time. With Transferwise, the rate is better and everything is done online, much easier. (And yes, I did immediately close my MPS account as soon as everything was set up with CheBanca!)

Let me know if you have any other bank questions...either post here or PM me. Ciao.
Vinnie
maluza86
With regard to the Notaio and translation...we bought a condo and since the condo is in both my wife's and my name (she is a dual national, fluent in both Italian and English) and I am an American, semi-fluent in Italian I was required to have the major parts of the documents translated, both for the mortgage and for the closing. The translator had to be an officially certified translator registered with the Tribunale.

If the condo would have been in only my wife's name we would not have had to worry....but since my name is on their as well, I was required to have a translator present and the documents translated before hand, which makes sense as I needed to understand exactly what I was signing.
rsetzer99
Not me for chebanca. If it was large, usaa, but for routine under 5000 transferwise. Takes about 2 or 3 ach transfer
HenryGiovanni
HI again, Maluza86/Vinnie,
As usual, thanks for the info. I spent some time looking at the CB website today, but it's difficult for me, speaking only conversational IT.

I checked Transferwise while in CA, from a previous post, probably also from you, and found their rates (about 0.70%) better than the USAA rates (about 1.0%) (both rates "at that time"). But this would be a rather large transfer, to an online bank (with two offices that I have not yet visited here in Padova). After looking at the CB website, I would rather go downtown and speak to someone in person (always my choice of doing business) than risk it all in an "online venture". I will visit their office this coming week and see what can be done.

We plan to pay all cash. Have you transferred large amounts of cash to CB? You say you got a mortgage through them, which would seem to suggest smaller amounts on a monthly (or?) basis. Your experience would be helpful on this.

Turns out my brother-in-law is a registered geometra, but never used that position/office, practically-speaking. I spent 3-1/2 hrs talking with him tonight, going over all of the problems (maybe not the correct word; maybe instead "things that need looking at" or "things that need to be done") with the place and figuring cost estimates. In the end, the number that he would offer is substantially the same as what I would have offered without that his help, and it may wind up being exactly the same. He is in process of buying a business, and has a notaio for us (if we accept, but there is really no reason to decline; I trust him), and has recent tax percentage figures, and, besides all that, his estimates are more or less similar to what I reached, as a prior builder of things and Do-It-Yourself-er for my own home. Before becoming a lawyer I managed the business end of a table saw, among very many other tools and pieces of equipment. No stranger to doing things and making quotes.

I am somewhat leery of the IT banking system. I have an Italian friend (a unique story for a different post, but whose uncle is connected to my father-in-law, whom I never met, both of whom worked, together, as partisans in Padova during the Second War. Like I said, a long story, but one should hear such stories if only so one never forgets. I finally met the my IT friend last week, for the first time, after a few years of talking via e-mails. Nice guy; nice stories.).
He also had a problem with MPS. Probably a good thing you are done with them. I only know what I read and what my friend told me, and don't know the whole picture, but know enough to not put my money in jeopardy by depositing it with MPS. The rest of the IT banking system has me somewhat uncomfortable. Hence the question about transferring large sums of money to an IT online bank.

Once more, thanks for all of your help during this long process.

Cheers, John.
HenryGiovanni
Hi Rsetzer99,
Thanks for the advice. I am somewhat hesitant about this whole IT banking system; maybe it's just what I read, but there is no "second chance" or "do-over" on this one. It's done right or one of us is sunk, and I'm pretty sure who that one will be.

Advice heeded. I've asked Maluza86 for some further advice on larger transfers, like this would be. Mind you, not really "larger" like a house in Southern CA would require, but still, all-in-all, pretty much my last throw of the dice if it fails. One wants to be more certain than one is in a casino (a foreign place to me).

Thanks for all of your advice over this long journey.

Cheers, John.

Cheers, John.
lifelover
Hi John,
I am happy to help. We bought a house. I am a realtor by trade so I say get the regs....Make it a condition. Ask about assessments and any future work that may be planned. When I sold a few condos we always had a building inspection so get someone to check the systems. Talk to the neighbors! What the agent says is standard might sound foreign to your ears. Get a lawyer to read those regs by the way. Good luck!
maluza86
Just to clarify....when I transfer money internally within Italy to businesses (other Italian Banks) from CheBanca! via bonifico it usually arrives in their respective accounts on the same day.

I used CheBanca! once to transfer money via International bonifico to a bank in Finland for a Suunto watch I purchased and the money arrived the next day.

The 1-3 days I was referring to was the amount of time it usually takes for Transferwise to take the money from my USAA account and for it to arrive in my CheBanca! account.

When I purchased my apartment I had money in my MPS account that I used for a portion, but I did transfer €60,000 over a three month period to cover the rest of my mortgage down payment and closing costs. So I did have around €80K in there at one time and had no issues...paid the Notaio, closing costs, agency fees etc, all via bonifico from CheBanca!

My monthly mortgage payment is €952, so I transfer money monthly or quarterly via Transferwise to cover living expenses and my mortgage, depending on exchange rates.
HenryGiovanni
Hi lifelover,
Thanks. As an atty, I had some dealings with condos and their rules and regs, and had to read them page-by-page for application to whatever current problem existed with the particular client. This included sales, purchases, and just plain old HOA-fights. I know that almost nothing is "standard" in life, except in general terms, even if I sometimes use that descriptive term.

I will get them and know them before buying. We've already been advised to check the roof and services, which I'd thought of in advance. My only barrier is the language. We meet with a notaio tomorrow, so we'll see how that goes.

Thanks again.
Cheers, John.
HenryGiovanni
Hi maluza86,
Yes, I have one eye on the exchange rates at all times. I am going to go into Padova to a physical CB office and talk to them this week. All forward-looking at this point, but I would like to make an offer sometime in the near future. "Near Future" seems like a foreign concept here, so I'll just go along with whatever the experts tell me to do.
Thanks.
Cheers, John.
Umbertomar
The regs are important of course. If OK then it is all about the neighbors. For me, I want the top floor. Small children ?? Barking dogs??? Cooperative on maintenance and improvements? List of past common area improvements? Of course some of this is changeable.
HenryGiovanni
Hi Umbertomar,
I have four small kids. Wait. I only have two kids, both grown. Make that four small cats. Nuts, Two of them ain't so small. Oh damn! It's bottom floor for me (or piano realizatto if there's a window that leads to a yard) if only to be slave to my cats. Actually, I don't wish to be a slave (cat butler: "Coming in, Madam?" "Going out, Madam?") constantly opening and closing doors for cats, hence bottom floor or that piano realizatto window. Cats narrow my options, but couldn't leave them behind; one is 19-1/2 years and the others are all siblings. Death sentence or family division? I'll take Door Number $1800, Alex, and bring them all with me!

We met with the notaio today, and will go over all the benefits/defects of the place before making an offer.

Three things of note the notaio said, which I pass on for all:

1) my PdiS must be in-hand before I can go on title, so that's a bit of a delay. I'll be at the comune on Thurs trying to speed things up, but trying to speed up govt is like pushing water; nothing happens. Govts move at their own speed, and nothing, but nothing, will ever cause them to move faster. Personal experience, not a guarantee. I still try.

2) answering, I think, rsetzer99 from a different post, the notaio said a new law was passed (presumably effective at the new year) saying that a notaio can now use a "client trust account" (a fiduciary acct) so that I can wire the full amount in and she (in this case) can disburse it as necessary (vendor, commissions, taxes, her payment, etc). The bad news: this law is so new it has no practical application at present. Time must pass before standard procedures are put in place.

3) If I go on title with my Italian wife, then the law requires that I have either a "special power of attorney" (I think maluza86 used this?) or a translation into English (per rsetzer99?). Should I choose the Spec PoA, then my non-English-speaking Italian brother-in-law could take my place at the signing table, even if I sat next to him the whole time. Contract translation: ~EU 500; Spec PoA: ~EU 200. Choose wisely.

So I'm told.

Taking title in my wife's name only, and later transferring half to me renders the property unsale-able during her lifetime due to mandatory succession rights of those two children first mentioned. However, Italy has rights that are similar to Community Property in CA (which is Spanish in origin in that part of the country, Napoleonic in Louisiana, and Germanic in Wisconsin), so even if my wife took sole title I would still have some rights. Or I could just trust my wife, after all these years. The last option won't cause me any undue alarm.

I'll keep the story going when I know more.
Cheers, John.
almare2
That's odd that you have to have the PdS to go on title. I am a nonresident of Italy and bought my house using only my codice fiscale. However, when I tried to *rent* an apartment some years ago, I was told I had to have a PdS, so no go. Perhaps double-check that?
Sergios
I really never liked cats. I've had dogs. But....the practice of having garbage dumpsters on the street and the phobia for sterilizing animals in Italy has caused a situation where there are a few cats around my house. I feed them, feeling sorry for the newborns from last spring. I am feeding 12 cats on a regular basis, twice a day plus handouts, and several more itinerant cats occasionally. Get ready.
almare2
I also have American friends who own a vacation home in Veneto but are not Italian residents and do not have the PdS.
maluza86
First, I used an official translator during our purchase and closing. She was only required to translate certain parts of the document that the Notaio stipulated prior, even though he spoke English very well. She translated the documents before hand and I went over everything prior to the meeting with the Notaio. She had to be present but it was a formality at that point. Her service was between €300-€500.

As for the PdiS requirement, I believe it's for tax purposes. If you don't have a PdiS or are not a citizen you cannot become a legal resident. Without being a legal resident you do not qualify for the tax break as it being your only home. Basically with a Permesso di Soggiorno you have the same rights and considerations as an Italian.
almare2
maluza86, Good point about the taxes. In fact, my house in Abruzzo is a "seconda casa," not a "prima casa," and so I don't get the prima casa tax break.
HenryGiovanni
Hi Almare2,
Yes; too odd. I can buy now, but it will cost me. I forgot to add that the PdiS is not for title (though that's what I said), but for the prima casa tax reduction. I don't want to go on title unless I can get the reduction. I think that way; which means no going on title for me until I get one. I am looking into the possibility of getting a one-year PdiS for the sole purpose of buying a house. The lady at the comune brought this up, and is looking into it. She will call back later today, I'm told. I'll update when I know more.
Cheers, John.
HenryGiovanni
Hi Sergios,
Your heart is in the right place. My wife says the non-sterilization is rodent-control. I know nothing about that, but always have food for strays if they come around, as they did in CA.
Cheers, John.
Sergios
Rodent and songbird control. There are no small birds here.
HenryGiovanni
Hi Maluza86,
Yes, it was for tax purposes. A point I inconveniently omitted. Were I to go on title with my wife, her half-ownership would get the prima casa exception level of taxes (2%) but mine would be full-price taxation (9%).

We were looking at a condo, but the rules and regs seemed to be against just about everything we would like to do with our residence. The agency was pushing us to give them a quote, but I don't much take to being pushed. We will go see a bifamiliare on Sunday. Still looking.
Cheers, John.
janilee
My brain won't process all the questions at one time, but I can certainly tell you about the cats. Before our arrival in October of 2015, we had a real time crunch getting the kids (3 cats and 1 dog) ready for the trip. We had a great vet who filled out most of the papers and helped us with all the details. There was a conference for animal transporters in Roma in which it was decided that all animals traveling from the U.S. to Italia must have a certified pet transporter. Animals had to be delivered to the transporter two, or three, days before departure. In that time we could not see our animals until their arrival in Italia. The transporter handles putting the animals in their airline approved crates, attaching all labels and paperwork and delivering the animals to the airline for inspection and boarding on departure day. All of this has to happen within 10 days of all the vaccinations and paperwork from the vet and Dept. of Ag. Animals cannot be sedated, but we gave the transporter herbal calming collars. They could not wear them, but they did consent to them being looped through the tops of the carriers with their regular collars. We used United Airlines. They appear to have handled everything on their end with professional efficiency. Airlines have their own specifications for carrier crates. United requirements are for huge ones, way beyond our animals' sizes, so be sure you have a way to transport them from the airport to your final destination unless you want to throw the crates away at the airport, but that's a lot of money. Only one animal is allowed per carrier. Because we are nervous parents, we paid for a direct flight for all of us. The knowledge the kids wouldn't be left behind in another country was worth the cost. The animal tickets cost more than ours, by the way. On the flight, a very nice attendant chatted with us while she was strapped in across from us during takeoff. She eventually became comfortable enough with us to tell us she would try very hard to find out, for sure, if everyone was onboard with us, though it is against rules. They were. The flight went very smoothly. It was not until we landed at Fiumicino that the nightmare began. It took us five hours to find out our live animals had been mistakenly carried to a cargo warehouse where they were stacked with the rest of the non-living cargo. The noise was upsetting even for humans, as was the heat. There were something like 60 people ahead of us waiting to pick up cargo. My always very cool and calm husband went ballistic and finally found someone in authority who could understand why he was so upset. This woman also got upset and started yelling at everyone working there to find our pets and get them out of there immediately. I don't want to frighten you, but we could have saved a lot of time if someone had given us the heads up to go look at all the cargo buildings, or someone had bothered to point us to the office where the warehouse could be identified. All kids were okay, but shaken. The big upside is that, probably due to the calming influence of our new surroundings on us, they all recovered quickly and have actually been calmer and more relaxed than we've ever seen them. We are ALL happy here.
codybrandy
Pets: Janilee I'm so happy all worked out well for you and the pets. A word of advice to others...if at all possible use only Heathrow Airport! I know crazy since we flew into Pisa...but..they are true pet professionals at Heathrow and have a terrific facility for animals. We had a friend (with all paper work ) pick up our pooch and there was no hassle, no wait time and we, as well as Lollo arrived comfortably...we then drove to bring her to Italy. I've also been warned never fly a pet in the summer and do not fly on the same plane. You do hear of tragedies with pets and I'm glad we found a way to take no chances. Anyway, welcome to you all!
gporta
Hi Lifelover. Can you provide the info about the Notaio in Lecce if you would be so kind (and any other info you consider useful)? My family and I are planning to move to Lecce by the end of the year and will be looking for a place to buy. Thanks in advance.
JanetB
Greetings Giovani
We to are from California, still own a horse ranch in Placerville, currently in Germany, We have very little in the way IOC personal items for now as we go back and forth. We too are concerned @ future healthcare and will follow your thread with hopeful possibility. My husband is an American born German and I am American born Italian / Spanish / Dutch- we have had little to no issue since 2005 yet have maintained residence of Ca.
The container may be purchased inexpensive on line which is your best option, otherwise the lease is necessary. It will save you money. All necessary items electric or auto should be purchased here - we took our cuppaccino maker to the US it cost a fortune to change over, not worth the expense.
We import export Hanoverian sport horses, although not cats I see cats on the JETPETS PLANE- contact JETPETS in Los Angeles for your fur family, they do a great job and get my horses back and forth with comfort.
I will look forward to seeing all the responses on your feed and hearing of your great adventure
Ciao
Janet
HenryGiovanni
Hi Sergios,
We used to have Mockingbirds. They are made only to sing, and they do it so well. Usually, I might add, around 2:30 AM. Still and all, my favorite birds. And for many years I had parakeets and finches in cages; inside at night, outside during the day. And a rooster, which is a different story for another day.

The Mockingbirds, though pretty and with great singing skills, were not particularly smart, it seems. We often found their remains in the yard. We also had a steady, and I do mean steady, supply of rodents being brought as "gifts" to us by the various cats. We lived on a Green Belt, so the supply was plentiful. Sometimes the cats even managed to bring them inside, in both states (alive and dead).

One accepts Nature as it is. Supply vs Demand. One day the songbirds will rule. One hopes for the Cats over the Rats.
Cheers,
John.
HenryGiovanni
Hi JanetB,
Thanks for your advice. You may not have read the entire thread; it's quite long now and has many "interruptions" re other items of concern. Regardless, it's all relevant for anyone moving to Italia.

We arrived in Dec, just before Christmas. The four cats are all fine, now, though they went through "cat hell" to get here, thanks to Alitalia and their so-called "care" for pets.

We are now in the process of house-hunting. A dismal process, apparently. We'd owned our house for 20+ years; one forgets the problems in that time. Those same cats limit what we will accept; they are inside-outside cats and don't wish (or I don't wish for them) to be confined to an inside apt on an upper level. They are used to hunting/gathering in their own way. Their life shouldn't have to change so much just because we chose to change our lives. Seems fair to me. And anyway, they are family, with a "say" in what we finally accept as housing, even if that "say" isn't verbal.

The container arrives this week and will go into local storage. We used RSS, LLC, out of New Jersey. I will await delivery for any final word on their service.

We are in Padova now. Any expats in the area are free to contact me and meet for English discussion. My Italian is less than I would wish, and hard work to boot. One longs for the ease of one's own language. And, since it is often an issue here, for cable internet!

Thanks again. Stay tuned for "The Rest of The Story"!

Still to come:
"I Was There At The Container Arrival!"
and
"I Was There At The House-Hunt!"
and
"I Was There At Getting Proper Documentation!"

Cheers, John
HenryGiovanni
Hi Codybrandy,
I wish to say something about Heathrow. When we were planning to come here, the four cats had to match the law of the first country in which they landed. Because we came to Italy, this meant that landing, even temporarily, in UK meant complying with UK laws. I don't know what those laws are, or if they are even different than Italian laws, but by that time, I had not time to again research local laws. I knew what the Italians wanted; had no idea what the English might want.

One other thing, and the the main point here, is that our flight, had it gone through Heathrow, would have required two cats (in the crate below-decks) would have been kept overnight because there was only one flight per day from Heathrow to Venezia, and we would have arrived after that flight departed. Hence the overnight stay. That meant, at the very least, having family in Italia pick us up one day, and then have to get back to the airport the very next day to pick up the cats. It's a 45-minute drive, one-way. That was too much to ask, in my opinion.

We opted for Alitalia's non-stop from LA to Roma, and thence to Venezia Marco Polo Intl. This was not a good decision, for reasons beyond our control. See my earlier post (posts; the first half went off incomplete and was supplemented by the second half) for Alitalia's BAD treatment of pets.

I make no judgment on UK treatment of pets at Heathrow or elsewhere. I'm sure it is better than anything Alitalia can offer. Just ask the questions and get the answers before making the decision. Make sure expectations match reality, to the extent you can influence such things.

Plan ahead. Always better than abandoning pets. and I've cared for pets who were clearly abandoned by "care less" owners. It happens.

Best of luck to all who bring pets (family) with them.

Cheers,
John.
codybrandy
Well, welcome John and best of luck in your new home...p.s. don't ! read the Boston Globe story of some nut with her gerbil...a truly disgusting person. I'm happy your kitty family made it safely. Cheers.
HenryGiovanni
Hi Codybrandy,
Thanks for the welcome.

I'm not going to read about folks who abuse animals. Want to keep what little is left of my sanity, and that goes too far, in my book.

Will be talking in the future, I'm sure.

Cheers, John.
HenryGiovanni
I Was There At The Container Delivery: The Rest of the Story.

I have been avoiding having to write a comprehensive report (as promised). It appears the time is now. Be prepared; this will be long but will have all the details I can remember.

We used RSS, LLC out of Delaware (with an office in NJ?). They were as helpful as one can expect, maybe more so. I have no complaints with them; they did a good job of everything. The container left LA on Dec 21 and arrived at Venezia on Feb 14. We were cleared for delivery on Feb 19. You get 6 days (or parts of any day) free storage at port; after that you will pay (as we did) for days (or parts of days).

First, note that my wife is Italian and has family here, who were a huge help both before and after our arrival. Our shipment was complicated because there was no delivery address here in Italy; we used a local moving company (Trasloche) in Padova to store the contents for one month before we were able to buy a place and have the contents delivered (the very next day!!). So, short story: RSS worked out fine. Cost was about USD $6G including (over-)insurance because my motorcycle didn't make the shipment and I was too tired when I paid the bill to have it removed from the insurance quote. My own fault.

I was trying to save money by doing a "self-load/unload, door-to-door" move. I've moved before and we had plenty of time (I thought). However, the sale of our house in CA went badly; I had to cancel the sale in order to kick-start it back to life so that we could get hard deadlines for planning. In the end, we got about 5 weeks to buy tickets for us and the cats (no small matter), arrange for the container loading (needed a lift-gate for the motorcycle, plus a crew), terminate all services (gas, water, mail, etc), and make a ton of other arrangements, including escrow finalization, plus finish packing (which had never really stopped, although it did "slow down").

I woke up a few days before the container arrived and realized that I was behind and needed a crew to help me finish packing. I hired what turned out to be a Russian moving company. For USD $500 (including tips) I got two guys for all day, and they put everything (including the trash) into boxes. I spent the next two days finishing up, and repacking some things (ie- the trash). The day before the container arrived I spent the entire day (non-stop) packing, finishing at about 7:00 AM the next day (container arrival day). I had hired the Russians to return for the loading, and they showed up at 8:00 AM, so I had them start staging the boxes out in the driveway. The container showed up at 9:00 AM and was ready to be loaded by about 9:30 AM. Cost for the Russians to help load (3 men this time) was about the same, $500, until done. My "day" lasted for about 36 straight hours, no sleep.

IMPORTANT NOTE: The container floor sits about 5 ft above ground level. Big or heavy things will be difficult. The Russians brought a truck with a lift gate (no extra charge, and the reason I chose their company to help me load) which allowed me/us to get the heavy things up to the level of the container floor. In fact, we used the lift gate for just about everything; it just made life easier.

On this end, we paid for a month of storage, plus unloading the container at the warehouse (I helped). After one month the goods were delivered to our new condo (up one floor; no lift; I helped). Total cost on this end: EU 225 to unload (3 men plus me), plus EU 400 to deliver (4 men plus me), plus EU 25 for wine for the men as a kind of tip. So that's about another USD $800.

Add it up:
RSS: USD $6000 (includes insurance)
Russian crew: ~USD $1000 (2 days)
Italian crew: ~USD $800 (includes 1 mo. storage and double-unloading)
Italian fees for customs, etc.: ~ USD $1000 (see note below)
Total: USD $8800
I spent money on boxes, foam, tape, etc., at Home Depot. It wasn't near $1000, but round it up anyway and make it "roughly" USD $10G.

Here's where RSS differs from the others.
1: Standard load/unload time is 2 hrs, after which you pay by the hour. RSS gave us 3 hrs free at each end. Remember that it is easier to unload than to load. It took me and the Russian Colluders exactly 3 hrs to load the 20 ft container. It took far less time to unload and was easier; just get things out the door, and

2: RSS had no weight limit. I received some quotes with a 2000 lb weight limit, which is nothing short of absurd. For RSS, if it fit into the container, then it went, no extra charge.

A thin steel tape with numbers on it will be used to seal your container after loading. This is your serial number to show that your container was no opened. You will also get a yellow lock which must be cut off. Be sure to take pics of the container number on the outside, of the steel tape, and of the container closed with both "locks" in place. You will need these later. Also, when the container first arrives for loading, walk inside and have someone close the door. You are looking for light-leaks, which will also allow water leaks and rat leaks. It should be pitch-black inside.

No move is without "surprises". Here are the surprises we encountered:

Surprise #1: We went through the LA (CA) consulate, who said we didn't need the itemized inventory stamped by them in order to pass customs in Italy, but they'd do it as a favor. Wrong info; it's absolutely needed, and in originals, not copies or e-mails. That (consulate) error cost me about $75 in mailing costs. You'll have time before the container gets here, so be sure to get the originals via cheap snail-mail instead of expensive overnight FedEx.

Surprise #2: Our container was held up for some reason (I think it was the delayed itemized inventory) and stayed in port for a few extra days. I attribute this directly to the consulate that gave me bad info. Really, doesn't the consulate staff know these things? The container left LA port (San Pedro?) on Dec 21, visited Spain and Israel, before landing in Venezia on Feb 14. Not the most direct route, but just how it goes in shipping. There were 6 free days (Feb 14-19) of in-port storage, allowing time to unload and pass customs. After that, the port storage fees accrued at about $20/day (or any part of a day). The container left the port on the morning of the 23rd. So we paid an extra $80 or so (Feb 20-23) for port storage fees.

Surprise #3: After the shipping, and after another month in storage, everything came out pretty well. Breakage/damage was minimal, really. Some badly-packed coffee cups that I personally packed and then later dropped, a scratch or two in the kitchen table (that I had just sanded down and re-finished, and which will have that happen again sometime in its future with me, so no big deal), and other relatively small stuff. Things came out far better than I expected. Mind you, I was in the container packing the items myself as the Russian crew brought them up; had I left it to them, then things could have been different. Because I did the major packing inside the container, especially the boxes marked "Fragile", not a lot was broken or damaged. The Russians finished up the container with the larger items that weren't "stackable", but I did the boxes up front, personally. But on unpacking, I found thin glass from larger picture frames that had been packed by the Russians, independent of the frame, and it somehow survived! I found two of these, not terribly well-packed, both intact.

Surprise #4: This has to do with finances and customs here in Italy. RSS used (in this case) a company called Global Italy Moving Systems Srl (GIMS), out of Milano. Their billing was OK, and I questioned them about some items. It came to EU 703.50 on this side, and that was over-and-above the USD $6G I'd paid to RSS. So, I wired the funds to GIMS, with a definite pay-date. The day after that date, GIMS informed me that they hadn't received the wire transfer. My bank is USAA. I instituted an investigation. Because GIMS had done a service for me, I wanted them paid faster than the possible 90-day investigation, so one week later I wired the same amount a second time. The investigation showed that the funds were available within two days of my original wire. GIMS then informed me that they had received TWO wires for EU 703.50. GIMS promptly refunded me one of the wires (I verified), but I was out the USD $45 fee for the second wire. I requested reimbursement; no response. Upshot: I'm out USD $45, which, it turns out, is exactly the amount one can pay for a slightly-tarnished business recommendation. I don't really care about the amount, but I hate to pay twice for one thing (a wire). That just bothers me. And it clearly wasn't my fault. Seems only fair that GIMS refund the wire fee in addition to the principal. Had GIMS even bothered to answer my e-mail, they might be getting that glowing recommendation, because they otherwise performed well. But that's not how it turned out.

We are still unpacking, and probably will be for life! Ask any questions.
Cheers, John.
almare2
Wow, that's some story! Very interesting! Thanks for sharing! :-D
foxwhite1
That is quite a story and In retrospect would you have been better off just selling most of your belongings and buying new in Italy? We are weighing the options and to me, except for keepsakes, we have resigned ourselves to the fact that there is nothing we own that cannot be replaced and in fact, since we are changing our lives our motto has been - Out with the old and in with the new!
Sergios
I agree. We moved to Italy with two suitcases. We rented furnished houses which we updated with purchases here in Italy. Most of those we arranged with the landlord so the payed for a portion and we will leave when we move. It's very liberating to be able to go when and where we want on short notice.
whidden39
When we decided to get rid of everthing and make only a very small shipment of goods, our expression was "We used it all up." We arrived in Puglia with suitcases and immediately began looking for a house. Within two months we were in our home in Italy. Years of planning and dreaming accomplished. While it was difficult and exhausting to sell, donate, and auction (antiques) our worldly possessions, I believe it was the right way to go. Traveling lighter these days and living a less fussy existence. No regrets. The cat made the trip well too in the cabin with us on our Alitalia flight.
whidden39
When we decided to get rid of everthing and make only a very small shipment of goods, our expression was "We used it all up." We arrived in Puglia with suitcases and immediately began looking for a house. Within two months we were in our home in Italy. Years of planning and dreaming accomplished. While it was difficult and exhausting to sell, donate, and auction (antiques) our worldly possessions, I believe it was the right way to go. Traveling lighter these days and living a less fussy existence. No regrets. The cat made the trip well too in the cabin with us on our Alitalia flight.
HenryGiovanni
I Was There At "Buying a House": The Rest of the Story.

I've been putting this off, too. So here it is. Another long post. For those who are looking for a mortgage, this is not the post for that, but it may have other useful info. Read at your own risk!

We arrived here on Dec 18 and started looking at houses almost immediately. We used any sites we could find, mostly local, or, at least, localized searches on larger sites. We looked at hundreds of places, sometimes trading places we each liked back and forth.

Like in the US, the pics always look better than the reality. Unlike the US, here there seems to be no compunction to clean a house one is just going to sell anyway (or not, as the case turned out in many instances where the place had been on market for 6 years or more, up to 11 years). Most places we saw were absolutely filthy. Some had major structural requirements.

A note on kitchens and bathrooms is in order here. Italians generally leave at least one working bathroom, but take the kitchen with them. Seems like all things here are modular; usually 60cm x 60cm x height. The "strette" appliances are narrower, front-to-back: 60cm wide x 40 cm deep x height. Modular things can be moved with reasonable ease. Many kitchens we saw were little more than a dirty, empty room with out-dated tiling, and pipes sticking out of the walls (for gas and water).

More on bathrooms: Where the US might have a separate laundry room (as we did in our house), Italians seem to like putting the washer (and dryer, if they have one) inside one bathroom. Tends to cramp things. That's where the "stretta" washer comes in. Make it work.

One other note: when we decided to come to Italy (~Mar, 2017, maybe Feb), the Euro was USD $1.06. When we arrived (Dec 18, 2017) it was up to $1.18. By the time we finally got a bank acct and money wired over here, we were paying up to $1.26. Hell of a jump, and one that needs to be considered. I've been here when the euro was about $1.41, maybe more. So I had budgeted in an exchange rate "up to but not over" around $1.20. Well, that cut down our options some, but one doesn't let small obstacles get out-sized to the point of quitting.

Now, to buying a place. We just sold (Dec 14 closing date) our house in CA, after 6 mos on market. Our budget was the net gain from the house we sold, which necessarily included any commissions, legal docs, repairs, and etc.. A mortgage in Southern CA becomes a ticket to indentured servitude, if one lets it. The "market" had finally risen to approximate 2007 levels, and things didn't look good for the future. We could have waited, but that might have included yet another 8 years in a state that had long-since turned communist. It was time to leave. The mortgage: it would have kept me working like a dog just to keep my head above water, what with all the increased taxes (on other things, not property, which is controlled in CA by Prop 13. If one takes the time to look, and bothers to vote, then it is readily apparent (in every single election!) that property taxes are subject to yet-another "voter" (spelled "govt special-interest") proposition that is nothing more than a thinly-disguised end-run around Prop 13. Sooner or later CA will succeed, as they occasionally have in getting taxes raised for "schools" or "children", said tax income having been reduced, by the people's election for Prop 13. CA will never live within its means, or with any measure of financial common-sense (Brown's "Train to Nowhere"?), and I was expected to pay for such indiscretions. Time to leave. Our departure meant a serious reduction in income for both of us (non-transferrable CA-state licensees), and a move onto the SS rolls, all of which precluded a mortgage in the future if we were to make this happen. We had money (from the sale of the house); a mortgage, at any interest rate, would only have allowed us to spend the money and would have left us in debt. Again. It was a time of change for us, so we changed.

We wanted a house, but those go for more than we wanted to spend, or could afford to spend with the increased exchange rate that decreased our buying power in inverse proportion to any gains in the rate. We could have found one, but my wife wanted to live somewhere near "downtown", and not out in some country village. We are both tired of driving: all one does in Southern CA is get in a car and drive, or sit, if one is on the freeway during rush hour. Then there are the gas, annual registration, repairs, smog tests (CA, remember?), and insurance costs. We wanted to see if we could live without a car, so those distant country villages were off-limits. We needed good public transportation, which CA completely lacks. Last time I was on CA public transport was probably multiple decades ago; it is something to be avoided at all costs, which are usually high.

Back to buying a house:

Then there are apartments, which, to my understanding, are little more than condos without HOA fees. One can buy an individual apartment here, unlike in the US; one buys a "condo" in the US, but rents an apartment. All fees, of course, are passed to the renter in the US, so it would seem that there is little difference between an apartment there and a condo here, except for that ownership business.

I came from a very large family, and we always lived in houses, never in apartments or condos (didn't exist when I was young). Later in life, I usually rented small but independent houses or studios, and, one time, even lived in a huge rooming house (apartment?) for a very short time. Upshot is, I'm not used to apartments, so those were pretty much out.

Same story with condos; they're apartments, but with HOAs. I like to walk out the front door and be outside, in my own yard. Grass under my feet and all that. I absolutely didn't want a condo. And especially not one with a communal water heater.

We bought a condo. With a communal water heater. On the second floor (to us; First Floor to Italians). No lift.

I'll jump to the end, here. The house looked good, but, in fact, needed some work. Paint? For sure. Plumbing? Some minor faucet replacements are in order. Electrical? Italians take the light fixtures with them along with the kitchens. Our seller left the kitchen, which was "older" but at least serviceable. The fridge didn't work; we bought a new one. No washer; we bought one of those too, the stretta kind that fits into the smallest(!) bathroom because that's where the fittings are! Other than that, it's mostly in good condition, with improvements that we won't have to do ourselves, and with those nice windows that open both ways. Nevertheless, I'm still the "cat-butler" (see previous posts).

So, back to the buying part: we looked forever, during "the coldest winter in 13(?) years" (Rod Stewart). It was depressing, looking at places that had no relation to the pics we had seen online.

Short-cut to the end: we picked this place because we were tired of living in a small, cold, dark, cold B&B. Did I mention it was cold? They gave us some reason about communale heating laws, hence our trepidation to buy such a place.

The condo we purchased was already undergoing transformation from communal to individual heating; some consolation. Seller gave us a reasonable reduction in price and we picked up the choice from there; also some consolation. That change is in progress, at the final quoting stage, to be completed in July, I'm told. Fine with me. Means my HOAs will drop to about $40/mo. I can live with that.

Location: Tencarola, in Selvazzano Dentro, outside of Padova. On a small piazza not far from Tencarola center. With a bus stop on the other side of the piazza, not 100 feet from the front gate. 20 minutes into Padova centro. Macelleria (really, a deli, to me), downstairs. Café bar in the next building, along with a pizzeria. The piazza has those sounds of life that are common to any parent, and anyway, the sound of kids having fun never bothered me in the least; in fact, when the sounds stop, a parent begins to wonder. But we're on the back-side of the building (which does nothing against the noise, but which allows the Western sun ingress into our lives and our rooms.

Brother-in-law is a geometra, and was of immense help in all of this. I cannot say enough for the help that he freely gave over all the months. Anyway, we came into possession with realistic expectations, thanks to him. He guided us through the process of meeting the notaio, doing the bargaining, finalizing the terms, and into the final signing of the docs. My Italian, while not so bad, is not quite so good either.

We met with the agent immobiliare (real estate agent) several times, with buyers (us) and sellers present. We signed a Preliminario, stating the terms upon which we agreed to purchase the property. We later met at the notaio's office to sign the Compravendita (sales) agreement, after all of the "homework" (checking ownership for purpose of sale, actual size, currency of all internal modifications, and etc.) was done. At this meeting we also gave the appropriate Signe-Circolares (cashier's checks) to the appropriate recipients. My wife, the citizen, had opened an account, and the checks were free (instead of the charge US banks allow). Brother-in-law/geometra saved us lots of money on the entire process. We didn't use a lawyer; apparently they aren't needed in Italy, like in CA, where an escrow company does the footwork and doc-prep.

We gave an allowance for the seller to vacate (it was no longer a home, but an office. Sellers had already moved their home the year prior). In the end, we were at the B&B for exactly three months.

The Rest Of The Story:
We bought on March 15 (Ides of March, for Roman history buffs), and took possession on March 18 (exactly 3 months to the day after arrival in Italy; that's how long it took us to buy a "house". For you, maybe longer, maybe not). The container, set to be delivered in a few days (allowing us time to clean), was delivered within 24 hours of our possession. !!! Nuts. No time to paint, nor even to clean. All such was done with tons of boxes to hamper any movement. Alas.

We've been here for just over 6 weeks. Painting ain't finished, neither the boxes. Feels like we've been living out of boxes for over a year, what with the sale of the prior house and all since then. Doesn't matter. Small potatoes.

We've got a "house" without mortgage, as we wanted. Still no car, but no big deal, yet. I'm trying to get the bike over here (see prior posts), but costs are "variable", to put it nicely. We still have lots of work to do; a home-owner's work is never done. What presents itself today will get done sooner or later, only to be replaced by new "wants".

The upside? Weather is finally nice again. Windows stay open all night long, as we are used to having. There's a small "giardino" (Italian term for what I call a "driveway", more or less), and I was up in a tree doing some trimming yesterday. Life could be worse, but it's not. I will take what I have over what I left behind.

That's about it. House buying was never so easy in CA, and, with no mortgage, it went very smoothly. Something about "money talks" goes here.

Preview of coming attractions: I Was There At: Getting Legal Documentation. Mostly all done, for me, but waiting for the official docs to come into my hand. Bureaucracy is no faster here than there; everything moves "at the speed of govt". It's been a month since I got the OK. I see that Firenze suffers under 10-month waits. I hope my wait will not be so long. More on that later.

Hope this helps. Ask any questions; maybe I have an answer. Cheers, John.
HenryGiovanni
Hi Almare2,
Thanks. I don't know which post you are replying to; presumably the first, about the container, since the second, about buying a "house" was only just posted a few minutes ago.

Others helped me in my quest for info; if I can be of help to others, then it seems only fair that I do so.

Thanks again! Cheers, John.
almare2
Hi, John,

Yes, it was your "container" post I was referring to. What an odyssey!

I have a question: What percentage of the sales price did you pay to the real estate agent? I bought a "fixer-upper" in Abruzzo as a vacation home (which I'm going to sell before I even fix it up and make it habitable, which it is not at all, it's just "ruderi," but that's another whole story). I bought it from a friend. The price was €20,000. I paid the agent €2,500 (cashier's check) and she paid €900 (cash, so she got a discount, haha) for a total of €3,600, or 17%! I thought that was outrageous. Plus of course the notaio fee and taxes. What percentage did you pay?

Do continue with your story! I'm sure that, with all the detail you provide, it will be of great use to others using the forum.

Cheers,
Lynn :-)
HenryGiovanni
Hi Almare2/Lynn,
Thanks; I hope to help, as others helped me.

First, our objective was to spend "up to" EU 100G. Despite the SoCal location of our previous house, the "net" was not what one usually thinks of those houses. In fact, if one considers "rental" costs over the years, we barely made that back. My parents bought a house in SoCal in 1950 for $14,500. At death, it sold for $1,300,000 (2017), Those days are long-gone. We owned our house for just over 20 years. We didn't have "dump trucks full of dollars" to spend.

So, I'll let you figure out the percentages, but we paid EU 90G for the place. Realtor commissions came to a total of EU 2614. Then there was EU 3100 for the notaio. Keep in mind that by taking the change of water heaters into the deal, we negated any commissions/fees on that portion, and, though it decreased our "on-paper" sales price (ie- reduction in taxes, commissions, notaio fees), we still have to pay for that change, which is expected to be about EU 10G, of which we will gain all back in equity. I hope these numbers make sense for your purposes.

One last item: on several occasions, when still "new" to Italia, I requested a receipt, in my bad Italian. I got the impression (that's the best description I can give with my "command" of the language) that a receipt would require that I pay more. I responded that my Italian was bad and I would ask my wife what it all meant. I never asked for a receipt after that, and things went very well. Life goes on. I am not in charge of everything, and cash payments go far.

Back to the house commissions: it is my understanding that the realtor took a "cut". A cut of what? I remain uncertain.

Ask any questions, maybe I have an answer. Cheers, John.
rsetzer99
Cash payments do go far, but in the case of energy upgrades, getting receipts and making payments in a very specific way are key to taking the tax deductions for them.
HenryGiovanni
Hi Foxwhite1,
I think that one must understand what is involved in such a move, prior to reaching any decisions. In our case, we went from producing-adults to retirement, with the concomitant reduction in income. Selling at "garage sale" pricing, only to have to replace same at full retail seemed pointless, especially when one considers the price of a container (a container NOT subject to ANY weight limitations, which is as it should be).

In fact, in retrospect, I would have brought many things that I disposed of prior to packing; there was room in the container (especially after the bike docs failed to reach the broker in time) and it was "by volume", not "by weight", so it didn't make any difference to me. If it fit, then it goes" was my motto, excepting electrical stuff, which, in retrospect, I would have brought, having bought some converters/transformers/whatever-they-are-called. Replacement cost is always greater than garage-sales receipt.

And on the "keepsake" mode, I was trustee after my mom's death and a lot of things just fell into my possession, mostly because nobody else wanted them but which I thought should be kept for "historical" purposes. I haven't even gotten through all that yet, and Italy was one of my main excuses ("I'll do it when I have more time in Italy"). I hope to fulfill that obligation soon. But I needed to bring those things with me, if only because I had NOT looked at them prior to the move, or had only "scanned" them. The price of moving only the "historical keepsakes" was almost equivalent to the price of just sending the whole "kit-and-kaboodle". One takes the easy path through life, or one struggles. I took the easy path (but still seem to struggle???). Nuts!

The point here is that I could have dumped the "crap" and kept the "keepsakes", and still paid the same amount for shipping. So shop around. Do your homework. Calculate what's worthwhile for yourself. Then make a decision. I used RSS, LLC, out of Delaware/NJ, and was grateful for all of the help (not to mention the best pricing) I received. Tell them I recommended them to you; I don't mind. Tell them SD-to-Padova, Dec 21 departure from LA and Feb 14 arrival in Venezia. I'm sure they can find my real name and records and, maybe, just maybe, give you some sort of a discount! ?? !! Who knows? I used to be a purchaser and got "Tuesday" discounts just for the asking. If you never ask for a discount, you will never get one. Just ask; it can't hurt.

In summary: I cannot tell you what to do. Do your homework and make the best decision according to the facts presented to you. Be sure to get quotes that omit "weight" as a factor of cost.

Hope this helps. Ask any questions. Cheers, John.
HenryGiovanni
Hi Foxwhite1,
I forgot to add something just noticed today. We are still unpacking, and will probably be for life. Today, my wife got to some of the "standard kitchen items" we used in the US. Here, I am talking about stove pans: baking, roasting, etc.. They don't fit into the smaller Italian ovens. Flat out. We probably should have left them behind. But how does one know these things? One doesn't. One packs what will fit into the "weight-less" container and then figures out what must be done later. In other words, "Damn The Torpedoes, Full Speed Ahead", followed by "Adapt, Improvise, Overcome".
Cheers, John.
almare2
John, Thanks for the info. So you paid about 3%, plus the agent got an extra "cut" from the seller. That's in line with what I read online (after the fact) it should have been. Ouch!

I didn't want to pay that in cash as I figured if I got caught it could mean I would be banned from returning to Italy again. That said, I have paid cash for some smaller repairs and my friend whom I bought the house from has certainly paid cash for some repairs in my absence (but she's Italian and doesn't risk the same penalty).. Didn't have any choice, though, as I have been unable to open an Italian bank account.

Thanks again for the info!
HenryGiovanni
Hi Almare2,
I heard that the standard fees for realtors were 4% of sales price. Some realtors refused to deal with other realtors in order to maintain that 4% income for themselves (re: a split between two realtor companies). We saw that "in action", so to speak. However, I speak only for the Padova area, and not elsewhere.

Cash payments? Figure out where it hurts and what your rights (ie- tax rights) are for cash payments. You might be surprised where that line lies. Let them tell you "no" before denying yourself a "rightful" deduction.

I, also, am unable to open an IT bank acct, at least until I can show legal docs to prove my residency (still waiting on the "speed of govt" to get them). Until then, I use my debit card (no wire transfer fees, but still the exchange rate fee) to do business. I arranged all of that prior to departure from the US. On "Extended Sabbitacal", don'cha know? No advance notice of when (if ever!) I might return, but always allowing for the "possibility" of return. It could happen. I'm not in charge of future life-time expectations. Personal expectations may differ.

Hope this helps. Ask any questions. Cheers, John.
HenryGiovanni
Hi rsetzer99,
Of course, one must make the decision of where, exactly, that line lies. I leave that calculation up to the individual, as it should be.
Cheers, John.
foxwhite1
John,
Thanks for so much useful information. I hear you loud-and clear as to CA and could not argue one point and I don't even live there but have friends who do. Good luck with the new home.
HenryGiovanni
Hi Sergios ("Feeder of Stray Cats"),

I envy your position, but am not in same. Family "duties" (ie- trustee) require some additional "baggage" be carried along. How it is.

All is not lost. One does what one can, because one can do no more than that.

By the way, I have no stray cats to feed, but picked up a fledgling from the yard, one certain to fall prey to one of my four cats, or any neighborhood cats (not, apparently, strays). Told myself "No more birds"! Alas. What does one do in such circumstances? One does what one can. Bonus points to you for feeding stray cats; maybe I will earn a point for this small bird. The idea is to feed him until he can fly away. One hopes.

I have moved many times, but envy your liberation of choice to move where you will. But I have now "made my bed" and will sleep here for awhile,

Cheers, John.
foxwhite1
John correct me if I am wrong but shouldn't you be in bed? LOL....
HenryGiovanni
Hi Whidden39,
Wish as I might, we were not in the same place. I am now legal trustee of the family docs; like it or not, that's how it is. Those same docs (and "stuff", because "docs" always includes "stuff") would cost the same to ship as "everything". I speak for no one other than myself in this: some things must be done and that's that.. One does what one must do, regardless of consequence. There is a history to consider, so one considers that history.

I envy your position that allows you to do differently than is allowed me, but of such is life made. One wants to travel light, but the years weigh heavily, sometimes.

Re the house: I agree that it was exhausting (and interminable!). One questions "Why?" Getting rid of "stuff" frees one up for the future. My best wishes for your future.

My beloved cats are doing well enough. Some have taken to the indoor life, though I take them all outside with me when I work in the garage downstairs. Thanks to Alitalia, two of our cats (the two "downstairs" in flight) seem to have changed and are now "inside" cats, as opposed to what they were before Alitalia broke their own rules about taking care of cats on their own flights. The lack of care provided to pets by Alitalia will never go un-noticed by me. Alitalia failed to follow their own rules about pet-care, and so failed me. There is no gloss to be put on that situation; it is abhorrent. to one and all. I will NEVER entrust ANY pet to Alitalia again. Period. Ain't gonna happen in my lifetime.

The two cats in the cabin made the trip in reasonable condition, no thanks to Alitalia. It was up to us to care for them, as i did; taking them to the on-board bathrooms for cleaning and etc., all of which was done by me (and, I might add, as anticipated) . I expected no help from Alitalia for pets under my personal control).

Alitalia gets no points from me, and, in fact, gets only a warning to other travellers with pets to AVOID ALITALIA AT ALL COSTS IF YOU VALUE YOUR PETS!.

As an aside: we also got rid of much that was no longer necessary.

Hope this helps. Cheers, John.
HenryGiovanni
Hi Foxwhite1,
Thanks for the thoughts. Sorry for the CA bit, but after 50 years of hope one finally comes to the conclusion that it just doesn't matter. Hence, my departure. For good.

No luck involved with the new home, only hard work and "elbow grease". But thanks anyway! One does what one can in life; justifications come later, in front of a different judge.

Tell your friends to "Beat Feet" outta there!

Cheers, John.
Sergios
Three of the cats gave birth around Easter. Tribbles!!!
whidden39
35 years in an historic Boston townhouse took me from my early career days to retirement. I was living a dream existence but realized that if I didn't now pursue another dream — living in Italy — all I had to look forward to was being taken out of that house (mausoleum?) feet first. I was also over-housed and years of my money and sweat equity had rewarded me with a generous sale value that facilitated my second dream, Italy. When I considered the different climate and lifestyle in Italy, the fact that my furnishings may be out of character for an Italian house I hadn't yet found, and that things like boxes full of loose photos were really a life's distraction, I realized I longed for a fresh, lighter start. As it turned out, my Italian house had just been renovated and sold to me fully furnished and equipped with above average taste and quality. Turnkey! I was lucky because one caveat was not taking on a renovation project. Another was having a pool. Planning permissions for pools are getting more difficult to obtain and lengthy renovations are rife with delays and mind-bending bureaucratic nightmares. I am privy to the latter through my new expat friends who have taken a different path. No 'burnt under the Tuscan sun for me'! LOL But, to each his own. What's good for me is hardly a prescription for anyone else. Just sharing the journey to a continuing good life here in a Puglia and better equipped to address new realities and opportunities as they unfold.
whidden39
As for my indoor cat, a feral rescued from my urban garden, he was not happy about being squished into a Sherpa bag for in-cabin Alitalia flight with me. But I was traveling from the east coast to Rome and it was manageable. He gave out a few guttural cries to the astonishment of other travelers seated nearby. Otherwise he did very well. It amazes me how he was able to adapt so quickly to his new home too (better than I). Air France and Alitalia were really the only two airlines I had for choices and pets are limited on any one flight. Get this, I had to be out of my sold Boston house on the day I had arranged our flight. Alitalia had a work action or strike going on in Rome and my flight was cancelled. Alitalia's solution was to get us on a flight from Boston to New York the next morning on a partner airline. They took no note of the cat reservation (by the way only $150) and when we pointed out that the partner airline would have to be OK with my cat, the reservation agent said she would check it out and get back to us. She did and it wasn't a go. Ultimately we were rescheduled for a Boston to Rome Alitalia flight two days later. Now we're looking for two nights at a hotel that takes pets. This wasn't easy and our last minute needs required spending a lot for a room that was located well outside the city. And technically speaking, our cat's entry documents would expire on the day we arrived in Rome. The USDA gives a very short window for overseas travelers. Fate be damned. Our cat was hardly given any attention at all — mostly at the airport departing the US. The cat was invisible to all while making our connecting flight from Rome to Puglia. We arrived in a heat wave in July 2015 to temps near 100F. It made me think how much more was at stake when my Italian family left Naples for Boston in 1906. Just another successful crossing, I guess.
HenryGiovanni
Hi Whidden39,
Wow! Some story. I never lived in any one place for 39 years, unless one counts CA, generally, though the moves were frequent. We spent about 12 years in our house before it became more economical to rent it out and take a rental during the last (ongoing?) depression/recession.

After about 5 years we returned to live in the house in order to keep the cap gains (IRC 121), and stayed for 3-1/2 years. Each move showed exactly how much "stuff" one accumulates in short order. I cannot even imagine the work that went into clearing out 39 years worth of life in the same house. The stress of this move has been enormous, what with all of the decisions of what to bring, what to leave, how to get from point A to point B. Maybe I should have just left it all behind.

By the way, are you the one who had major health problems a year or so after arrival in Italy? I saw a post months ago about someone, but forgot who it was. Your Boston story rang a bell. I may be wrong on that. If not, then I hope all continues to be well with you.

Glad things worked out for you here. Puglia sounds nice. San Diego is more or less on the same latitude as Tripolitania, Libya. Padova is more or less equivalent to Portland OR., as reflected in the weather. I miss the dry heat and the all-day sunshine. Seems like Puglia must be more like CA than Padova. And Padova has mosquitos!! One forgets the small things that come and bite at odd times.

Cheers, John.
HenryGiovanni
Hi Sergios,
We had that same scenario once in my life, when our 3 cats each had a litter of 4 kittens, at about the same time. From 3 to 15 in a heartbeat! I used to put the food outside, shake the box, and slam the door to avoid the herd!

The little bird was looking bad this morning. We had nothing to feed it but pate cat food. I took it outside and put him under a bush in the planter, then spent the morning going back-and-forth to help him out. This last trip, he looked much better, and I saw the mom hanging around,. I gave him some water and cat food and went up onto the balcony to watch. Sure enough, the mom was feeding him. He's still too young to fly. We'll keep an eye on him, but it seems our job had ended. With some success! Cats have to stay inside today.
Cheers, John.
HenryGiovanni
Hi Foxwhite1,
Too funny! Law school at night with a wife and two kids plus a full-time day job pretty much destroyed my sleep habits for life. Followed by starting a career. that included massive amounts of work at odd hours. That was some 20+ years ago. Wish it was different, but it's not. Glad I'm done with law; it wasn't worth it.
Cheers, John.
Sergios
Would you like some very cute kittens? No need to respond.
whidden39
That's 35 years in the same house, not 39. Yes, the stress may have been too much for me as I had a stroke shortly after moving into my home in Italy. There were other theories though, none conclusive. But I got good care in Italy, have no lingering repercussions, and was told to resume a normal life. That was back in 2015 and all cintinues to be well. I win't go into the ruptured Achilles Tendon requiring surgery last year except to say that again care was very good. Spring arrives early in Puglia and the wild flowers are spectacular. I like that it becomes arid in summer because I hate humidity. Fall is gorgeous and the landscape slowly turns back to green. I'm not fond of winter here, but there is only a dusting of snow one or two days for the season. Temps below freezing are very limited. Even in winter there may be sunny days when you can have lunch outdoors with a light jacket or sweater. There are still some flowers in the garden like camellias that bloom in February. But more often wintertime in Puglia is when it is humid, rainy and damp. The cisterns get filled with water, you get a break from mist gardening, and you keep a watchful eye to any muffs (mold) that can develop on walls and ceilings with high humidity. Winters are short though— 3 months at most.
almare2
John, That's such a sweet story about the little bird! I do hope it continues to recover :-)
whidden39
My typos! Mold in Italian is muffa. Nix "mist"; substitute "most". Argh!
HenryGiovanni
Hi Whidden39,
Yes, I thought that might be you. 35 v 39? My mistake, but still a lot of years. My brother in London moved out of his house after 34 years. Six months later he died, suddenly. I often wonder if the move killed him, and then wonder what it will do to me.

Puglia sounds very much like San Diego. I used to love working outside in 97+ degree heat: one just drinks lots of water and goes slower, but it was wonderful. The warm Santa Ana wind off the desert blew the pollution out to sea, making things look like those Old Masters paintings with the clear air over detailed landscapes.

This winter I wore the only heavy jacket I own; a leather thing that must weigh 10 lbs and only covers the top half. I hadn't worn it for years in CA; didn't need it. Next winter I'm going to get one of those long coats.

That whole mold business is new for me, but I've already done some painting on N-facing walls that required remediation. It's been so long since I lived in humidity that one forgets stuff like that.

Cheers, John.
lifelover
Thank you for posting this shipping odyssey!!
I will get my first taste shipping some furniture from Sweden to Puglia!!

luckily it is duty free within europe. But all kinds of craziness can happen anyways!!
good luck Henry Giovanni, enjoy reading your chronicles!
HenryGiovanni
Well, thanks, lifelover.
Don't know who you intend to use, but RSS may be able to do EU-to-EU shipping. I don't know, so ask. They did a good job for me.

Good luck with your move!
Cheers, John.
HenryGiovanni
Hi Almare2,
I saw your comment and took a minute to go downstairs and check. The little guy was sleeping, but appeared far healthier than he looked this morning. Sometimes life gives us little pleasures that exceed those we desire.

He's in his mom's control now, and out of mine. She seems to be taking care of him. I hope he survives and learns to fly.
Cheers, John.
HenryGiovanni
Replying to my own post to cover some omissions.

1. I am on title as half-owner. Italy has forced succession, so if my wife dies first, then our daughter comes onto title or signs off title to me. Point being, I don't get to just take her (wife or daughter) ownership portion at death.

2. We should get the Prima Casa exemption. There is some talk that since our SS payments go directly into USAA in America, and not into an IT bank, then we won't get the exemption. Because the exemption is based on residence (and number of houses, in this case, one), not income, I believe this could be erroneous info coming my way. Certainly, I WILL discover the truth one day! I have many bridges to cross, and that one will have to wait until I get to it.

3. My Italian is really no better than I've ever claimed it was. The Compravendita (purchase agreement) was in Italian. Notaio offered to "translate" it into Inglese for me, for a fee, of course (EU 200?). The initial translation, minus important details, was nothing more than uncorrected "google translate". My wife cancelled the translation and I did it myself. I've done this lots of times, translating Italian history books and etc.. Furthermore, while at it, and because of my legal training, I researched the appropriate Italian laws. I didn't bother with the generic laws saying that whatever was being done was "pursuant to [Italian law]; I presumed that the generic references were good. It was the non-generic laws that got my attention. I once did probate, among other things (like tax fights!). CA is a Community Property state. I had a case once that required application of Swiss law in CA. Italian law is similar to Swiss law in that one cannot disinherit an heir. Just not possible. Everything else was similar to CA Community Property principles, generally, so there weren't a lot of surprises to find.

4. Brother-in-law continues to help with the change from communal heating to individual heating, and is currently getting a new quote for us. We sat down a few months back and went over the initial quote (before we bought the place), making our own estimates. His number was surprisingly close to the proposed vendor's final quote. Truly! It's good to have him on my side, because I would otherwise be a sheep ready for shearing. Radiators? Last saw one of those in my own house when I lived in CT in 4th grade!!! I've got no clue!

One other comment: Brother-in-law was present at all meetings, including the signing. What a great help. At one meeting with the realtor, she started saying something about lawyers; probably the same thing everyone says about lawyers! Brother-in-law broke in and informed her I was a lawyer. Everyone had a good laugh at my expense, including me. One should be able to laugh at oneself; it keeps us humble and not too full of ourselves.

I think that rounds out the story. As usual, ask any questions.
Cheers, John.
HenryGiovanni
Hi Amlare2,
When I think back on it, that "cut" the realtor took was in her commission from us. My wife asked for a EU 500 reduction in the commission payable to the realtor, and the realtor agreed. I don't know what this says about the real estate market in Padova in Feb 2018., but I do know that if you don't ask, you won't receive, so always ask.
That EU 500 reduction probably skews the expectable percentages a bit.
Cheers, John.
almare2
Hi, John,

I'm glad you posted that without the help of an Italian-speaking local you "would otherwise have been a sheep for the shearing," as that's one of the reasons I gave up on the idea of renovating the house in Celano and makes me feel as though I did the right thing. The rip-off realtor said he knew somebody who could do the work. Yeah, right. The geometra said he had a cousin who could do the work. Yeah, right. My friend who sold me the house recommended the people who had done the work on her and her husband's apartment. Better but still not great. If somebody says, "This will cost x euros," how do I know if the price is right or not? My Italian is quite fluent, but I can speak neither fast enough nor colloquially enough to make my opinion override that of someone who is speaking local dialect. Plus how can I know the prices of things? It has already cost me about 800 euros just to get a water meter put in. (Originally each residence in the town paid per number of residents, but since the advent of in-house showers and washing machines, now everyone who buys a house there has to have a water meter installed.) Not only that, but the men from the water company assured me that there would be no legal issue with breaking up the "piazzetta" in front of my house to access the "saracenesca" and enlarge the hole it was in to accommodate the meter. Well, guess what? After my friend had the work done (in my absence), a woman who lives on the piazzetta complained and threatened to sue because I shouldn't have had the work done without the permission of all the other homeowners on the piazzetta. Fortunately my friend is Italian and I'm sure screamed and yelled volubly and made her own opinion known. And fortunately before the woman could take the matter further, she died. (RIP.) But I can't help thinking that other similar pitfalls could lie ahead and end up costing me a lot of money. Whereas an Italian might me able to talk him- or herself out of it, I cannot. One of the people who has expressed an interest in buying the house is actually the guy who did the masonry work. Good for him; he can get the parts cheaper than I could and can do the renovation himself. Makes much more sense for him, or indeed anybody else local, to do it than for me to attempt it.

Another thing is that even though, as I say, my Italian is quite good, there are a lot of technical terms I don't know. For example, I didn't know that a saracenesca was not only a wooden roller blind but also a water cut-off. Or that a telaio was not only a loom but a window frame. So suddenly in the middle of a discussion I would be asking myself "Huh?" while the other parties involved were chattering blithely along.

As far as asking for a discount is concerned, I was told what to pay and I paid it. I just assumed that it was one of those things that is more expensive in Italy than in the US. I had no native-language spouse or in-law advocating for me, and although my friend is my friend, she did not know any better, either. She got a discount for paying cash, but as I said, I didn't want to do that. I am neither a permanent resident nor a citizen and didn't want to risk being banned from Italy if it were found out! When my sister and I sold my parents' house in the United States, the realtor's fee was fixed at 6 percent, and that was it, no discussion.

Your story about the little bird has the "Awwww" factor in spades! :-)

Have a good evening!
Cheers,
Lynn :-)
HenryGiovanni
Hi Lynn,
I completely get that business where one gets stuck on a word while the conversation continues; one gets lost pretty fast. That's me.

I am very fortunate to have an in-law who is also a geometra. His help has been inestimable, and I am not blind to my good fortune. My wife, though Itailan, was in the States for 30 years, most of that married to me in San Diego. Things change over 30 years. Sometimes she gets a surprise about how things work over here. For me, everything is a surprise.

I used to make things for a living. "Industrial Sculptor" is a high-falutin' term that covers it all while hiding the fact that it really means managing the business end of a table saw (and other tools). I started law school at 40 and bought a house with student loans. After the Bar, I made a living sitting in a chair all week, and often nights and weekends. Whenever I could, I got out of the chair and worked on the house or yard. Time and Money never seemed to come together in that life, so I did the work myself when the work/income temporarily slacked off.

That means little here; the method of construction is completely different. No bricks in earthquake-prone CA; it was all stud-and-drywall. Here, the opposite. The hardest thing to accept was the lack of windows on North-facing walls. My CA house had windows right 'round the place, with at least one always open. This condo at least has windows, even to the North, but the East and South walls are common or don't touch our condo, so no windows on those walls.

Home Depot was my "hang-out" while doing housework. Here, I go to EuroBrico (expensive, but close; no car, remember) and wander the aisles looking at products that are "almost similar" and checking prices. I have no idea what tradesmen make here. Yet. I'm sure to find out, because the wiring is not properly color-coded and the plumbing fixtures are so out-dated that I can't find replacements, even if I could free the frozen valves without breaking them. Also, I lived in a house; walk out and turn off the water. In this apartment, I'm not yet sure whose water I would be turning off!! Likely to upset a neighbor or two. There is much to learn.

So maybe getting rid of the ruderi is a good idea. Sometimes it's best to just cut the losses and move on. Sounds like that's what you intend to do. Sell to the first buyer who offers anywhere near "value"; this condo was on the market a year ago when my wife came to check the market. It came off for a bit, and we put in an offer two days after it got re-listed. We saw one house that had been empty for 11 years! I don't want to pay taxes on an empty house, not even for one year.

Family brought up the discounts; I would have paid because I'm not sure how to ask in Italian, so I understand the limitations of what I advise.

And the little bird? His mom's hanging around. I went out to check about an hour ago, and put some large leaves over him. The thunderstorm started shortly afterwards. He's doing fine, but had us really worried this morning. I'm glad his story is bringing some joy to you and others. As it has for us, I will add. There's always a special place in my heart for birds.
Cheers, John.
Cosmopolitan
Hi John, just wanted to let you know that I thoroughly enjoy your writing. I'm not reading it because I am in the market for the valuable information you so tirelessly share on all things related to your and your 4-legged ones' move, purchasing accommodation, fixing stuff, getting settled in after 'a life lived', the latter of which you so interestingly describe. Writing well has always been close to my heart, sadly, the art of writing is becoming an increasingly lost art in today's world of instant messaging. Being an animal lover myself, I much appreciate your thoughtfulness. I wish you well.
almare2
John, I agree with lavoiee, your writing style is excellent and very pleasurable to read. And I should know, as I'm a book editor by profession!
almare2
John, I'm not sure that you can even turn off the water yourself. I had to have the water company come and do it with a special wrench. Also, any major work done on the plumbing (as putting in a water meter) has to be certified by a plumber (another expense).
HenryGiovanni
Hi Lavoiee,
Thanks! I was always afraid of writing until I became a lawyer. Writing comes with the job, and writing (I and II) was one of the required courses. I once wrote a 58-page Petition (called a Complaint in non-probate courts), with all my facts nailed down with proofs in the attached Exhibits section (more pages!). I knew the other attorney would file a Demurrer (generally, "I can't understand what this is all about and it needs to be whittled down"). I knew he would do so because I filed a Verified Petition, meaning it had truths in it that he either had to accept or deny (Perjury comes to mind here), and a Demurrer was the only option I purposely left open to him. So I "whittled it down" by omitting a cause of action or two that I didn't need, and strengthening the other causes of action with more proofs. End result: now it was about 13 pages longer! They settled before having to file a Response that could only hurt them more.

A long time ago I wrote several chapter updates for Westlaw, but I've probably been updated out of existence on their site.

I wrote and published two books on amazon.com (also amazon.it) under the pen name Henry Giovanni; one is Italian History Through Italian Medals, from 2013, which I am in the process of updating and expanding for the third edition.

Writing can be fun, but you're right; nobody does it anymore. I like to read, and get lots of stylistic ideas. For a nice style, try Dante's Divine Comedy trilogy (Inferno, Purgatorio, and Paradiso), as translated by Lawrence Grant White (1948). Currently reading John Wain's "Samuel Johnson", a well-written 1975 book about a peerless writer and thinker. One can do worse than reading Samuel Johnson, but life won't be better until you do. Also, "A Soldier of the Great War" by Mark Helprin is so well-written that I've read it half a dozen times just for the sheer joy of the words on paper.

So thanks for the kind words! And pick up your pen! : )

The animals are family. One cat will be 20 in two weeks; the others will be 3 yrs old. We celebrate their birthdays on the same day, May 16; even though I forget the oldest one's actual birth date, it was in mid-May, 1997, so we lump her in with the others on their birthday. I could never have left them behind, as was often suggested back before we moved. Glad I didn't; they each bring their own joy into my world, which would only be the poorer for their absence.
Cheers, and thanks again! John.
HenryGiovanni
Hi Lynn,
Keep it up and I'll begin to feel so important I'll no longer feel the need to write! : )

But thanks. See my response to Lavoiee for my book on amazon. I like to write: as they say about lawyers: never say in three words what can be said in a thousand!.

As for the plumbing, I have this feeling in the pit of my stomach telling me my circle of friends will soon expand to include plumbers and electricians, on a first-name basis! I'm used to doing everything myself, but can already see that it's not all going to go my way here. Alas. We cross bridges when we get to them, not before.
Cheers, John.
maluza86
In response to Almare2's question about realtor fees....before we purchased our condo from a contractor/geometra we were using a real estate agent and were about to sign a contract on a house that fell through (long story for another post on "what not to do when buying a house in Italy") , anyway the standard rate was/is 6% split between the buyer and seller. Sorry, but 17% is ridiculous...unless there were other fees in there you were not aware of? If not there is a formal process to file a "denuncia" against them.
almare2
maluza86, Thanks for the info. That percentage was what I had read online after the fact, so it's good to have it verified. Unfortunately, I think it's probably a little too late to file a denuncia, as I bought the house almost two years ago. And it would be hard to do long distance. Oh well. BTW, I don't think there were any special fees involved; I paid all those (taxes and fees) through the notaio. I thought it might have had to do with sone kind of minimum seeing that the house was so inexpensive. But considering how little the agent did for his money, I now think it was a simple rip-off. (Gnashes teeth.) Live and learn.
HenryGiovanni
Responding to my own post in order to address an issue that has arisen:

This post will not apply to most who have followed my posts.

I received an "invitation" to join a network on this site.

I'm with Groucho on those: never join one that would have me as a member.

This site has been a great benefit to me, and I appreciate all of the advice, stories, experiences, and etc., that has been freely given. In return, I am happy to provide any assistance within my ability to give, limited by my own experience, of course, but prefer to not join networks.

I can be reached through this site or via PM, and will endeavor to attempt to try to produce a response in a timely manner(!).
Cheers, John.
HenryGiovanni
Hi All,
Replying to my own post with a new question:

I received my permesso yesterday and have an apptmt on Monday for the Residenza. I went through the process with my wife, so it's not new, But it's possible that I might return for a vacation to see my kids here in about two weeks. I have a ticket that I was going to throw away, but may use it instead.

My question: can I return to Italia with just my permesso? Or do I need to have the residenza?

I was going to ask those questions yesterday, but was so glad to get my docs I completely forgot until I was already gone. Nuts.

Any help is much appreciated.

I'll get the whole story out once I have the rest of the docs, but thank those who advised "patience" during the process. I don't know if it was former president Martin Van Bureau
( : I) who created bureaucracies, but they all seem to work at the exact same speed: dead slow. One visibly ages while waiting. On one trip to the DMV the lady changed my hair color on my new license from brown to gray! She might have asked first!

Cheers, John.
HenryGiovanni
I Was There At Getting Legal Docs; The Rest of the Story.

When I was quite young, there was a series of books titled "I Was There At . . . [ie-the Alamo, Pearl Harbor, the signing of the Declaration of Independence, and etc.]". I probably read the entire series when I was at the proper age of fourth grade. "The Rest of the Story" was a radio series by Paul Harvey in the '80s(? '90s?) that followed up on a news story that somehow dropped out of the public interest, or at least out of the newspapers. Both seemed appropriate for this move to Italy, so I "re-purposed" their titles.

I expect this is my last post for this thread. It's been a year now, and we are established, if not settled. I promised to document the process of becoming legal, and that threat is now fulfilled with this post. Common to the other "I Was There" posts is length; it's long. Last chance to exit while the doors remain open.

We arrived on Dec 18, 2017. I was down at the Questura immigration office on Dec 27, but it was closed for the next week. I returned on Jan 2 to an office with probably 100 people milling around and no discernible sense of organization. The woman in charge didn't seem to like her job much because she was rather impatient with the people. On her side, the people she was talking to kept insisting that whatever it was they needed had to be done right away.

Everyone had a numbered ticket (if the woman in charge gave them one! This didn't always happen.) and there was an electronic board keeping track of things. I asked a woman who was waiting where she got her ticket. She pointed to a punch-button machine behind the lady in charge, so I wandered over into enemy territory and was promptly repulsed and driven back to the front side of the desk. Not a good way to start my immigration process.

When I finally made my way to the "speaker's spot" in front of the woman, I tried to explain what I wanted, and was very polite. I think she forgave me, but she wouldn't give me a ticket, instead directing me to the local comune.

I went to the comune. The declared time for appointments was Thursdays from 10:00-Noon. It was not a Thursday. I came back on Thursday, January 4, at 10:00 and was directed to a room upstairs. Some other people sitting outside the un-numbered door caused me to believe this was the place, and indeed, it was. When my turn came, the woman inside looked at my passport and, probably, a few other papers I had on hand, asked some questions, then gave me an appointment for Feb 26, almost two months out. Her computer wasn't working, but I gave her my cell number and she texted the apptmt info to me a day or two later. Some weeks after that I went down, on a Thursday, to pick up my paper appointment. Her computer wasn't working again, but she had printed things up in the meantime and my official appointment paper was in a manila file in front of her on the desk. She remembered me (not a lot of Americans coming through Selvazzano Dentro) and I was out the door, paper-in-hand, within a few minutes.

The Questura immigration office appeared unchanged on Feb 26. The main difference was that the computers were down, so we waited for about an hour and then asked if we could come back a different day. They hand-noted a new appointment time for me on Feb 28 and we left. We returned on Feb 28 to the same level of organization in evidence on previous visits. I will say this for the immigration office; somehow it all works out and things do get done.

My wife had accompanied me on this trip, and we stood, or sat when chairs became available, for about three hours before my number was called. The woman official, in the uniform of the police (or so it appeared to me), was pleasant, polite, and all business. She took my package of docs (passport, Marriage Cert from the Padova comune, apptmt letter, and etc), reviewed them, asked questions, created a paper file, giving me a receipt to keep in my wallet as proof that I was going through the process of legalization, and, finally, gave me a list of docs that were still needed.

I will say that the woman at the comune gave me a list of docs, but without much in the way of explanation. I always ask questions, but sometimes one question gets lost amongst the others. Or maybe it's the answer that gets lost? There is a document called an "Ospitalita".
It is worth remembering that we stayed in a B&B for three months while looking for a house. We were still at the B&B on Feb 28 when I was at the Questura talking to the policewoman. My wife claimed residence with her brother right away, and went through the routine of the vigili visit and getting the proper Residenza docs and etc. Because the trash pick-up fee is calculated based on number of persons in the house, her brother had to pay some extra, which I then paid to him.

But for me there was no such option. This is where the Ospitalita comes in. The Ospitalita is a document saying that I am a guest of Franco, visiting, but not living, at his house for purposes that would require Residenza and increased trash tax. There is no vigili visit; it's nothing more than a signed declaration, really. The policewoman told me I needed one. I had ignored it, not knowing what it was or how to get one, and it wasn't checked on my list of docs from the comune. The policewoman checked it for me and sent me on my way with a notation to return within 30 days after calling for an apptmt.

I went to the comune, got a Ospitalita form, then walked across the street to the Polizia Locale (who do the vigili visits), for info. Franco filled out his portion of the form the same day, we took it to the comune two days later, where it was stamped, folded, and spindled.

Back to the Questura immigration office on Mar 30, where time stood still. This was Scene I, Take III or IV. There was always around 100 people in that office; it always looked disorganized. It took another two hours or so of waiting. By now we had purchased the condo, so I wasn't sure whether or not the Ospitalita was still required, but I went armed with photocopies of everything, including the Compravendita purchase agreement for the condo. The policewoman started to leave to make copies when I told her those were hers to keep; she seemed quite grateful. I've noticed that the copy machines in govt offices are often located some distance from where they are truly needed (in my opinion), and are also rather slow. Or maybe there is a long code to input each time, or who knows what. She was glad to sit back down and continue. My wife was with me, just in case the Italian obstacles were greater than my Italian abilities, and everything went smoothly. Docs were traded back and forth, probably something was signed, or maybe two somethings. The policewoman disappeared for awhile: I think she went to get my application approved by her superiors, because when she returned I was informed that all was in order, the Permesso was approved, and that I could pick it up in "about a month". A younger policewoman who spoke English like I speak Italian wrote down the immigration website and told me to input the secret code for my application in order to check the status. This I ignored for a week or two before checking every day, sometimes twice daily. "About a month" passed with no result. "About a month" can certainly include time that is "more than a month", so I gave it another five days or so. Still no word. I had just decided to give them a call the next business day when my online results changed. I was directed to wait for a text message about an appointment to come down and pick it up. Because I am probably going to return to see my kids in a week or so, I ignored the advice and we went down to the Questura the next morning, where the lady managing the crowd with her usual temper took my printed notice of completion and directed me to another crowd, in the same room, outside of a door that remained closed. I was to give my passport to someone inside and receive my permesso.

We spoke to some of the people there. I am incompetent to detect differences in Italian accents so as to ascertain with some degree of accuracy the origin of the speaker. My wife does this far better than I. A woman speaking what seemed to me to be flawless Italian caused me to wonder why she was even in the immigration line for a renewal of her permesso di soggiorno. My wife told me she was from Romania, probably. Lots of Romanians here in Padova. Their Italian is usually better than mine. Everyone's Italian is usually better than mine.

The door remained closed. Whenever any official ventured life and limb in the crowd outside, there were pleas for assistance followed by a wave of the hand, indicating one must wait some more. Finally, the woman in charge, the one with attitude, came by and collected a stack of passports, mine included. From here, things moved quickly. I was called right away (ie-within about 15 minutes) and received my Permesso di Soggiorno after the usual trade-off of docs and signatures.

My Permesso is good for 4 years. I thought that the limit used to be 2 years, and had been reduced to 1 year, before renewal is required. A 4-year doc is fine by me!

Next we called the comune for an apptmt. The are always a 9:00 AM, and the bus schedule is not friends with the appointment schedule. We had to run for the bus, but made it, and were at the comune on the appropriate day, Permesso-in-hand along with the by-now-familiar stack of my own docs in the used US Mail Priority envelope. The Residenza app took us about 30 minutes to get through. I am amazed that the Italians still seem to rely heavily on paper, as opposed to computer inputs. And the woman behind the glass had an assortment of stamps fit to bring shame to any accountant. Every paper is stamped, then signed over the stamp, before being hand-stapled. The want of technology reminds me that business opportunities abound for the observant and energetic capitalist. We were given another paper instructing us on where to call so I could pay more for the trash now that there were two "Residenze" in our condo. Not sure about this whole thing, because I've been living in this condo since March 18, but feel like Rod Serling at the beginning of Twilight Zone, where he walks freely into the scene but isn't seen, or heard, by the actors. That's me; here, but not here, in the condo.

So, Residenza-in-hand we walked across the street to the Polizia Locale/Vigili to ask them to please, please, hurry up with the home invasion because I was leaving for America. Another paper, with some handwritten instructions, duly stamped and signed (not by me, this time).

After leaving the Polizia Locale, we went directly to the local ULSS (healthcare) to register, per instructions from the comune. I had also changed my residence from Franco's hospitality to my own condo, and had a piece of paper to prove it. With stamps. And signatures.

The ULSS office was full, but they are remarkably more efficient than some other govt offices where misfortune required my attendance. Except for that copy machine bit; out in the waiting room (???), with secret codes, or maybe it had to be oiled first, or something, because it took far longer than the copier in my home office takes to manage exactly two copies. I had the usual photocopies, and had I known she was headed for certain electronic servitude we could each have saved the other some time, and maybe, for her, some frustration. Alas.

I had my ULSS certificate in short-order. The entire process, exclusive of waiting, took maybe 20 minutes before I walked out the door with more paper-in-hand.

We had asked for the vigili to come by between 6:00-8:00 PM. Last Friday, shortly after noon, an elderly woman with a gun came into our home and, while pretending to be checking to see if I lived there, actually spent a lot of time talking with my wife about herbal/holistic remedies for back pain, kids in other countries, cost of travel and how often each one does it, and all sorts of related topics. Sometimes I got a word in edgewise, but was mostly ignored. The package of docs remained on the table, unvisited and unloved. Only the passport and Permesso were needed.

The last thing to get is the Carte d'Identita. The woman with the gun instructed me to wait for about two weeks until they could process the report of her home visit, then call and start that process rolling. It took the comune "about a month" to get my wife's new plastic identity card to her in the mail, so I presume it will be after I return from the states before I get mine. And that will be the end of it, for 4 years. The comune made my Residenza match the Permesso, so both are 4 years out. A lot can happen in 4 years, so I'll cross that bridge when I get to it.

I've seen a lot of posts about the Italian bureaucracy and how bad it is here. On reflection, I see little difference between bureaucracy here and bureaucracy there (US). It is always an annoyance to submit to any govt actor, in my opinion, whether it be a traffic cop, the lady at the DMV who hasn't left that chair for 18 years, or the attendant at any govt parking lot. Looking at that statement gives me cause to notice that all three examples deal, one way or another, with automobiles. Anyway, it is the same for clerks and judges. Remember that if one doesn't ask a question, then the word "No" is not an appropriate response; take that govt option to decline your wants right out of their hands. Alas. They'll probably still say No anyway.

Back to bureaucracy here. I thank those on this site who advised patience. I know I'm out of my comfort zone here, and that tasks and things will take more than one visit to accomplish. Others are in charge, and, despite my admonition in the last paragraph, questions must be asked. Back home I had answers and knew how to get things done, but life was stifling. As Whidden39 said, and I paraphrase, the only thing to look forward to was leaving the house feet-first and horizontal. Life is what one makes of it, even, GASP!, at govt offices. There is little left in my life that is so very important that I must rush headlong to its completion in order to arrive home a half-hour earlier. If bureaucracy is so bad, learn to read and take a book where you go. Buy Il Mattino and practice your Italian. Patience takes one far; impatience will usually bring your matter to faster attention, but not the kind you seek. And despite the bureaucracy, the Italians, men and women alike, behind the glass windows, are invariably helpful and seem to want to personally resolve whatever problems you might bring before them (with, perhaps, the sole exception of the woman at the immigration office). It's fun to complain about, but, in fact, it just ain't that bad.

I think this brings an end to this thread of Moving to Italia. I thank those who gave advice and participated in the discussion along the way over this last year, and am ready to provide some measure of info to others, if I am able. As usual, ask any questions.
Cheers, John.
Sergios
I'm happy that you had such an easy time with the process. My experience was similar but with a few complications that eventually resulted in the transfer of the operative, after I went over her head and complained to the Dottore in charge. This proved incompetence exists even in italy. Thanks for posting this. I am in a doctor's waiting room waiting and waiting. Waits tend to be long here. Here is NYC.
Sergios
I'm happy that you had such an easy time with the process. My experience was similar but with a few complications that eventually resulted in the transfer of the operative, after I went over her head and complained to the Dottore in charge. This proved incompetence exists even in italy. Thanks for posting this. I am in a doctor's waiting room waiting and waiting. Waits tend to be long here. Here is NYC.
maluza86
John, if I could paste the WhatsApp clapping hands in here you'd get a whole row ;-) not only for the stories but for learning to "abbi pazienza" ... which I had to learn as well and continue to work on regularly:-)

Congratulazione!!
maluza86
I'd like to also add that my 5-year permesso di Soggiorno expires next January. I'll post on the renewal process and will hopefully be getting the indefinite or permanent PdiS...we'll see...MTF.
HenryGiovanni
Hi Sergios,
The only easy part was the documentation. And yes, I even had to laugh out loud sometimes at the circular logic one encounters in every bureaucracy. But I was patient, fully aware that throwing tantrums gets me nothing but an invitation to leave. The local DMV office even had a sign telling people not to talk too loudly at/to the employees.

But patience paid off. And no, it wasn't bad at all; only long. Doesn't matter. Everyone I met was nice, and patient in return, which was much appreciated as I tried to articulate my thoughts in a language I don't yet command.

I hope the NYC
HenryGiovanni
Hi Sergios,
Hit the wrong button and the post went off early. Nuts.

I hope the NYC doctor is patient for you as well, after the long wait. Good luck!
Cheers, John.
HenryGiovanni
Hi Sergios,
Hit the wrong button and the post went off early. Nuts.

I hope the NYC doctor is patient for you as well, after the long wait. Good luck!
Cheers, John.
HenryGiovanni
Hi Maluza86,
I lost the wisdom of my youth but gained patience into the bargain. Not sure when it happened, but had to have been recently.

Glad to hear someone is a) reading the stories, and b) enjoying them! No fiction in there; just the facts, with maybe just a bit of embellishment.

And, in response to your newer post, I appear to be wrong on that Permesso period. Maybe I got it from the post about the office in Firenze, maybe elsewhere. I thought the expiration period was in flux. I was truly expecting to have to do this again next year, and was pleasantly surprised when my wife pointed out that I was good for 4 years, or, as she put it, "Now I can't get rid of you for at least 4 more years." Said with a smile as we celebrated the Permesso with lunch outdoors at the Piazza dei Frutti in Padova. Life could be worse, but it's not.
Cheers, John.
HenryGiovanni
Hi Maluza86,
I lost the wisdom of my youth but gained patience into the bargain. Not sure when it happened, but had to have been recently.

Glad to hear someone is a) reading the stories, and b) enjoying them! No fiction in there; just the facts, with maybe just a bit of embellishment.

And, in response to your newer post, I appear to be wrong on that Permesso period. Maybe I got it from the post about the office in Firenze, maybe elsewhere. I thought the expiration period was in flux. I was truly expecting to have to do this again next year, and was pleasantly surprised when my wife pointed out that I was good for 4 years, or, as she put it, "Now I can't get rid of you for at least 4 more years." Said with a smile as we celebrated the Permesso with lunch outdoors at the Piazza dei Frutti in Padova. Life could be worse, but it's not.
Cheers, John.
Grintosa
Thank you, John, for your very helpful posts about your moving experience (no pun intended). I am moving this fall from Northern California to the Veneto. I would like to avoid some of the headache that you experienced with customs. You mentioned that the LA consulate gave you incorrect advice regarding the necessary paperwork to get your personal goods cleared. I think you said that they incorrectly told you that there was no need for them to provide you any paperwork or something to that effect. If you could do it over again, is there any form or documents that you would have taken with you to the consulate to convince the staff there that you need to have them process your paperwork before you ship your goods over? Anything that you would ask them to sign or to provide you? I am afraid that I will have to actually have something in hand from the dogana at Mestre to prove to the SF consulate that I need them to either provide me something or even just sign a form that I bring with me to the consulate before I ship my goods? Any advice on this would be greatly appreciated.
HenryGiovanni
Hi Grintosa,
Glad to be of help. I spoke with a Mr. Ierace at the consulate in LA. He is the guy who stamped my inventory and got it to me via e-mail.

Here is what I suggest. Go to the consulate (or deal with them long-distance, however it works out) and ask for Mr. Ierace to provide the necessary consular declaration and stamped inventory list (prepared by you). He will send you an e-mail attachment version, which is not sufficient here. Ask him to send you the originals, in addition, via snail-mail, or provide a courier (better, as long as it's not "next-day-air").

You will have time, Shipping takes about 6 weeks. Once you have the originals, arrange to get them to the customs broker on this end, also in original form. It goes without saying that whenever one deals with any govt agency one keeps a complete and identical copy of whatever one sends.

As for forms, the only form you need is your shipping inventory. Number your boxes, then record the number and the contents, generally. One doesn't need to count forks and spoons; I used the term "kithenware" liberally. Your inventory need not be itemized (meaning every item is noted), but can be in rather more general terms. I would avoid the term "stuff", although I did use "Henry Personal Items} in its place. Mark clothes and books (the easy part), framed art, "kitchenware" and big items. When it gets down to the little things we all have, that's where "personal items" comes in. Bathroom stuff is marked "Bathroom Items".

For the list, use any form your shipper gives you, or make your own. Each page of the inventory must have the following:
Consignee Name (yours)
Consignee Address of origin
Destination Address
Destination Phone
"Page 1 of x" at the bottom
Your name, printed and signature, plus date at the bottom

So make your list, by numbered box, and e-mail it to Mr. Ierace. Then get the e-mail version in return, along with the original. Send the original to your shipper/customs broker (as your shipper tells you to do).

You need nothing from customs here, no demand, no letter, nothing. If a problem arises, just tell them that your shipper is demanding it. Lay the blame elsewhere and move forward.

Where in Veneto are you moving? As you know from the posts, I am outside Padova. We didn't have a Destination Address and so put things in storage what turned out to be a month. Not bad, and at a good rate.

On this end, you will need to be present when the container is unlocked. Check the numbers before they unlock it, just to be sure.

When the container arrives, record the number outside for your records, then enter the container, have the doors closed, and check for light leaks, which are also water leaks and vermin leaks. Reject it unless totally dark inside. Make sure you record the lock numbers when they are installed. Take pics of the process. Be present. Make sure the light boxes marked "Fragile" are not at the bottom of the stack. And etc.

One last note: Mr. Ierace had some medical issues scheduled and some time was lost because I didn't know he would not be in the office. I would casually ask if there was anything that would delay your paperwork, and if so, then who would pick up the slack on their end, who you would be dealing with instead. Mr. Ierace was never anything other than nice to me, but some of the others were nothing less than rude. Be patient.

I say nothing here about how you are coming (ie-what visa) or the cost thereof. But another staff member there tried to tell me, at the very last moment, that I needed a visa. I told her I married the Italian visa 25 (at that time) years ago and I didn't need a paper version. She argued; I stood my ground. She went back-office to check, and returned saying that I was correct; no paper visa needed. Be prepared.

Good luck with the move. Ask any questions. Cheers, John.
HenryGiovanni
Hi Grintosa,
I should clarify that checking the container for light and water leaks is when it arrives at your house for initial loading. Too late once arrives here.

I would also note that if you choose to get your inventory originals via courier, then it will be up to you to get the courier envelopes to the consulate. They don't do credit cards, as I recall. Make your own arrangements with a courier company (UPS, FedEx, etc.).
Cheers, John.
HenryGiovanni
Hi Grintosa,
Another clarification, if I may. We did the self-pack/self-load option. You may choose to do the "Pay-to-pack/Pay-to-Load" option. I'll just call it what it looks like. In the end, I wound up paying for help to pack and paying for help to load. Nuts. I forgot that I am no longer quite the Superman of my youth.

But, and this is the important part: I did the box numbering and created the inventory list myself. I forget the program, but whatever the shipper sent it was in two formats, probably Word and PDF. I used the easiest one that produced results, which was Word, and which is anything but easy if one has ever used WordPerfect, a far superior program.

Here's the clarification: whatever route you choose, we submitted our list only after the container had gone, with our goods inside. Indeed, I created the list from my notes later that day, then submitted it via e-mail ASAP. I remember scrambling to get the numbering and interior inventory done. It didn't work. When the boxes came, some numbered boxes were inside of other numbered boxes, some were missing on the list, having been changed at the last minute. I deleted five boxes of motorcycle parts that stayed behind with the bike. As a note: this is what a "detailed inventory" looks like in the end!!

Doesn't matter. There is still plenty of time to get the inventory list to the consulate, so don't get all worked up on this point.

My suggestion: if you will be at the consulate prior to the arrival of the container at your house (as I was at the consulate earlier than container arrival), then just talk to Mr. Ierace (or whoever) and let them know your plans, expected timetables, when you might submit the inventory, "can it be done via e-mail?" (ours was), and the turn-around time for you to receive the signed, stamped, folded, stapled, and spindled Consular Dec with your inventory duly signed and stamped.

That last paragraph won't apply if you are one of those who is so organized that you are already packed and waiting for the container. If so, then take the original of the signed and dated list with you to the consulate. Such organization is only something I can aspire to, even after all these years and all those moves.

It seems to me that if everyone is on the same page, more or less, then things get done on time, more or less. In our case, everyone, meaning me, wasn't on the same page. Well, there is that consular advice that was out there! Damn the torpedoes, full speed ahead!

Ask any questions.
Cheers, and good luck,
John.
Grintosa
Hi John,
Thank you so much for your truly thorough and helpful advice. You have no doubt saved me a lot of potential headache and heartburn —not to mention the also avoided wasted time and money. I really appreciate it. I am moving to Vicenza. (I have no affiliation with the base.) Fortunately, I will have plenty of time to arrange shipping etc. But as your experience show, even with great planning, the potential for hiccups is always there. I just hope that I can find the right "Mr. Ierace" at the SF consulate. Wish me luck! I have Italian citizenship so I don't have to worry about getting a visa. I hope that you have found Padova to your liking. I look forward to getting better acquainted with the Veneto soon.
Best.
maluza86
I don't mean to muddy the waters here, but I think the whole getting the inventory to the consulate thing depends on how you are moving over...either as an Italian citizen (or acquiring Italian citizenship) or as an American on an elective residency visa.

I'll be the first to say we probably did not follow all the rules correctly, mainly from lack of research and my wife being Italian. We hired a moving company to pack up our household goods and ship the containers for us. They took care of all the customs forms and issues when they arose. I maintained a copy of all the household goods inventory and nothing was sent through the Italian consulate or translated. We did not have any major issues.
According to the US Embassy Italy website:
"Household goods may be imported duty free within six months of receiving the certificate of residence from the Anagrafe. An experienced and reliable shipping agent can simplify customs-free importation of household effects." That's the info we went on and that's exactly what we did as we used my name for the move. I did not require a visa as I am married to an Italian. However, if my wife, as, an Italian, was repatriating back to Italy she could declare all her goods exempt from customs and duties, but would have needed to submit the inventories to the consulate as John states. I hope this helps.
HenryGiovanni
Hi Maluza86,
Always good to hear your version of events; they have helped me much.

We fell into that last category of repatriation (my wife had been stateside for ~30 years), and the Consular Dec was demanded. I was told on this end (Italia) that it was required; on that sole basis, I provided it. That demand may have been only as accurate as the statement from the consulate that it wasn't needed at all. Seemed to me the Consulate was handing out bad info like candy on Halloween at that time. Don't know why. Can't say anything about the rest of your post, except that I was sure to put my Italian wife's name on the Consignee listing along with my name, just in case.

I, too, went ahead with only 80% (50%? Less?) of the knowledge required. : ) Those torpedoes keep coming, directly at me!

"Nothing will ever be accomplished if all obstacles must first be overcome." Samuel Johnson (b. 1709).

To Grintosa, I hope Maluza86 has clarified any points I obscured.

Cheers, John.
HenryGiovanni
Hi Grintosa,
Glad to help, where I may.

I only do planning; "great planning" is the province of others!

I [ mistakenly] presumed that you would be covered by the LA consulate. I, too, hope you find a "Mr. Ierace" in SF. Didn't know there was a consulate up there, but know the LA consulate covers a very wide area.

Padova is to my liking; small without being "too small". Weather is another matter that will take some getting used to: left humidity and mosquitos a long way back, and am only now being re-introduced to my old friends.

Best of luck in Vicenza. I hear it's pretty over there. Never been. Always passed through. One day I'll stop.

Cheers, and, again, good luck with the move and the change of life,
John.
Grintosa
Hi John,
Thank you once again for the generous and valuable insight. I have plenty of time to box things up. And, thankfully, I don't have a lot of stuff, so I will do all or most of it myself. All the same, what you just explained about the importance of packing, labeling, and creating a detailed inventory persuades me to get started sooner rather than later. It's probably too easy to think you don't have a lot until you actually have to pack and move it.. I am a bit concerned about getting a response from the consulate. I am afraid that unless I show up in person during the two hours a day they are open to the public, I won't get the proper clearance timely, if at all. Wish me luck.
I'll keep you posted. :-)
HenryGiovanni
Hi Grintosa,
Writing from CA; not here for good, just to see the kids. Took me 16 hrs to get from Padova to LAX; took another 9 hrs to go that last 100 miles to San Diego!!! Maluza86 is right; I may need more work on that "patience" thing. Another story for a different day, but I remember when travel used to be fun.

You are correct: the time to start is NOW, and you DO have too much stuff! : ) I am ever open to contrary proof; you tell me after it's all done-and-gone. Get to packing.

Re: the consulate: try to get a name and e-mail over the phone, if you can. Someone who can help you directly. We needed an appointment to "just show up" at their front door. The LA consulate has a weird thing that requires one to keep calling, over-and-over, ad nauseam. Make sure you do (if SF works like LA). I had no luck, (forever) and finally called the rude lady about the lack of available apptmts. She told me to keep trying. What do you know? An apptmt opened up the next call, and we took it. Someone Upstairs had plans that outweighed anything I could accomplish on my own.

Remember, the clearance is "required" (Maluza86 says his shipper managed it) on the Italian side, not on the US side. That clearance (your inventory list, duly signed and stamped) is for avoidance of Italian duty on household goods coming into Italy (as opposed to :out of the US"). The US doesn't care what you have to pay here in Italy, nor will they stoop so low as to bother themselves with your foreign tax concerns. Those problems, my friend, are yours and yours alone.

See my advice again RE: "detailed" shipping lists. And remember that ships can't yet teleport, so you have about 6 weeks between loading at home and unloading at "new home" (unless re-enacting the Berlin Airlift). Don't let your portion of that task fall by the wayside.

As usual, ask any questions.
And good luck. Seems to me the foremost job of any consulate is to annoy and "harass", but here they are just the same.

Cheers, John.
maradel
Hello John,
I know it's been a while since you posted in this topic, but I just came across it, and besides enjoying reading through the whole thing, I wanted to ask a question about getting my packing lists stamped by my consulate. I have less than a month before I'm moving to Italy, and I hadn't heard anything about needing to get the consulate involved in signing off on my stuff. Sigh... I'm a dual citizen.

I'm bringing a max of 10 small boxes (<20 cu ft) of stuff, so not a big deal, and I actually still haven't decided how to get my boxes there. UPackWeShip has a 50 cu ft "container" for around $1500 and it goes by sea, so I wouldn't have to deal with the stuff for about 8 wks and they have customs forms, etc. Or I could ship them air freight for around $100/box, but I don't know what I have to do to get them through customs that way.

Anyway, my question is do I need to get my packing lists stamped by my consulate (Chicago)? I'm really starting to think Sergios' 2 suitcase move is the best way to go at this point!!

By the way, you really should write a book! You have a knack for telling a story in an entertaining way!
HenryGiovanni
Hi maradel,
My wife is a dual citizen; I am not. We still needed an inventory list that had been stamped by the consulate in order to get our household goods past customs over here. I can't speak for getting the items out of the US, but the original of that list, duly signed and stamped, was required here. The LA consulate managed it via e-mail, but I would start now. Our contact was "out of the office" for a considerable time, and nobody told us we needed the original. We needed the original. Do the business via e-mail if you can, then have the original mailed to you while in the US, which will cost far less. We had to pay something like USD $75 to get it mailed (FedEx, if I recall, or similar) here at the last moment. Be sure to bring it with you (ie- don't pack it in your stuff!).

It will look like this: your inventory, with page numbers and each page signed at the bottom, with a cover letter from the consulate saying they looked it over or did something. It will be all stapled together. Keep it that way.

We had to list items in each box, but a general description worked (ie- "kitchenware" instead of "4 pots, 3 lids, 2 plates, 1 cup . . .").

Check with the shipping company you intend to use; some places do this for you. We packed the stuff ourselves, and it was a learn-by-doing exercise.

Thanks for the compliment. I did try to make the posts at least enjoyable, if only because they were so long. I'll probably continue writing after I "settle down" and get this house in order. New kitchen arrives next week, so lots to do removing the old one and patching-and-painting and etc. This is the last big job (he says). We've been here a year now, and are finally getting to the spot where most things are done or are such small jobs that they get kicked down the priority list. But we still have boxes hanging around! Big changes take time. 2018 was a year of work. I think 2019 will be the year that we can finally enjoy being here.

Good luck with your move. As usual, ask any questions; maybe I have an answer.

Cheers, John.
maradel
John,
Thanks for the information! I looked again on the Chicago consulate's website and could not find any mention of this! There's just a form that I downloaded that basically says (in Italian) something like "This stuff is just my old crap" then I sign and date it and hand it to customs officials. I'm sure that will be effective, HAHAHA!

I'll try calling the consulate after New Year's Day. Hopefully they won't still be in vacanza.

I am really exhausted. It's hard to keep slogging through these details, and I know it's just the beginning. I'll get to Italy and new problems will start, sigh.

Good luck with your new kitchen! I spent the last 3 years fixing up my house (it was really a fixer-upper). I did a lot of the work myself, except the heavy stuff. I think I got that out of my system, though, and I hurt too much now to do that again. I do like working with ceramic tile, though.
HenryGiovanni
Hi maradel,
Keep looking, or make up your own list. See my post "Moving to Italia". Look at dates around last April/May for "I Was There at the Container Arrival" or similar. It's a long post, and should have all the info you need to create your own list. There are certain reqs that I now forget, but it needs the name of the consignor (you) and the consignee (shipping co), plus addresses, phones, etc.. It needs a numbered list corresponding to the numbers on the boxes, with a description (general description worked for us), and each sheet must be numbered at the bottom with "Page 1 of x" style numbering, and each sheet must be signed and dated.

The LA consulate had no idea it was required, but agreed to do it "as a favor". It was required, but only by the customs here. I guess they don't talk to each other.

Start the process now. Don't wait. Vacanzas and all that. We were able to submit the list via e-mail and get an e-mail copy, which is great for records but worth little else, and is no good for customs. Be sure to have them send the original to you, but know that you will have to give them a pre-posted, pre-addressed envelope. Because I had problems with the USPS delivering my bike title in time (in fact, they didn't), I suggest paying a little extra and using UPS or FedEx.

You can make up your own form on WORD or WordPerfect or even EXCEL, or whatever you use, then save it in PDF, and attach it to your e-mail AFTER signing and dating, which means you will need a scanner at some point, or at least a Mail Boxes Etc, or similar, nearby. Come to think of it, you could probably use your phone camera, but I find opening those attachments problematic, and suggest that only as a last alternative.

Good luck with the move! And ask any questions.
Cheers, John.
HenryGiovanni
Hi maradel,
I forgot to read the rest of your post. I spent 20 years fixing up our house, but in the end, it was just a house. Now I'm fixing up this condo.

As for being exhausted by details: make a list, breaking all jobs into smaller jobs, with check-boxes. You will be surprised at how much better you feel after seeing some boxes checked off. Be sure to review that list each night, because new things come up. I do a hand-written list on yellow pad-paper for that very purpose. Only takes a few minutes each time, but makes things so much easier to manage. And, and this is big, you can see the progress!

Each day get up, look at your list, and decide what you can check off that day, then do it. Little jobs get done faster than big jobs.

As a note, our container arrived at the house after I'd already been last-minute-packing for 25 straight hours. Then I had to pack the container (colluding with a crew of Russians!). I think it was a 36-hr day before I was horizontal once more (on the floor, because the bed was packed).

Doesn't matter. Damn the torpedoes, full speed ahead. You'll get there.

Focus on your present problems. The new problems in Italy will wait for your presence here, so pay them no mind until you get here. And when they arise, then "Adapt, Improvise, Overcome".

Cheers, John.
maradel
John,
Thank you for the sanity check! I am a list maker, sometimes only in my head, but for some things, I need paper lists. I finally checked off a big one yesterday: I picked a mover and sent them money, so no more vascillating about how to get my 10 boxes there! Seems ridiculous to have had so much trouble deciding, but I finally said to myself "do you want to deal with this crap a week after you get there or 3 months after?" I chose the slow boat to Italy! Cost is about the same as air freight, because 20 cu ft costs as much as 50 in the shipping container. Now I have to resist filling all 50 cu ft! I will. I don't even want to take my 10 boxes.

I think it comes down to fatigue. It's really harder, in some ways, to get rid of stuff. I've owned 5 homes over 30+ yrs plus an RV that I lived in full time for about 3 yrs, plus rentals in between homes. I've moved 20x over 40 yrs (might be more), and I get rid of stuff each time. But then I accumulate things, too. I'm always astonished at how much is left that I have to move! Just rent a little bigger truck and throw it all in; it's easier.

Not happening this time. I don't have a permanent place to go to in Italia. I might never have a permanent place. I'm like one of those air plants that never grow roots but just keep blowing around with the wind.

And yet, there is always the last minute stuff, no matter how far ahead I plan. I know it will be the same this time. I'm just bracing myself for the stress.

I missed my window of time for calling the consulate today. Darn...
Three weeks till moving day!
maradel
Hi John,

Thanks again! I found your post on Moving to Italia..."I was there when the container arrived"! I will call the consulate TOMORROW!! Missed the window today. I have to send everything by FedEx, I guess. Time is racing by.

The shipping company does generate packing lists, but I don't like the way they do it. They make you choose a category of what's in each box (books or clothes or dog toys, etc). But my boxes have several different categories of things in each box. I have to call them, now, too. Geez I only have 10 boxes!!
There are templates online that I can use, too. Good thing I haven't gotten rid of my scanner or printer yet.

Wondering what to do about cell phone. I can add an international calling plan to one of my phones (I have 2 iphones, different carriers.) Should I wait to get to Italy and buy a SIM card there? I can buy one here that's a lot of money for only 5 Gb of data and good for a month. I'm wondering if I'm just worrying obsessively...)

MaryAnne
HenryGiovanni
Hi maradel,
Good for you! Damn those torpedoes! Move forward! Now is the time to get things done.

And, yes, it's absolutely amazing how much "stuff" one can accumulate in a short period of time, even between moves. Seems like every square inch wants to be occupied.

That said, some things are worth keeping, in my opinion. Family records, old photos (some of them, at least), and the odd items of sentimental attachment, all fall into that category. One doesn't want, for various reasons, to wipe history clean.
Some folks do, but that's not me. I am, now, who I was, once. One can try to deny that fact, but to what end? I suppose any such effort depends upon who one once was. But the facts remain where they always were. I choose to remember the past, always looking to the future (he says, idealistically, and without full conviction). Alas. One does what one can. Adapt, Improvise, Overcome.

Same goes for that "no place to be". We jumped, lacking any knowledge of where we might land. If one has faith in oneself, then the small problems (like "where I'll land") will take care of themselves.

Brace yourself; take things one step at a time. I've always found that if I put the right foot after the left, and then the left after the right, focusing on each step and not on what lies ahead of that step, then I, somehow, reach my goal. It's the small steps, like cutting those big jobs into little bits, that get you to the end of the line.

And, yes, make those lists on paper, every single night! This is what will get you through. Check off those boxes every day. You will be surprised at the difference it makes. Seems silly, I know, but it works. How is that? It does, nonetheless, so do it.

Make it happen as you dream. Damn those torpedoes!
Cheers, John.
maradel
Hi John,
Yes, some things are worth keeping! My packing list is going to look something like this: 1) piano books (going all the way back to grade school), 2) old stuffed animals :-) 3) dog toys and other dog essentials, 4) old photos, 5) veterinary school year books and memorabilia, 6) old children's books (one needs fairy tales sometimes), 7) Music CDs, hand tools (from my Dad), 8) pots & pans and other kitchen stuff (from my Mom), 9) old letters, postcards, other stuff from my Mom, 10) clothes (not too many). Oh yes, one more--the bike trailer for my dogs (because they love going for bike rides). Not taking the bike--who wouldn't want to buy a new bike in Italy??. Essential legal files are going in my suitcase (I've scanned most stuff to eliminate paper).

How the heck could I get rid of this stuff??

This is a physical journey...yes...but mostly it is a different kind of journey, one that will happen internally. I have to keep reminding myself of that while I'm immersed in the minutia of planning. I've been dodging torpedoes my whole life!! The kind with the homing device that's based on others' expectations of who I am! :-)

Mary Anne
HenryGiovanni
Hi MaryAnne,
I completely missed this post from you.

Cell phone: make sure yours is unblocked before you leave. Usually, if you are still paying for it then it's blocked. Pay it off and unblock it. Be advised that this process takes a bit of time, so make sure now. Then, when you arrive get an IT sim card with a plan. Vodafone had a "tourist" plan that was (I forget) maybe EU 30.mo (?). Not more than that. A US plan costs $30, so it's similar.

I'll send you a pm with a inventory form that I used. It has the name of the shipper at the top. A clever copy-machine user can figure out how to block that out with a piece of paper, then scan it anew. Or a clever user could just print shipper labels that cover the old shipper info. A really clever user would see if the name is changeable first, before going to any other trouble.

Good to know that very long post was useful. One wonders, sometimes.
Cheers, John.
HenryGiovanni
Hi MaryAnne,
I forgot; on that cell phone, Vodafone (and all IT phone companies, I was told) require a residenza and/or other docs, none of which I had.

I'd gotten "tourist" sim cards before, on earlier trips, so I reminded them. They remembered, and gave me one, which I then updated for three months or more until after we bought the condo and I had proper docs.

Go this route. You might like WIND better than Vodafone. I am less-than-impressed by Vodafone's service.

I forget where you "might" be landing, but if it's up near Padova, then do stop in.

Cheers, John.
almare2
You might also, to start off with, consider Lycamobile Italia, which has an "Italy RED" bundle including 30 GB of data, unlimited calling in Italy, and unlimited SMS in Italy, plus a certain amount of roaming within the EU. It's 17 euros a month. Depends, of course, on how much data you use. You can always add to the data if you run out. I'm going to switch because I'm fed up with TIM as I'm supposed to have a plan that charges me 18 euro cents a minute for a phone call, and the last time I made a 7-minute phone call in Italy it cost 1 euro a minute for a total of 7 euros, and nobody at the store or on the phone could tell me why, refund my money, or tell me if it would happen again. Enough of TIM! I've used Lycamobile in various European countries. It piggybacks on various local operators. Last July I did a Baltic cruise and used a Danish SIM card for data without problems in Germany, Estonia, Finland, and Sweden. If you want to call the United States, you can always go on Wi-Fi or your data plan and use KeepCalling or another VOIP service. KeepCalling is 1 cent a minute Italy to US cell phones or land lines, the connection is excellent, and you can assign a phone number to it so people can tell it's you when you call.
maradel
Thanks again, John! So many of these small hints that can make a big difference in total stress level. I have an apartment rented in Todi for the time I'll be enrolled in the language school there. I may have to stay for the rest of my life, or until my money runs out! Just when I start feeling like maybe I'll be able to speak Italian, I have a skype lesson and sit there mute as all my vocabulary disappears from my brain! I've never felt like such an idiot!

Thanks for the invitation! I've leased a car for 6 months so I'll be mobile, and Padova looks like an area I'll want to investigate! I'm pretty sure I'll want to live in the north, but how far north and whether east or west, I don't know yet. I'll be asking lots of questions about different places once I get to Italy.
glorirz
I'm sure you've probably heard this from others, but don't stress about your brain emptying out your vocabulary when asked to perform. I'm newly learning Italian, and my teachers all tell us to expect it. The recommendations I've been given, are to just open your mouth and speak. Mix English with Italian (sometimes my high school Spanish joins in too!). It gets easier. Talk to your pets in Italian!
Buono fortuna!
HenryGiovanni
Hi Maradel,
Like Gloriz says, don't sweat the small stuff. The Italians are happy that you are at least trying to speak their language, even with any faults (my Italian is "less-than-perfect", to put it nicely).

Many years ago, when I first learned a little bit of Italian (I'm reminded of my brother, who warned me that "a little bit of knowledge is a dangerous thing"), we were down in Firenze. It was blazing hot, so I stopped into this little hole-in-the-wall bar for a beer, and proudly told them, when trying to use my Italian in conversation, that "il mio marito e Italiano".

The response was both verbal and pantomime, if you can imagine that, I'd thought (that "little bit of knowledge" thing) that "marito" meant "spouse". My mis-perception was immediately corrected, at my personal expense. Didn't matter. They understood my intent, and were just having fun with me. I didn't let it hurt my feelings. In fact, we all laughed so hard it hurt! I think you can do better than that, at the very minimum, so don't worry about it. Just be able to laugh at your own mistakes, and at yourself for making them.

Note: It took me a long time to remember "moglie", for some reason, so in the interim I used "sposa", and steered clear of "marito"!

I am also reminded that all Italians want to speak to me in English, and since their English is no better than my Italian, we all wind up using a mish-mash of languages, along with some hand gestures, and even a drawing or two, and have a great time communicating. Just wade right in and never-mind the obstacles (I did!) and do your best.

It can be work, or it can be fun. Best to make it fun.

Cheers, John.
maradel
Hi Glorirz,
Thanks for the encouragement!

Performance anxiety is a bummer!! I can stand up in front of an auditorium full of scientists and give a talk on a complex research topic or give a physiology lecture to 100 medical students (all in english, of course), but I can't remember how to conjugate a common verb in Italian! What the heck!! :-)

I had French in grade school, latin in high school, German in college, and taught myself some Spanish about 5 yrs ago. Whenever I want an Italian word, all these other languages crowd in, especially German (darn those Germans!). It brings everything to a screeching halt as I try to shuffle my mental files, looking for my Italian file, which always seems to be misplaced somewhere. The problem is that I never had to try to actually speak in those other languages, it was all a mental exercise, devoid of embarrassment and humiliation.

It is actually a lot easier to talk to my dogs in Italian than to try to have a conversation in Italian with my teacher.
almare2
maradel, When I was first learning Italian, I found that a good exercise was to buy an Italian magazine, for example, Panorama or L'Espresso, and read articles out loud just to get my tongue and mouth used to the pronunciation. I suggest those two as they ate about current events, so you will know much of what they are talking about already, but also have articles on food, fashion, travel, etc., with the relevant vocabulary. Or you can go to the magazines' websites and print out articles. Books can be a problem as they often use the passato remoto verb tense, which you probably don't know yet. Magazines tend to be better edited and proofread than newspapers.
maradel
Almare2,
Thanks for the info about Lycamobile Italia! I didn't know about them. I'd heard mixed reviews about Vodafone, but I haven't spent a lot of time trying to figure out the best cell service. I figured anything would be better than paying international rates for AT&T. I do have Skype set up so I can make calls, but I still will need a data plan to use skype. I don't like to use public WiFi. I will have WiFi at my apartment in Todi but I don't know the details yet.
maradel
Almare2,
That's a great idea! I also have downloaded some beginner books in Italian into my Kindle, and I am working through the Pimsleur course in Italian that I download from Audible. It's actually a really good course--for its type--and I can do that while I'm walking my dogs.. My biggest problem right now is being overwhelmed with details del mio trasferimento in Italia e non avendo abbastanza tempo per lavorare sull'italiano! I will definitely check out the magazines, though, thanks!
maradel
John,
Great story about the "mishap" in the bar! I'm afraid I'll forget about stressing double consonants and end up saying something really rude!

I've also become more aware of how important casual small talk is in making people feel comfortable and in taking an edge off situations that are getting a little prickly. Also, how much I tend to use slang and idioms in these little verbal soundbites. I think to myself, how will I ever learn to do this in Italian?
rsetzer99
After lessons and lots of practice, I've discovered that unless I make several spectacular mistakes every day, I'm not using my Italian enough. :) It turned out that once people discovered we were taking lessons, everyone wanted to join in as friendly neighborhood italian teachers. One of the big difficulties is conversation speed. That takes longer than anything else it seems.
maradel
Spectacular mistakes! Oh boy, can't wait! I know it's coming for me, too.

Actually, I can't wait! I'm so tired of dealing with the details of getting there. I'd rather be dealing with the details of BEING there.

I've been working towards this for years! Until I had my passport in my hand, at the beginning of December, I had trouble believing it was actually going to happen. I guess I'm still holding my breath a bit. When I step off the plane in Rome, I'll finally exhale.
codybrandy
Best of Luck! May 2019 be exciting and happy for you!
maradel
Thank you everyone for your advice and encouragement! It's getting down to the wire here for me, so I may not have time to check the forum much until I'm in Italy...assuming that the US will be operational enough in another 2 weeks for air travel to take place. Air traffic controllers aren't getting paid, TSA personnel aren't getting paid. I decided that travel insurance is probably a justifiable expense for this trip.

The USDA veterinarian in Sacramento, CA (where I have to send the health forms for my dogs) says they are still working...so far.

The consulate in Chicago did confirm that they have to put their stamp on my packing list, so John, thank you again for that heads up!! There's nothing on their website that mentions this!

The shipper comes Friday. I packed the last box today. I'm having nightmares of my stuff disappearing to Italy while I'm stranded here waiting for politicians to pull their heads out of whatever dark place they have them stuck.

My carefully choreographed departure could easily come unraveled. I really needed more stress for this trip.
maluza86
Maradel,

Best of luck or as they say here: in bocca al lupo :-)

Don't stress over what you cannot control...it all works out in the end.

For a little "learning Italian" fopaux to hold you over, here's one of my many blunders that my friends got a huge kick out of....and I laughed quite hardily.

We were in Salzburg, Austria on a trip with some Italian friends and in search of some special chocolate attributed to Mozart. Seeing the candy in the window I figured I'd be funny and meant to say Ah, the candy handmade by Mozart...le caramelle fatte A mano da Mozart.....but what I said was Le caramelle "fatta LA mano" da Mozart...which doesn't quite make sense but in the context I said "Mozart did the hand on the candy" Use your imagination on that translation, ha ha ha ha. Everyone starting laughing and after I said Whaaaat??? to one of my friends that speaks English he explained what I said to at which point I joined in and died laughing in the middle of the street.

We did purchase the candy and it was fine ;-)

Never take yourself too seriously and look at it as a way to learn...plus provide some good entertainment. By mixing up a simple article I provided some good entertainment...kind of like the time I ordered little bombs at the bar instead of a donut...but that's for another day. I have many more I could share, in fact I thought about writing a blog LoL.
Sergios
I moved from Italy to France this fall. I used a luggage forwarding service based in the UK. They promised that my stuff would be picked up on the Friday before we left (we drove from Palermo to Brittany) and the stuff would be waiting for us when we got to our destination. They didn't come that Friday. Thinking they'd come the following Monday, the day after we left, I put all our stuff on the driveway and covered it with a tarp. I also raised it on blocks in case the predicted rain was heavy. They didn't come on Monday. They didn't come for two weeks. Two weeks that saw some of the heaviest rains ever in Sicily. They finally did come and we finally did get our stuff, some of it a bit damp but we got it after 3 weeks. Three weeks where we had to live with two changes of clothing. The moral is that anything may happen but eventually you will have clean underwear. Good luck.
whidden39
File this under: A little knowledge can be dangerous.
On one of my earlier vacation trips to Italy, I was staying at a very traditional hotel in the south. There was a knock at the door by a young woman with a large wicker basket filled with tantalizing fruit. With my crude knowledge of the Italian language and a limited appreciation for the attention necessary with words ending in vowels, I thought I had expressed my desire for a fig. I know NOW that fig is fico. But I ended with another vowel and that horrified my hostess and caused her to run from my door. I got no fruit whatsoever and I was perplexed as to what had just happened. Upon sharing this with my Italian friends the next day, they burst into convulsive laughter. Finally they told me that I wasn't asking the hostess for a fig but something highly personal and vulgar relating to the female anatomy. I was mortified!
maradel
That's hilarious! Please do a blog!!
maradel
Sergios,

I would like to have a plaque made: "Eventually I will have clean underwear"

HAHAHA!

Thanks!
maradel
Whidden39, Really someone needs to start collecting these gems and publish them!!

More encouragement to keep my mouth shut!

Even google translate on my iphone won't keep me safe. My Italian teacher told me that after the Thanksgiving holiday, some of her students reported that they ate (the country of) Turkey thanks to google translate!

Also, I have a small box of old stuffed animals that I'm moving. Since I have to translate my packing list to Italian for the consulate, I looked up "stuffed animals". Google's version was basically embalmed animals! I don't think I'd get through customs with a box of embalmed animals. :-)
codybrandy
We are all happy to hear you are safe and sound and have lots of clean undies. What is it about Monday-ish (3 weeks later) and Italians...oh well, all's well etc. Hope you love your new home! Buon Anno or Bonne annee!
Sergios
And socks too. I once told a waiter at the end of a meal "siamo finiti". (We are finished) He laughed out loud. He explained that it's "abbiamo finito" (we have finished). In English they may mean the same thing but in Italian siamo finiti means we are done for. France is beautiful, I'm gaining weight from the amazing food that is here. Not restaurant food but the products available at the numerous open air markets. We go to three different ones during the week. I'm still not tired of oysters and scallops. Thanks all for your well wishes. I post pictures on my FB page if anybody wants to see. Sergio A Smiriglio. Again thank you.
Sergios
And socks too. I once told a waiter at the end of a meal "siamo finiti". (We are finished) He laughed out loud. He explained that it's "abbiamo finito" (we have finished). In English they may mean the same thing but in Italian siamo finiti means we are done for. France is beautiful, I'm gaining weight from the amazing food that is here. Not restaurant food but the products available at the numerous open air markets. We go to three different ones during the week. I'm still not tired of oysters and scallops. Thanks all for your well wishes. I post pictures on my FB page if anybody wants to see. Sergio A Smiriglio. Again thank you.
TheresaIT
Sergios,

So happy that France agrees with you! You sound happy, and the markets sound wonderful. I'd love to see your photos - but would need to know where / how to find them.

Cheers!
almare2
TheresaIT, Go to Facebook, call up the search box, and insert Sergio's full name, Sergio A Smiriglio (it's at the end of his post). Then click on his name.
TheresaIT
Thanks Almare2. xox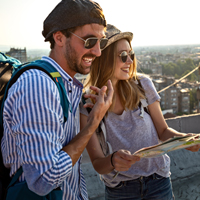 Now Health International
Live Healthier, Live Happier with award winning international health insurance. Get up to 40% discount on new plans.
GET A QUOTE

Living in Italy Guide
Expats in Italy discuss the pros and cons of living in Italy. From bureaucracy to expensive cities, Italy can be a challenge. Most expats find that the amazing food, charming countryside, beautiful beaches and public healthcare make up for the cons.
Italy Forum
Join our Italy forum to meet other expats and talk about living in Italy.

Contribute
Help other expats and newcomers by answering questions about the challenges and adventures of living in Italy.

Best Places to Live in Italy
Italy is beloved by expats, global nomads and retirees. We've compiled a list of the 12 best places to live in Italy based upon expats' recommendations. They include Liguria, Puglia, Rome, Le Marche, Abruzzo, Sicily and more.

Healthcare in Italy
An overview of the healthcare system in Italy - public and private hospitals, Servizio Sanitario Nazionale (SSN), getting your Tessera Sanitaria (healthcare card), Covid-19 entry requirements, vaccinations for Italy, prescription medication availability and more.

Cost of Living in Italy
Expats offer insight into the cost of living in Italy.

Moving to Italy Guide
Expats moving to Italy envision a romantic lifestyle in one of the most beautiful countries in the world. However, it is important to make sure that you do comprehensive research and fully understand what it will mean to move to the city, town or village you choose.

Real Estate in Italy
Real estate listings in popular cities and towns in Italy.

Pros & Cons of Living in Italy
Take off your rose-colored glasses and learn what expats have to say about the biggest challenges and the greatest rewards of living in Italy.

Retiring in Italy
Advice for people retiring in Italy.
Italy Visa & Residency Guide
Expats share their experiences obtaining residency in Italy. They discuss the ins and outs of the applying for the permesso di soggiorno, recent travel issues, permanent residency in Italy and more.
10 Tips for Living in Italy
Italy is a dream destination for many, but some expats have difficulty adjusting to the rustic Italian lifestyle. Expats share their top tips for living in Italy.