Hopkins Village, Belize
Last updated on May 08, 2023
Summary: People describe Hopkins Village, Belize as a small, laid-back fishing village with a strong Garifuna culture. Expats love the friendly locals, the beautiful beaches, and the relaxed atmosphere. The weather in Hopkins Village is typically warm and humid, with temperatures ranging from the mid-70s to the mid-80s Fahrenheit. The average cost of living for an expat is around $1,500 to $2,000 per month. The cost of a one bedroom apartment is typically around $500 to $700 per month, while a two bedroom apartment can cost anywhere from $700 to $1,000 per month. The approximate population of Hopkins Village is around 1,500 people.
What do I need to know about living in Hopkins Village?
When we asked people what advice they would give someone preparing to move to Hopkins Village, they said:
"Expats considering retiring in Hopkins Village should be aware of several factors before making the move. Firstly, the cost of living in Hopkins Village is relatively low compared to other popular expat destinations, making it an attractive option for retirees on a budget. However, it is essential to have a clear understanding of the local currency, the Belize Dollar, and its exchange rate with your home currency. The official language in Belize is English, which makes communication and integration easier for expats from English-speaking countries. However, it is also helpful to learn some basic phrases in Garifuna, the local language spoken in Hopkins Village, to better connect with the local community. Healthcare facilities in Hopkins Village are limited, with only a small clinic available for basic medical needs. Expats may need to travel to larger cities like Dangriga or Belize City for more advanced medical care. It is crucial to have comprehensive health insurance that covers medical evacuation if necessary. The climate in Hopkins Village is tropical, with hot and humid weather throughout the year. Expats should be prepared for this climate and take necessary precautions, such as staying hydrated and using sun protection. Hopkins Village offers a laid-back, relaxed lifestyle with a strong sense of community. Expats can enjoy various outdoor activities, such as swimming, snorkeling, and fishing, as well as exploring the nearby Mayan ruins and nature reserves. However, the village has limited entertainment and shopping options, so expats seeking a more vibrant social scene may need to travel to larger cities. Public transportation in Hopkins Village is limited, and many expats choose to rent or purchase a vehicle for more convenient transportation. It is essential to familiarize yourself with local driving laws and obtain a valid Belize driver's license. Safety is generally not a significant concern in Hopkins Village, but expats should still take standard precautions, such as locking doors and windows and not displaying valuables openly. It is also essential to be aware of the risk of natural disasters, such as hurricanes and flooding, and have an emergency plan in place. Finally, before retiring in Hopkins Village, expats should research the visa and residency requirements for Belize. The country offers a Qualified Retired Persons (QRP) program, which provides various benefits and incentives for retirees, such as tax exemptions and duty-free importation of personal goods," said one expat who made the move to Hopkins Village.
"Hopkins Village is located in Belize and offers a peaceful tropical lifestyle with stunning beaches and nearby national parks. Retirees must be prepared to embrace the local culture, customs, and hospitality. It is important to research any local regulations or laws regarding residency requirements and obtaining appropriate visas or permits. You should also be aware of any potential medical concerns when living in a tropical location and make sure to be aware of any recommended vaccinations or treatments. Additionally, it is important to research the local cost of living and any potential tax implications. It is also important to research the local banking system, exchange rates, and determine if your current citizenships will require any special arrangements," explained one expat living in Hopkins Village, Belize.
What do I need to know before moving to Hopkins Village?
About the Author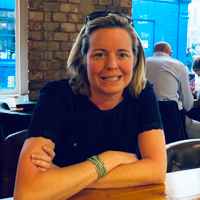 Betsy Burlingame is the Founder and President of Expat Exchange and is one of the Founders of Digital Nomad Exchange. She launched Expat Exchange in 1997 as her Master's thesis project at NYU. Prior to Expat Exchange, Betsy worked at AT&T in International and Mass Market Marketing. She graduated from Ohio Wesleyan University with a BA in International Business and German.
Some of Betsy's articles include 12 Best Places to Live in Portugal, 7 Best Places to Live in Panama and 12 Things to Know Before Moving to the Dominican Republic. Betsy loves to travel and spend time with her family. Connect with Betsy on LinkedIn.