Karlovy Vary, Czechia
Last updated on Jul 10, 2023
Summary: Expats, digital nomads and retirees talk about what it is really like living in Karlovy Vary, Czech Rep. They offer advice about meeting people, cost of living, finding a home and more.
What do I need to know before moving to Karlovy Vary?
When we asked people what advice they would give someone preparing to move to Karlovy Vary, they said:
"Karlovy Vary, also known as Carlsbad, is a spa town situated in western Bohemia, Czech Republic, and is known for its hot springs and colorful, baroque-style architecture. The official language is Czech, but English, German, and Russian are also widely spoken due to the high number of international tourists and expats. The cost of living in Karlovy Vary is generally lower than in Prague, but it's still higher than in many other parts of the Czech Republic. The town is famous for its thermal springs and spa treatments, which are a significant part of the local culture and economy. Karlovy Vary has a temperate oceanic climate with warm summers and cold, snowy winters, so appropriate clothing for all seasons is necessary. The town is small and walkable, but there is also a reliable public transportation system that includes buses and trains. The healthcare system in the Czech Republic is of a high standard, and there are several hospitals and clinics in Karlovy Vary. The town is safe, but like any other place, it's advisable to take standard precautions to protect your personal belongings. Karlovy Vary hosts several cultural events throughout the year, including the Karlovy Vary International Film Festival, which is one of the oldest film festivals in the world. The town is also known for its production of the traditional Czech liqueur Becherovka and the popular Czech spa wafers. The Czech Republic is part of the Schengen Area, so visa requirements will depend on your nationality. Renting an apartment can be done through real estate agencies or online platforms, but it's important to understand the terms of the lease before signing. The Czech Republic has a mandatory school attendance from 6 to 15 years of age, and there are several public and private schools in Karlovy Vary. The town is surrounded by nature, offering plenty of opportunities for outdoor activities such as hiking, cycling, and skiing. The Czech Republic has a high standard of food safety, and Karlovy Vary has a variety of restaurants offering both local and international cuisine. It's important to register with the Foreign Police within three working days of your arrival if you're staying in a private accommodation. Lastly, it's advisable to have a basic understanding of Czech customs and traditions to integrate more easily into the local culture," said one expat who made the move to Karlovy Vary.
How do I find a place to live in Karlovy Vary?
About the Author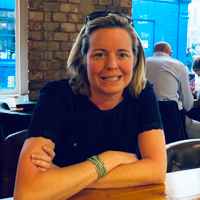 Betsy Burlingame is the Founder and President of Expat Exchange and is one of the Founders of Digital Nomad Exchange. She launched Expat Exchange in 1997 as her Master's thesis project at NYU. Prior to Expat Exchange, Betsy worked at AT&T in International and Mass Market Marketing. She graduated from Ohio Wesleyan University with a BA in International Business and German.
Some of Betsy's articles include 12 Best Places to Live in Portugal, 7 Best Places to Live in Panama and 12 Things to Know Before Moving to the Dominican Republic. Betsy loves to travel and spend time with her family. Connect with Betsy on LinkedIn.