Ostrava, Czechia
Last updated on Jul 09, 2023
Summary: Expats, digital nomads and retirees talk about what it is really like living in Ostrava, Czech Rep. They offer advice about meeting people, cost of living, finding a home and more.
What do I need to know before moving to Ostrava?
When we asked people what advice they would give someone preparing to move to Ostrava, they said:
"Ostrava is the third largest city in the Czech Republic and is located in the northeastern part of the country. It is known for its rich industrial history and vibrant cultural scene. The official language is Czech, but English is widely spoken, especially among younger generations and in the service industry. However, learning some basic Czech phrases can be helpful and appreciated by locals. The cost of living in Ostrava is relatively low compared to other European cities. Rent, groceries, and dining out are all quite affordable, but imported goods can be more expensive. The city has a well-developed public transportation system, including trams, buses, and trolleybuses. It's also very bike-friendly, with numerous cycling paths and bike rental services. Ostrava has a continental climate, with cold winters and warm summers. It's advisable to have both warm clothing for winter and lighter clothing for summer. The city is known for its music festivals, including the Colours of Ostrava, one of the biggest music festivals in Central Europe. It also has a thriving theater scene, with several theaters offering performances in various genres. Ostrava has a diverse food scene, with a mix of traditional Czech cuisine and international options. Beer is a big part of the culture, and the city is home to several breweries. Healthcare in Ostrava is of a high standard, with both public and private hospitals. However, it's recommended to have health insurance that is valid in the Czech Republic. Ostrava is generally a safe city, but like any other city, it's advisable to take usual precautions, especially at night and in less crowded areas. The city is surrounded by beautiful nature, including the Beskydy Mountains and the Ostravice River, offering plenty of opportunities for outdoor activities. Ostrava has a mix of modern and historic architecture, with landmarks such as the New City Hall viewing tower, the Ostrava Castle, and the industrial heritage site Dolní Vítkovice. The city has a strong expat community, with various groups and clubs that can help newcomers settle in and meet new people," said one expat who made the move to Ostrava.
What is a typical expat home or apartment like in Ostrava?
About the Author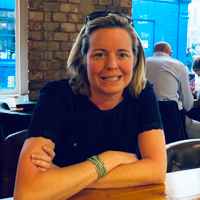 Betsy Burlingame is the Founder and President of Expat Exchange and is one of the Founders of Digital Nomad Exchange. She launched Expat Exchange in 1997 as her Master's thesis project at NYU. Prior to Expat Exchange, Betsy worked at AT&T in International and Mass Market Marketing. She graduated from Ohio Wesleyan University with a BA in International Business and German.
Some of Betsy's articles include 12 Best Places to Live in Portugal, 7 Best Places to Live in Panama and 12 Things to Know Before Moving to the Dominican Republic. Betsy loves to travel and spend time with her family. Connect with Betsy on LinkedIn.