Ceske Budejovice, Czechia
Last updated on Jul 10, 2023
Summary: Expats, digital nomads and retirees talk about what it is really like living in Ceske Budejovice, Czech Rep. They offer advice about meeting people, cost of living, finding a home and more.
What do I need to know before moving to Ceske Budejovice?
When we asked people what advice they would give someone preparing to move to Ceske Budejovice, they said:
"Ceske Budejovice is a city in the South Bohemian Region of the Czech Republic, known for its unique architecture and rich history. The official language is Czech, but English is commonly spoken in tourist areas and by younger generations. The city is famous for its beer, Budweiser Budvar, which has been brewed there for over 700 years. The cost of living in Ceske Budejovice is relatively low compared to other European cities, making it an attractive place for expats. The city has a well-developed public transportation system, including buses and trains, making it easy to navigate. Ceske Budejovice has a continental climate, with cold, snowy winters and warm summers. The city is home to several universities and has a vibrant student population, contributing to its lively nightlife and cultural scene. Healthcare in the Czech Republic is of a high standard, and there are several hospitals and clinics in Ceske Budejovice. The city is safe, but like any other place, it's advisable to take standard precautions to protect your personal belongings. Ceske Budejovice is surrounded by beautiful nature, including forests, lakes, and parks, offering plenty of opportunities for outdoor activities. The city has a rich cultural scene, with numerous museums, galleries, theaters, and music venues. Czech people are generally reserved but friendly and helpful once you get to know them. The city's cuisine is hearty and meat-based, with dishes like goulash, dumplings, and sausages being popular. Renting an apartment can be done through real estate agencies or online platforms, but it's advisable to have a Czech speaker help you to avoid potential scams. The city is not as multicultural as Prague or Brno, but it's becoming more diverse as more expats move there. Ceske Budejovice is a great place for families, with many parks, playgrounds, and good schools. The city is also home to several international companies, offering job opportunities for expats. It's important to note that the Czech Republic has compulsory health insurance, so make sure you're covered before you move. Finally, while Ceske Budejovice is a smaller city, it's close to other major cities like Prague and Vienna, making it a great base for exploring Central Europe," remarked one expat living in Ceske Budejovice, Czechia.
How do I find a place to live in Ceske Budejovice?
About the Author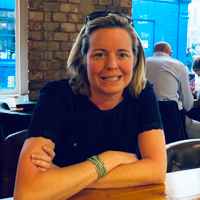 Betsy Burlingame is the Founder and President of Expat Exchange and is one of the Founders of Digital Nomad Exchange. She launched Expat Exchange in 1997 as her Master's thesis project at NYU. Prior to Expat Exchange, Betsy worked at AT&T in International and Mass Market Marketing. She graduated from Ohio Wesleyan University with a BA in International Business and German.
Some of Betsy's articles include 12 Best Places to Live in Portugal, 7 Best Places to Live in Panama and 12 Things to Know Before Moving to the Dominican Republic. Betsy loves to travel and spend time with her family. Connect with Betsy on LinkedIn.