Mikulov, Czechia
Last updated on Jul 09, 2023
Summary: Expats, digital nomads and retirees talk about what it is really like living in Mikulov, Czech Rep. They offer advice about meeting people, cost of living, finding a home and more.
What do I need to know before moving to Mikulov?
When we asked people what advice they would give someone preparing to move to Mikulov, they said:
"Mikulov is a small town in the South Moravian Region of the Czech Republic, known for its rich history, beautiful architecture, and wine production. The official language is Czech, but English and German are also widely spoken due to the town's proximity to Austria and its popularity with tourists. The cost of living in Mikulov is relatively low compared to larger cities in the Czech Republic, such as Prague or Brno. The town is known for its peaceful and relaxed lifestyle, making it a great place for those looking to escape the hustle and bustle of city life. Mikulov has a temperate continental climate, with warm summers and cold, snowy winters. The town is well-connected to other parts of the country by public transportation, including buses and trains. Mikulov is in the heart of the Moravian wine region, and wine tasting is a popular activity. The town is home to several historical landmarks, including Mikulov Castle, the Holy Hill, and the Jewish Cemetery. Healthcare in Mikulov is of a high standard, with several medical facilities and pharmacies in the town. The town has a number of local and international schools, making it a suitable place for expats with children. Mikulov hosts several festivals throughout the year, the most famous of which is the Pálava Wine Harvest Festival held in September. The town is safe and welcoming to foreigners, but it's always a good idea to learn about local customs and traditions to integrate more easily into the community. Renting a property in Mikulov is straightforward, with a range of options available from apartments to family homes. The local cuisine is hearty and delicious, with a focus on meat dishes, pastries, and of course, wine. While Mikulov is a small town, it has a good range of amenities including supermarkets, restaurants, and leisure facilities. Finally, it's important to note that the Czech Republic is a member of the European Union, so EU citizens can move and work there freely. Non-EU citizens will need to secure a visa or work permit," said one expat in Mikulov.
What is a typical expat home or apartment like in Mikulov?
About the Author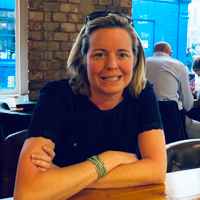 Betsy Burlingame is the Founder and President of Expat Exchange and is one of the Founders of Digital Nomad Exchange. She launched Expat Exchange in 1997 as her Master's thesis project at NYU. Prior to Expat Exchange, Betsy worked at AT&T in International and Mass Market Marketing. She graduated from Ohio Wesleyan University with a BA in International Business and German.
Some of Betsy's articles include 12 Best Places to Live in Portugal, 7 Best Places to Live in Panama and 12 Things to Know Before Moving to the Dominican Republic. Betsy loves to travel and spend time with her family. Connect with Betsy on LinkedIn.