What advice to expats in Cambridge have about housing?
When we asked people living in Cambridge about the social scene there, they described it saying...
"Expats in Cambridge advise that it is important to research the area thoroughly before committing to a property, as the city is known for its high rental prices. It is also important to consider the location of the property in relation to public transport links, as this can make a big difference to the cost of living. Additionally, it is recommended to look for properties that are managed by a reputable letting agency, as this can help to ensure that the property is well maintained and that any issues are dealt with quickly. Finally, it is important to be aware of the local laws and regulations regarding renting, as these can vary from area to area," explained one expat living in Cambridge, England.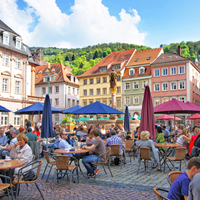 Furnished Rentals in UK from Homelike
We've partnered with Homelike, to connect expats and newcomers with temporary accommodations in UK. If you're moving to UK, rent a short-term, furnished apartment or home for the first few months from Homelike and take your time figuring out the best place to live in UK.
SEARCH RENTALS
Other Questions:
What advice to expats in Cambridge have about housing?
If you live in Cambridge, newcomers to Cambridge would love to hear your answer to this question: