What should I pack when moving to India?
We asked people living in India to list three things they wish they had brought and three they wish they had left behind. They responded...
"When moving to India, it is important to pack both warm and cool weather clothing, appropriate for the different climates of India. For standing up to the heat, make sure to bring light-colored, breathable fabrics like cotton and linen. For the colder months, pack jackets, sweaters, and scarves. A variety of umbrellas and sunglasses are also recommended. Make sure to bring personal items you won't find in India, like any must-have skin-care products, toiletries, and your favorite snacks. Lastly, be sure to pack all necessary supplies for your religion, such as prayer rugs and books," wrote a member who made the move to India.
"I wish I brought my vacuum cleaner as Mumbai is terribly dusty. Otherwise, I've been able to buy anything else I need. I wish I left all my oven cookware behind as ovens don't come with flats. It is an appliance I'm not willing to buy," explained one expat living in Mumbai, India.
Other Questions:
What should I pack when moving to India?
If you live in India, newcomers to India would love to hear your answer to this question.
About the Author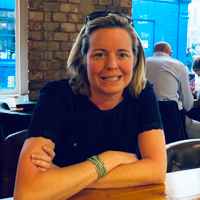 Betsy Burlingame is the Founder and President of Expat Exchange and is one of the Founders of Digital Nomad Exchange. She launched Expat Exchange in 1997 as her Master's thesis project at NYU. Prior to Expat Exchange, Betsy worked at AT&T in International and Mass Market Marketing. She graduated from Ohio Wesleyan University with a BA in International Business and German.
Some of Betsy's articles include 12 Best Places to Live in Portugal, 7 Best Places to Live in Panama and 12 Things to Know Before Moving to the Dominican Republic. Betsy loves to travel and spend time with her family. Connect with Betsy on LinkedIn.