Living in Canada
Last updated on Feb 18, 2023
Summary: The approximate population of Canada is 37.59 million people. The largest cities in Canada are Toronto, Montreal, Vancouver, Calgary, and Edmonton. Expats love living in Canada for its diverse culture, friendly people, and beautiful landscapes. People describe life in Canada as peaceful, safe, and welcoming. Popular foods in Canada include poutine (fries with cheese curds and gravy), maple syrup, Nanaimo bars, and butter tarts. The cons of living in Canada include the cold weather, high taxes, and the cost of living. The average cost of living for an expat is around $2,500 USD per month. This includes rent, food, transportation, and other expenses.
What do I need to know about living in Canada?
When we asked people what advice they would give someone preparing to move to Canada, they said:
"Stoney Creek (East Hamilton) is decent, and reasonably priced as far as rent goes. If you want to stay away from 'bad' neighborhoods, be careful of central Hamilton, Barton St, Cannon Street, 'Corktown,' (lower)Wellington, (lower)Wentworth. Rent is usually VERY cheap in these areas. If you're going to live there, I would check the area out before committing to renting. There are SOME decent places in Central Hamilton, you just have to look for them. Hamilton West is the 'university' part of the town, it is very nice. Usually rent is more expensive here. Hamilton Mountain is almost like an entity of it's own. It's nice, seems 'newer' and rent is of average cost. If you want to experience Hamilton as a city, I would live below the mountain. I live below the mountain, and I barely ever go up there. I have family who lives on the mountain, and they barely ever come down. Dundas is a nice area, and has a small town kind of feeling. It's west of the city. Ancaster is nice, and expensive. It's West of the city. I'm not positive, but I don't think there are many apartments for rent in Ancaster, more big houses," wrote a member in Hamilton.
"Plan ahead and make sure you find a place to live BEFORE coming here, there is a major housing shortage in Ottawa as of Aug 23rd 2002..," commented one expat who made the move to Ottawa.
Answer Question & View More Answers
How do I meet people in Canada?
When we asked people living in Canada about club and activities where newcomers can meet others, they responded:
"Calgary Outdoor Club, Any Health Club, A Church, Walk in the off leash dog parks with your dog- you will meet a number of people," commented one expat who made the move to Calgary.
"1. Main Library at Jackson Square. There's lots of information about clubs and events, and the staff is helpfull. 2. Hess Village, for nightlife. Hess Village is a couple of blocks full of pubs/clubs. Mainly live music, and lots of patios. People are very relaxed and friendly there, and you can expect to find people of all ages. 3. Hamilton has lots of festivals, so check them out. 4. Take a night course at Mohawk College. They have tons of courses each semester (Winter, spring, summer, fall), and if you take something you're interested in, you're bound to meet people. 5. Check out the parks and rail trail for physical fitness. Trail users are very friendly people," remarked one expat living in Hamilton, Canada.
Answer Question & View More Answers
What is life like in Canada?
When we asked people living in Canada what life is like and how people spend their time, they said:
"Living in Canada as an expat or digital nomad offers many advantages. Due to its high standard of living and welcoming society, it is a great place to live. There are plenty of major cities to choose from, each offering a unique cultural experience and vibrant nightlife. Canadian cities are well connected, with public transportation, bike paths, and ride-sharing services making it easy to get around. The country also offers many outdoor activities such as skiing, hiking, and surfing, plus national parks, forests, and lakes. The cost of living in Canada is slightly higher than other western countries, so expats and digital nomads often need to budget carefully. The local healthcare is world-class and expats from all over the world can easily find English-speaking doctors and services. Canada also has a culture of multiculturalism, allowing expats and digital nomads to explore and take advantage of the diversity and friendly locals," wrote a member in Canada.
"There are many young families and lots of activity on the water in summer and in the snow during winter. Lifestyle - paradise in summer," commented one expat who made the move to Kelowna.
Answer Question & View More Answers
Is there a lot of crime in Canada?
We asked people if there is a lot of crime. They answered:
"Canada generally has low rates of crime compared to other industrialized nations. While crime does occur in Canada, overall the country has a relatively safe and secure environment. Theft, burglary, and assault are among the most commonly reported crimes, and police forces in Canada take such issues seriously, deploying resources to help ensure the safety of their citizens," wrote one member in Canada.
Is there a lot of diversity? Are people in Canada accepting of differences?
"pretty diverse-- big English influence, also French, Chinese and East Indian and some Caribean/African," remarked one expat who made the move to Kingston.
"The racial mix is very poor if you are used to a large multi-cultural environment like London. Increasing number of Asians but this is a very 'white' 'middle class' community. This does not mean you are not accepted, it means people are not necessarily used to other cultures. The community is very much North American Christian," explained one expat living in Sherwood Park, Canada.
Answer Question & View More Answers
What are the schools in Canada like?
"The Fraser Academy in Vancouver is a top international school in Canada offering preschool to high school. It aims to provide personalized learning to make sure that every student reaches their full potential, offering a variety of individualized pathways to learning. It additionally offers world-class curriculum and languages of instruction, including French, Spanish, Mandarin and more. The Lycée Louis Pasteur International School in Calgary is a bilingual school that focuses on a personalized learning environment, combining elements of the traditional French and North American systems of education. Its program brings together a challenging curriculum and group activities, with a range of cultural, athletic and artistic opportunities. As well as French, the school offers a selection of other languages including English, Spanish, Italian, Nahuatl and Korean. The Newton Centre of Learning in Toronto is another top international school in Canada. It holds a focus on experiential learning that incorporates inquiry-based, project-based and problem-based approaches to education. The school offers several facilities to support this, including an audio-visual studio and a robotics lab. It also offers an immersive learning experience with the availability of languages such as Chinese, French, Spanish, German and more," said one parent with children at in .
"Well tutored and less gruelling schedules; confortable ambience, excellent teacher-pupil interactions," commented one expat when asked about Fernhill School in Burlington.
Is the cost of living in Canada high?
We asked people how much they someone comfortably live on in Canada, they wrote:
"The cost of living in Canada can vary greatly depending on which region and city you choose to live in. Generally speaking, larger metropolitan areas have a higher cost of living than those in rural areas. However, Canada has a generally high standard of living, with quality housing, education, health care, and other services that are relatively affordable. For example, groceries, especially fresh produce, are generally reasonably priced, as are basic utilities such as electricity and natural gas. Public transportation is also relatively inexpensive in many large cities, making it a great choice for cost-saving," said one expat who made the move to Canada.
"Canada is considered to be a nation with a relatively high cost of living. The cost of living in larger cities, such as Toronto, Vancouver, and Montreal, is usually higher than the rest of the country. A nice 1 bedroom apartment in one of these cities can cost, on average, around $1,500 US dollars, while a nice 2 bedroom apartment can cost an average of approximately $2,000 US dollars. Eating dinner at a moderately priced restaurant in Canada can cost anywhere from around $15 to $30 US dollars, depending on what is ordered," said one expat living in Canada.
"Rents are pretty reasonable in Quebec City. A two bedroom, modern apartment in a building with a pool and other amenities located a short drive from St. Vincent elementary school and St. Patrick's high school costs approximately $1,500 ca per month. A modern, one bedroom, one bathroom condo in Limoilou is currently listed for $250,000 ca.," mentioned one expat inQuebec City.
Answer Question & View More Answers
What type of recreational facilities are in Canada?
When we asked people living in Canada about recreational activities, they mentioned:
"In Canada, residents enjoy a wide range of recreational facilities, including public parks, community centres, swimming pools, ice rinks, bike and walking trails, golf courses, recreation centres, beachfronts, and sports fields and courts. Residents can also take part in cultural activities, such as concerts, museums, libraries, and art galleries. Other options such as campgrounds, skiing and snowboarding, historical sites, and fishing and boating are also popular in certain regions. Canada also offers plenty of trails for hiking and nature walks, providing a beautiful setting for outdoor recreational activities," remarked one expat living in Canada.
" Paddle boarding, kayaking, fishing, boating and other water activities are popular on the St. Lawrence River and many local lakes. Baie de Beauport is a beach is nearby Beauport that has summer day camps, food trucks, yoga and more. There are several golf courses located within a half hour of Quebec City. Tennis players can play at Tennis Montcalm (tennis & squash), Tennis Victoria and several other tennis clubs. Quebec Yacht Club is located at 1225 Boulevard Champlain and offers a few membership options, summer camps, a pool and a restaurant. There are a number of public pools in Quebec City. Indoor pools include Piscine Lucien Borne, Ferland Community Center, Piscine Wilfrid-Hamel. Outdoor pools include Piscine Notre-Dame-de-la-Garde, Piscine du parc du Musee and Marina Saint-Roch. Locals embrace winter. Carnaval de Quebec (aka Winter Carnival) is a long-running carnival that starts in late January or early February and lasts about 10 days. Au 1884 is a toboggan slide situated on the Dufferin Terrace next to the Chateau Frontenac that is open all winter. There are skating rinks at Place d'Youville, Plains of Abraham and a number of other locations. Ice hockey, figure skating, downhill and cross-country skiing, snowboarding, sledding, ice fishing and snow shoeing are all very popular in the Quebec City area. ," said one expat living in Quebec City.
What is the weather like in Canada?
"Winters in Quebec City are not for the faint of heart. The highs in December, January and February are in the mid 20s - with lows in the single digits. Hopefully you'll find that the locals' love of winter sports infectious and skating, hockey, sledding and skiing will get you through the winter months. June through September are beautiful months where colorful window boxes dot the city streets, locals congregate at outdoor cafes, festivals abound and tourists flock to the city," commented one expat who moved to Quebec City.
"The summers can be warmer than you would think, fall and spring are great though too short, and the winters are exactly what you would expect in the Great White North. COLD," said one expat.
Answer Question & View More Answers
Are there good restaurants in Canada?
" Oh the food! The restaurants in Montreal, with their French influence will just about knock your socks off. There are plenty of Italian, Asian and all kinds of other ethnic restaurants that just about make life worth living! You'll need to definitely visit Old Montreal. Is it a bit touristy? Sure, but the restaurants and charm will easily win you over. Our favorite restaurant in Montreal is Modavie in Old Montreal. In addition to a great atmosphere with live music, we have received excellent service and the food is fabulous. Try any of the salads, the Braised Lamb Poutine, and the Steak Frites. ," said one expat.
Answer Question & View More Answers
Where will I buy groceries and do other shopping in Canada?
" We visit Marches Public Market, specifically the Jean-Talon Market. It has so many fresh and freshly-prepared options. You can eat there and then bring home all kinds of wonderful culinary delights. We had delicious crepes that happened to be gluten free, some fresh sausage. Just shopping at this market may make you feel like you're living a vibrant, fulfilling, and healthful lifestyle. We also visited a Boulangerie Le Marquis sans gluten. Excellent. The GF Croissants were amazing. ," said an expat in Montreal.
Answer Question & View More Answers
What are the visa & residency requirements in Canada?
"In order to be eligible to apply for a visa in Canada, applicants must meet certain requirements, including: having valid identity documents, providing proof of financial support, and satisfying medical and security checks. The process of applying for a visa also includes completing an online application, submitting supporting documents, and submitting biometrics for identity verification. The process for applying for residency in Canada involves completing an online application and submitting supportive documents, such as a police certificate, proof of financial support, and evidence of a valid identity. Additionally, applicants must pass medical and criminal background checks and make a language test to prove they can speak one of Canada's official languages," remarked one expat living in Canada.
"There are a number of ways to legally immigrate to Canada: as a skilled worker, entrepreneur, self-employed person and several other options. You may also be eligible to study in Canada, ," said one expat living in Quebec City.
Answer Question & View More Answers
Are healthcare and health insurance expensive in Canada?
"Healthcare in Canada is considered very affordable, as citizens do not need to pay out of pocket for most healthcare services. It is delivered through a public health insurance system, with provincial governments covering most of the costs. For most healthcare services like doctor visits, hospital stays and essential medications, Canadians will not pay a cent. However, there are still certain healthcare costs that Canadians need to pay for out-of-pocket, such as for dental care, vision care and non-essential medications. Similarly, health insurance in Canada is quite expensive, depending on the type of services and coverage that one is looking to purchase," said one expat living in Canada.
About the Author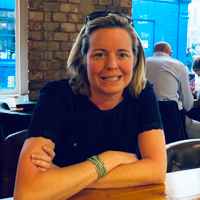 Betsy Burlingame is the Founder and President of Expat Exchange and is one of the Founders of Digital Nomad Exchange. She launched Expat Exchange in 1997 as her Master's thesis project at NYU. Prior to Expat Exchange, Betsy worked at AT&T in International and Mass Market Marketing. She graduated from Ohio Wesleyan University with a BA in International Business and German.
Some of Betsy's articles include 12 Best Places to Live in Portugal, 7 Best Places to Live in Panama and 12 Things to Know Before Moving to the Dominican Republic. Betsy loves to travel and spend time with her family. Connect with Betsy on LinkedIn.