Real Estate in Jamaica
Last updated on Nov 27, 2021
Summary: People living in Jamaica offer advice about real estate. How do you find a home in Jamaica? Should you buy or rent? What is the cost of housing?
How do I find a place to live in Jamaica?
We asked expats how they chose their neighborhood and found a place to live. They answered:
"We wanted to be close to the Montego Bay airport so we looked at a few parishes on the west half of the island. Falmouth is up and coming so we selected Falmouth. My husband and I are real estate agents in the US, so we just felt comfortable contacting a real estate agent to find our current house," remarked another foreigner who made the move to Falmouth.
"I found my first place, through friends, and then found second place, which was perfect, thru a referral of someone i spoke to on email, for a while, who had lived in the same apt...it really is best to check out a place for a while, before you decide where you want to live...you will more than likely change your mind..at least once..," explained one person living in Negril, Jamaica.
Answer Question & View More Answers
What is a typical expat home or apartment like in Jamaica?
"I live in a scheme in Falmouth 2bd, 2bath, furnished & washing machine. Love it," remarked another member in Jamaica.
"We live in a single family rental house located in a subdivision, called a scheme, here in Jamaica. We have not met a lot of expats yet, but the one couple that we did meet live in a house that they purchased," explained one expat living in Falmouth, Jamaica.
Answer Question & View More Answers
What is the average cost of housing in Jamaica?
If you are thinking about moving to Jamaica, cost of living in probably a key consideration. Expats commented about the cost of housing:
"I'm renting in Falmouth a gated community. 800 monthly, pay my own utilities was lucky it came furnished. The people stay to themselves. I've had very few conversations with other occupants. A car is extra helpful! But I'd never drive in JA. This will be my second year renting. Not sure about the buying & building for myself. Too old for that & have absolutely no patience for the process.. sending good vibes! I love Jamaica," said another person in Jamaica.
"Our housing costs are much lower than in the US. My husband and I live in a 2 bedroom, 2 bath furnished home for 60,000 Jamaican dollars (about $480 US dollars a month). Yard maintenance and water is included in the rent. It is a newer house with an open floorplan. Electricity is about $4,000 JMD (about $31 USD). Cable (Westar) is $2,700JMD a month (about $21 USD) and we get tons of good channels. Unfurnished houses here can be found for about $45,000JMD ($352 USD). Ofcourse, if you want to go really budget and talk to the right people, you can find a place for about $250 USD a month," added another expat who made the move to Falmouth.
Answer Question & View More Answers
What do I need to know when buying property in Jamaica?
When we asked expats what advice they would give a foreigner before buying a property in Jamaica, they said:
"Buying a home here is a process, and you do not want to leave that home empty six months out of the year… It will be vandalized, burglarized, and taken over by squatters… Depending of course, where are you buy a house," added another expat who made the move to Montego Bay.
About the Author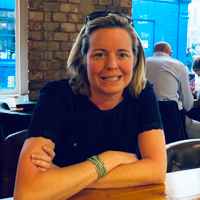 Betsy Burlingame is the Founder and President of Expat Exchange and is one of the Founders of Digital Nomad Exchange. She launched Expat Exchange in 1997 as her Master's thesis project at NYU. Prior to Expat Exchange, Betsy worked at AT&T in International and Mass Market Marketing. She graduated from Ohio Wesleyan University with a BA in International Business and German.
Some of Betsy's articles include 12 Best Places to Live in Portugal, 7 Best Places to Live in Panama and 12 Things to Know Before Moving to the Dominican Republic. Betsy loves to travel and spend time with her family. Connect with Betsy on LinkedIn.