Living in Jamaica
Last updated on Sep 17, 2022
Summary: Expats, digital nomads and retirees talk about what it is really like living in Jamaica. They offer advice about meeting people, cost of living, finding a home and more.
What do I need to know about living in Jamaica?
When we asked people what advice they would give someone preparing to move to Jamaica, they said:
"Your first stop needs to be the PICA website. This is the immigration website and it will list the options available to you for residency. There's more to it than just packing your bags and deciding you're going to move to Jamaica… I do suggest however, that you come for three months, maybe extend it to six months, and actually live here. By that I mean, you're gonna live like a local; not a tourist. There are two totally different things. You need to figure out how you're going to find your lifestyle here… As you're not gonna be able to work, unless your company has an office here and sponsors you for a work permit. Or, do you have enough money to start your own business. As for housing, buy or rent the best place you can afford… In a gated community. A high end gated community Ex: Freeport, Spring Garden, Spring Farm, Rose Hall, you don't want to live in a typical Jamaican gated community that was built by developers.," remarked another expat living in Montego Bay, Jamaica.
"Moving here will require you to make a lot of socio-psychological adjustments, for instance, if you are someone who values ordered processes and systems - and I can only assume that as an account, this might be important to you, then you will need to adjust very quickly to the less agreeable aspects of Jamaica..there is a lot of bureaucracy but it doesn't always work in quite the way that westerners expect or at the pace that westerners might be used to. I'm from the UK, of African-Caribbean heritage, though not Jamaican, and I have been here for 18 months now, I truly love living here, but it requires, as I say, some degree of mental adjustments. Please do as much research as you're able to, do come for extended periods of time, get to know people, the neighbourhood you want to live in, etc before you commit to such a huge life changing decision," added another expat in Kingston.
Answer Question & View More Answers
How do I meet people in Jamaica?
When we asked people living in Jamaica about club and activities where newcomers can meet others, they responded:
"As far as meeting people, I think you'd have an easier time in Kingston -- lots of social clubs, nightlife, expat organizations, Lots of Jamaicans go to church, an underrated place to meet people. Jamaicans are quite friendly so once you meet a couple people you'll likely meet their friends as well," mentioned another expat in Jamaica.
"Many non-Jamaicans without family or friends here join expat groups - I believe some have regular meet-ups. Otherwise you'll meet people most places - Cafe Blue in Sovereign Centre is a great place to hang out, and I know a lot of people work remotely from there `as I often do myself when I'm in need of human company daytime and my friends are at work in their offices...I've met a number of people there who've become good friends...there's also a Starbucks in Liguanea but I avoid that chain back in the UK and do same here," commented one expat who made the move to Jamaica.
Answer Question & View More Answers
What is life like in Jamaica?
When we asked people living in Jamaica what life is like and how people spend their time, they said:
"I am not directly in Spanish Town. I am in a beautiful community called 'Green Acres'. There seems to be a number of retired citizens, who enjoy playing dominoes and socializing," commented one expat who made the move to Spanish Town.
Is there a lot of crime in Jamaica?
We asked people if there is a lot of crime. They answered:
"Most violence is personal, though there are some low lifes who will target those they consider vulnerable to rob. Hence, being out and about requires some safety awareness...don 't flash phones, jewellery, or any high end items round. Always be aware of who is around you. If your'e offered anything on the street, say no thanks politely and move on. Do not get into random taxis on the roads, but always use those from established companies such as On Time, Mor-Tec etc. I tend to use regular taxi drivers whom I've come to know and are reliable and trustworthy. Always agree fares beforehand. Most taxis will wait for you while you do your supermarket shopping for instance but there is a waiting charge. Stay away from volatile areas in which you have no business, be mindful that you cannot jog freely on the roads as you would at home, especially as a lone woman, though you should be ok in upper class areas such as Norbrook, Cherry Gardens, Beverley Hills, but best to always have a running companion. There's also the Mona Dam which offers a great running/walking circuit and is very popular and well used," said another expat in Jamaica.
"Crime is everywhere in the world, and can strike at any time, any place. Jamaica is no differ, though that said, you need to exercise good judgement personal safety. I would say that you take the same precautions that you would do 'at home'. Don't wear flashy jewellery, clothing, etc. Don't flash the cash around - this is an economically impoverished country and it breeds opportunist criminals as it does in London, New York, Paris or any where else. Most of the violent crime in Jamaica is confined to certain areas and is drug or gang related. Most people have no business being in 'those' areas - what Jamaicans term 'volatile' areas and so don't wander voyeuristically into them the same way you wouldn't wonder around certain projects or ghettoes in the US or wherever you happen to live. Mind your own business and keep out of other people's business. I wouldn't wonder around the streets of London alone at night and I'm not about to do that here. Above all, treat other people as you would expect to be treated, keep your sense of humour about you, and you will be just fine," added another expat who made the move to Jamaica.
Is there a lot of diversity? Are people in Jamaica accepting of differences?
"Unknown numbers of Jamaicans are gay and while they face censure and sometimes violence, groups such are J-Flag and individuals like Mike Abrahams are working hard to make real change. Yes, it's not happening as fast as some of us would like, but there is some progress and it's continuing. I am hetero but I work alongside many individuals and organisatons in Kingston and elsewhere who are really making a difference," added another expat in Kingston.
"Kingston is home to many people and it's a diverse city but I wouldn't say that there are loads of expats. And you will stand out as a white person and it will be immediately possible to distinguish you from a white Jamaican so if you want anonymity then perhaps think again," remarked another expat who made the move to Kingston.
What are the schools in Jamaica like?
"i would say go and look at the school for yourself. i am sure you will enroll your children. this was the only thing that really worried me coming to live in Jamaica, was finding a great school but we did," remarked another expat living in Mandeville with children attending Belair school.
Is the cost of living in Jamaica high?
We asked people about the cost of living in Jamaica, they wrote:
"I have now been here (Montego Bay) for 2 years. Attempting to compare Cost of Living between the U.S. and Jamaica is difficult as it depends on where you are in the U.S. and your style of living. Housing: Housing rental prices here are all over the place, depends on the location, amenities and honestly the owner. We currently have a 2 bedroom - 2 batch in a 6 unit building in Westgate Hills with security gate, parking, 2 balconies... and not a shoe-box!, decent kitchen and honestly is a step above some of the places I lived in south Florida at twice the cost! Our rent is $60K (~$480 USD) per month. We're moving in January to a 3 bedroom & 3 bath home in St. Ann with a cost of $110K (~$850 USD) per month. The same home in south Florida would be around ~$2000 USD per month. Gated communities especially those that cater to expats will cost more! If you don't need to be in Kingston or Mobay you'll pay less in most of the rest of the island. Food: Food prices are all over the place. You'll pay a little more for U.S. products (shipping & duty) however the local products are generally cheaper. Our monthly grocery bill for my wife & I runs ~$50K - $60K per month or about $350 - $400 USD. I should point out that we eat pretty well as I enjoy cooking and we always but a couple bottles of wine (which isn't cheap here). Example: Iberia Extra Virgin Olive Oil Walmart: $4 USD and Progressive: $650 ($5.25 USD) Dining Out: We go out a lot for dinner & entertainment and roughly $200 - $300 USD per month Electric: $12K - $16K ($90 - $130 USD) depending on time of year. We do have air conditioning which is used primarily May to November. Also have a washing machine and all my electronics. Water: $3000 per month ($24 USD) Cable: $5000 per month ($40 USD) We only have Internet and not cable TV. We've "Cut-the-cord". Car Payment: $25K ($200 USD) per month Car Insurance: $8K ($65 USD) per month So in summary our monthly living expenses are roughly $1800 USD per month (for 2 - based on the new housing cost next month & NOT including dining out). When I lived in south Florida my monthly expenses (I was single) was well over $3000 USD per month. Medical, dental & vision is less expensive here (for even top level service) Cars & Gas is more expensive Electronics, Appliances, Furniture are generally more Clothing about the same however you'll have a difficult time finding higher end clothing. We import a lot of stuff that we CAN'T find here such as health & beauty, electronics and clothing," remarked another expat living in Montego Bay.
"The dollar is NOT going to stretch far when you're actually living here, having to buy food, other groceries, and utilities, which one doesn't generally have to pay when staying for short visits. Trust me, even as a professional in a good job, I still give thanks to the barrels of food, clothing, and sundry household and other items that my family and friends send down to me from the UK," said one expat living in Kingston.
Answer Question & View More Answers
Where will I buy groceries and do other shopping in Jamaica?
"For the freshest and best value fruits & vegetables go to the open-air market off Barnett Street. Progressive, MegaMart, Shoppers Fair & HiLo all good supermarkets. Chicken, pork, seafood/fish are plentiful and readily available. Beef is available and decent price but it's NOT USDA Prime! I've had some ribeye that I grilled on the bbq and they were decent, but not great. I tend to bypass beef most of the time except for ground beef. I did buy a couple T-Bone steaks (local western beef grain fed) the other day, $1522 / kg which works out to US$5.35 per pound. On average we spend about $12K a week on food/grocery for the 2 of us. That generally includes a couple bottles of wine... which there is NO 2 Buck Chuck here. Every couple weeks another $3K - $5K at the market for fruits & vegetables. In my opinion; the chicken, pork, fish and produce are better tasting and better for you than what you'll get in the states unless you grow/raise it yourself or buy pure organic," mentioned another expat living in Montego Bay.
Are healthcare and health insurance expensive in Jamaica?
"There are doctors that will see patients on an ad hoc basis without medical insurance. I've been here for four months now - extended leisure visit - and I see a great doctor in Kingston. Each visit is 4K JMD a pop. He will provide prescriptions, and if needed, make referrals to specialist services. However I would say that you should seriously consider medical insurance as you would in the USA. Medication etc is not cheap and if you need specialist treatment costs can be high (though lower than in the States in most cases) but as an instance I've just had to pay 80k JMD for an MRI scan. I could have waited until I return to the UK and have it done for free there but the advantage of paying for it privately here meant that I could have it done and obtain results within days rather than the weeks or months I'd have to wait on the NHS. Medical insurance would definitely have been cheaper! If you are relocating for work then your employer should provide medical insurance for yourself and any accompanying family members. Definitely if you have young children or pre-existing illness then ensure you have insurance. I'm a diabetic and the cost of insulin is pretty eyewatering. But as I said you can just find a physician and go see her/hum as you need to. They will keep a medical record with med history, meds, etc," said another expat.
"Ensure that you have insurance and don't take an unregulated taxi as it might not be insured. I was unfortunate to be in a pretty serious car crash here and it would have involved been horrendous health care costs without insurance," commented one expat living in Jamaica.
About the Author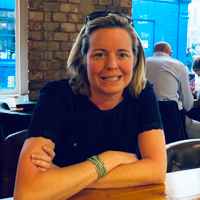 Betsy Burlingame is the Founder and President of Expat Exchange and is one of the Founders of Digital Nomad Exchange. She launched Expat Exchange in 1997 as her Master's thesis project at NYU. Prior to Expat Exchange, Betsy worked at AT&T in International and Mass Market Marketing. She graduated from Ohio Wesleyan University with a BA in International Business and German.
Some of Betsy's articles include 12 Best Places to Live in Portugal, 7 Best Places to Live in Panama and 12 Things to Know Before Moving to the Dominican Republic. Betsy loves to travel and spend time with her family. Connect with Betsy on LinkedIn.