Living in Jamaica
Last updated on Mar 13, 2023
Summary: The approximate population of Jamaica is 2.9 million people. The largest cities in Jamaica are Kingston, Spanish Town, Montego Bay, and Portmore. Expats love living in Jamaica for its beautiful beaches, friendly people, and vibrant culture. People describe life in Jamaica as laid-back and relaxed, with a strong sense of community. Popular foods in Jamaica include jerk chicken, ackee and saltfish, and curried goat. The cons of living in Jamaica include a high crime rate, limited job opportunities, and a lack of infrastructure. The average cost of living for an expat is around $1,500 to $2,000 per month in US dollars. This includes rent, utilities, food, and other expenses.
What do I need to know about living in Jamaica?
When we asked people what advice they would give someone preparing to move to Jamaica, they said:
"1. Expats should ensure they have access to any medical treatment or medications they may need, as healthcare in Jamaica may not always meet international standards. 2. It is important to research the cost of living in Jamaica before relocating, as prices may vary depending on the area. 3. Learn the local language as many conversations in Jamaica are conducted in Creole. 4. Obtain appropriate retirement visas, including a permanent resident visa, if planning to stay more than six months. 5. Consider joining an expat community, which can help with settling in to the local culture. 6. Be sure to purchase comprehensive travel and health insurance, as medical care and transportation in Jamaica can be costly. 7. Research the local tax laws to make sure you are in line with the local regulations. 8. Ensure any important documents are translated into English, in order to avoid any potential problems arising from language issues," explained one expat living in Jamaica.
"Your first stop needs to be the PICA website. This is the immigration website and it will list the options available to you for residency. There's more to it than just packing your bags and deciding you're going to move to Jamaica… I do suggest however, that you come for three months, maybe extend it to six months, and actually live here. By that I mean, you're gonna live like a local; not a tourist. There are two totally different things. You need to figure out how you're going to find your lifestyle here… As you're not gonna be able to work, unless your company has an office here and sponsors you for a work permit. Or, do you have enough money to start your own business. As for housing, buy or rent the best place you can afford… In a gated community. A high end gated community Ex: Freeport, Spring Garden, Spring Farm, Rose Hall, you don't want to live in a typical Jamaican gated community that was built by developers.," said one expat in Montego Bay.
Answer Question & View More Answers
How do I meet people in Jamaica?
Answer Question & View More Answers
Answer Question & View More Answers
Answer Question & View More Answers
Answer Question & View More Answers
Answer Question & View More Answers
Answer Question & View More Answers
About the Author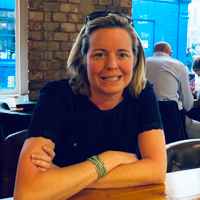 Betsy Burlingame is the Founder and President of Expat Exchange and is one of the Founders of Digital Nomad Exchange. She launched Expat Exchange in 1997 as her Master's thesis project at NYU. Prior to Expat Exchange, Betsy worked at AT&T in International and Mass Market Marketing. She graduated from Ohio Wesleyan University with a BA in International Business and German.
Some of Betsy's articles include 12 Best Places to Live in Portugal, 7 Best Places to Live in Panama and 12 Things to Know Before Moving to the Dominican Republic. Betsy loves to travel and spend time with her family. Connect with Betsy on LinkedIn.