Mossel Bay, South Africa
Last updated on Jul 10, 2023
Summary: Expats, digital nomads and retirees talk about what it is really like living in Mossel Bay, South Africa. They offer advice about meeting people, cost of living, finding a home and more.
What do I need to know before moving to Mossel Bay?
When we asked people what advice they would give someone preparing to move to Mossel Bay, they said:
"Mossel Bay, is a harbor town known for its year-round mild climate, making it a popular destination for expats. The official language is Afrikaans, but English is widely spoken, so communication should not be a problem. The cost of living is relatively low compared to other major cities in South Africa, but it's advisable to have a stable income or savings. The town is safe compared to other South African cities, but like anywhere, it's important to be cautious and aware of your surroundings. Healthcare facilities in Mossel Bay are good, with both public and private hospitals available. However, it's recommended to have comprehensive health insurance as private healthcare can be expensive. Mossel Bay has a slower pace of life compared to larger cities, making it ideal for those looking for a relaxed lifestyle. The town offers a range of outdoor activities, including surfing, hiking, and wildlife watching. It's also home to several golf courses and other sports facilities. Public transportation is limited, so having a car is almost essential for getting around. The town is also quite spread out, so consider this when choosing where to live. The education system in South Africa is different from many western countries, so it's important to research schools and education options if moving with children. The town has a strong sense of community, with many social events and festivals throughout the year. It's also home to a diverse range of restaurants and shops, reflecting the multicultural nature of South Africa. However, it's important to note that while Mossel Bay is a popular tourist destination, it can get quiet during the off-peak season. Lastly, South Africa has strict visa requirements, so ensure you have the correct paperwork before moving. It's also advisable to hire a local lawyer to help with the property buying process if you plan to purchase a home," said one expat who made the move to Mossel Bay.
How do I find a place to live in Mossel Bay?
About the Author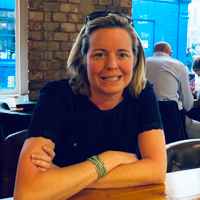 Betsy Burlingame is the Founder and President of Expat Exchange and is one of the Founders of Digital Nomad Exchange. She launched Expat Exchange in 1997 as her Master's thesis project at NYU. Prior to Expat Exchange, Betsy worked at AT&T in International and Mass Market Marketing. She graduated from Ohio Wesleyan University with a BA in International Business and German.
Some of Betsy's articles include 12 Best Places to Live in Portugal, 7 Best Places to Live in Panama and 12 Things to Know Before Moving to the Dominican Republic. Betsy loves to travel and spend time with her family. Connect with Betsy on LinkedIn.