Tihany, Hungary
Last updated on Jul 10, 2023
Summary: Expats, digital nomads and retirees talk about what it is really like living in Tihany, Hungary. They offer advice about meeting people, cost of living, finding a home and more.
What do I need to know before moving to Tihany?
When we asked people what advice they would give someone preparing to move to Tihany, they said:
"Tihany is a small village in Hungary, known for its historical and cultural significance, and is located on the northern shore of Lake Balaton. The official language is Hungarian, which is considered one of the most difficult languages to learn, but English is also widely spoken, especially among younger generations and in tourist areas. The cost of living in Tihany is relatively low compared to other European countries, but it's higher than the Hungarian average due to its popularity as a tourist destination. Tihany has a temperate seasonal climate, with warm summers and cold, snowy winters, so appropriate clothing will be needed depending on the time of year you move. The village is famous for its Benedictine Abbey, which was founded in 1055 AD, and its surrounding natural beauty, including the Inner Lake and the Tihany Peninsula. Public transportation in Tihany is reliable and affordable, with regular bus services connecting the village to other parts of Hungary. Hungarian cuisine is central to the culture, with popular dishes including goulash, fisherman's soup, and chimney cake, so be prepared to try some new foods. Tihany has a slower pace of life compared to larger cities, making it a great place for those looking for a peaceful and quiet lifestyle. Healthcare in Hungary is of a high standard, with a universal healthcare system that is accessible to all residents, but private health insurance is recommended for expats for more comprehensive coverage. The currency in Hungary is the Hungarian Forint (HUF), not the Euro, and cash is often preferred over card in smaller establishments. It's important to note that Hungary has strict laws regarding residency and immigration, so ensure you have the correct visas and documentation before moving. Finally, Hungarians are known for their hospitality and love of festivals, so there will be plenty of opportunities to immerse yourself in the local culture and traditions," commented one expat who made the move to Tihany.
How do I find a place to live in Tihany?
About the Author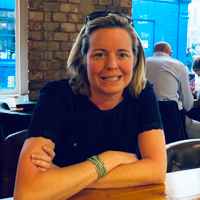 Betsy Burlingame is the Founder and President of Expat Exchange and is one of the Founders of Digital Nomad Exchange. She launched Expat Exchange in 1997 as her Master's thesis project at NYU. Prior to Expat Exchange, Betsy worked at AT&T in International and Mass Market Marketing. She graduated from Ohio Wesleyan University with a BA in International Business and German.
Some of Betsy's articles include 12 Best Places to Live in Portugal, 7 Best Places to Live in Panama and 12 Things to Know Before Moving to the Dominican Republic. Betsy loves to travel and spend time with her family. Connect with Betsy on LinkedIn.