Jeju Island, Korea
Last updated on Jul 10, 2023
Summary: Expats, digital nomads and retirees talk about what it is really like living in Jeju Island, Korea. They offer advice about meeting people, cost of living, finding a home and more.
What do I need to know before moving to Jeju Island?
When we asked people what advice they would give someone preparing to move to Jeju Island, they said:
"Jeju Island, also known as the "Hawaii of South Korea," is a popular destination for expats due to its mild climate, beautiful beaches, and relaxed lifestyle. Before moving to Jeju Island, it's important to understand the local culture, language, and customs. Korean is the official language of Jeju Island, and while English is taught in schools, not everyone is fluent, so learning some basic Korean phrases can be very helpful. The local dialect, Jeju language, is also quite different from standard Korean, but most locals also speak standard Korean. The cost of living on Jeju Island is generally lower than in major cities like Seoul, but it's still important to budget carefully. Housing can be expensive, especially in popular tourist areas, and you may need to pay a large deposit upfront. Jeju Island has a subtropical climate, with mild winters and hot, humid summers. It's also known for its strong winds and heavy rainfall, especially during the monsoon season in summer. The island's public transportation system is not as extensive as in larger cities, so many expats choose to buy or rent a car. However, driving in Jeju can be challenging due to the island's winding roads and the local driving style. Healthcare in Jeju is of a high standard, with a number of hospitals and clinics available. However, it's recommended to have health insurance, as medical costs can be high. Jeju Island is known for its fresh seafood, locally grown fruits, and traditional Korean cuisine. It's also famous for its unique dishes like black pork barbecue and abalone porridge. The island has a slower pace of life compared to Korea's bustling cities, which can be a big adjustment for some expats. However, there are also plenty of outdoor activities to enjoy, from hiking up Mount Hallasan to exploring the island's many beaches and waterfalls. Jeju Island has a unique visa policy separate from the rest of South Korea, allowing visitors from certain countries to stay without a visa for up to 30 days. However, if you're planning to work or stay long-term, you'll need to apply for the appropriate visa. Finally, it's important to remember that while Jeju Island is a beautiful and welcoming place, it's also a different culture with its own customs and etiquette. Respect for elders and superiors is deeply ingrained in Korean culture, and there are also specific rules about dining, gift-giving, and social interactions," said one expat who made the move to Jeju Island.
How do I find a place to live in Jeju Island?
About the Author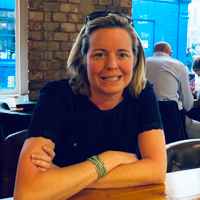 Betsy Burlingame is the Founder and President of Expat Exchange and is one of the Founders of Digital Nomad Exchange. She launched Expat Exchange in 1997 as her Master's thesis project at NYU. Prior to Expat Exchange, Betsy worked at AT&T in International and Mass Market Marketing. She graduated from Ohio Wesleyan University with a BA in International Business and German.
Some of Betsy's articles include 12 Best Places to Live in Portugal, 7 Best Places to Live in Panama and 12 Things to Know Before Moving to the Dominican Republic. Betsy loves to travel and spend time with her family. Connect with Betsy on LinkedIn.