Tongyeong, Korea
Last updated on Jul 10, 2023
Summary: Expats, digital nomads and retirees talk about what it is really like living in Tongyeong, Korea. They offer advice about meeting people, cost of living, finding a home and more.
What do I need to know before moving to Tongyeong?
When we asked people what advice they would give someone preparing to move to Tongyeong, they said:
"Tongyeong is a coastal city located in the southern part of South Korea, known for its seafood, scenic islands, and historic sites. Before moving to Tongyeong, it's important to understand that the primary language spoken is Korean, so learning basic Korean phrases or taking a language course could be beneficial. The cost of living in Tongyeong is relatively lower compared to larger cities like Seoul or Busan, but it's still important to budget accordingly. Tongyeong has a humid subtropical climate, with hot, humid summers and cool, relatively dry winters, so pack your clothes accordingly. The city is famous for its fresh seafood, especially oysters and mackerel, so be prepared to enjoy a variety of seafood dishes. Public transportation in Tongyeong is reliable, with buses being the main mode of transport, but having a car can be more convenient for exploring the surrounding areas. Tongyeong is a safe city with a low crime rate, but like anywhere, it's important to take basic safety precautions. Healthcare in South Korea is of a high standard, and Tongyeong has several hospitals and clinics, but it's recommended to have health insurance to cover any medical costs. The city is rich in culture and history, with many festivals, museums, and historic sites to explore, so be prepared to immerse yourself in the local culture. While the city is modern and developed, it's important to respect the local customs and traditions, which can be quite different from Western norms. Internet and mobile connectivity in Tongyeong, like the rest of South Korea, is excellent, so staying connected with family and friends back home won't be an issue. Lastly, it's important to have all the necessary visas and documentation in order before moving, and it may be beneficial to consult with a relocation expert or expat community for advice," wrote one member in Tongyeong.
How do I find a place to live in Tongyeong?
About the Author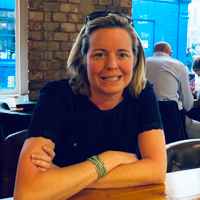 Betsy Burlingame is the Founder and President of Expat Exchange and is one of the Founders of Digital Nomad Exchange. She launched Expat Exchange in 1997 as her Master's thesis project at NYU. Prior to Expat Exchange, Betsy worked at AT&T in International and Mass Market Marketing. She graduated from Ohio Wesleyan University with a BA in International Business and German.
Some of Betsy's articles include 12 Best Places to Live in Portugal, 7 Best Places to Live in Panama and 12 Things to Know Before Moving to the Dominican Republic. Betsy loves to travel and spend time with her family. Connect with Betsy on LinkedIn.