Geoje, Korea
Last updated on Jul 09, 2023
Summary: Expats, digital nomads and retirees talk about what it is really like living in Geoje, Korea. They offer advice about meeting people, cost of living, finding a home and more.
What do I need to know before moving to Geoje?
When we asked people what advice they would give someone preparing to move to Geoje, they said:
"Geoje is a beautiful island city located in the South Gyeongsang province in South Korea, known for its scenic beauty and shipbuilding industry. Before moving to Geoje, expats should know that the city is a hub for the shipbuilding industry, hosting major companies like Daewoo Shipbuilding & Marine Engineering and Samsung Heavy Industries. The primary language spoken in Geoje is Korean, so learning the basics of the language would be beneficial, although English is also widely spoken due to the large expat community. The cost of living in Geoje is relatively lower compared to major cities like Seoul or Busan, but it can vary depending on the lifestyle and accommodation choices. Geoje has a well-developed public transportation system, including buses and taxis, but owning a car can be more convenient for getting around the island. The city offers a variety of housing options, from high-rise apartments to detached houses, and the rent can vary depending on the location and size of the property. Geoje has a temperate climate with four distinct seasons, so expats should pack a variety of clothing suitable for different weather conditions. The city offers a range of local and international cuisine, with a particular emphasis on seafood due to its coastal location. Geoje has a good healthcare system with several hospitals and clinics, but expats should ensure they have adequate health insurance coverage. The city is also home to several international schools, making it a suitable place for expats with children. Geoje has a vibrant expat community, with various clubs and organizations that can help newcomers settle in and meet new people. The city is known for its natural beauty, with numerous beaches, parks, and hiking trails, offering plenty of outdoor activities for residents. Despite being a relatively small city, Geoje has a vibrant nightlife with numerous bars, clubs, and restaurants. Lastly, Geoje is a safe city with a low crime rate, but like anywhere else, expats should take basic precautions to ensure their safety," explained one expat living in Geoje, Korea.
How do I find a place to live in Geoje?
About the Author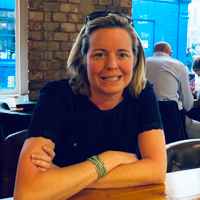 Betsy Burlingame is the Founder and President of Expat Exchange and is one of the Founders of Digital Nomad Exchange. She launched Expat Exchange in 1997 as her Master's thesis project at NYU. Prior to Expat Exchange, Betsy worked at AT&T in International and Mass Market Marketing. She graduated from Ohio Wesleyan University with a BA in International Business and German.
Some of Betsy's articles include 12 Best Places to Live in Portugal, 7 Best Places to Live in Panama and 12 Things to Know Before Moving to the Dominican Republic. Betsy loves to travel and spend time with her family. Connect with Betsy on LinkedIn.