What are medical services in Lyon like?
When we asked expats and global nomads about the quality of medical care in Lyon, they replied...
"Lyon offers a wide range of medical services to its residents. The city is home to numerous hospitals, clinics, and medical centers that provide a variety of treatments and services. These include general medical care, emergency services, specialized care, and preventive care. Additionally, Lyon has a number of specialized medical centers that focus on specific areas such as cardiology, oncology, and neurology. The city also has a number of pharmacies and medical supply stores that provide access to medications and medical supplies," explained one expat living in Lyon, France.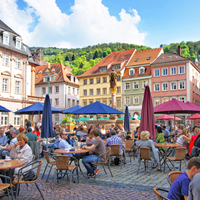 Furnished Rentals in France from Homelike
We've partnered with Homelike, to connect expats and newcomers with temporary accommodations in France. If you're moving to France, rent a short-term, furnished apartment or home for the first few months from Homelike and take your time figuring out the best place to live in France.
SEARCH RENTALS
Other Questions:
What are medical services in Lyon like?
If you live in Lyon, newcomers to Lyon would love to hear your answer to this question: