International Destination Report
12 Tips for Living in Playa del Carmen, Mexico
By bpeay
An expat who moved to Playa del Carmen several months ago talks about meeting other expats in Playa, the lower cost of living, area hospitals, shopping, restaurants in Playa, nightlife and much more.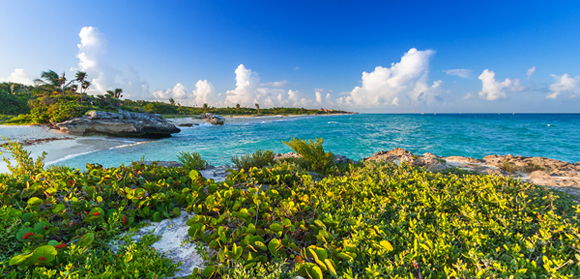 Why Playa?
There are so many exciting reasons outside of the affordable prices on just about everything. Playa, as it is affectionately called has an international flare and feeling. People from all over the globe share the many adventures and activities on land and sea. The beaches are beautiful. There are numerous items and plentiful stores that are just like the ones in the States.
Cost of Living in Playa del Carmen
I have found that the cost of living in Playa is much lower than in the States. This makes living on a retiree income and budget very satisfying. Even stores outside of Wal-Mart have lower prices. And because of the currency exchange rate, I am paying less for my rent than when I first moved here.
Meeting People in Playa
Since I have just moved here three months ago, I am still learning what the area has to offer in terms of social activities. However, there is an informative Facebook group I have joined that is for those who stay in Playa del Carmen. I have already received valuable information from some of the other members. I expect to soon learn how I can volunteer. I plan to visit the Immigration office soon to find out if my current residency status will allow that.
International Schools
I have received information that there are schools for those coming into the country who do not know Spanish. However, since I relocated here on my own, that has not been a priority. As I get settled, I will look more into that in case my great granddaughter comes here to live.
Shopping in Playa del Carmen
SHOPPING is great. Many do their grocery shopping at Wal-Mart, Sams Club, Chedraui (the Mexican version of Wal-Mart that is fantastic) the Mega store and others. Fifth Avenue is known for its lively, atmosphere with stores, restaurants with all types of specialty foods such as Mexican, Argentinian, Brazilian, French, Italian, Seafood, Steak and even fast food places like McDonald's and Burger King, Domino's Pizza, KFC. We have Office Depot, Home Depot, DHL, Fedex...just about everything.
Transportation Options
There are plenty of transportation options. The Collectivos pick up and transport to various neighborhoods locally. Taxis are everywhere. In the Playacar Fase Uno community where I live, a fleet of Taxis are stationed right outside of the security gate, so I don't have to wait long for one when I call. The large and comfortable ADO buses bring many to their terminals in Playa.
Playa del Carmen's Climate
The climate is tropical. Right now, it is their cool season, so, the temperatures may get down to the sixties at night and in the morning, but, during the day the sun comes out and it gets warmer. The beach water is usually warm. By March the weather will be really warm and will get somewhat humid soon after.
Restaurants & Nightlife
As stated earlier above, restaurants are plentiful and you have your choice of what type of food you want. There are various nightclubs. Because tourists are constantly coming and going, every night is like a weekend night with bright lights and music and even entertainers along the streets. I especially enjoy the Mariachi bands that travel to the restaurants and play their music. It's all so very lively. I feel like I am living life again, even as a retired single Expat..
Hospitals & Healthcare in Playa del Carmen
I am very close to the many pharmacies for medicines. Also there are bi-lingual doctors' offices in many places downtown. There are several hospitals nearby within a few miles. I have heard that the quality of care is very good. But, I have not had personal experience yet, thank goodness.
Recreational Activities
All around Playa del Carmen there are adventure area for zip lining, ATV riding, cave tubing, snorkeling, scuba diving, tours to visit Mayan Ruins and nearby resorts, beaches and islands such as Cozumel, Tulum, Islas Mujeres etc.
Visa & Residency
This should be addressed at the immigration office here in Playa. Many come in on a Tourist Visa that is generally given for 180 days. After that, the person has to leave the country and return to hopefully get another Tourist Visa. However, their requirements for getting a Temporary or Permanent Visa are online and are affordable.
Crime in Playa del Carmen
Foreigners should be concerned about being wise in a place that they are not familiar with. I suggest not traveling alone at night and do not drink so much that you are out of it and cannot think straight. I have not had any problems and I feel safe in my gated community and out and about downtown during the day and at night.