Moving to Guadalajara, Mexico
Last updated on Feb 04, 2023
Summary: Many expats are drawn to Guadalajara, Mexico for its vibrant culture, beautiful scenery, and friendly people. The city offers a great quality of life, with a low cost of living, excellent healthcare, and a wide range of leisure activities. The city is also home to a large expat community, making it easy to make friends and find support. Additionally, Guadalajara is a great place to learn Spanish, as the city is known for its clear and easy-to-understand dialect.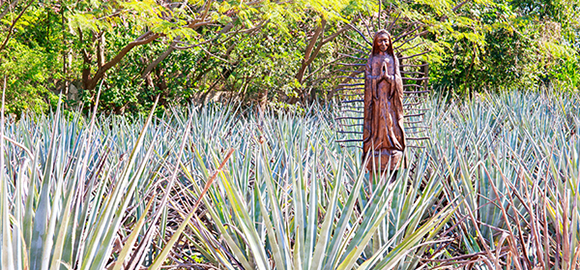 What do I need to know before moving to Guadalajara?
When we asked people what advice they would give someone preparing to move to Guadalajara, they said:
"- Weather: Guadalajara has hot summers (temperatures reaching up to 110 degrees Fahrenheit) and mild winters (low 60s Fahrenheit). - Language: Spanish is the official language in Guadalajara, and English is not widely spoken. - Cost of Living: The cost of living in Guadalajara is lower than many cities in the United States or Europe, making it an attractive option for expatriates. - Transportation: The city has a reliable and cheap public transportation system that includes metro, buses, and shared taxi (called "peseros"). - Health Care: Guadalajara has both public and private hospitals and clinics that offer quality health care. - Safety: Generally, Guadalajara is a safe city, but it is advisable to use caution when exploring the area and to be aware of potential scams in tourist areas. - Cultural Events: There are many cultural and music festivals that take place throughout the year, so there is always something interesting to do. - Cuisine: Guadalajara is known for its variety of delicious regional cuisine, such as birria (spicy stew) and pozole (corn soup)," remarked another expat in Guadalajara, Mexico.
How do I find a place to live in Guadalajara?
We asked expats how they chose their neighborhood and found a place to live. They answered:
"Finding a place to live in Guadalajara is possible by searching through different real estate websites and contacting experienced real estate agents. You can also search for rentals on popular websites like Airbnb or Vrbo, or browse through listings on housing websites like RentCafé or Idealista. Additionally, you can join online expat forums and ask current residents in Guadalajara for their advice and suggestions. Word of mouth can be a great way to find a suitable home in the city. Visiting Guadalajara and seeing the neighborhoods firsthand can also be a great way to get a feel for the area and find a place to live," remarked another expat who made the move to Guadalajara.
What is a typical expat home or apartment like in Guadalajara?
"Expat homes and apartments in Guadalajara tend to be spacious, with high ceilings and a typical Mexican feel. The city is known for its vibrant colors, so expect houses and apartments to be filled with lots of bright colors that give the spaces a unique and exotic flair. Many of the homes come with balconies and terraces so you can take advantage of the great weather and beautiful city views. Off-street parking and security measures are also popular amongst expats in Guadalajara," added another expat who made the move to Guadalajara.
What is the average cost of housing in Guadalajara?
If you are thinking about moving to Guadalajara, cost of living in probably a key consideration. Expats commented about the cost of housing:
"The cost of housing in Guadalajara varies depending on the area and type of housing. Generally, the cost of apartments and houses in Guadalajara tend to be moderate, with prices ranging from affordable to mid-level," added another expat who made the move to Guadalajara.
Should I buy or rent a home in Guadalajara?
If you have not spent a lot of time in Guadalajara, you should rent before even thinking about buying. We asked expats there about the buy vs. rent decision:
"Buying a home in Guadalajara can be a great investment because of its growing economy and booming real estate market. However, there are pros and cons to both buying and renting in Guadalajara. When deciding which option is best for you, be sure to consider your lifestyle and long-term goals, as well as your budget and access to resources. Buying a home in Guadalajara can provide stability, but requires a significant upfront cost, often including a down payment, closing costs and other legal fees. Renting is typically a more affordable option and can be more flexible, but you have less control over the property and may face restrictions, such as pet policies. Additionally, renting may not offer the same level of stability in the long run. Ultimately, the decision depends on what is right for your needs, goals and budget," said another expat in Guadalajara.
What should I pack when moving to Guadalajara?
We asked people living in Guadalajara to list three things they wish they had brought and three they wish they had left behind. They responded:
"Clothing suitable for warm weather, sunscreen, umbrellas, Spanish language books or audio resources, a local map, comfortable walking shoes, an adapter plug for electronics, a medication list from your doctor (including refills or contact information for replacements), toiletries, basic cooking supplies, a water filter or store-bought bottles, a Mexican cell phone plan or a prepaid SIM card, a good novel in Spanish or in your native language, travel insurance documents, passport, visas and other important documents, and a bag with snacks and drinks," explained one expat living in Guadalajara, Mexico.
What cultural faux pas should I try to avoid making in Guadalajara?
We asked people in Guadalajara if they could share any humorous cultural blunders they commited. For new expats, keep in mind that these incidents are an inevitable part of expat life. Learning to laugh about them is the key!:
"In Guadalajara, as in many other parts of Mexico, it is considered rude to refuse food or drink when offered to you by someone. It is also considered rude to be late or cancel a social engagement without providing prior notice. When out exploring it is best to always dress conservatively in public, particularly when visiting religious sites. Refrain from talking loudly in public or drawing unnecessary attention to yourself. Always ask permission before taking photographs of people or places. As a sign of respect always take your hat off when attending religious services or entering a home or business," commented one expat who made the move to Guadalajara.
"I ordered 1.1 lbs of american cheese, not understanding the difference between a kilo and a pound when we first arrived. We ate cheese for a month," remarked another expat in Guadalajara, Mexico.
Answer Question & View More Answers
About the Author

Joshua Wood, LPC joined Expat Exchange in 2000 and serves as one of its Co-Presidents. He is also one of the Founders of Digital Nomad Exchange. Prior to Expat Exchange, Joshua worked for NBC Cable (MSNBC and CNBC Primetime). Joshua has a BA from Syracuse and a Master's in Clinical and Counseling Psychology from Fairleigh Dickinson University. Mr. Wood is also a licensed counselor and psychotherapist.
Some of Joshua's articles include Pros and Cons of Living in Portugal, 10 Best Places to Live in Ireland and Pros and Cons of Living in Uruguay. Connect with Joshua on LinkedIn.