Somerset West, South Africa
Last updated on Jul 10, 2023
Summary: Expats, digital nomads and retirees talk about what it is really like living in Somerset West, South Africa. They offer advice about meeting people, cost of living, finding a home and more.
What do I need to know before moving to Somerset West?
When we asked people what advice they would give someone preparing to move to Somerset West, they said:
"Somerset West is a town in the Western Cape province of South Africa, nestled at the foot of the Helderberg Mountain. It's known for its pleasant climate, beautiful scenery, and proximity to both the ocean and wine country. Before moving to Somerset West, expats should know that the primary language spoken is Afrikaans, although English is also widely spoken. The cost of living is relatively low compared to many Western countries, but it's higher than in other parts of South Africa. The town has a relaxed, laid-back atmosphere and is popular with retirees. It's also family-friendly, with good schools and plenty of outdoor activities for children. Crime can be a concern in South Africa, and Somerset West is no exception. Expats should take precautions such as installing home security systems and avoiding certain areas at night. Healthcare in Somerset West is of a high standard, with several private hospitals and clinics in the area. However, expats should ensure they have comprehensive health insurance, as medical costs can be high. The town has a strong sense of community, with many local events and festivals throughout the year. It's also a great base for exploring the rest of the Western Cape, with Cape Town just a short drive away. Public transportation is limited, so expats may find it necessary to buy a car. Driving is on the left-hand side of the road in South Africa. The local cuisine is a mix of African, European, and Indian influences, and the region is famous for its wine. Expats should also be aware that the water in Somerset West is safe to drink. Finally, expats should know that South Africa has a complex history and diverse culture. Understanding the country's past and present can help newcomers better navigate their new home," remarked one expat living in Somerset West, South Africa.
How do I find a place to live in Somerset West?
About the Author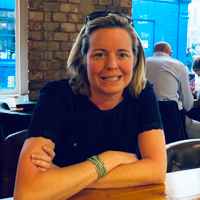 Betsy Burlingame is the Founder and President of Expat Exchange and is one of the Founders of Digital Nomad Exchange. She launched Expat Exchange in 1997 as her Master's thesis project at NYU. Prior to Expat Exchange, Betsy worked at AT&T in International and Mass Market Marketing. She graduated from Ohio Wesleyan University with a BA in International Business and German.
Some of Betsy's articles include 12 Best Places to Live in Portugal, 7 Best Places to Live in Panama and 12 Things to Know Before Moving to the Dominican Republic. Betsy loves to travel and spend time with her family. Connect with Betsy on LinkedIn.