Vevey, Switzerland
Last updated on Jul 10, 2023
Summary: Expats, digital nomads and retirees talk about what it is really like living in Vevey, Switzerland. They offer advice about meeting people, cost of living, finding a home and more.
What do I need to know before moving to Vevey?
When we asked people what advice they would give someone preparing to move to Vevey, they said:
"Vevey is a small town located in the French-speaking part of Switzerland, so it would be beneficial to have a basic understanding of French before moving there. The cost of living in Vevey is high, like most parts of Switzerland, so it's important to budget accordingly. The town is known for its beautiful landscapes, including Lake Geneva and the surrounding vineyards, which offer plenty of outdoor activities. Public transportation in Vevey is reliable and efficient, with a well-connected network of trains, buses, and boats. However, owning a car can be expensive due to high insurance costs and parking fees. The Swiss are known for their punctuality, so it's important to be on time for appointments and meetings. Vevey is home to Nestlé's headquarters, making it a hub for expats working in the food industry. The town also hosts the Fête de la Vigne, a wine festival that takes place every 20 to 25 years, which is a significant cultural event. Swiss people value their privacy and it might take some time to form close relationships with locals. However, they are generally polite and helpful to newcomers. The healthcare system in Switzerland is excellent but can be expensive, so it's important to have good health insurance. Swiss cuisine is diverse and heavily influenced by its neighboring countries, so there's a wide variety of food to enjoy. Finally, it's important to remember that Switzerland has a high standard of living, and while this means a high quality of life, it also means that everything from groceries to rent can be more expensive than in other countries," remarked one expat living in Vevey, Switzerland.
How do I find a place to live in Vevey?
About the Author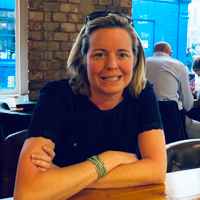 Betsy Burlingame is the Founder and President of Expat Exchange and is one of the Founders of Digital Nomad Exchange. She launched Expat Exchange in 1997 as her Master's thesis project at NYU. Prior to Expat Exchange, Betsy worked at AT&T in International and Mass Market Marketing. She graduated from Ohio Wesleyan University with a BA in International Business and German.
Some of Betsy's articles include 12 Best Places to Live in Portugal, 7 Best Places to Live in Panama and 12 Things to Know Before Moving to the Dominican Republic. Betsy loves to travel and spend time with her family. Connect with Betsy on LinkedIn.