Bern, Switzerland
Last updated on Jul 10, 2023
Summary: Expats, digital nomads and retirees talk about what it is really like living in Bern, Switzerland. They offer advice about meeting people, cost of living, finding a home and more.
What do I need to know before moving to Bern?
When we asked people what advice they would give someone preparing to move to Bern, they said:
"Bern, the capital of Switzerland, is a city rich in history and culture, known for its high quality of life, cleanliness, and safety. Before moving to Bern, expats should know that the official language is German, specifically the Swiss German dialect, although English is widely spoken in business and by younger generations. The cost of living in Bern is high, with housing, healthcare, and general expenses being significantly more expensive than in many other countries. Switzerland has a mandatory health insurance policy, so expats will need to ensure they have adequate coverage. Public transportation in Bern is efficient and reliable, with a network of trams, buses, and trains, but it's also a very walkable city with a compact and well-preserved old town. Swiss people value punctuality, privacy, and respect for rules, so it's important to be aware of these cultural norms. The Swiss education system is highly regarded, with a range of public, private, and international schools available, although spaces can be limited and fees can be high. Switzerland has a high tax rate, but it varies depending on the canton, with Bern being one of the higher taxed areas. Swiss cuisine is diverse and delicious, with a strong emphasis on dairy products, and Bern is particularly known for its Emmental cheese. The climate in Bern is temperate, with warm summers and cold, snowy winters, so expats should be prepared for a range of weather conditions. Switzerland has a strong economy and low unemployment rate, but the job market is competitive and preference is often given to Swiss nationals. Finally, Switzerland is known for its outdoor lifestyle, with plenty of opportunities for hiking, skiing, and other outdoor activities, so expats should be prepared to embrace this aspect of Swiss life," said one expat who made the move to Bern.
How do I find a place to live in Bern?
About the Author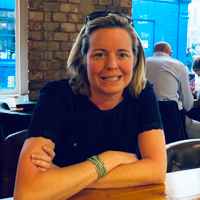 Betsy Burlingame is the Founder and President of Expat Exchange and is one of the Founders of Digital Nomad Exchange. She launched Expat Exchange in 1997 as her Master's thesis project at NYU. Prior to Expat Exchange, Betsy worked at AT&T in International and Mass Market Marketing. She graduated from Ohio Wesleyan University with a BA in International Business and German.
Some of Betsy's articles include 12 Best Places to Live in Portugal, 7 Best Places to Live in Panama and 12 Things to Know Before Moving to the Dominican Republic. Betsy loves to travel and spend time with her family. Connect with Betsy on LinkedIn.