Holland Village
Last updated on Jul 10, 2023
Summary: Expats, digital nomads and retirees talk about what it is really like living in Holland Village, Singapore. They offer advice about meeting people, cost of living, finding a home and more.
What do I need to know before moving to Holland Village?
When we asked people what advice they would give someone preparing to move to Holland Village, they said:
"Holland Village is a popular destination for expats due to its vibrant mix of local and international cultures. It is known for its lively nightlife, with a variety of bars, restaurants, and cafes to choose from. The area is also home to a number of international schools, making it a great choice for families with children. The cost of living in Holland Village is relatively high, with rent prices being particularly steep. However, the area offers a range of housing options, from high-rise apartments to landed properties. It's important to note that while the area is generally safe, it's still necessary to take basic safety precautions, especially at night. Public transportation in Holland Village is convenient, with the Holland Village MRT station providing easy access to other parts of Singapore. There are also several bus services that run through the area. However, traffic can get quite congested during peak hours, so it's advisable to plan your commute accordingly. English is widely spoken in Holland Village and throughout Singapore, so language is not likely to be a barrier. However, learning a few basic phrases in Mandarin or Malay can be helpful. Holland Village is known for its hot and humid climate, so it's advisable to dress in light, breathable clothing. The area is also prone to heavy rainfall, especially during the monsoon season, so it's a good idea to always carry an umbrella. Healthcare in Singapore is of a high standard, and there are several medical facilities in and around Holland Village. However, it's important to have comprehensive health insurance, as medical costs can be high. The area is also home to a number of supermarkets and specialty stores, making it easy to find both local and international products. The Holland Village Market and Food Centre is a popular spot for fresh produce and local cuisine. Lastly, Holland Village has a strong sense of community, with numerous events and festivals taking place throughout the year. It's a great place to meet new people and immerse yourself in the local culture," remarked one expat living in Holland Village, Singapore.
How do I find a place to live in Holland Village?
About the Author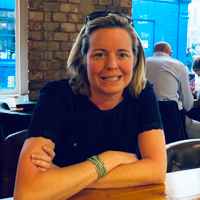 Betsy Burlingame is the Founder and President of Expat Exchange and is one of the Founders of Digital Nomad Exchange. She launched Expat Exchange in 1997 as her Master's thesis project at NYU. Prior to Expat Exchange, Betsy worked at AT&T in International and Mass Market Marketing. She graduated from Ohio Wesleyan University with a BA in International Business and German.
Some of Betsy's articles include 12 Best Places to Live in Portugal, 7 Best Places to Live in Panama and 12 Things to Know Before Moving to the Dominican Republic. Betsy loves to travel and spend time with her family. Connect with Betsy on LinkedIn.