River Valley
Last updated on Jul 09, 2023
Summary: Expats, digital nomads and retirees talk about what it is really like living in River Valley, Singapore. They offer advice about meeting people, cost of living, finding a home and more.
What do I need to know before moving to River Valley?
When we asked people what advice they would give someone preparing to move to River Valley, they said:
"River Valley is a popular residential area in Singapore, known for its high-end condominiums and close proximity to the city center. It's a cosmopolitan area with a mix of locals and expats, making it a vibrant and diverse community. Before moving to River Valley, it's important to know that the cost of living is quite high. The area is known for its luxury apartments and condos, and the prices reflect this. However, the quality of life and the amenities available often justify the cost. The area is well-served by public transportation, with several bus routes and the nearby Orchard MRT station. However, traffic can be heavy during peak hours, so it's worth considering your commute when choosing a place to live. River Valley is home to a number of international schools, making it a popular choice for families with children. The schools are known for their high standards of education and wide range of extracurricular activities. The area is also known for its vibrant nightlife, with a wide range of bars, restaurants, and clubs. There are also plenty of shopping options, from high-end boutiques to local markets. Despite its urban location, River Valley also offers plenty of green spaces. The nearby Fort Canning Park is a popular spot for picnics and outdoor activities. English is widely spoken in River Valley, as it is throughout Singapore, so language is unlikely to be a barrier. However, it can be helpful to learn some basic phrases in Mandarin or Malay, the other official languages of Singapore. Healthcare in Singapore is of a high standard, and there are several medical facilities in and around River Valley. However, it's important to have comprehensive health insurance, as medical treatment can be expensive. Finally, it's worth noting that Singapore has strict laws and penalties, including for things that might be considered minor offenses in other countries. For example, littering, jaywalking, and chewing gum are all punishable offenses. It's important to familiarize yourself with the local laws to avoid any potential issues," said one expat in River Valley.
What is a typical expat home or apartment like in River Valley?
About the Author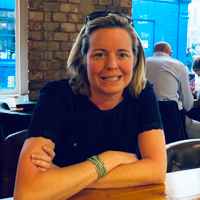 Betsy Burlingame is the Founder and President of Expat Exchange and is one of the Founders of Digital Nomad Exchange. She launched Expat Exchange in 1997 as her Master's thesis project at NYU. Prior to Expat Exchange, Betsy worked at AT&T in International and Mass Market Marketing. She graduated from Ohio Wesleyan University with a BA in International Business and German.
Some of Betsy's articles include 12 Best Places to Live in Portugal, 7 Best Places to Live in Panama and 12 Things to Know Before Moving to the Dominican Republic. Betsy loves to travel and spend time with her family. Connect with Betsy on LinkedIn.