Serangoon Gardens
Last updated on Jul 09, 2023
Summary: Expats, digital nomads and retirees talk about what it is really like living in Serangoon Gardens, Singapore. They offer advice about meeting people, cost of living, finding a home and more.
What do I need to know before moving to Serangoon Gardens?
When we asked people what advice they would give someone preparing to move to Serangoon Gardens, they said:
"Serangoon Gardens is a residential area in Singapore, known for its laid-back atmosphere and a wide range of food and beverage options. It's a popular place for expats due to its international schools, spacious homes, and proximity to the city center. Before moving to Serangoon Gardens, expats should know that the cost of living can be quite high, especially when it comes to housing. However, the area offers a variety of housing options, from landed properties to condominiums, catering to different budgets and lifestyle needs. The area is well-connected to other parts of Singapore through public transportation. The nearest MRT station is Serangoon, which is a major interchange station on the North-East Line and Circle Line. Buses are also readily available. Serangoon Gardens is known for its food scene, with a wide variety of local and international cuisines available. The famous Chomp Chomp Food Centre is a must-visit for local street food. The area is also home to several shopping malls, including myVillage and Serangoon Garden Market, where you can find a variety of shops, restaurants, and entertainment options. For families with children, there are several reputable international schools in and around Serangoon Gardens, including the Australian International School and the French School of Singapore. Despite being a bustling area, Serangoon Gardens also offers plenty of green spaces for relaxation and recreation. The Serangoon Gardens Country Club and the nearby Bishan-Ang Mo Kio Park are popular spots for outdoor activities. Healthcare facilities are easily accessible, with several clinics and hospitals in the vicinity. Lastly, it's important to note that while English is widely spoken in Singapore, learning a few phrases in Mandarin or Malay could be helpful in daily interactions," remarked one expat who made the move to Serangoon Gardens.
What is a typical expat home or apartment like in Serangoon Gardens?
About the Author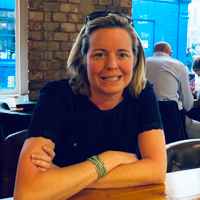 Betsy Burlingame is the Founder and President of Expat Exchange and is one of the Founders of Digital Nomad Exchange. She launched Expat Exchange in 1997 as her Master's thesis project at NYU. Prior to Expat Exchange, Betsy worked at AT&T in International and Mass Market Marketing. She graduated from Ohio Wesleyan University with a BA in International Business and German.
Some of Betsy's articles include 12 Best Places to Live in Portugal, 7 Best Places to Live in Panama and 12 Things to Know Before Moving to the Dominican Republic. Betsy loves to travel and spend time with her family. Connect with Betsy on LinkedIn.