Woodlands
Last updated on Jul 09, 2023
Summary: Expats, digital nomads and retirees talk about what it is really like living in Woodlands, Singapore. They offer advice about meeting people, cost of living, finding a home and more.
What do I need to know before moving to Woodlands?
When we asked people what advice they would give someone preparing to move to Woodlands, they said:
"Expats moving to Woodlands should know that it is a bustling region located in the northern part of the country, near the border with Malaysia. It is a residential town with a mix of public and private housing options. The area is well-connected with public transportation, including the Mass Rapid Transit (MRT) system and bus services. Expats should be aware that the cost of living in Singapore is high, and Woodlands is no exception. However, compared to other parts of Singapore, Woodlands is considered more affordable. The region is home to several shopping malls, restaurants, and recreational facilities, providing plenty of options for leisure activities. It is also known for its green spaces, including the Woodlands Waterfront Park, which offers stunning views of the sea. Woodlands is a multicultural area, with a mix of different races and religions. English is widely spoken, but you may also hear Mandarin, Malay, and Tamil. The education system in Singapore is highly competitive, and Woodlands is home to several reputable schools. Expats with children should research the different education options, including local and international schools. Healthcare in Singapore is of a high standard, and there are several medical facilities in Woodlands. However, expats should ensure they have adequate health insurance as medical costs can be high. Singapore has a tropical climate, with high humidity and temperatures throughout the year. It also experiences heavy rainfall, especially during the monsoon season. Lastly, Singapore has strict laws and regulations, and expats should familiarize themselves with these to avoid any legal issues. For example, littering, jaywalking, and chewing gum are all offenses that can result in fines," remarked one expat who made the move to Woodlands.
What is a typical expat home or apartment like in Woodlands?
About the Author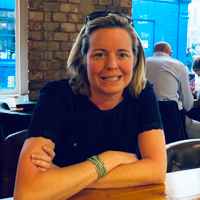 Betsy Burlingame is the Founder and President of Expat Exchange and is one of the Founders of Digital Nomad Exchange. She launched Expat Exchange in 1997 as her Master's thesis project at NYU. Prior to Expat Exchange, Betsy worked at AT&T in International and Mass Market Marketing. She graduated from Ohio Wesleyan University with a BA in International Business and German.
Some of Betsy's articles include 12 Best Places to Live in Portugal, 7 Best Places to Live in Panama and 12 Things to Know Before Moving to the Dominican Republic. Betsy loves to travel and spend time with her family. Connect with Betsy on LinkedIn.