Novena
Last updated on Jul 09, 2023
Summary: Expats, digital nomads and retirees talk about what it is really like living in Novena, Singapore. They offer advice about meeting people, cost of living, finding a home and more.
What do I need to know before moving to Novena?
When we asked people what advice they would give someone preparing to move to Novena, they said:
"Novena is a planning area located within the Central Region of Singapore, known for its shopping malls, restaurants, and medical facilities. It is a popular residential area for expats due to its central location, excellent amenities, and proximity to international schools. Before moving to Novena, expats should know that the cost of living can be high, especially when it comes to housing. Most expats choose to live in condominiums, which offer a range of facilities such as swimming pools, gyms, and security services. Novena is well-connected to other parts of Singapore by public transport. The Mass Rapid Transit (MRT) system is efficient and reliable, making it easy to commute to work or explore the city. English is one of the official languages in Singapore, so expats should not have any language barriers when communicating with locals. However, understanding some basic phrases in Mandarin or Malay could be beneficial. The healthcare facilities in Novena are top-notch, with several hospitals and clinics in the area. The Tan Tock Seng Hospital, one of Singapore's largest multi-disciplinary hospitals, is located in Novena. Novena has a tropical rainforest climate, with high humidity and temperatures throughout the year. Expats moving from cooler climates may need some time to acclimatize. Singapore has strict laws and regulations, and Novena is no exception. Littering, for example, can result in hefty fines. It's important for expats to familiarize themselves with local laws to avoid unintentional violations. Novena offers a variety of dining options, from hawker centres offering local cuisine to high-end restaurants. The area is also known for its shopping malls, such as Velocity@Novena Square and United Square Shopping Mall. Finally, Novena is home to several places of worship, including the Novena Church, which is a well-known Roman Catholic church in Singapore. This reflects Singapore's multicultural society, which is something that expats should respect and appreciate," remarked one expat who made the move to Novena.
What is a typical expat home or apartment like in Novena?
About the Author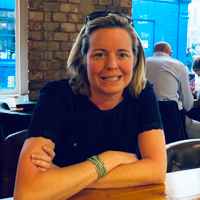 Betsy Burlingame is the Founder and President of Expat Exchange and is one of the Founders of Digital Nomad Exchange. She launched Expat Exchange in 1997 as her Master's thesis project at NYU. Prior to Expat Exchange, Betsy worked at AT&T in International and Mass Market Marketing. She graduated from Ohio Wesleyan University with a BA in International Business and German.
Some of Betsy's articles include 12 Best Places to Live in Portugal, 7 Best Places to Live in Panama and 12 Things to Know Before Moving to the Dominican Republic. Betsy loves to travel and spend time with her family. Connect with Betsy on LinkedIn.